Cool Stuff: This Is The New Home Alone LEGO Set Of The McCallister House, You Have To Defend It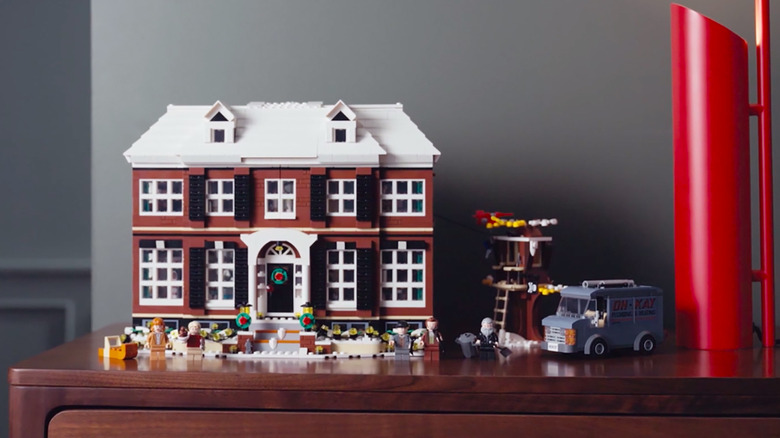 LEGO
It's the most wonderful time of the year! Well, not yet. We haven't even gotten past Halloween. But that's not stopping LEGO from unveiling a fantastic Christmas gift for fans of the holiday classic "Home Alone." Straight from the LEGO Ideas community of fan designers, LEGO is releasing a "Home Alone" LEGO set of the McCallister house, complete with all the traps and tricks that Kevin McCallister sets for the Wet Bandits. You'll be able to recreate all of the memorable scenes from the movie, including Kevin's famous after shave moment. Check out the impressive "Home Alone" LEGO set below!
Home Alone LEGO Set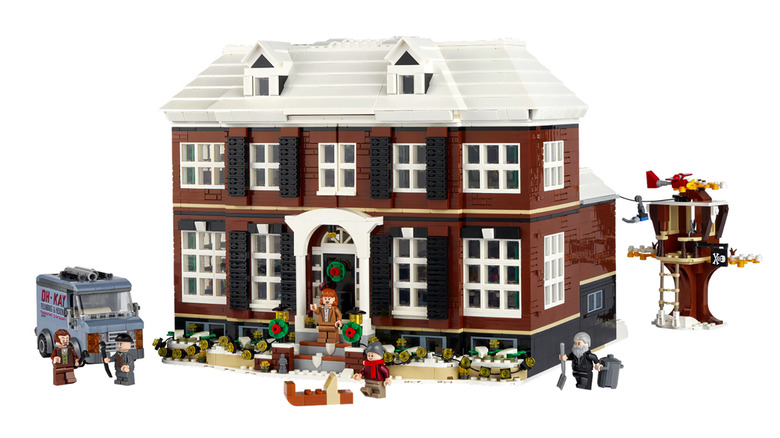 LEGO
The "Home Alone" LEGO set comes from LEGO fan designer Alex Storozhuk, who said, "Just like every 90s kid, I grew up watching Home Alone, and it takes a very special place in my heart. I can't even imagine holidays without it. This film is very nostalgic and makes those warm childhood memories come up every time."
You'll see that he meticulously added as many details as possible with the 3,955-piece set, from Kevin's macaroni and cheese dinner to the train set that he uses to trick the Wet Bandits into thinking that the McCallister family is still at home. Unfortunately, it looks like LEGO didn't want to shell out the money for the Chicago Bulls logo on the Michael Jordan cardboard cutout, so the team that Jordan plays for is now called the Bricks. That's not great since "brick" is slang for a bad shot in basketball, but whatever!
Other familiar scenes include Kevin applying after shave and giving that frequently parodied scream. Buzz's spider is also included, allowing you to recreate another hilarious scream from "Home Alone" when Kevin puts the little arachnid on Marv's face. That same spider creates plenty of pain for Harry when Marv tries to hit it with a crowbar while it's sitting on Harry's chest. 
Merry Christmas, Kevin!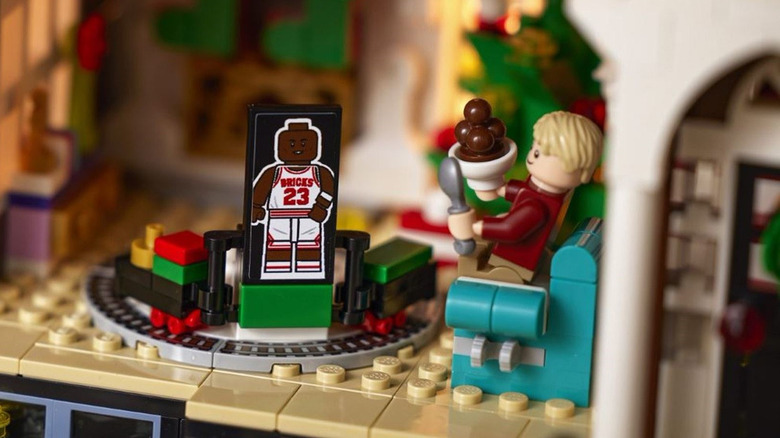 LEGO
The minifigures include Kevin McCallister, his mother Kate McCallister, both of the Wet Bandits, and even old man Marley, who definitely isn't the South Bend Shovel Slayer. There are also various accessories, from Harry and Marv's crowbars to Kevin's sled that he takes down the stairs. There's also plenty of ice cream for Kevin to eat while he's watching rubbish, and a delicious cheese pizza just for him, courtesy of Little Nero's.
LEGO Designer Antica Bracanov added in a statement:
"Bringing Alex's Home Alone house to life has been brilliant fun. He'd thought about every aspect, from the layout of the rooms to the use of color and of course the details from the film to make it instantly recognizable. Following the themes of the film, we wanted to make the experience as immersive as possible for fans of LEGO building and the film. The step-by-step build which mirrors the film, and the ability to open up the set and see inside lends itself well to hours of joyful focus this holiday season – just add a festive backdrop and a certain Christmas film!"
Now for the bad news. The "Home Alone" LEGO set will cost you $249.99. But if you've got the extra cash lying around, it will be available for purchase on November 1, and should arrive in time for Christmas. So you can sit down to watch "Home Alone" while building the McCallister house this holiday season. Maybe you can even have the new LEGO Batmobile from "The Batman" pay a visit to the McCallister house and deliver some justice to the Wet Bandits.