Ambulance: Release Date, Cast, And More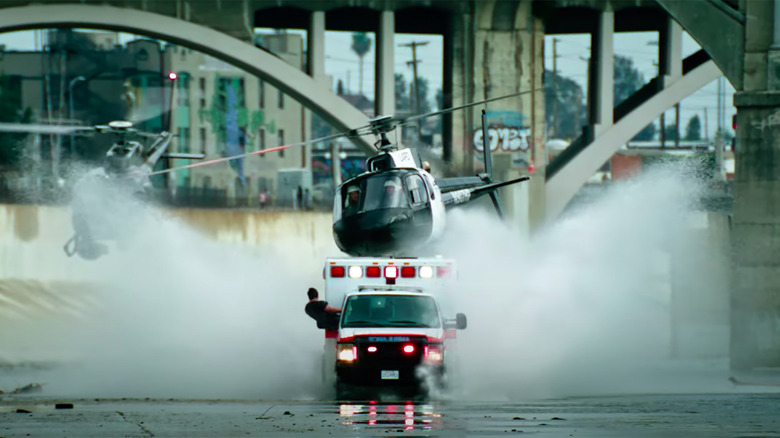 Universal Pictures
(Welcome to ...And More, our no-frills, zero B.S. guide to when and where you can watch upcoming movies and shows, and everything else you could possibly stand to know.)
No, we're not hyping up the release of an emergency vehicle. This isn't an automobile auction. "Ambulance" is a new action thriller coming from blockbuster director Michael Bay (seen above), the master of explosions who gave us the likes of "Bad Boys," "The Rock," "Armageddon," and the live-action "Transformers" franchise. This time, the filmmaker is getting behind the camera for a heist gone wrong, and in case you hadn't figured it out already, their escape vehicle is an ambulance and with it comes a lot of complications.
Ambulance Release Date and Where to Watch It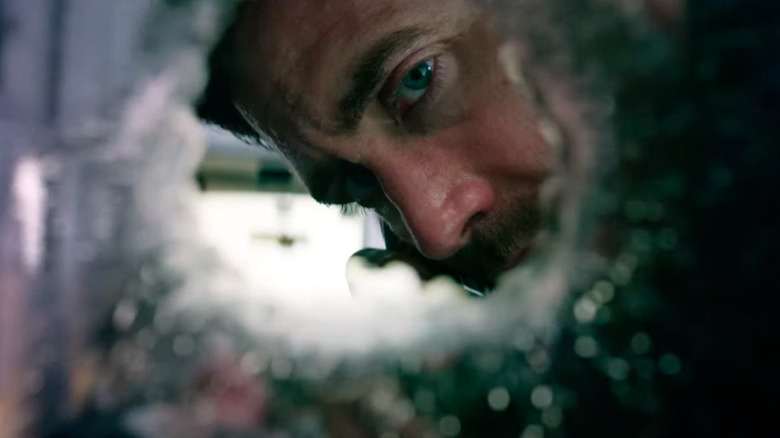 Universal Pictures
"Ambulance" is currently slated to be released in theaters by Universal Pictures on February 18, 2022. As of now, that released appears to be exclusive to theaters, but since Universal has been putting some of their theatrical releases on Peacock the same day they hit theaters, that could happen with "Ambulance." It probably depends on what the coronavirus pandemic looks like early next year. However, even if "Ambulance" is an exclusively theatrical release to start with, the theatrical window likely won't be as long as it used to be, and the movie could be available on VOD a month or two after release. 
What is Ambulance?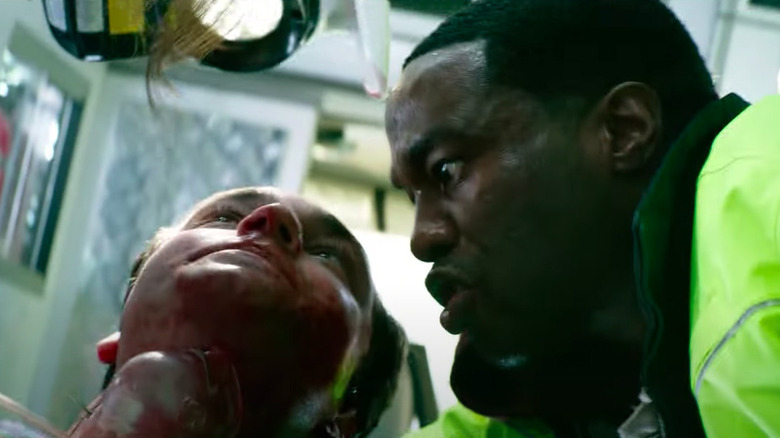 Universal Pictures
"Ambulance" is the latest action thriller from director Michael Bay. Originally announced back in 2015, the project is a remake of a Danish thriller of the same name that was released back in 2005. The remake went through several different directors before the "Transformers" director came on board in 2020. 
Originally, the project was said to be follow a veteran of the war in Afghanistan who is convinced by his brother to join in a bank robbery in downtown Los Angeles to wash away his financial problems. But the heist goes wrong, forcing the brothers to take a couple hostages and make a getaway in an ambulance with the police in hot pursuit. 
However, the story has changed a bit and no longer focuses on a pair of brothers. Instead, "Ambulance" now follows a veteran and working class man who needs $231,000 for a critical surgery that his wife needs. In a desperate attempt to get the money, he reaches out to an estranged criminal friend for help and convinces him to partake in a $32 million heist, which inevitably goes wrong and sends them on the run.
Ambulance Cast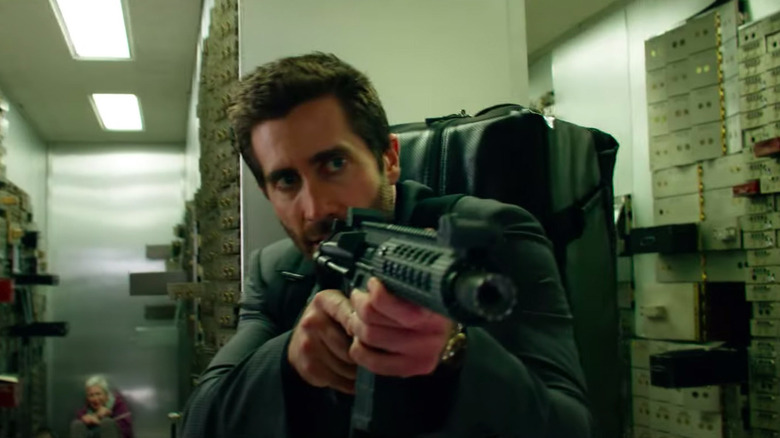 Universal Pictures
Yahya Abdul-Mateen II (seen above in "Candyman") is taking the lead as the desperate man trying to scrounge up money for his wife's expensive surgery. The actor is coming off his starring role in "Candyman," and will soon be seen in "The Matrix Resurrections," not to mention reprising his role as Black Manta in "Aquaman and the Lost Kingdom." Jake Gyllenhaal is playing the criminal who convinces his friend to get involved with the heist, giving him another intense role to go alongside the likes of "End of Watch" and "Source Code."
Eiza González ("Baby Driver") is playing the EMT taken hostage in the ambulance along with a police officer shot by the robbers during the heist gone wrong. The rest of the cast includes Garrett Dillahunt, Keir O'Donnell, Moses Ingram, and more.
Ambulance Director, Writer, and More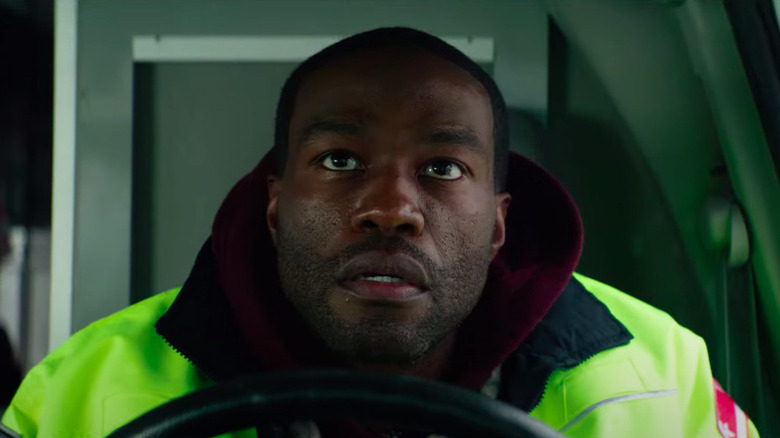 Universal Pictures
Michael Bay is directing "Ambulance," and you can see him getting up close and personal with the film's action in this video of an explosive sequence that the filmmaker posted on Instagram. 
It's clear this movie will have no shortage of the high-adrenaline action we've come to expect from Michael Bay, despite predominantly taking place in an ambulance. Bay will also be producing along with Ian Bryce ("Speed"), William Sherak ("Ready or Not"), James Vanderblt ("Zodiac"), and Brad Fischer ("The Tomorrow War").
The original "Ambulance" was written by Laurits Munch-Petersen, but writer Chris Fedak has revamped the story a bit for the remake.
Ambulance Trailer and Synopsis
Here's the synopsis for "Ambulance" from Universal Pictures:
Over one day across the streets of L.A., three lives will change forever.

In this breakneck thriller from director-producer Michael Bay, decorated veteran Will Sharp (Emmy winner Yahya Abdul-Mateen II, Candyman, The Matrix Resurrections), desperate for money to cover his wife's medical bills, asks for help from the one person he knows he shouldn't—his adoptive brother Danny (Oscar® nominee Jake Gyllenhaal, Zodiac, Spider-Man: Far From Home). A charismatic career criminal, Danny instead offers him a score: the biggest bank heist in Los Angeles history: $32 million. With his wife's survival on the line, Will can't say no.

But when their getaway goes spectacularly wrong, the desperate brothers hijack an ambulance with a wounded cop clinging to life and ace EMT Cam Thompson (Eiza González, Fast & Furious Presents: Hobbs & Shaw, Baby Driver) onboard. In a high-speed pursuit that never stops, Will and Danny must evade a massive, city-wide law enforcement response, keep their hostages alive, and somehow try not to kill each other, all while executing the most insane escape L.A. has ever seen.