Mindhunter Season 3 'Might Actually Happen' If Fans Make Enough Noise, Says Series Director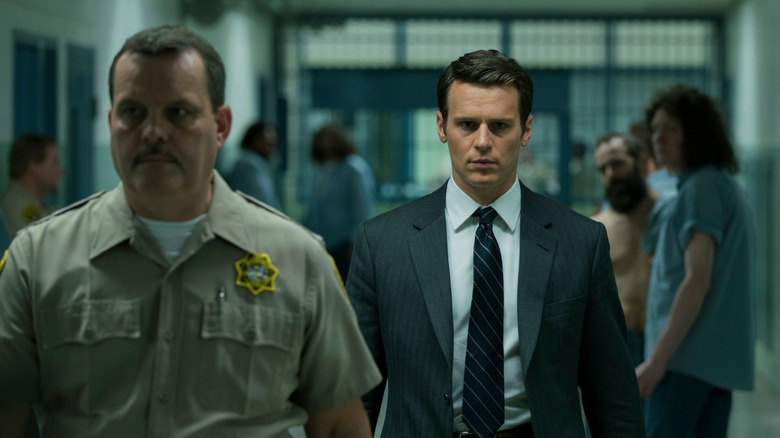 Netflix
Last week, Netflix teased a mysterious new project from David Fincher and the "Mindhunter" hive rose up to stake their claim. The future of Fincher's psychological crime thriller has been an open-ended question since the second season premiered in 2019, so speculation was immediate. Could "Mindhunter" season 3 finally be on the horizon? Well... Probably not.
Unfortunately, Netflix followed up with the announcement of "Voir," a documentary series of visual essays celebrating cinema, which sounds lovely but has nothing to do with serial killers, FBI profilers, or Jonathan Groff. But there's still hope for the continuation of "Mindhunter," according to Academy-Award winner Asif Kapadia, who directed two episodes of the series' first season. Kapadia hopped on Twitter to encourage fans to make some noise for season 3, writing, "Audiences around the world need [to] let @netflix know that there is a real interest & demand for Season 3 of @MINDHUNTER. If you make enough noise, It might actually happen...."
Audiences around the world need let @netflix know that there is a real interest & demand for Season 3 of @MINDHUNTER_ if you make enough noise, It might actually happen…. #DavidFincher #mindhunter https://t.co/IZjDpxOX9k

— asifkapadia (@asifkapadia) October 12, 2021
If noise is all it takes, then it must be time to start screaming from the rooftops. "Mindhunter" remains one of the best series to come out of Netflix and another season would be a dream come true. In the past few years, plenty of TV series have won their renewal thanks to outcry from their fanbases, so it's certainly not impossible. Yet, despite Kapadia's encouragement, more "Mindhunter" still feels unlikely.
Will Mindhunter Return?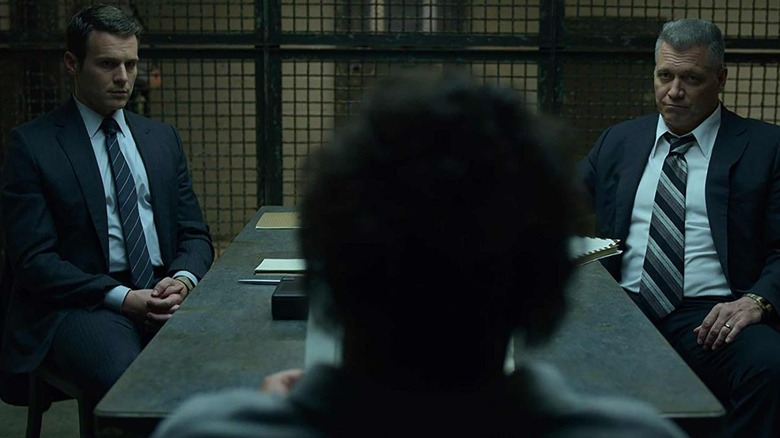 Netflix
The thrilling series was created by Joe Penhall, based on the 1995 book "Mindhunter: Inside the FBI's Elite Serial Crime Unit" written by John E. Douglas and Mark Olshaker. Fincher served as executive producer and showrunner, telling the story of FBI agents developing the behavior science unit to investigate serial killers. Agent Holden Ford (Jonathan Groff) and Bill Tench (Holt McCallany) are joined by psychologist Wendy Carr (Anna Torv) as they spend episodes trying to get into the minds of killers — studying their cases, interviewing the murderers, and road tripping to various crime scenes. Netflix followed up the initial 10 episode season with 9 more episodes but according to Fincher himself, the series was too expensive to maintain. Plus, it was a major commitment for the filmmaker, who also directed several episodes. Fincher previously said:
"'Mindhunter' was a lot for me. It's a 90-hour workweek. It absorbs everything in your life. When I got done, I was pretty exhausted, and I said, 'I don't know if I have it in me right now to break season three.'"
After the second season, "Mindhunter" entered a sort of indefinite hiatus status, never renewed but never officially cancelled. The cast was released from their contracts, but its future is open ended, with one Netflix spokesperson saying, "Maybe in five years." So while Fincher leans towards a no and Kapadia floats the possibility of renewal, perhaps fans can be the deciding factor? Or maybe we're just doomed to "Mindhunter" purgatory for all eternity.