10 Amazing Musicals That Deserve Movie Adaptations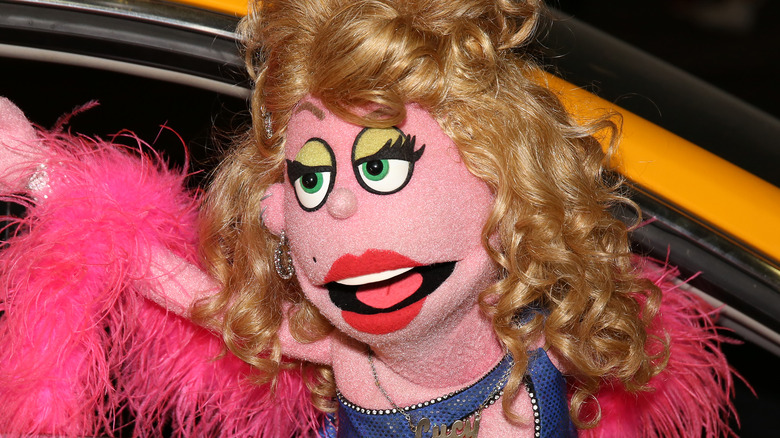 Walter Mcbride/Getty Images
2021 has been a banner year for film musicals, with movies that tell original stories, adapt famous Broadway classics, and reimagine beloved favorites from new perspectives. Steven Spielberg's upcoming adaptation of "West Side Story" isn't the first time that Stephen Sondheim's tragic love story has been adapted to the big screen, as the beloved 1961 feature from Jerome Robbins and Robert Wise is a best picture-winning classic in its own right. However, Spielberg and screenwriter Tony Kushner look to flesh out the perspective of the musical's Latino characters with a modern perspective.
"In the Heights" and "Dear Evan Hansen" were recent Broadway sensations, and the film versions debuted to high expectations. Although it was a box office disappointment, "In the Heights" was critically acclaimed for its positive and inclusive message. Unfortunately, "Dear Evan Hansen" was seen as an underwhelming adaptation that didn't capture the stage show's power. Recently, there have also been original musicals like Leos Carax's bizarre "Annette," the inspirational LGBTQ coming-of-age story "Everyone's Talking About Jamie," and the jukebox musical "Cinderella." Expectations are high for Lin-Manuel Miranda's directorial debut "Tick, Tick... Boom!" and Joe Wright's historical drama "Cyrano."
A great movie musical needs to justify being told through a cinematic perspective. There's a magic to live theater that can't be replicated by films, but a great adaptation that creatively stages key musical numbers can succeed in its own right. With a careful approach, these 10 musical sensations have the potential to become cinematic classics as well.
The Book of Mormon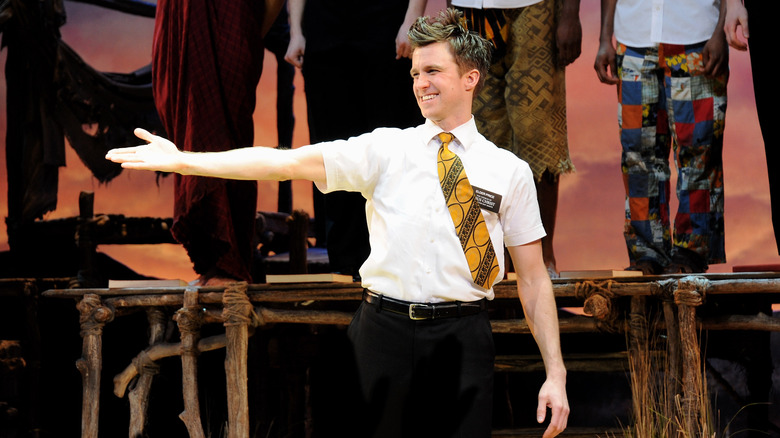 Dave M. Benett/Getty Images
The smash hit sensation "The Book of Mormon" benefited from the cinematic experiences of its creators. The shows' music and lyrics came from Trey Parker and Matt Stone, who had previously created the beloved 1999 film "South Park: Bigger, Longer, & Uncut." The "South Park" movie re-energized the series with its creative songs. Parker and Stone crafted clever, foul-mouthed satire within music worthy of Broadway, and the film's acclaim laid the groundwork for their Tony Award winning work on "The Book of Mormon."
"The Book of Mormon" tells the story of two nineteen-year-old Mormon missionaries who travel to Uganda on their mission trip. Elder Kevin Price is a beloved figure within his community, known for his dedication to the holy text. His assigned mission brother Elder Arnold Cunningham is the exact opposite; his own family sees him as a disappointment, and Price is disappointed with his quirky new partner. He's even more disappointed learning of their destination, as he'd always dreamed of traveling to Orlando to spread the Mormon message.
The stage musical chronicles Price's humbling, and Cunningham proves to be a valuable asset. Although the humor is just as dirty as "South Park," the story of the pairs' friendship is ultimately heartfelt. If Parker and Stone were involved in a cinematic adaptation, their experience in filmmaking could successfully transfer the show's appeal. The sight gags and large ensemble numbers in "The Book of Mormon" would be fun to see depicted dynamically on the big screen.
Company
The work of Broadway composer Stephen Sondheim has already inspired many great films. The adaptations of "Sweeney Todd: The Demon Barber of Fleet Street," "West Side Story," Gypsy," "A Funny Thing Happened on the Way to the Forum," and "A Little Night Music" were worthy of their stage predecessors, while Richard Linklater is currently working on an ambitious 20-year shoot for his version of Sondheim's "Merrily We Roll Along." Sondheim's complex narratives and poetic parallels translate well to the big screen. Given the resurgence of the movie musical in 2021, it's a better time than ever to adapt one of Sondheim's greatest works.
"Company" is a musical comedy that tells the story of a single New York man named Robert. Robert is beloved by his friends, but is unable to find a steady relationship. The musical explores Robert's interactions with his married friends and potential romantic partners over a series of interconnected vignettes as he prepares for his 35th birthday. Film fans who want a taste of Sondheim's beautiful wordplay can check out a scene from "Marriage Story," in which Adam Driver's character Charlie Barber sings "Being Alive" from "Company."
The nonlinear structure of "Company" is unique, and a creative filmmaker could present the non-chronological events in a compelling way. Spielberg aims to be more mindful of the Latin American characters in his version of "West Side Story," and a "Company" film could also modernize the elements specific to the original show's white, working-class perspective.
Avenue Q
Satirical puppet comedy movies have been hit and miss. Peter Jackson's 1989 splatter classic "Meet the Feebles" took a twisted approach with its exploration of the chaotic behind-the-scenes of a children's puppet show, depicting all of the show's stars as real celebrities. However, the recent Brian Henson buddy cop film "The Happytime Murders" was an unfunny parody of "The Muppet Show" done in poor taste. Given the right mix of precision from the puppeteers and a script that knows how to transition the material, a puppet-centric movie for adults could succeed. It would be a nice change of pace when CGI is so often overused.
The musical "Avenue Q" explores the lives of puppet characters who live in a gritty, realistic version of a neighborhood similar to "Sesame Street." The humor is certainly R-Rated with its frequent swearing and explicit sexual references, but unlike "Meet the Feebles" or "The Happytime Murders," the drama is taken seriously. Lifelong roommates Rod and Nicky are satirical reimagining of Bert and Ernie, but their latent homosexual relationship is specifically detailed and explored with nuance. The Cookie Monster parody known as "Trekkie Monster" is obsessed with internet pornography, and struggles with his mismanaged sexual appetite. The lonely college graduate Kate Monster and failed comedian Brian both deal with their unrealized potential.
A dramatic adult puppet movie would itself be a novelty, but stop-motion films for older audiences like "Anomalisa" have been successful. The great music of "Avenue Q" could fill this gap.
Chess
The game of chess itself is more popular than ever thanks to the record-breaking success of "The Queen's Gambit." Chess boards have sold at an alarming rate since the Anya Taylor-Joy series debuted, with some retailers reporting that sales increased by over 87%. The limited series ended on a satisfying note and will not return for another season, but the story will continue in another way. Level Forward recently acquired the rights to turn the Netflix series into a musical. If audiences still have an appetite for chess content, then it's the right time for a film version of the classic musical "Chess."
Like "The Queen's Gambit," "Chess" is set amidst tensions between the United States and the Soviet Union. Taylor-Joy's Beth Harmon faced off against the Russian grandmaster Borgov in the thrilling final episode of "The Queen's Gambit," and "Chess" depicts a similar rivalry between its two central characters. An unnamed American and Russian champion both fall in love with manager Florence Vassy. The love triangle develops amidst the competitive environment and political pressure on both sides.
The intimate settings could be creatively depicted in a film. "The Queen's Gambit" found unique ways of visualizing chess for the screen; a "Chess" film could do the same, and unique visuals that could not be depicted on stage could distinguish a cinematic adaptation from the stage version. Perspectives on the Cold War have changed since the 1986 debut of "Chess," and a film could also highlight more modern insights.
Miss Saigon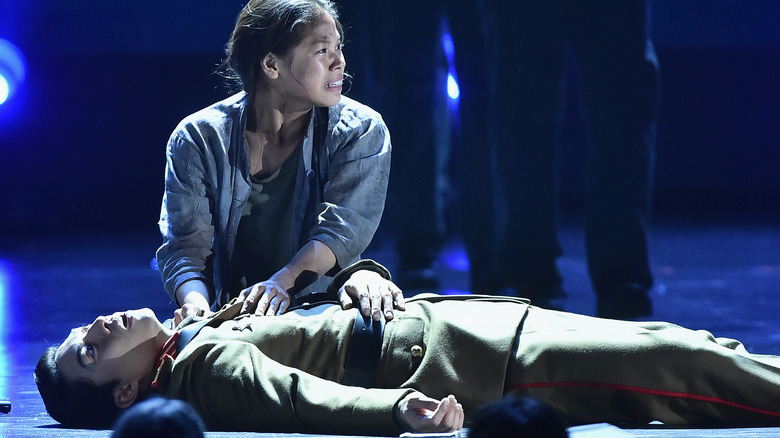 Theo Wargo/Getty Images
Films about the Vietnam War responded to the conflict in its immediate aftermath, and continue to explore its ramifications today. Classics like "Apocalypse Now" and "The Deer Hunter" came only a few years after American involvement in the war ceased, and some filmmakers served in combat themselves. More recent films like the survivalist saga "Rescue Dawn" indicate that viewers are still interested in this devastating war.
The epic Vietnam War musical "Miss Saigon" is one of the most successful shows in the history of Broadway. With record-breaking ticket sales for its 1989 West End production and 1991 Broadway debut, it's one of the longest-running musicals ever. It's also, unfortunately, full of misogynist and racist tropes. While the doomed romance between between American soldier Chris Scott and the Vietnamese prostitute Kim has touched the hearts of audiences around the world, it also presents Asians as weak and childlike, with the implication that their lives are worth less than those of the white characters.
It doesn't have to be that way. The spectacle of the setting would make a film adaptation distinct from the stage show, with more time dedicated to the inherently cinematic combat scenes, while a story revamp could go a long way towards eliminating the musical's deeply problematic elements. A film adaptation isn't just an opportunity to bring the show to the big screen; it's a chance to do "Miss Saigon" right.
36 Questions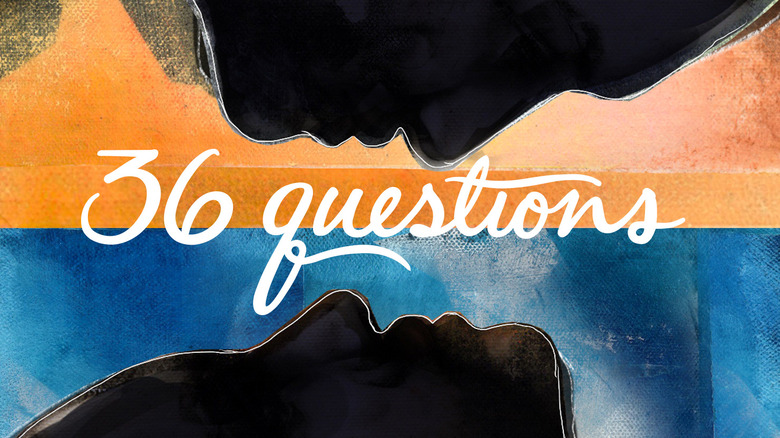 Two You Productions
A great musical adaptation can expand the range and scale of a more intimate story. The musical "36 Questions" was released as a podcast, an audio show that explores an extended conversation between an estranged husband and wife, Jase and Judith. The couple reflects upon the memories they never shared with each other and the reasons why they initially grew apart; they ask each other a series of questions, some intimate and some serious. The three-act show was released as three fifty minute episodes, and has yet to be adapted for the stage.
The premise may not seem inherently cinematic, but throughout the COVID-19 pandemic filmmakers adjusted to the restrictions on storytelling with more intimate, contained pieces. Films like "Locked Down," "Malcolm & Marie," "The Guilty," and "Together" were set entirely in a single location, but through creative staging their stories still felt worth seeing on screen. These innovative techniques have been around since the Golden Age of Filmmaking; the great Alfred Hitchcock helmed chamber pieces like "Lifeboat," "Rear Window," and "Dial M For Murder.
As there isn't a stage production of "36 Questions" yet, there's no expectations for what it would look like seeing its characters and situations visually. There are many exciting ways for a film adaptation to expand on the original story. Flashback sequences only hinted at within the music could actually be depicted, and perhaps the different locations Jase and Judith visit could be fleshed out in more detail with additional characters.
Spring Awakening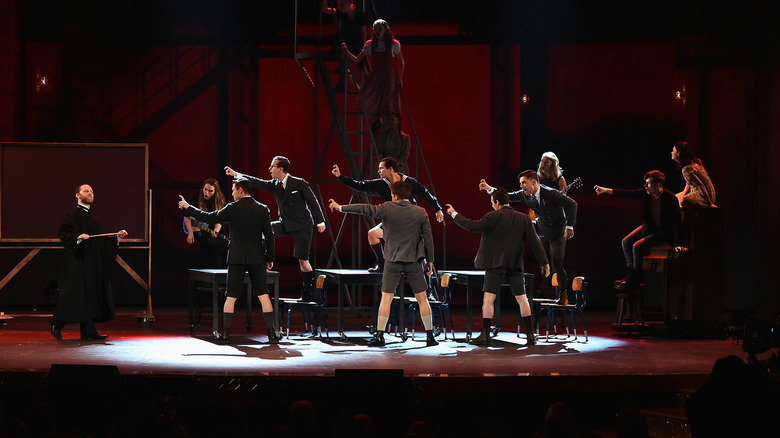 Theo Wargo/Getty Images
The coming-of-age rock musical "Spring Awakening" has courted potential filmmakers for over a decade, but none of the proposed adaptations have ever seen the light of day. Stylized action filmmaker McG of "Charlie's Angels" and "Terminator: Salvation" fame was in talks to direct a "Spring Awakening" film in 2009, but while composer Duncan Sheik was enthused and planned to write a new song for the film, there's been no word recently on the status of the project.
That's unfortunate, because the heartbreaking emotional resonance of "Spring Awakening" has the potential to make a powerful cinematic experience. "Spring Awakening" is an insightful look at teenagers who wrestle with their hormonal feelings, and serves as a warning on the dangers of religious extremism, seclusion, isolation, and abuse. The characters are denied functional sexual knowledge at a young age, and as a result they feel guilty for their adolescent desires and develop mental health issues as they grow older. These themes are still timely now, and a sensitively-handled "Spring Awakening" film could kickstart important conversations.
The "Spring Awakening" musical that first debuted as an Off-Broadway production in 2006 is based on a 1981 German play of the same name. The period setting would give the film's production crew a chance to recreate the historic environment, and to visually highlight the recurring motifs. It would be particularly haunting to see the dominant religious imagery that haunts each of the central characters.
American Idiot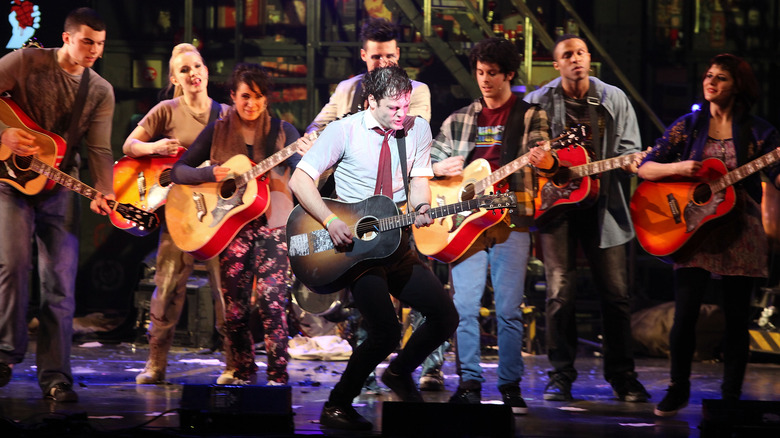 Ryan Miller/Getty Images
Despite being one of the most popular bands of the early 21st century, Green Day has never received a great film that honors their music. While Green Day songs pop up in many films, most memorably when the band members played themselves in "The Simpsons Movie," the closest thing to a standalone film that's been released is frontman Billie Joe Armstrong's vanity project, "Ordinary World." However, Green Day's songs successfully made it to the stage with the wildly popular musical "American Idiot."
Adapted from the band's 2004 concept album of the same, "American Idiot" sees the band's beloved songs interwoven with a coming-of-age narrative. The musical follows the three lifelong friends — Johnny, Will, and Tunny — as they grow disillusioned with the institutions that they've been taught to respect.
Green Day has always appealed to young viewers with its anti-establishment themes, but the "American Idiot" album became a sensation in part due to its underlying political message. Anti-war sentiments and criticism of the Bush administration were at the heart of cultural discourse when "American Idiot" debuted. It was equally as effective when the music was recontextualized as a stage narrative.
These themes are still relevant today, and moviegoers have shown they're still interested in seeing recent American political history depicted on screen. Bush-era films such as "Vice" and "The Mauritanian" debuted to positive reviews, and an "American Idiot" film would stand out from more traditional adaptations by reaching out to younger audiences.
First Date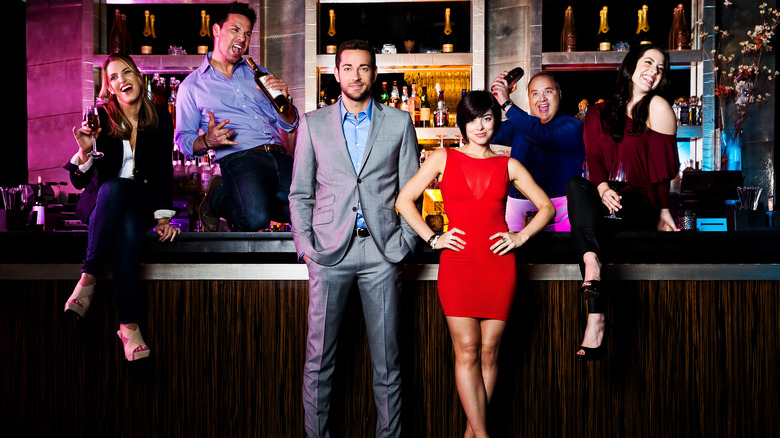 Handout/Getty Images
There have not been a lot of great romantic comedies produced recently. In modern Hollywood, the mid-budget star vehicle is disappearing, often skipping theaters entirely. There's more emphasis on massive tentpole blockbusters and small, independent films that don't pose as much of a financial risk. There have certainly been many great indie rom-coms in the past few years — "The Big Sick," "Southside with You," and "Enough Said," for example. However, the days of the star-studded studio rom-coms of the '80s and '90s feel long gone.
As such, the rare A-list romantic comedies that hit theaters feel like novelties, and rom-coms seem to need a distinguishing element to get a greenlight. A rom-com musical would certainly be unique in the current market, and 2012's stage show "First Date" would be a great inspiration. With a classic screwball premise inspired by '80s classics, the story follows the chaotic misadventures of a couple ahead of their blind date. The satire of the differences between Christianity and Judaism gives the story a unique perspective, and the lyrics are respectful of both male and female anxieties.
A "First Date" film that retains Zachary Levi and Krysta Rodriguez would be exciting. Following the success of "Shazam!," Levi may be able to leverage his movie stardom to spotlight a passion project. Rodriguez continues to show her versatility on screen, having recently delivered a memorable performance as Liza Minnelli on the Netflix series "Halston."
Falsettos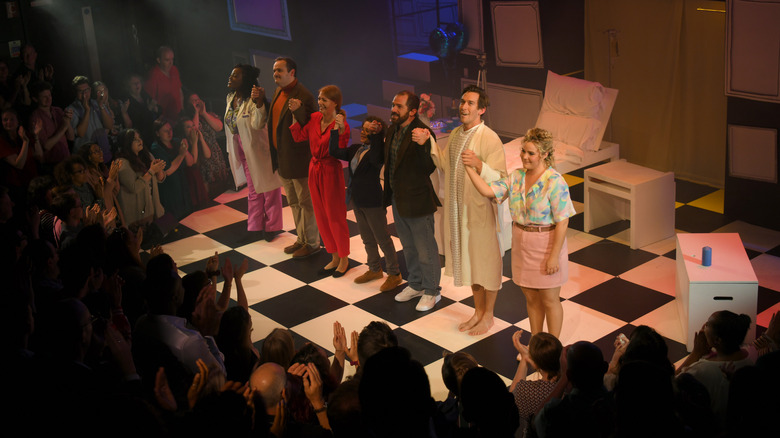 David M. Benett/Getty Images
The 1992 musical "Falsettos" tells an intimate, personal story set during the heart of the AIDS crisis in the 1980s. Both an uproarious comedy about generational relationships and a searing drama about the disease that wreaked havoc on generations, "Falsettos" explores the intersections of religion, gender, age, and sexuality with nuance. The story follows the personal challenges of Marvin, who attempts to raise his son Jason alongside his wife Trina, despite leaving her for his male lover Whizzer.
"Falsettos" has already proven to be a success on the big screen, as a recent filmed stage version sold out during its limited theatrical showcase in select arthouse chains. A film adaptation could certainly capitalize on the loyal fanbase, but the story of "Falsettos" itself would translate well to the big screen. The story is epic and features many different locations; sight gags within the secluded religious ceremonies and Jason's childhood baseball games are hallmarks of the stage show, and would work in a film as well.
"Falsettos" is a long show, and some productions have run close to three hours. A film would most likely have to cut some of the side plots and simplify some narrative elements, but a respectful filmmaker could make the necessary edits and still retain the heart of the story. A "Falsettos" adaptation could spotlight an LGBTQ filmmaker who is passionate about the subject matter.