Horror Icon Lin Shaye Is Getting Her Own Action Series
Blumhouse
Any day that keeps Lin Shaye booked and busy is a good day. Deadline announced today that the horror icon will star in and executive produce a new six-episode action-thriller series called "Ellen," about a criminal land developer who tries to intimidate who he thinks is just a sweet 80-year-old widow into abandoning her Montana ranch, but gets a rude awakening when that old woman is badass incarnate, Lin Shaye.
The series comes from New Regency ("The Revenant," "The Beast Must Die") and QCode, a company known for their podcast offerings like "The Burned Photo" and "Gaslight" with Chloe Grace Moretz. The series is based on an original idea from Jalmari Helander ("Big Game," "Rare Exports: A Christmas Tale") with a script written by Tim Walker. Filmmaking duo Clif Prowse and Derek Lee ("Afflicted") will be directing and executive producing the series.
This will be the third project between New Regency, QCode, and producers Automatik and Oddfellows. 42, which developed the project with Automatik, will also be producing. A podcast from will be made to release as a companion to the series.
All Hail Lin Shaye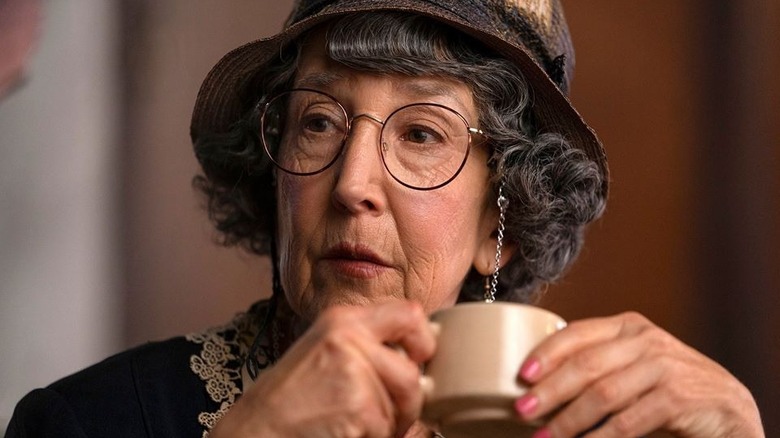 Showtime
Lin Shaye has been a working actress for a long time, but she's one of the few who has really made their mark later in their career. Known for her frequent collaborations with the Farrelly brothers in comedies like "Kingpin," "Dumb and Dumber," and "There's Something about Mary," Lin is also a celebrated living legend in the horror genre.
In some of her first roles, Shaye played a receptionist in the slasher film "Alone in the Dark" before playing the teacher in the original "A Nightmare on Elm Street," and showing up in both "Critters" and "Critters 2." She's an actor who never really went away, but as a character actor, never really got the chance to shine as the leading player we know she's always been. That is, until she showed up as Elise Rainier in the "Insidious" film series.
Since her casting in "Insidious" back in 2010, Lin Shaye has shown up in countless horror films. Elise Rainier is a boundary-breaking character, especially considering horror's less-than-stellar reputation of only utilizing older women to play witches, monsters, or decrepit weirdos. Lin Shaye is the connective tissue and final girl of the "Insidious" series, and shows that underestimating her is always a mistake. This new role in "Ellen," sounds absolutely perfect for her, and her horror legacy has shown that if she ain't afraid of no ghost, she sure as hell won't be afraid of some ageist land tycoon.