A Real Phone Number Was Used In Squid Game, And Netflix Is Going To End The Madness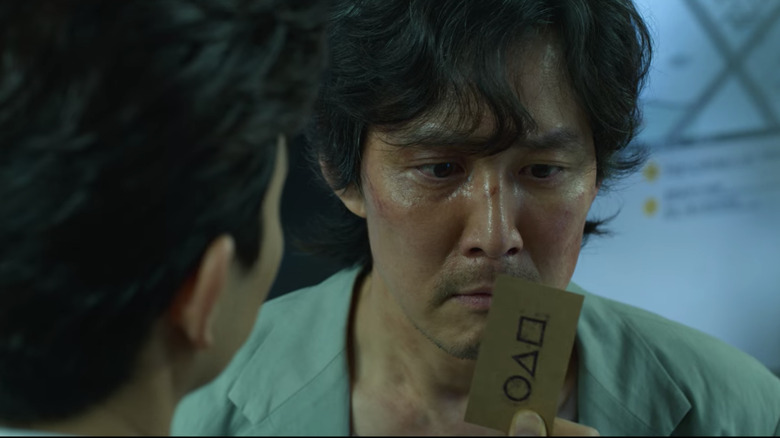 Netflix
Since debuting on Netflix last month, "Squid Game" has exploded in popularity, becoming one of the streamer's most popular series thus far. And while some fans are expressing their love on social media, others are looking to get a little more engaged. By, ya know, trying to play the Squid Game themselves — which would all be fine and dandy if not for the deadly consequences laid out in the series.
In an early scene of the new Netflix hit, a mysterious Salesman (Gong Yoo) offers lead character Seong Gi-hun (Lee Jung-jae) the opportunity to play a childish game for some money. It's an offer Gi-hun can't refuse, given his enormous debt, so he plays. And when he (eventually) wins, he's handed a card and invited to play a game with much higher stakes. What could be a throwaway moment is Gi-hun's grand turning point, setting him on the devastating path to the Squid Game: a contest where players compete in children's games with deadly twists in the hopes of winning the grand cash prize. And it's all because he called the number on the card.
And it turns out the number presented to Gi-hun was real and the unknowing owner of said number has been bombarded with messages and calls from fans demanding to participate in Squid Game. In fact, there's a good chance the number has gotten lost in translation, because multiple people have reported receiving phone calls from Squid Game enthusiasts who claim to have gotten their number from the card. Often the numbers are close to the one shown onscreen, differing by a single digit. Given the unparalleled popularity of "Squid Game," things have gotten way out of hand, with one of the phone call victims telling The Korea Times:
"Many people who have watched the series call me day and night to say they want to join the game, and my phone battery runs out in less than half a day."
The Deadliest of Prank Phone Calls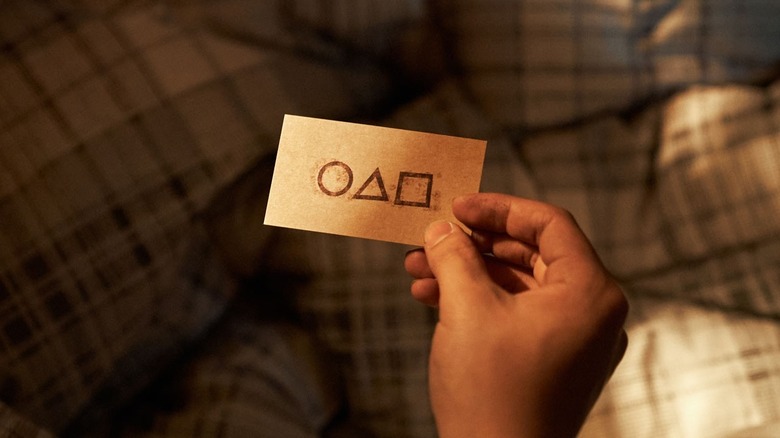 Netflix
Allow me to ask the obvious question: um, what's wrong with people?! The rules of cinema are simple: don't say "Candyman" five times in the mirror and don't ask to play the Squid Game! A whopping 456 players go into the arena and a lot less come out, so maybe it's best not to take any chances with that. Yes, the past few years have been especially isolating and we've all taken a turn for the nostalgic: it would be great to play those schoolyard games like we used to — good ol tug-a-war and fun with marbles — but maybe with less horrific stakes, yes?
There were a lot of very clear takeaways from "Squid Game": classism bad, doll creepy, vans cool, and we're all overdue for a deeper discussion about subtitles. But if you sat through the lethal, emotional rollercoaster and decided "I could probably do that," then you might want to take another gander at episode 6.
Since these reports begun, Netflix has announced their intention to edit the several scenes in which the phone number appears. This is a vaguely alarming — if occasionally helpful — reminder of how much power streamers hold over their content. Though the process may be complex, they do have the power to edit and alter the original product at will. And sure, not much on the internet can simply disappear without notice, but the implications remain.
But this power can also prove helpful, especially given the situation at hand. Netflix actually made moves to avoid this problem by only showing the first eight digits of the phone number onscreen, but were not aware that the prefix simply autofills, allowing the call to go through. They've since released a statement saying:
​​"Together with the production company (Siren Pictures), we are working to resolve this matter, including editing scenes showing the phone number where necessary."