Star Wars Bits: The Book Of Boba Fett, Star Wars: Shadow Of The Sith, Halloween Shopping Guide, And More!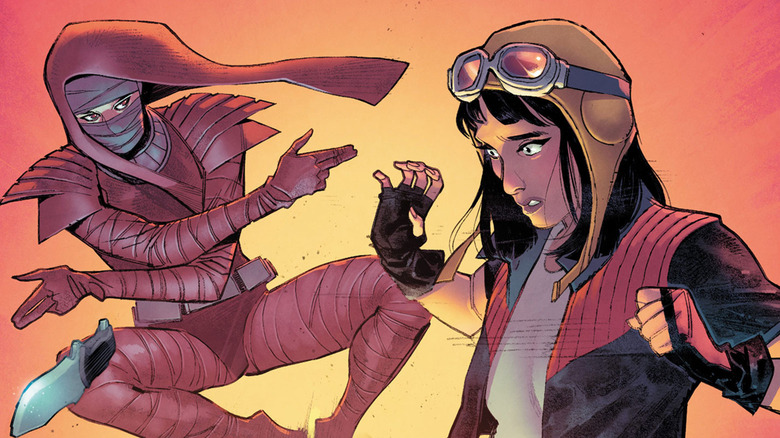 Marvel Comics
We may receive a commission on purchases made from links.
In this edition of Star Wars Bits:
An Epic Scene Description from "The Book of Boba Fett"
"Star Wars: Shadow of the Sith" and Other New Books
"The Art of Star Wars: Visions" Comes Into Focus
The Origins of "LEGO Star Wars Terrifying Tales"
The "Star Wars" Halloween Shopping Guide
And More!
An Epic Scene Description from The Book of Boba Fett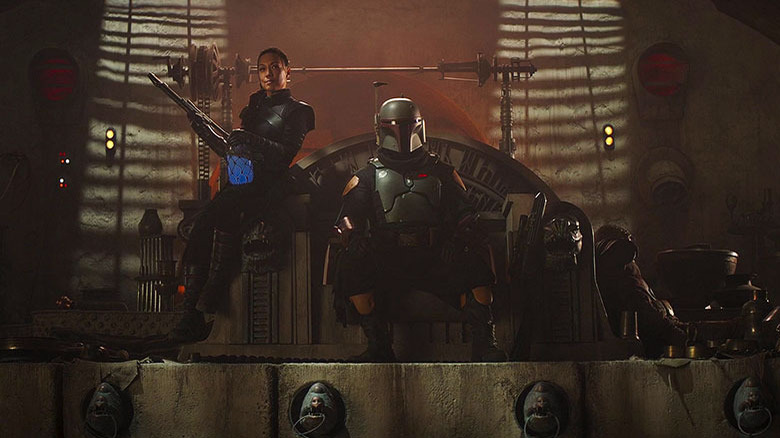 Lucasfilm
Our friends over at Star Wars News Net have an exclusive (and totally sweet) scene description from the upcoming Disney+ series "The Book of Boba Fett." While the scene itself isn't really a spoiler in terms of revealing vital information about the plot, it's a cool moment, so if you want to go into the series completely fresh, avoid this bit and check out the next one! 
"The Book of Boba Fett" premieres Wednesday, December 29, exclusively on Disney+. Here's the official synopsis:
The Book of Boba Fett, a thrilling Star Wars adventure, finds legendary bounty hunter Boba Fett and mercenary Fennec Shand navigating the galaxy's underworld when they return to the sands of Tatooine to stake their claim on the territory once ruled by Jabba the Hutt and his crime syndicate.
Star Wars: Shadow of the Sith and Other New Books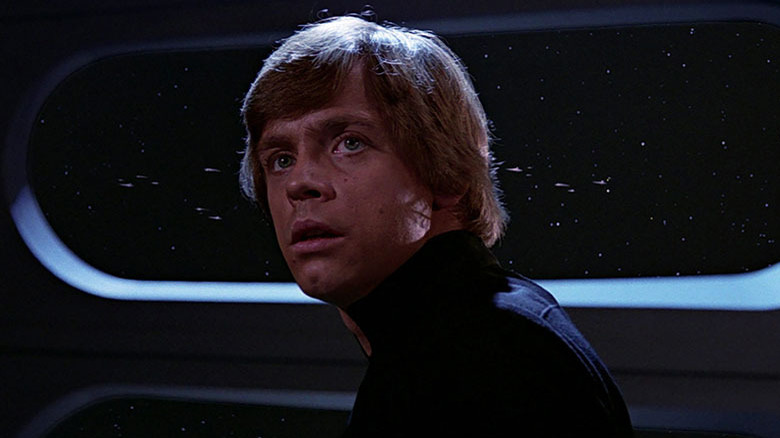 Lucasfilm
StarWars.com recently announced that new books featuring never-before-told tales from across the Star Wars saga are headed our way. First, there's Adam Christopher's "Star Wars: Shadow of the Sith," which takes place after "Star Wars: Return of the Jedi" and finds Luke Skywalker and Lando Calrissian on a mission to locate Exegol. Then, there's Mike Chen's "Star Wars: Brotherhood," which takes place during The Clone Wars and chronicles Anakin Skywalker's rise to Jedi Knight. 
Here's the official synopsis for "Shadow of the Sith," which hits shelves on June 28, 2022:
The Empire is dead. Nearly two decades on from the Battle of Endor, the tattered remnants of Palpatine's forces have fled to the farthest reaches of the galaxy. But for the heroes of the New Republic, danger and loss are ever-present companions, even in this newly forged era of peace.

Jedi Master Luke Skywalker is haunted by visions of the dark side, foretelling an ominous secret growing somewhere in the depths of space, on a dead world called Exegol. The disturbance in the Force is undeniable...and Luke's worst fears are confirmed when his old friend, Lando Calrissian, comes to him with reports of a new Sith menace.

After his daughter was stolen from his arms, Lando searched the stars for any trace of his lost child. But every new rumor only led to dead ends and fading hopes–until he crossed paths with Ochi of Bestoon, a Sith assassin tasked with kidnapping a young girl.

Ochi's true motives remain shrouded to Luke and Lando. For on a junkyard moon, a mysterious envoy of the Sith Eternal has bequeathed a sacred blade to the assassin, promising that it will give him answers to the questions that have haunted him since the Empire fell. In exchange, he must complete a final mission: return to Exegol with the key to the Sith's glorious rebirth—the granddaughter of Darth Sidious himself, Rey.

As Ochi hunts Rey and her parents to the edge of the galaxy, Luke and Lando race into the mystery of the Sith's lingering shadow and aid a young family running for their lives.
For more information on these and other upcoming books, check out StarWars.com!
The Art of Star Wars: Visions Comes Into Focus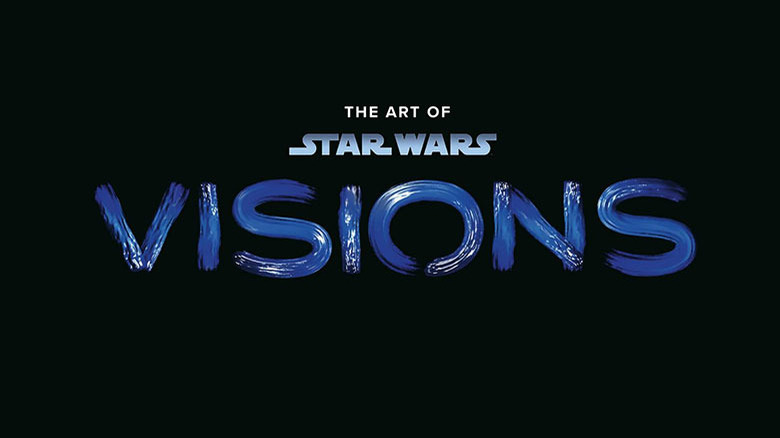 Dark Horse Comics
If you enjoyed "Star Wars: Visions" — the anime-inspired anthology series now available on Disney+ — then get excited because you've got even more cool stuff to look forward to! Nerdist announced this week that "The Art of Star Wars: Visions" will be released on April 12, 2022. From author Zack Davisson ("Kaibyo: The Supernatural Cats of Japan"), the 200-plus page book celebrates the groundbreaking series with concept art, designs, and storyboards from the "Star Wars: Visions" animation studios: Kamikaze Douga, Studio Colorido, Geno Studio, Trigger, Kinema Citrus, Production I.G, and Science SARU.
Dark Horse Comics Senior Editor Ian Tucker, who served as the book's editor, told Nerdist:
"As a lifelong Star Wars fan, it's uniquely exciting to witness the passionate reimagining of a familiar galaxy far, far away through the lens of 'Star Wars: Visions.' Every episode is packed with joyous surprises: an astromech droid cleverly topped with a roningasa, an ancient Sith warlock with a face like an evil hannya theater mask, or an adorably chibi Boba Fett... These worlds that we know so well have been brilliantly rendered in fascinating new ways, and other fans of Star Wars will undoubtedly savor the talent and zeal poured into each adventure as much as I have. We're thrilled to have partnered with Lucasfilm and writer Zack Davisson in the creation of 'The Art of Star Wars: Visions,' and we can't wait to share this gorgeous collection of concept art and creator insights!"
The book will be priced at $49.99. You can pre-order the full-color companion to the anime series now through your local comic shop or bookseller.
Upcoming Star Wars Comics From Marvel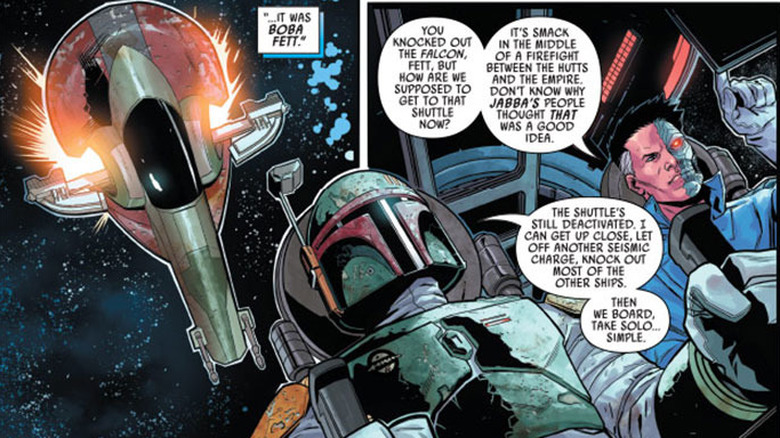 Marvel Comics
Marvel's "War of the Bounty Hunters" crossover event continues with "Doctor Aphra" #15, from writer Alyssa Wong and artist Minkyu Jung, with a cover by Sara Pichelli and Nolan Woodard. In StarWars.com's exclusive preview of the upcoming issue, Aphra has a run-in with the assassin Deathstick! Also, in "War of the Bounty Hunters" #5, Boba Fett and Beilert Valance go behind Imperial lines to recover Jabba the Hutt's prize, Han Solo encased in carbonite. 
Check out StarWars.com for a look at all the Marvel "Star Wars" titles coming November, including "Star Wars: The High Republic: Trail of Shadows" #2, "Star Wars: The High Republic" #11, "Star Wars: Doctor Aphra" #16, "Star Wars: Bounty Hunters" #18, and "Star Wars: Darth Vader" #18.
The Origins of LEGO Star Wars Terrifying Tales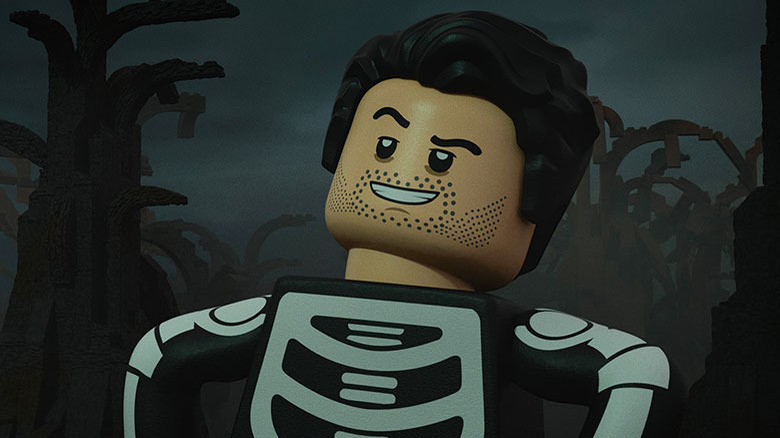 Lucasfilm
Have you watched Disney's "Star Wars" Halloween Special, "LEGO Star Wars Terrifying Tales" yet? It's super fun, and filled with references and homages to classic horror films. In an interview with StarWars.com, director Ken Cunningham — who also directed last year's "The LEGO Star Wars Holiday Special" — talks about how "Terrifying Tales" gave him a chance to blend two things he loves:
"I was 10 when Star Wars came out. I probably saw it in the theater 20 times," Cunningham says. "I was a huge Star Wars geek as a kid. Still am. But that was really seminal for me. So when the opportunity came up to do the Holiday Special, it was kind of a dream come true. And then in terms of horror films, I was like, a teenager in the '80s. At that point in my life, I was watching a lot of that stuff. Lost Boys was big for me, Poltergeist. A lot of these films. And then, from a filmmaking standpoint, to be able to open that up and play with it was really cool."
Also, if you weren't aware, Christian Slater (of "True Romance" and "Very Bad Things") plays Ren — the former leader of the Knights of Ren who is eventually usurped by Ben Solo — in the LEGO special. He's also a huge "Star Wars" fan, per Cunningham.
"We knew Christian has always been a big Star Wars fan and has loved what we do in animation. This was the perfect opportunity to bring him in and let him have some fun. Ken did such a great job stylizing 'The Lost Boy' that you really feel the appreciation for movies like The Lost Boys and other '80s horror movies, synth-pop training montage and all. So we asked ourselves, 'Who's a great '80s icon?' And Christian has such an amazing voice, that it felt so right for someone intoxicating and scary, but also just really cool, for Ren."
The Star Wars Halloween Shopping Guide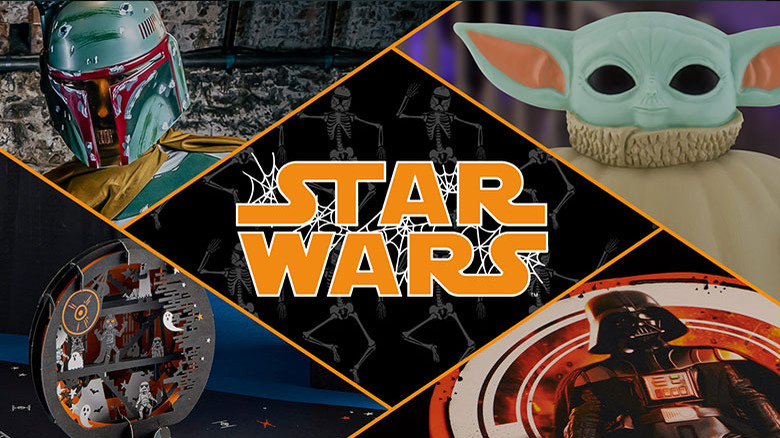 Lucasfilm
Star Wars: The Black Series Brings in the Heavy Artillery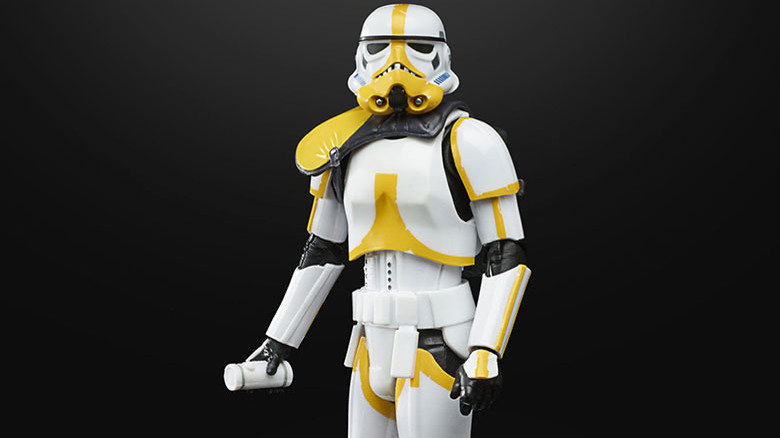 Hasbro
Via io9, Hasbro revealed the newest trooper to hit the Star Wars: The Black Series line. The Imperial Artillery Stormtrooper appeared in season 2 of "The Mandalorian" and joins the 6-inch line, complete with a blaster rifle and a small mortar launcher with grenades. The yellow-paneled Trooper also comes with a backpack to store all those extra grenades. 
The figure retails for $26.49 and is exclusive to Amazon and is available for pre-order now. Check out more photos of the newly revealed figure at io9.
365 Star Wars Interview: Sam Maggs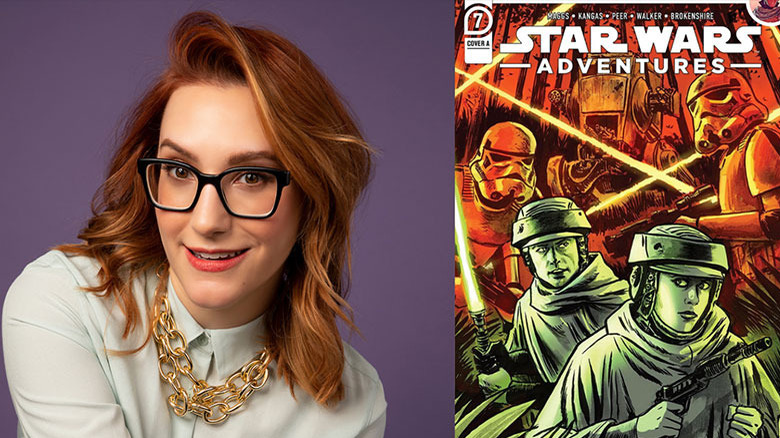 365 Star Wars
365 Star Wars includes articles about the women of "Star Wars" as well as film analysis, reference posts about characters, droids, planets, and creatures. Created by Amy Richau, the site highlights the incredible efforts of women in the franchise. Head on over to her site for an interview with Sam Maggs, a recurring writer on IDW Publishing's "Star Wars Adventures."
Star Wars Explained Builds a Haunted House
This Week! in Star Wars
On "This Week! in Star Wars," host Kristin Baver gives us the lowdown on all the latest news from that galaxy far, far away!

This week in Star Wars, we welcome notorious bounty hunter Fennec Shand to the holotables in Star Wars: Galaxy of Heroes, check out the newest posters for Star Wars: Visions on Disney+, and celebrate 10 years of Star Wars Reads with some fun downloads over on StarWars.com. Plus, Jamie Chung stops by to talk about voicing Misa in the Star Wars: Visions short "Akakiri".