Dead To Me Season 3: Everything We Know So Far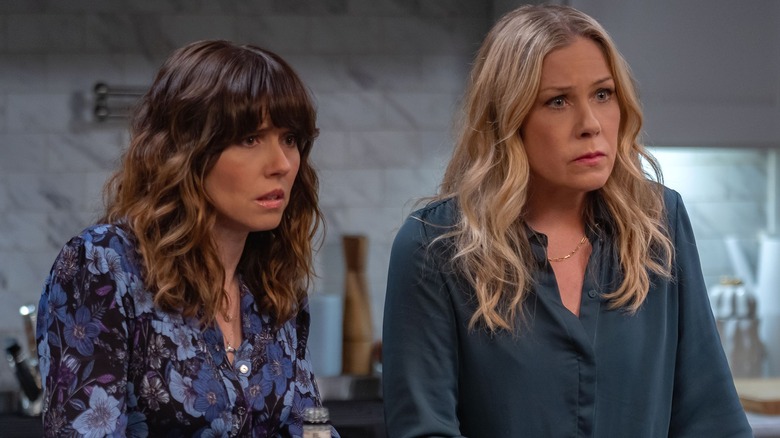 Netflix
Yet another Netflix series is heading toward the end of line, with season 3 of the darkly comedic "Dead to Me" closing up shop. Debuting back in May of 2019, the four-time Emmy-nominated show has stayed a hit throughout the series' run. Alas, all good things must come to an end and fans of the show are at least fortunate that Netflix has allowed the show to wrap up its story and provide genuine closure. As we prepare to say goodbye to Jen and Judy, here's everything we know so far about "Dead to Me" season 3 ... beware of spoilers.
What's Happened on Dead to Me Until Now?
The series focuses on Jen Harding (Christina Applegate) and Judy Hale (Linda Cardellini), who develop a close friendship after meeting at a grief support group after Judy's husband dies of a heart attack and Jen's husband is killed in a hit-and-run accident. In a weird twist of fate, Judy's former fiance Steve (James Marsden) is very much not dead, he simply called off their engagement, and Judy is also the driver responsible for Jen's husband's death. Despite their initial bond, the duo have an understandably rough falling out by the end of season 1 when Jen learns the truth about Judy and Jen murders Steve in an outburst of fury.
Season 2 gives us Judy attempting to make amends with Jen by helping her cover up Steve's murder. The woman killed her husband and lied to her face about it, so it's the least she can do. The duo work together to keep Steve's death covered up, but things get complicated when his twin brother Ben (also James Marsden) shows up, because of course he has a twin brother. The duo manage to evade the law and get away with it all until the massive cliffhanger where Ben, having learned of his brother's death, crashes into the two of them in a drunk hit-and-run.
When is Season 3 Coming?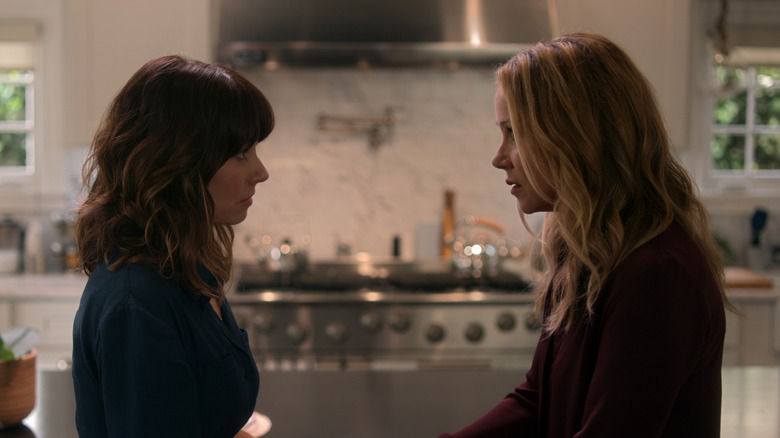 Netflix
Well, it's complicated. Season 3 of "Dead to Me" began shooting on May 7, 2021 with showrunner Liz Feldman taking to Instagram to share the news. Unfortunately, production on season 3 was put on hold after Christina Applegate shared the news that like her "The Sweetest Thing" co-star, Selma Blair, she had also been diagnosed with multiple sclerosis. It is unknown if season 3 has continued production, but according to The Hollywood Reporter, Netflix is giving Applegate the space she needs to heal.
"We love and support Christina [Applegate] and respect her privacy as she takes the time and space she needs in this moment," Netflix and CBS Studios said in a joint statement of their #DeadtoMe star. Production on season three has been paused temporarily https://t.co/vRetTnWHls

— The Hollywood Reporter (@THR) August 10, 2021
Christina Applegate, Linda Cardellini, and James Marsden are expected to return, and it's likely that we'll also see the return of Diana-Maria Riva as Detective Perez, Brandon Scott as Detective Nick Prager, Sam McCarthy and Luke Roessler as Jen's sons Charlie and Henry, Suzy Nakamura as Jen's neighbor Karen, Natalie Morales as Judy's season 2 love interest Michelle, and Katey Sagal as Judy's incarcerated mom Eleanor.
Following the season three announcement, it was also announced that Liz Feldman signed a multi-year deal with Netflix to develop new original series and other projects. While we may be saying goodbye to "Dead to Me," we're sure to have new shows to fall in love with through this collaboration.