Operation Mincemeat Trailer: Colin Firth Aims To Embarrass Hitler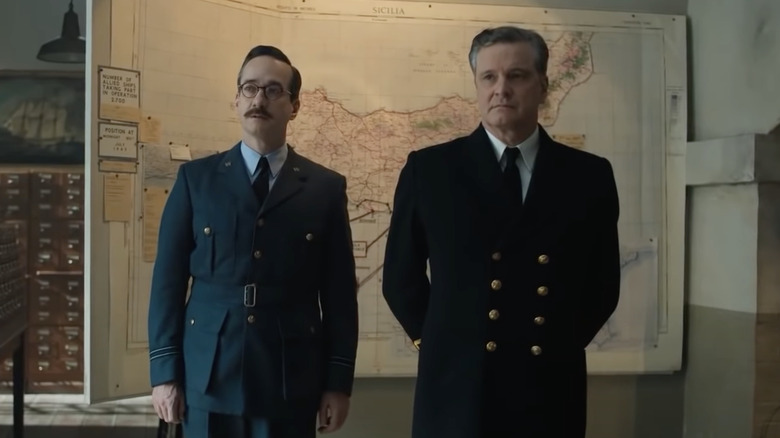 Netflix
Colin Firth and company are going to play a humiliating trick on Hitler. That's the plan, anyway, in "Operation Mincemeat," a new Netflix film with a plot that sounds like "Weekend at Bernie's" meets World War II. However, this movie is based on a true story, which became the basis of a book by Ben Macintyre, and now, a screenplay by Michelle Ashford. There's some real history behind its cinematic depiction of the British plan to Trojan-horse false intelligence into Nazi hands via a dead man's suitcase.
As Firth's character explains, the Operation Mincemeat plan "begins in Spain, where a corpse will wash up on shore bearing classified letters." They're going to float these fake documents into enemy hands and convince Germany that their target is Greece. The easy part is finding a corpse; the hard part is coming up with a story that will withstand all the rigors of a German inspection.
The cast of "Operation Mincemeat" also features Matthew Macfadyen and Mark Gatiss, among others. You can see the trailer below.
Operation Mincemeat Trailer
On behalf of Wittertainment listeners: hello to Jason Isaacs. He's in the trailer above, as is Kelly Macdonald ("No Country for Old Men") and Simon Russell Beale, who plays Winston Churchill.
"Operation Mincemeat hails from director John Madden ("Shakespeare in Love"). By way of a correction, previous reports, including our own, indicated that the film would be adapting Ewen Montagu's 1953 book, "The Man Who Never Was," which itself was adapted into a 1956 film. However, in an interview with GamesRadar+, Madden cited Macintyre's book as the source material for his film and made a clear distinction between it and "The Man Who Never Was," saying:
"A very interesting thing about that version is that it was an adaptation of a book, which was an account of Operation Mincemeat written by Ewen Montagu, who is the character that Colin Firth plays in our story. And that was written under the very tight control of the intelligence services, who were very sensitive. The account was written only three years after the end of the war, and the film of that was made about five or six years later, where the shadow of the war was still lingering, and so it actually has a completely different take on the story. And, most critically, the identity of the body that they use was something that the intelligence services were very anxious should not ever be known. And so they had to create their own fiction around that story in the original one. In other respects, obviously, there are areas where the story overlaps, but it's a totally different kind of film."
Before it arrives on Netflix in North America, "Operation Mincemeat" will open in the U.K. on January 7, 2022.