Shows Like Breaking Bad That You Can Binge Watch Today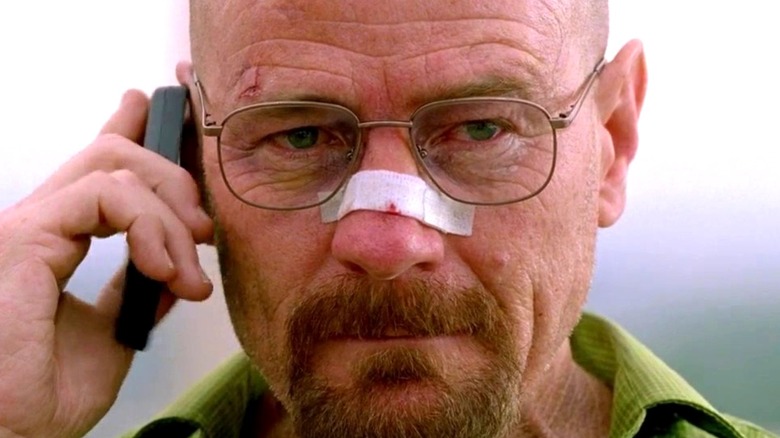 Sony Pictures Television
"Breaking Bad" is one of the greatest television shows of all time. The epic saga of Walter White (Bryan Cranston), a high school chemistry teacher dying of cancer, captivated audiences over the course of its five seasons. Concerned about the financial hardships that his wife Skyler (Anna Gunn) and his son Walter Jr. (RJ Mitte) will face if they pay for his treatment, White begins cooking crystal meth with his former student, Jesse Pinkman (Aaron Paul). While initially intended to support his family, Walter's business grows into an obsession, and he begins developing evil qualities — or, as per the title, breaking bad. Adopting the name "Heisenberg," Walter transforms from a victim to a villain.
The brilliant pilot of "Breaking Bad" instantly hooked viewers, and the show never dropped in quality. Beloved shows like "Game of Thrones" or "Lost" had disappointing series finales, but the final episode of "Breaking Bad," "Felina," tied up the show's events perfectly and gave fans a satisfying conclusion.
"Breaking Bad" may be over, but its universe continues. The prequel series "Better Call Saul" explores the early adventures of untrustworthy lawyer Jimmy McGill (Bob Odenkirk). The 2019 sequel film "El Camino: A Breaking Bad Movie" wrapped up Jesse's story in the immediate aftermath of "Felina." But, if you really love "Breaking Bad," those may not be enough. Those looking for another obsession-worthy series to binge should watch these shows as well.
The Americans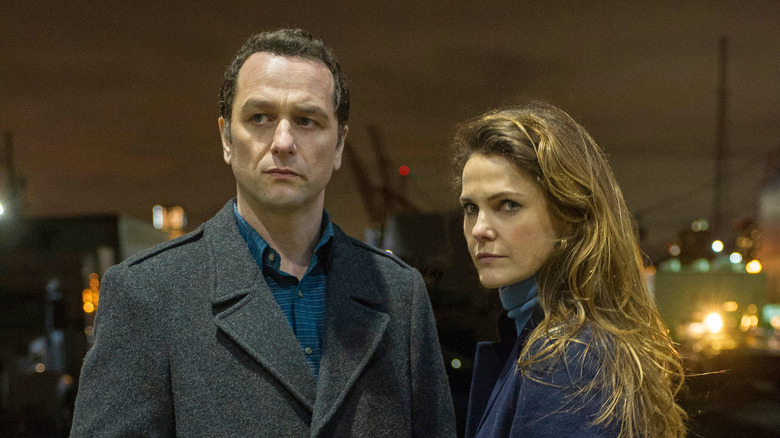 20th Television
One of the most compelling aspects of "Breaking Bad" was its exploration of how a criminal lifestyle impacts family life. Walter initially hides his double identity from Skyler and goes to great lengths to deceive her, but eventually she learns his secret and attempts to rectify the situation. 
The FX series "The Americans" shows a different type of relationship, but one that is similarly haunted by secrets. "The Americans" follows covert KGB agents Elizabeth (Keri Russell) and Philip Jennings (Matthew Rhys), who live in the United States disguised as a suburban couple. Elizabeth and Phillip raise their two children, Paige (Holly Taylor) and Henry (Keidrich Sellati), as a normal family, and do not inform them of their secret mission. The pair struggles as parents, as they're frequently called away on assignments and must create excuses in order to maintain their cover. They also frequently bicker; Elizabeth is patriotic and believes in the dominance of the Soviet Union, but Phillip is more sympathetic to the Americans' perspective.
The Jennings' next-door neighbor, FBI counterintelligence agent Stan Beeman (Noah Emmerich), is a similar character to Hank Schrader (Dean Norris). Stan investigates Russian spies who infiltrate the United States, but does not suspect that his close friends are involved. Like "Breaking Bad," "The Americans" had an excellent finale — the concluding episode "START" wrapped up the series events in a satisfying, yet slightly ambiguous way.
Fargo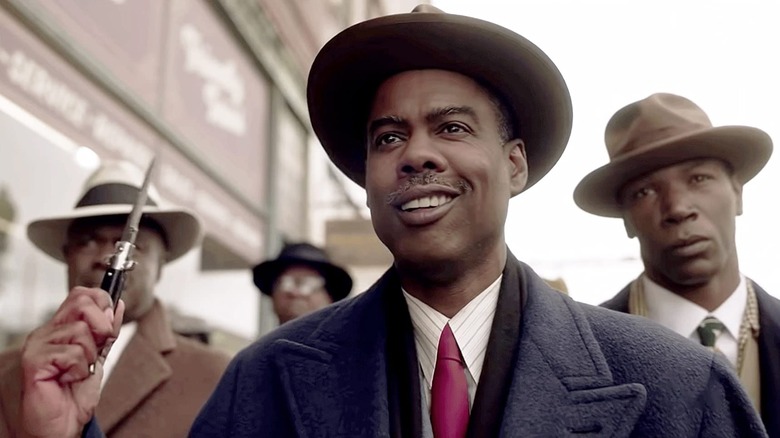 Disney–ABC Domestic Television
"Breaking Bad" had a great cast of characters, and frequently introduced new heroes and villains, making it exciting to see the how the story would grow more complex as additional players entered. Fans who enjoyed the ensemble on "Breaking Bad" may want to check out FX's "Fargo." Loosely based on the classic Coen Brothers film, "Fargo" introduces a new and memorable cast with each season.
The 1st season follows awkward insurance salesman Lester Nygaard (Martin Freeman) after he accidentally kills his wife and is befriended by the dangerous stranger Lorne Malvo (Billy Bob Thornton). Lester and Lorne are pursued by idealistic local cops Molly Solverson (Allison Tolman) and Gus Grimly (Colin Hanks). Season 2 introduces the troubled couple Ed Blumquist (Jesse Plemons) and Peggy Blumquist (Kirsten Dunst), who accidentally disrupt a gang war.
Season 3 explores the competition between poor parole officer Ray Stussy and his wildly successful twin brother Emmit (both played by Ewan McGregor) as they search for a family heirloom. The 4th season develops a generational rivalry between crime families; leaders Loy Cannon (Chris Rock) and Josto Fadda (Jason Schwartzman) form a peace agreement by trading their heirs. Although it is an anthology series, "Fargo" shares many hallmarks with "Breaking Bad." Both shows find intimate moments of humor and heart amidst violent circumstances.
Narcos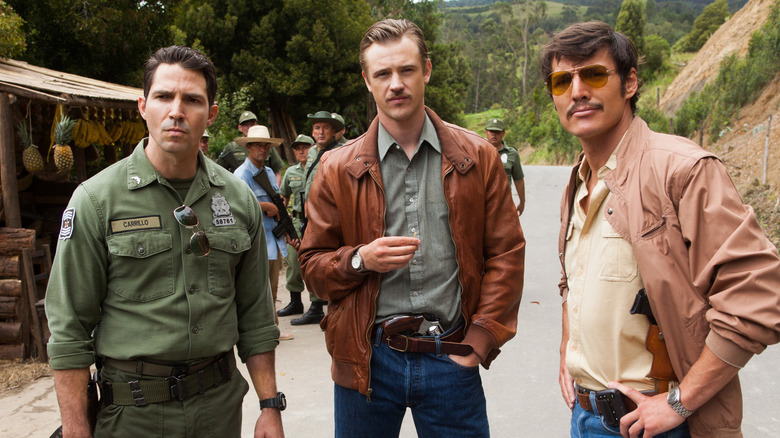 Netflix
"Breaking Bad" explored the complex world of drug cartels in detail. While some crime shows skimp on humanizing the competing factions, the criminal underworld of "Breaking Bad" always felt very realistic. The fearsome drug kingpin Gus Fring (Giancarlo Esposito) is not only one of the most terrifying television antagonists of all time, but a tragic character who is driven by understandably human motvations.
The Netflix series "Narcos" depicts the true story of the Colombian drug war with similar dedication. The show follows Pablo Escobar (Wagner Moura), the fearsome leader of the Medellín Cartel in the 1970s. Escobar began controlling the black market from a young age, and his influence grew as his operation became intertwined with politics. Eventually attaining elected office and expanding to international territories, Escobar became the target of American DEA agents. "Narcos" follows the investigation by agents Steve Murphy (Boyd Holbrook) and Javier Pena (Pedro Pascal).
"Narcos" is respectful of both the American and Colombian perspectives. Escobar is charismatic and deceives locals into believing he is a hero. Moura is captivating; while obviously cruel, he is also a family man who wants to see his country improved. Holbrook and Pascal have engaging chemistry, as both their characters struggle to keep their professional and personal lives distinct. "Narcos" concluded after three satisfying seasons, but the ongoing spinoff "Narcos: Mexico" depicts the Mexican cartel war from the perspective of the Guadalajara Cartel leader Miguel Ángel Félix Gallardo (Diego Luna).
The Mosquito Coast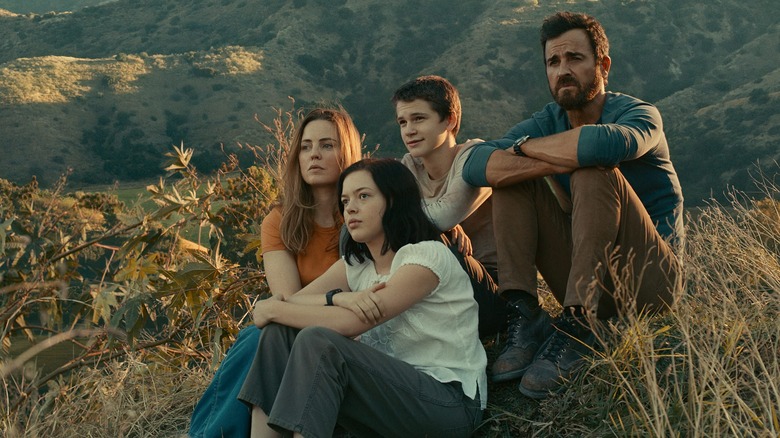 Apple TV+
An exploration of how involvement in a crime syndicate affects a family, "The Mosquito Coast" recalls both "Ozark" and "Breaking Bad." While "Breaking Bad" is very methodical in its pacing, "The Mosquito Coast" is electrifying from the beginning — the central family in "The Mosquito Coast" is on the run from the very start.
The series is based on the acclaimed novel by Paul Theroux, which was previously adapted into an acclaimed 1986 film starring Harrison Ford. It follows inventor Allie Fox (Justin Theroux), whose life is endangered when he receives a mysterious phone call. Fox's wife Margot (Melissa George) gathers their two children, Dina (Logan Polish) and Charlie (Gabriel Bateman), and together they all go on an "impromptu vacation"; the kids quickly realize they're being pursued. After all, Allie has raised them to be vigilant, refusing to send them to public school.
Like Walter, Allie is a deceptive character. He's convinced that the world is completely corrupt and that he must live in isolation. However, despite his radical beliefs, he's still able to deceive others into assisting him. Dina's shocking revelations about her father's priorities create a compelling mystery that lasts through the first season.
Barry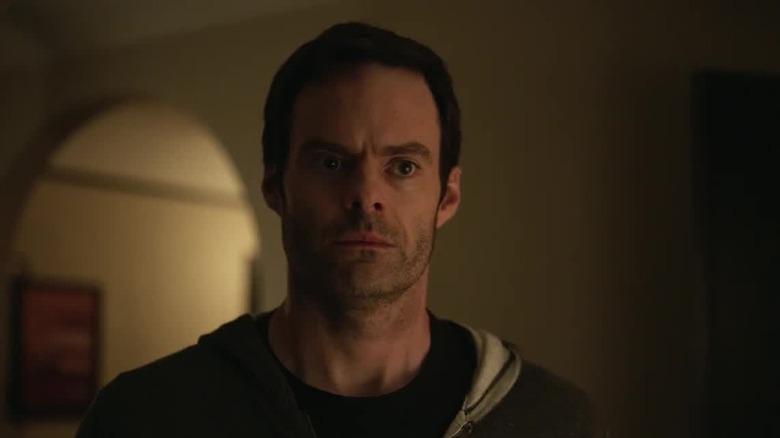 HBO
Walter White is sympathetic because of his tragic situation — he initially feels that cooking meth is the right decision for the people he cares about. Watching Walter struggle with his darker ambitions kept viewers guessing, and forced them to question if he was a hero or villain. The HBO series "Barry" delves into similar territory, although, while the stakes of "Breaking Bad" are very serious, "Barry" manages to inject quite a bit of comedy into its proceedings.
The series follows lonely hitman Barry Berkman (Bill Hader) who is hired to assassinate an actor in Los Angeles. Barry infiltrates a local acting group in order to investigate his target, and finds that he's surprisingly interested in becoming a performer. He finds a mentor in the class' unusual teacher Gene Cousineau (Henry Winkler), a failed actor who nonetheless claims to know the secrets of showbusiness. Barry bonds with Cousineau's class and makes new friends, including his romantic interest, Sally (Sarah Goldberg). Just like Walter is forced to hide his double life, Barry fears telling his new community about what he actually does.
The show is satirical in the comparisons that it draws between Hollywood and crime syndicates, but Barry is a complex character. He wants to forget the horrible actions that he's committed, but is continually drawn back to his old ways. "Breaking Bad" had many elements of black comedy, and "Barry" perfectly mixes twisted humor with genuine emotion.
Mr. Robot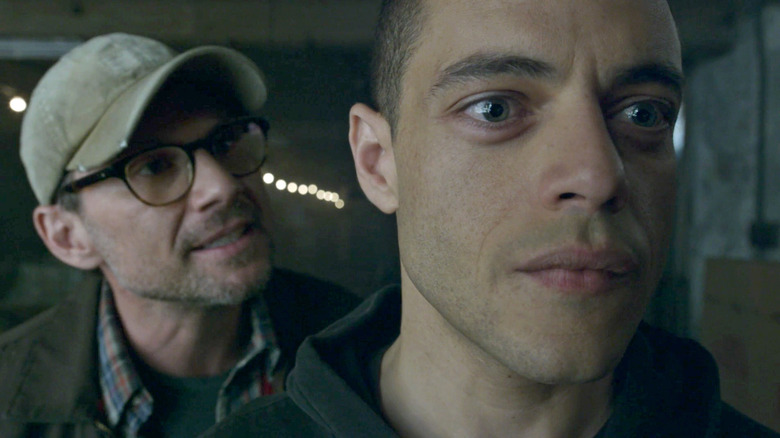 NBCUniversal Television Distribution
"Breaking Bad" gripped fans because it wasn't bound by the limitations of TV. While serialized, its stylized storytelling was just as exciting as a film. Similarly, the USA Network series "Mr. Robot" is one of the most cinematic television shows ever made. During its four-season run, the techno-thriller made bold, experimental choices that pushed the boundaries of what TV could do.
Elliot Alderson (Rami Malek) works as a programmer at the corporation E Corp, but is secretly an underground hacker who exposes criminals and corrupt organizations. Elliot's skills are recognized by the enigmatic activist known as Mr. Robot (Christian Slater), who enlists him to join his resistance group, fSociety. Mr. Robot's goal is to erase the world's debt and bankrupt powerful insiders.
Many "Mr. Robot" episodes break the standard TV formula. Season 2's "eps2.4_m4ster-s1ave.aes" takes place in a fictional sitcom, Season 3's "eps3.4_runtime-error.r00" is told in one continuous tracking shot, and Season 4's "407 Proxy Authentication Required" is framed like a stage show. These bold episodes feel like the descendants of subversive "Breaking Bad" episodes like "Fly" and "Ozymandias."
Ozark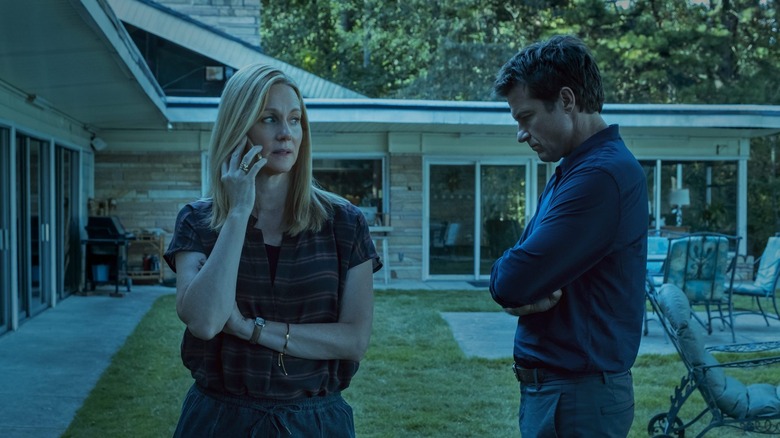 Netflix
"Ozark" immediately sparked comparisons to "Breaking Bad" when it debuted. A gripping crime saga about a family caught in the middle of a cartel war, "Ozark" has a similar intensity to "Breaking Bad" and shows how relationships become strained during stressful situations.
Chicago financial advisor Marty Byrde (Jason Bateman) secretly helps launder money for the Navarro family, but a violent schism forces him to abandon his home and move his entire family to a secret location near the Lake of the Ozarks in Missouri. Marty's wife Wendy (Laura Linney) also hides a dangerous past. Once a top political campaigner, Wendy helps her husband work with local crime families in order to repay their debts. Instead of hiding the danger they're in, Marty and Wendy reveal the situation to their children Charlotte (Sofia Hublitz) and Jonah (Skylar Gaertner).
The plots may seem similar, but "Ozark" is more than just a "Breaking Bad" clone. The pace is faster, and the characters are deeply flawed from the beginning. Marty starts off as completely unsympathetic due to his attitude, but gradually invokes empathy as his situation is revealed. Wendy is a much more active character than Skyler, and quickly proves to be even more dangerous than her husband. 
Perry Mason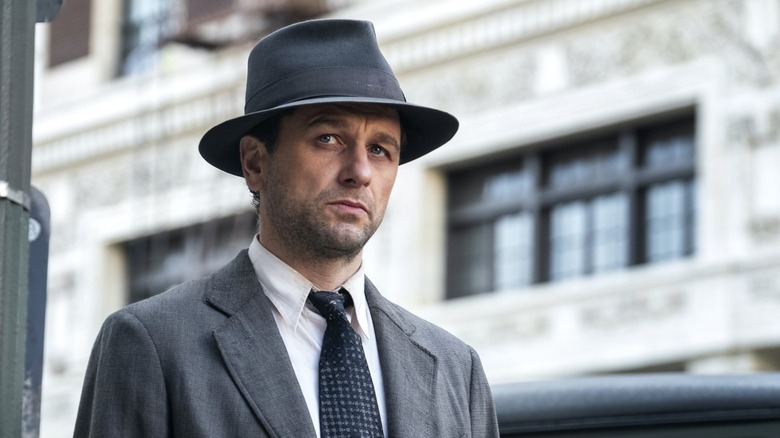 HBO
Above all else, "Breaking Bad" is a tragedy. It's ultimately the story of a man who loses his way, and the devastating consequences he faces because of his poor decisions. Many of its shocking deaths are heartbreaking, even if "Breaking Bad" rarely stopped for sentimental moments. Viewers prepared for a similarly emotional television experience can check out the gripping HBO period drama "Perry Mason."
A reboot of the classic procedural that aired during the '50s and '60s, as well as the books that inspired it, "Perry Mason" follows the titular private investigator (Matthew Rhys) as he collects secrets on Hollywood insiders. Mason is called to investigate when a child is brutally murdered. He's tasked with defending the boy's mother, Emily Dodson (Gayle Rankin); however, as he works to prove Emily's innocence, he uncovers a number of disturbing secrets.
Mason is an austere character, but he's sickened to see how Americans' morals have declined during the Great Depression. "Perry Mason" is often an uncomfortable series to watch, but hardened "Breaking Bad" viewers may enjoy the emotional complexity.
Trust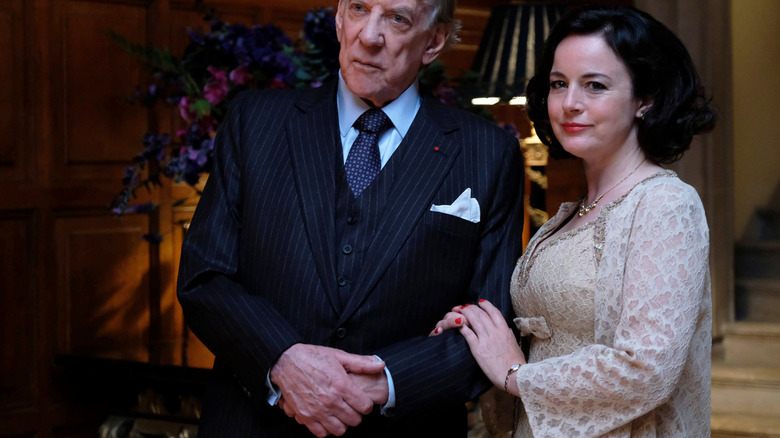 20th Television
Although the universe of "Breaking Bad" can be quite cruel, the series has empathy for all of its characters. There aren't a lot of clichés — even someone like the shady lawyer Saul has desires and motivations that aren't clear from the beginning. As a result of the three-dimensional writing, the drama feels more authentic. The FX crime series "Trust" took a similar approach, exploring a true crime story from the perspective of multiple characters.
In 1973, the oil tycoon John Paul Getty (Donald Sutherland) was one of the most powerful men in the world. Getty's grandson John Paul III (Harris Dickinson) is kidnapped, and his mother Gail (Hillary Swank) begs her father-in-law to pay the ransom. The cruel businessman refuses, despite the pleas of his troubled son (Michael Esper), who is separated from Gail. Getty's personal detective James Fletcher Chase (Brendan Fraser) attempts to help the heartbroken parents in any way that he can.
Each of the characters is flawed, but outside of Sutherland's Getty they are all sympathetic. The kidnappers themselves, led by the Italian gangster Primo (Luca Marinelli), are shocked that the richest man in the world won't pay a simple ransom in order to guarantee the safety of a loved one. The eighth episode, "In the Name of the Father," focuses on the Italian crime community, and gives insight on their reasons for targeting the Gettys.
Mindhunter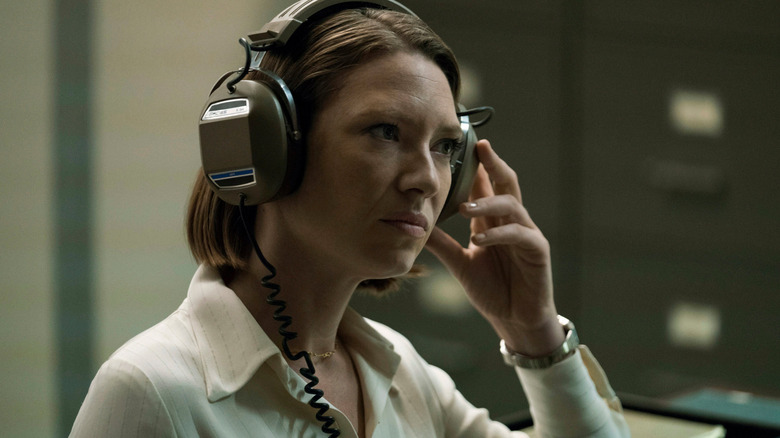 Netflix
"Breaking Bad" certainly had a stacked rogue's gallery. In addition to Gus, other memorable villains included Todd (Jesse Plemons), Tuco Salamanca (Raymond Cruz), Jack (Michael Bowen), and the cousins Leonel and Marco Salamanca (Daniel and Luis Moncada). "Breaking Bad" fans who enjoyed finding bad guys who they loved to hate will want to check out the complex antagonists on Netflix's "Mindhunter." Inspired by real cases, this detective series explores some of the most notorious serial killers in history.
Former FBI agent Holden Ford (Jonathan Groff) meets his new partner, Bill Tench (Holt McCallany), and the pair travels across the country helping local cops solve challenging cases. While interviewing suspects, Holden decides to begin conducting research into the psychology of deranged killers. Holden and Tench team with psychologist Wendy Carr (Anna Torv) to begin an ambitious catalog of the deadliest recorded murders. They encounter famous killers such as BTK, Charles Manson, and the Son of Sam.
Like "Breaking Bad" used its terrifying villains to test Walter's perseverance, "Mindhunter" explores Holden's torment as he tries to put himself in the shoes of these murderers, and begins to fear that he'll start adopting some of the same qualities.
The Sopranos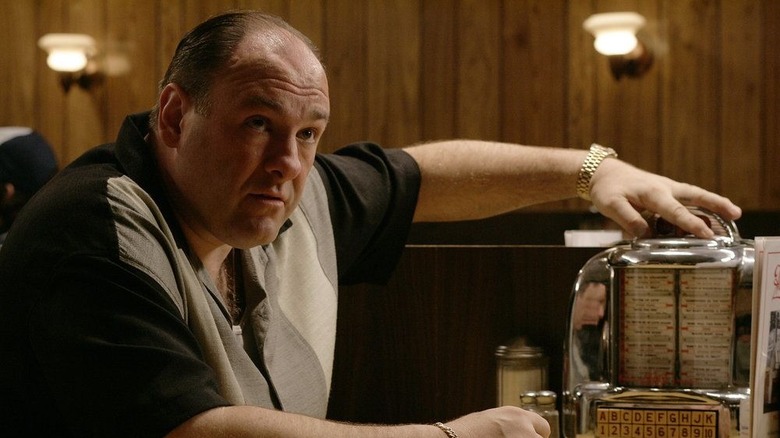 HBO
"Breaking Bad" has one of the most dedicated fan bases of any television show, and the series was an unprecedented event in television history. Few shows have inspired the same level of attention. "The Sopranos" was one of them. "The Sopranos" popularized dramas featuring anti-hero protagonists, serialized storylines, and cinematic storytelling. It ushered in the era of "peak TV," and laid the groundwork for what "Breaking Bad" later achieved.
"The Sopranos" follows the mob boss Tony Soprano (James Gandolfini) as he runs his crime family in New Jersey. Tony has a strained relationship with his wife Carmela (Edie Falco), and trains his nephew Christopher Moltisanti (Michael Imperioli) as his successor. However, Tony also suffers from serious panic attacks, and reluctantly seeks the counsel of the psychiatrist Dr. Jennifer Melfi (Lorraine Bracco).
Like "Breaking Bad," the quality of "The Sopranos" remained consistent across six seasons. While "Breaking Bad" offered a definitive conclusion to its story, "The Sopranos" finale "Made in America" was divisive given its ambiguous conclusion. Over a decade after the show ended, creator David Chase returned to the world of "The Sopranos" for a prequel movie, "The Many Saints of Newark."
The Wire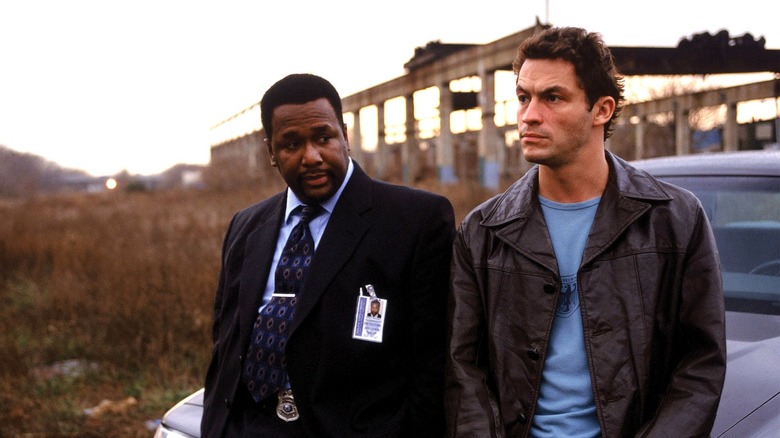 HBO
The New Mexico setting is critical to "Breaking Bad." Filming on location made the series feel more authentic — showrunner Vince Gilligan even incorporated specific local details into the series bible. A distinct setting is also integral to one of the greatest television series ever made, "The Wire." Before getting involved with television, showrunner David Simon was a police reporter in Baltimore. He used his experience to craft "The Wire," and based many of its characters on real people.
"The Wire" explores the drug trade from the perspective of both the cops and drug dealers, and each season complicated the narrative. Season 2 introduced Baltimore's dock workers, Season 3 followed politicians during a fraught mayoral election, Season 4 added younger children in a disadvantaged school system, and the 5th season included the journalists who investigated a series of murders. "The Wire" has been hailed by real politicians and law enforcements for its relevance and realism.
Deadwood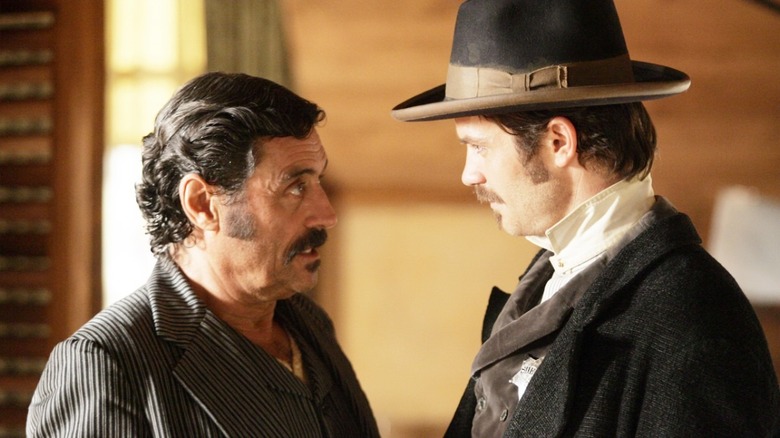 HBO
Vince Gilligan's meticulous planning for "Breaking Bad" resulted in a series that didn't have any poor seasons and few bad episodes. It's rare for a television series to have virtually no low points — HBO's "Deadwood" is another exception. Similar to "Breaking Bad," the western epic feels Shakespearen in its precision.
"Deadwood" explores the growth of a South Dakota town in the 1870s as the new sheriff Seth Bullock (Timothy Olyphant) attempts to bring justice to the frontier. Bullock doesn't have many allies, and he's forced to make a hasty alliance with the powerful saloon owner Al Swearengen (Ian McShane). Bullock considers himself noble, but realizes that he will have to work alongside morally flexible figures in order to make any progress.
While it starts slowly, "Deadwood" features exciting shootouts and memorable confrontations throughout. The series finale "Tell Him Something Pretty" was satisfying, but showrunner David Milch returned to the same universe with the 2019 sequel film "Deadwood: The Movie." Like "El Camino," the spinoff helped wrap up dangling plot threads, and furthered the exploits of minor characters.
Waco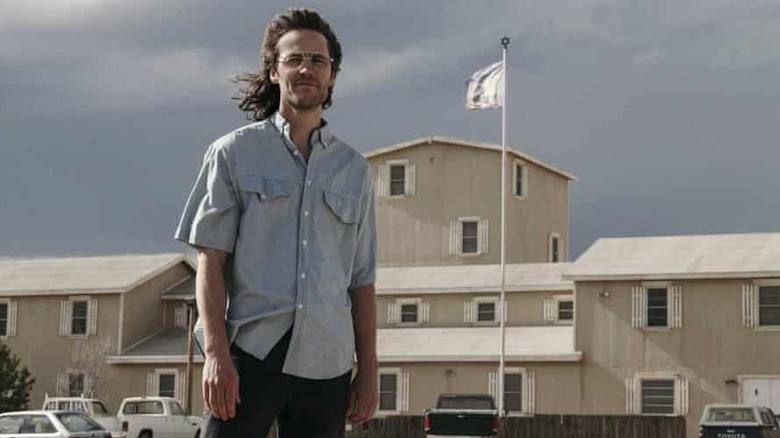 Paramount Network
"Breaking Bad" creator Vince Gilligan was heavily inspired by classic westerns, and it was exciting to see western archetypes reinterpreted in a modern context on "Breaking Bad." Fans looking for a similar reinvention of the western formula will want to check out the miniseries "Waco," which recounts the real standoff between the Branch Davidian religious extremists and the FBI. "Waco" deconstructs what a classic shootout actually looks like; there aren't many clear-cut heroes and villains.
Cult leader David Koresh (Taylor Kitsch) curates a fiercely loyal community of followers at a private compound in west Texas. Law enforcement grows wary of Koresh's polygamy, and dispatches officers to surround the group. Agent Gary Noesner (Michael Shannon) tries to save the innocent families inside, but as tension escalates the situation breaks out into violence. "Breaking Bad" fans may be wary of starting another long binge, but "Waco" packs all of its thrills into a mere six episodes.