What Venom 2 And Many Saints Of Newark Can Teach Us About The Post-Pandemic Box Office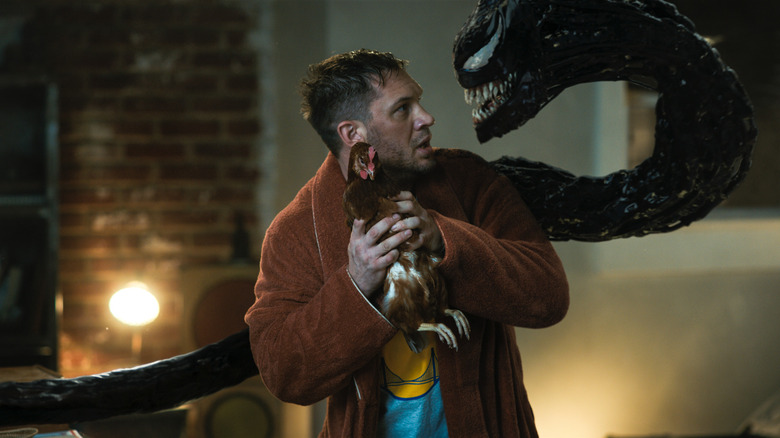 Sony Pictures
It was, to say the very least of it, a huge weekend at the box office. At least if you have the word "Marvel" attached to your movie in any capacity, or any movie ultimately coming from the Disney umbrella. To that end, "Venom: Let There Be Carnage" opened to a truly shocking $90.1 million, shattering industry expectations and setting a new high-bar during the pandemic. Meanwhile, "The Many Saints of Newark," the seemingly anticipated "Sopranos" prequel movie, kind of flopped. As we have transitioned from summer into an optimistic fall season for moviegoing, there are some lessons to be learned from this weekend's numbers. Let's dig in, shall we?
Proven Brands Have Little to Worry About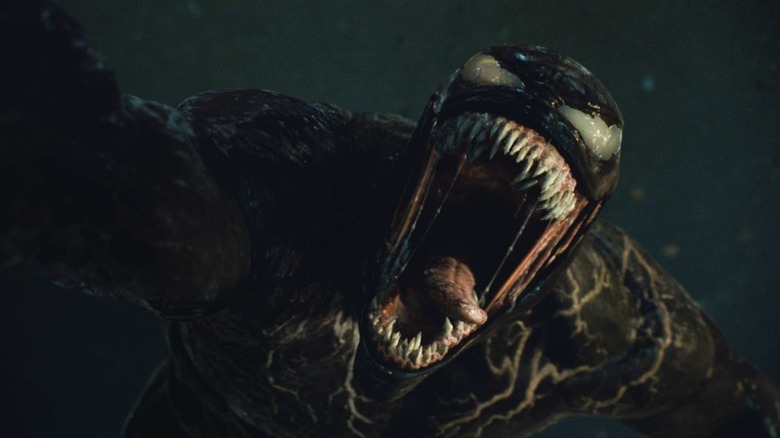 Sony Pictures
"Venom" made waves when it opened to $80 million in 2018, on its way to a staggering $856 million worldwide. It overcame a tidal wave of negative reviews to do so, but it didn't have to suffer a global pandemic. That is what makes the opening for director Andy Serkis' "Venom: Let There Be Carnage" so shocking. It did about $10 million more on its opening weekend than "Black Widow" did ($80.3 million) back in July, the previous high bar for these crazy Covid times.
No disrespect to Tom Hardy and Co., but Scarlett Johansson's long-awaited solo debut in the MCU, in no normal universe, would have made that much less than "Venom 2." It's an example of just how strange things have become. And yet, at the same time, how normal they still are in some ways. It's all still Marvel. It's all big superhero blockbusters. That's what can still be released, with relative confidence, by studios at the box office right now. Though the key very well might be theatrical exclusivity, as opposed to a hybrid release.
"Black Widow" debuted both in theaters and on Disney+ Premier Access. It is heavily believed those numbers ultimately ate into the box office, paving the way for Johansson's big lawsuit, which was recently settled. In contrast, Marvel's "Shang-Chi and the Legend of the Ten Rings," which was released exclusively in theaters, just crossed $200 million domestic, becoming the first movie of the pandemic era to do so. Superheroes are continuing to do business. That much is certain. It's just a matter of figuring out the best strategy, from a distribution standpoint. Though the evidence is stacked against day-and-date.
A Franchise Play Isn't Always a Good Play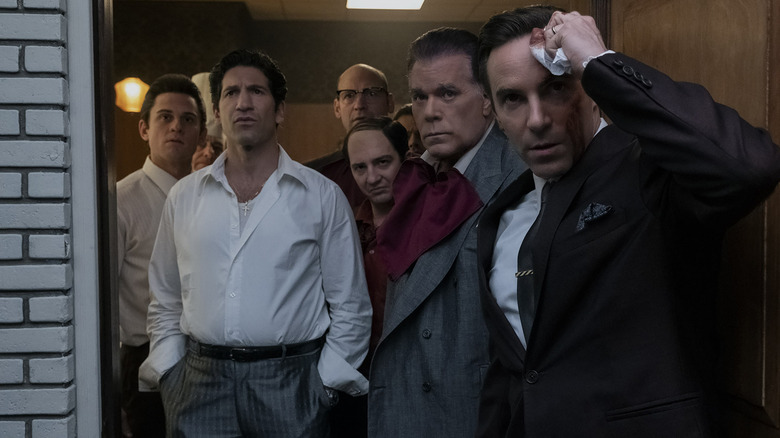 Warner Bros.
Hollywood, long before Covid upended the entire movie business, was absolutely obsessed with franchises. And it's easy to see why. The Marvel Cinematic Universe, "Star Wars," "Harry Potter," "Transformers," and the list goes on. That's where the money seems to be. But we are sometimes reminded that a franchise play, just because it is based on something that exists, is not always wise, even if that thing is beloved. Such is the case with "The Many Saints of Newark." The movie, coming from "The Sopranos" creator David Chase and director Alan Taylor, earned just $5 million on its opening weekend, playing on 3,100 screens. Yes, like all other Warner Bros.' movies this year, it was also available on HBO Max in the U.S. for all subscribers, free of charge.
Unfortunately, Warner Bros. has not been overly transparent with those numbers. That said, it's unlikely enough people tuned in to help offset the reported $50 million budget. Granted, the mixed response hasn't helped anything. In any event, the point to be made here still stands. "The Sopranos" went off the air in 2007. Trying to make a franchise out of this show with a theatrically released movie 14 years later is a tough ask. Sure, Chase seems open to the idea of doing more in this universe, and Warner Bros. likely hoped this would open the door for more. But this wasn't the right kind of franchise for the modern marketplace. Or at least not the right way to go about it.
Notes On the Rest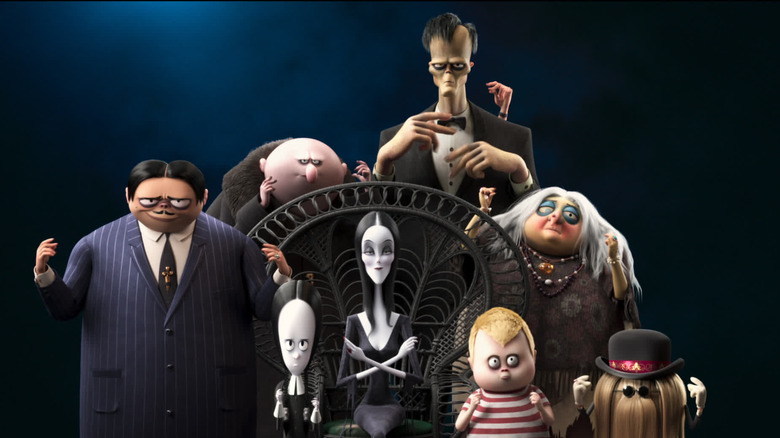 MGM
A few quick notes on the most recent weekend. For starters, "The Addams Family 2" made $18 million in its first frame. That's good, not great. The movie was also released on premium VOD, though family-friendly movies do seem to be a decent candidate for hybrid releases, so long as they were produced for reasonable amounts of money. Whether or not it's enough to get a third entry, who knows? But it's probably good enough to justify the existence of this movie at least, financially speaking.
Meanwhile, "Free Guy" ($117.6 million domestic) passed "Jungle Cruise" ($116 million) this weekend. Both movies have sequels in development. Both are from Disney, ultimately. So, in essence, the most bankable studio on the planet has two new franchises in its wheelhouse. Sorry, everyone else.
On the ugly side of things, "Dear Evan Hansen" belly-flopped in its second weekend, taking in just $2.4 million. That represents a huge 67 percent week-to-week drop, with the movie taking just shy of $12 million thus far. Universal Pictures, it's worth pointing out, gave this an exclusive theatrical release. So there is little to blame this on other than people not wanting to see Ben Platt, a grown-ass man, playing a teenager.
Bond May Break the Bank Too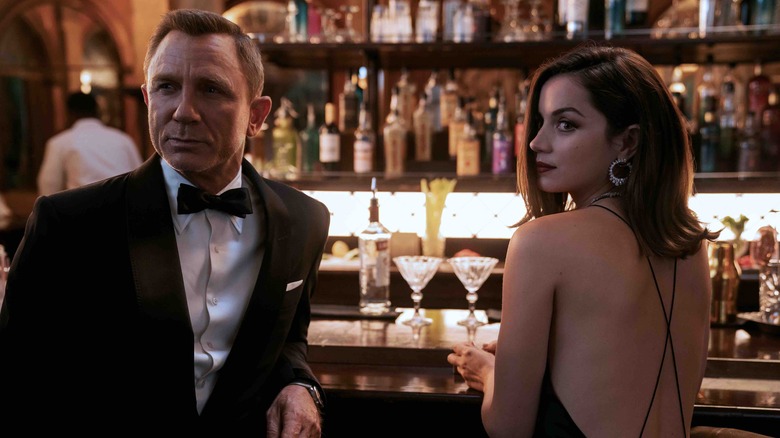 MGM
Lastly, as we do a bit of forward-looking, "No Time to Die" is set to arrive domestically this upcoming weekend. The long-awaited fifth and final "James Bond" flick starring Daniel Craig has already overperformed internationally, taking in a huge $119 million as of Monday morning. That bodes well for the movie's chances in the U.S. and could signal that the industry is in good shape as we round out an uneven 2021 at the box office.