Venom: Let There Be Carnage Scores Biggest Box Office Opening Of 2021 So Far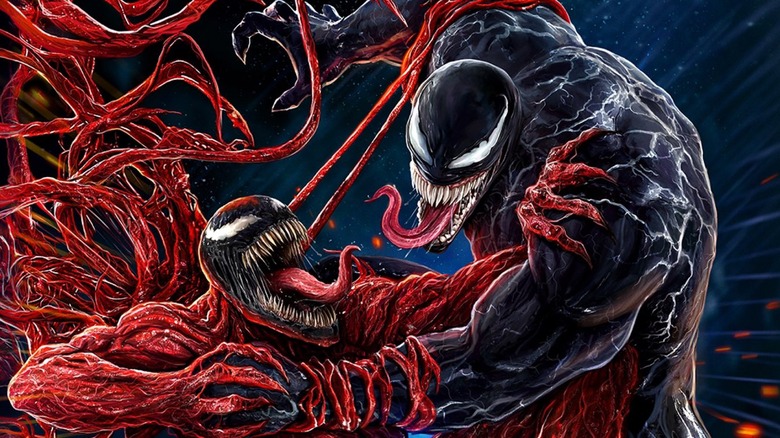 Sony Pictures
Those symbiote appetites know no bounds. Just one day after Sony estimated that "Venom: let There Be Carnage" would finish its opening weekend box office at $71 million, the movie has now far exceeded those numbers and scored the biggest domestic debut of the year so far. 
Variety reports that "Venom: Let There Be Carnage" has set a pandemic record with its $90.1 million opening. "Black Widow" is now in a distant second place with its $80 million opening, though Disney also benefited from Premium VOD sales on Disney+. A better comparison is "Shang-Chi and the Legend of the Ten Rings," which opened exclusively in theaters over Labor Day weekend with a three-day gross of $75.5 million. 
Though the fact that those two Marvel Studios movies released earlier in the pandemic should not be ignored, it's still surprising to see a film set in Sony's side-universe of Spider-Man side-characters pulling out ahead of the Marvel Cinematic Universe, which has consistently dominated the box office for years. But then, the first "Venom" movie was a surprise success as well, so perhaps we should stop being surprised. Despite poor reviews, "Venom" grossed $856 million worldwide and won plenty of fans, thanks in large part to the incredible chemistry between Tom Hardy and his co-star, a toothy sentient alien blob (also played by Tom Hardy). 
Movie research consultant David A. Gross told Variety that the apparent return to normality at the box office has been boosted by the fact that young people — who are less susceptible to severe cases of COVID-19, and who also happen to be the primary target audience for superhero movies — are more willing to return to theaters than older people and families. "For [superhero, action, and horror] movies, playing exclusively on the big screen is clearly an advantage," said Gross.
The Billion Dollar Blob?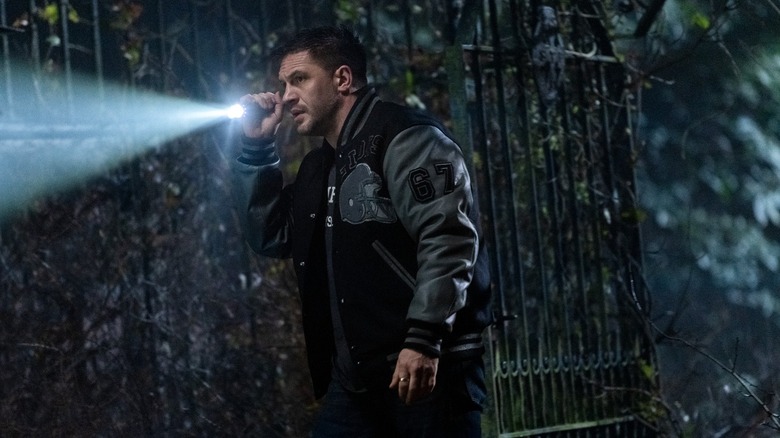 Sony Pictures
Directed by Andy Serkis, "Venom: Let There Be Carnage" stars Tom Hardy as journalist Eddie Brock, and also as the voice of Eddie Brock's roommate, Venom. Due to the cost of renting in San Francisco, Eddie and Venom have to maximize their apartment space by sharing the same body, and since the events of "Venom" they have settled into a cozy domestic routine. That is upended, however, when a second symbiote called Carnage merges with serial killer Kletus Kasady (Woody Harrelson) and starts wreaking havoc on the city.
Despite the third act devolving into the usual CGI superhero battle mess, "Venom" was surprisingly charming and hilarious where it could just have easily gone down the edgy-grimdark route. "Venom: Let There Be Carnage" screenwriter Kelly Marcel and co-writer Tom Hardy leaned into what people loved about the first movie while writing the sequel, and the result is that Serkis has described as a "love story" in the form of a superhero movie. 
18 months into a pandemic the world is plenty grimdark and edgy enough, so "goofy and weird" may be exactly what moviegoers are looking for in their weekend escape to the movies. Then there's the hype surrounding the end-credits for "Venom: Let There Be Carnage," which I won't spoil here (mainly because I don't know what it is — the movie doesn't release here in the U.K. until October 15th).
Based on the trajectory of the first movie, "Venom: Let There Be Carnage" is now likely to become the first film to push past the billion dollar mark at the global box office since 2019. It's also in the running to become the biggest movie release of 2021 — though it'll face serious competition from upcoming releases "No Time To Die," "Eternals," and especially "Spider-Man: No Way Home."
"Venom: Let There Be Carnage is in theaters now.