Superhero Bits: Beware Of Venom: Let There Be Carnage Spoilers, The Suicide Squad Sneakers & More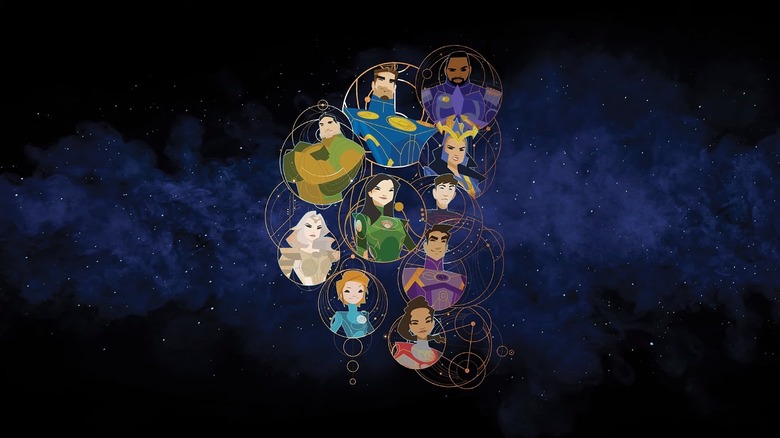 Marvel
(Superhero Bits is a collection of stories, updates, and videos about anything and everything inspired by the comics of Marvel, DC, and more. For comic book movies, TV shows, merchandise, events, and whatever catches our eye, this is the place to find anything that falls through the cracks.)
In this edition of Superhero Bits:
"Venom: Let There Be Carnage" is finally here.
Puma is teaming up with DC for "The Suicide Squad" shoes.
Marvel begins prepping audiences for "Eternals."
"Black Panther" #1 gets a trailer
Beware of Venom: Let There Be Carnage Spoilers
After a year of delays, "Venom: Let There Be Carnage" has finally hit theaters. As evidenced by this post from the movie's official Twitter account, we would caution fans to be extra careful about spoilers for this one. Stay off of social media, or perhaps mute keywords. The conversation will, undoubtedly, be substantial for this one. You've been warned.
Black Panther #1 Trailer
Marvel Comics is launching a brand new "Black Panther" comic next month. This will pick up in the aftermath of Ta-Nehisi Coates wrapping up his legendary run with the character. Now, it falls to Oscar-winner John Ridley and artist Juann Cabal to usher in a new era T'Challa. The synopsis for the book reads as follows:
Secrets from T'Challa's past have come back to haunt him! Fresh from returning from his travels in space, Black Panther receives an unexpected and urgent message from a Wakandan secret agent! Now T'Challa must race the clock not only to save his agent, but also to keep his true agenda under wraps. Because if the truth comes out, it could cost T'Challa everything.
"Black Panther" #1 hits shelves on November 10.
Netflix Was Surprised at Mark Millar's Comic Plans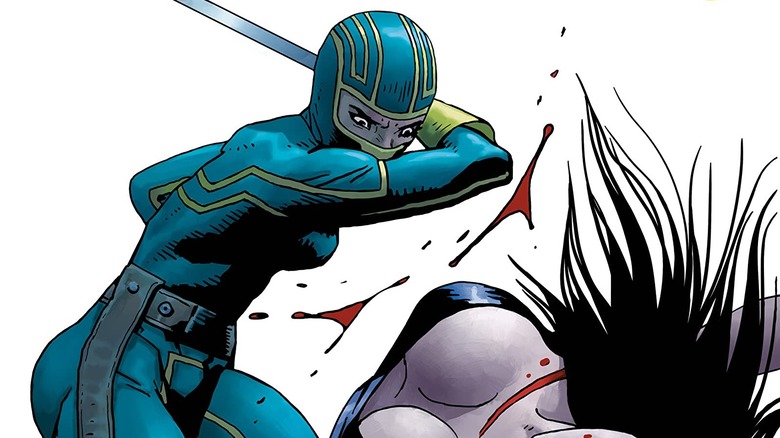 Millarworld
Netflix purchased Millarworld as its first major acquisition in 2017. The plan was to turn Mark Millar's comic books into franchises. While "Jupiter's Legacy" flamed out in a big, bad way, Netflix is making good on that promise. But, in a new interview with Comic Book Resources, Millar explained the company was surprised that he still wanted to make actual comic books following the deal.
"Netflix was surprised I was so passionate about continuing to do comics too, but I didn't get into this business to get out of it. It was never a stepping stone for me, as I love it. I asked to get a few comics written into my work contract as a Netflix exec every year and I'm now adapting the franchises I create in-house into comic form. The Magic Order was the first of these, but also Space Bandits, Sharkey, Night Club, King of Spies and Prodigy. These are all TV shows or movies I created as an in-house franchise and then worked up with character bibles to be comics too."
In turn, those new comics will be used to create franchises. Everyone is happy.
Injustice Animated Movie Gets New Images
DC's "Injustice" is getting the animated movie treatment here in just a few short weeks. Warner Bros. has released several new images teasing the adaptation ahead of its arrival on October 19, 2021. The pictures highlight Harley Quinn, Green Arrow, and more. Check them out in the tweet above.
What If...? Plot Holes Explained in New Video
The folks at ScreenCrush have released a new video explaining some things about Marvel's animated series "What If...?" Specifically, it has to do with some plot holes that fans may have been scratching their heads over. This video should help sort out some of what is going on as we rapidly approach the show's season 1 finale.
WandaVision Scarlet Witch Statue from Iron Studios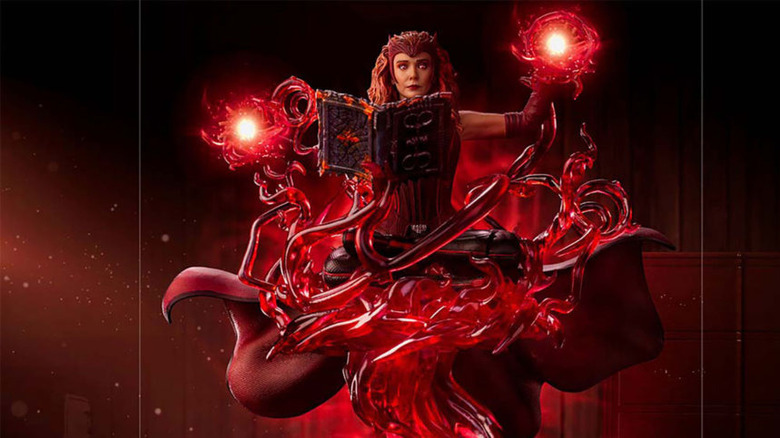 Sideshow Collectibles
As reported by the folks at Toy Ark, Iron Studios has begun pre-orders for its "WandaVision" Scarlet Witch statue. In particular, the 1/10 scale statue captures the iconic moment from the show's post-credits scene. The item will run $210 and is expected to ship sometime between October and December 2022. So we've still got some time to wait on this one, but you can get a look at it for yourself in the image above.
The Suicide Squad Sneakers from Puma
Shoemaker Puma has teamed up with DC to release a line of sneakers inspired by this summer's "The Suicide Squad." In the video above, we get a glimpse at the footwear to come, which came to fruition thanks to artist Jen Bartel. The line includes characters Harley Quinn, Peacemaker, Bloodsport, Polka-Dot Man, and, most importantly of all, King Shark. The shoes retail for $150 and are available for pre-order right now. 
Venom: Let There Be Carnage Rotten Tomatoes Score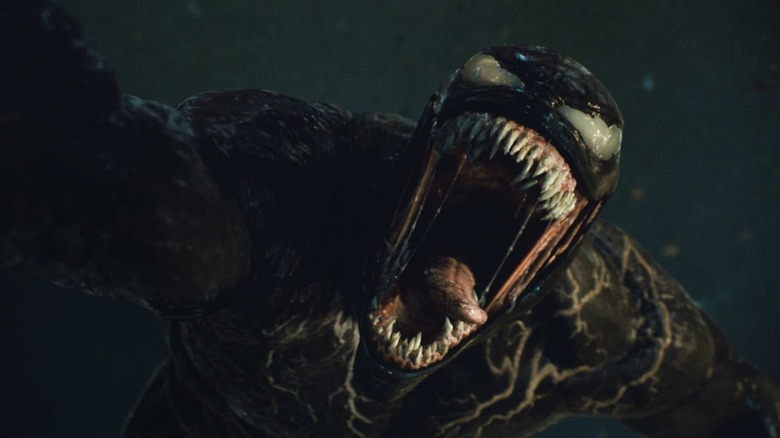 Sony Pictures
With the movie in theaters, "Venom: Let There Be Carnage" has had its official Rotten Tomatoes score revealed. It, as of this writing, boasts a 62% critical approval rating to go with an 85% audience rating. In contrast, the first "Venom" carries a mere 30% critic rating and an 81% audience score. While these numbers will fluctuate, the consensus is, so far, that the sequel is an improvement.
Meet the Eternals Videos Begin with Ajak
Lastly, we have a bit of promotional material for "Eternals," the next bit Marvel flick arriving in theaters. The Marvel HQ YouTube channel has begun releasing a series of videos meant to familiarize fans with the large cast of somewhat obscure characters at the center of the upcoming blockbuster. This video focuses on Ajak, who is being played by Salma Hayek in director Chloe Zhao's entry in the MCU. Check it out for yourself above.