Venom: Let There Be Carnage Just Had The Second-Best Preview Night Of The Pandemic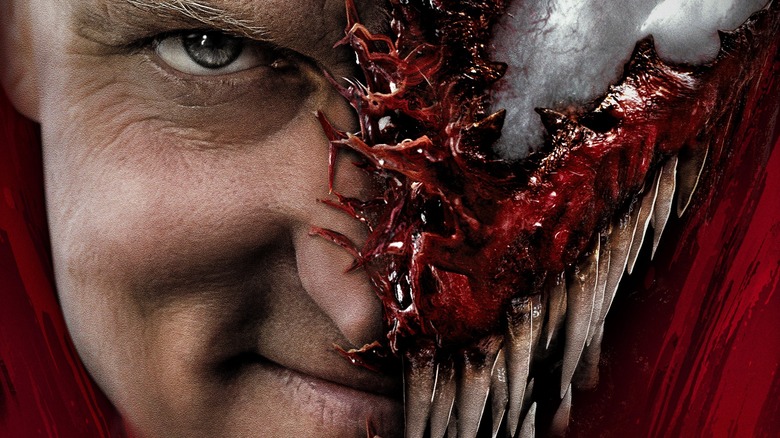 Sony Pictures
"Venom: Let There Be Carnage" is off to one heck of a great start at the box office. The sequel, which sees Tom Hardy return as Eddie Brock/Venom, hit theaters for preview showings on Thursday night, ahead of its full rollout this weekend. 
Things are, to say the very least of it, looking good. "Venom: Let There Be Carnage" had the second-best preview night of the pandemic, taking in $11.6 million. The movie is now poised to have a bigger opening weekend than expected, which could mean good things ahead for the fall season. Let's have a closer look at the numbers, shall we?
How the Numbers Stack Up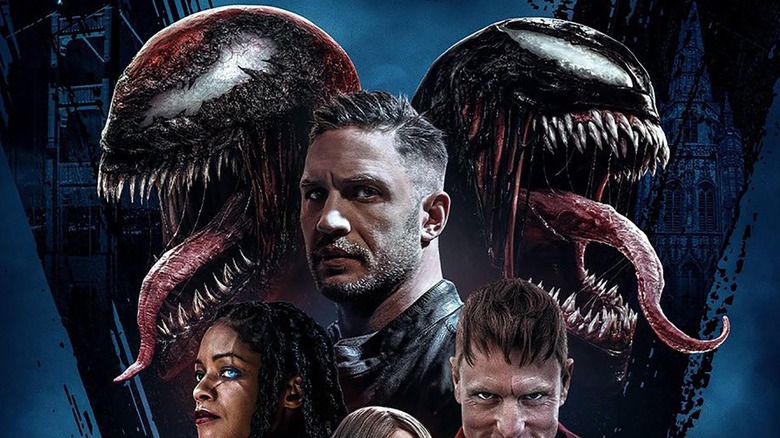 Sony Pictures
The early numbers for "Venom: Let There Be Carnage," per The Hollywood Reporter, bode well. 2018's "Venom" opened with around $10 million in Thursday night previews on its way to an $80 million opening weekend. While the sequel is not expected to soar quite that high, it is now eyeing an opening above $60 million, with the possibility of $70 million well in reach. That is great news for Sony, who delayed the movie (directed by Andy Serkis) for nearly a year. The release date has shifted around quite a bit over the last few months, before October 1 was finally settled on.
The only movie to have a bigger Thursday night showing during the pandemic was Marvel's "Black Widow," which took in $13.2 million on its way to an $80 million opening weekend. Though it is well worth noting that "Black Widow" was also available on Disney+ Premier Access, whereas "Venom: Let There Be Carnage" is playing exclusively in theaters. Also on the Marvel front, "Shang-Chi and the Legend of the Ten Rings" opened to $8.8 million on its preview night, en route to a $75 million opening weekend. It currently stands as the domestic box office champion for 2021, with $199 million to its name. It will cross $200 million by day's end.
A Good Sign for the Near Future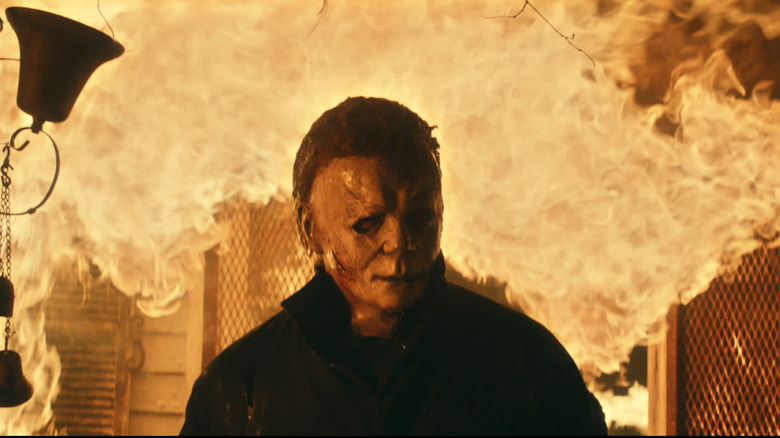 Universal Pictures
This is an excellent sign for the movie business, as box office recovery has been slow and uneven since the disaster that was 2020. "Venom: Let There Be Carnage" is opening the floodgates of a possibly great fall season for Hollywood. Other big movies just around the corner include "No Time to Die," "Halloween Kills," "Dune," "Eternals," and "Ghostbusters: Afterlife," among many others. 
If things continue to go well as these other much-anticipated releases make their way into the world, things could truly be looking up for an industry that has suffered a great deal. But we still have a long way to go before things are back to normal – or something that resembles normalcy at least.
The Marvel Comics adaptation also stars Michelle Williams, Naomie Harris, Reid Scott, Stephen Graham, and Woody Harrelson
"Venom: Let There Be Carnage" is in theaters now.