Jason Blum Says Day-And-Date Release For Halloween Kills Was His Idea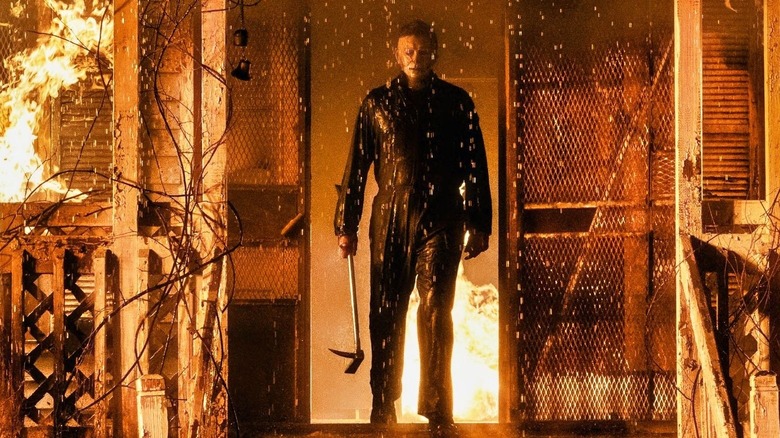 Universal Pictures
The COVID-19 pandemic has altered the movie industry in more ways than we know, but one change has become abundantly clear: Hybrid releases are all the rage. In the early months of the pandemic, Warner Bros. made big waves when it announced the plan to release its entire 2021 movie slate on HBO Max and in theaters simultaneously. Nearly a year later, with theaters across the country finally reopened, hybrid releases aren't really fading away.
Paramount has gotten comfortable debuting family films both in theaters and on Paramount+. This actually makes a lot of sense for "Clifford: The Big Red Dog" and other titles targeting a younger audience, since kids aren't able to get the vaccine, making parents hesitant to risk theater trips. But horror fans were surprised when Universal and Blumhouse announced that "Halloween Kills" will premiere simultaneously on Peacock and in theaters on October 11, 2021. Producer and Blumhouse CEO Jason Blum has now offered an explanation for this decision, and even revealed that it was his idea to begin with. Blum told Collider:
"[Peacock] didn't approach me. I approached them. I, like everyone else, am a big believer in the theatrical experience. I think eventually I think there should be windows. I think Universal's strategy of the three-week window is a great strategy, but I had a bad distribution experience with Freaky. That movie is a great movie, and it didn't get seen because the distribution of it got all twisted up. My fault."
From the writer-director behind "Happy Death Day" and the "Paranormal Activity" sequels, "Freaky" was a surprise slasher comedy that went severely underseen. Caught up in the middle of the pandemic, as studios were figuring out how to navigate theatrical releases, the film ended up getting lost in the shuffle.
What Happened With Freaky?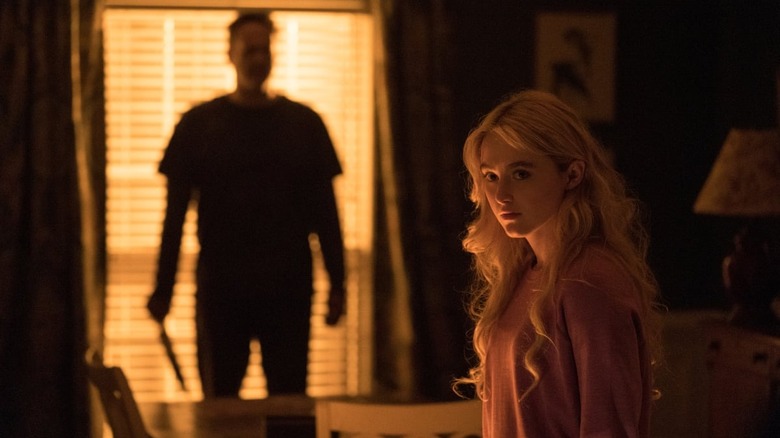 Universal Pictures
On November 13, 2020, "Freaky" opened exclusively in theaters to 2,472 screens in North America. The film grossed $3.7 million in its opening weekend, and ultimately took home just $16.2 million worldwide. For comparison, Christopher Landon's 2017 time-loop horror "Happy Death Day" was made with a comparable budget, grossing a total of $55.7 million in the United States and Canada and $125.5 million worldwide.
It's impossible to say how "Freaky" would have performed under normal circumstances, but all the signs point to ... really, really well. Vince Vaughn offered the star power and Kathryn Newton delivered an incredible breakout performance. The slasher married horror and humor perfectly, and since its release has received overwhelmingly positive reviews, still holding a whopping 83% on Rotten Tomatoes. Still don't believe me? /Film's own Chris Evangelista dubbed it the "best slasher movie since 'Scream.'"
"Freaky" was originally pitched as "Freaky Friday" meets "Friday the 13th" and solidly delivers on its promises: it's all the bloody fear of a determined sociopathic killer plus the over-the-top hilarity of a body swap story. It's delightfully self aware horror, both paying homage to the slashers that came before and veering off, down its own endearing path. But sadly, "Freaky" debuted under terribly unfortunate circumstances. After three weeks of disappointing ticket sales, the film became available on video-on-demand.
If it's any consolation, Blum took the film's performance personally and refuses to let it happen again. This was the primary motivation for the change in the "Halloween Kills" release plan. He told Collider:
"I didn't want to go through that experience again. I didn't want to have a movie that I'm really proud of that I think is great and have there be an excuse why people didn't see it. So I'm the one who pitched Universal. And then I pitched Jamie and David, and it was my idea. I stand behind it. I'm glad that we're doing it."