Halloween Kills Will Also Stream On Peacock When It Hits Theaters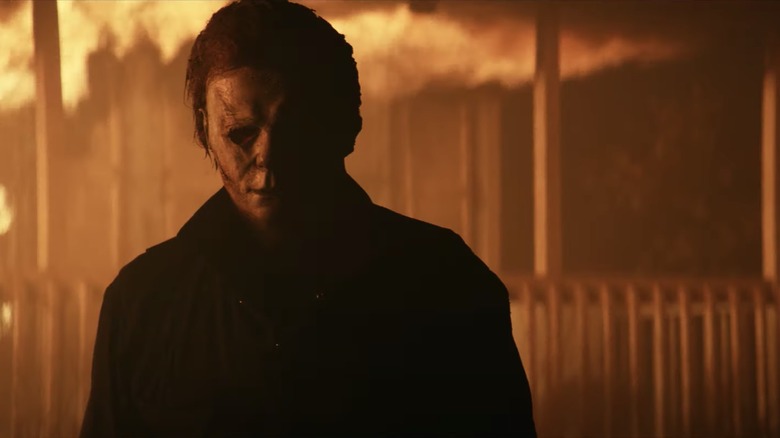 Universal Pictures
Michael Myers is coming home ... to Peacock. "Halloween Kills," the follow-up to 2018's "Halloween," is now set to open both in theaters and stream on Peacock starting in October. Up until now, the David Gordon Green-directed film was listed as a theatrical exclusive – but that's obviously changed. Starring Jamie Lee Curtis, Judy Greer, and Andi Matichak, "Halloween Kills" picks up immediately where the last film left off, with Laurie Strode, her daughter, and her granddaughter the only survivors of the latest Michael Myers rampage. They thought Michael was finally dead – but of course, The Shape always returns. 
The news of the film heading to Peacock comes directly from the official "Halloween Kills" Twitter account: 
This Halloween, Michael comes home. In Theaters & Streaming Only on @peacockTV October 15. pic.twitter.com/zdYtmmHTS3

— #HalloweenKills (@halloweenmovie) September 9, 2021
Halloween Kills (On Peacock)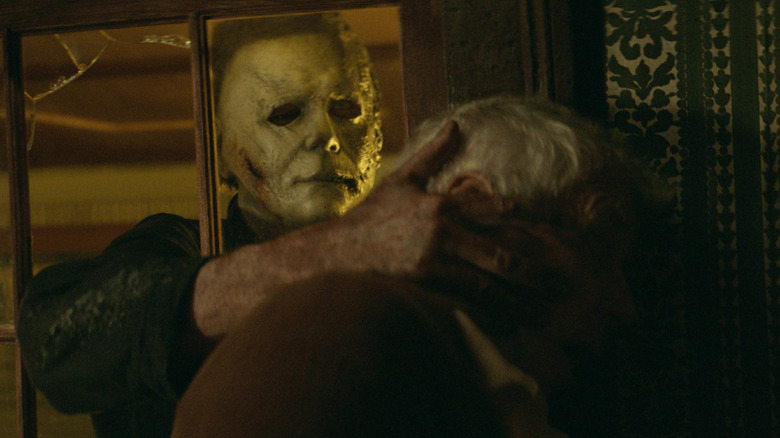 Universal Pictures
Peacock is one of the few streaming services I haven't signed up for yet, but it looks like that's about to change. Why? Because "Halloween Kills" is headed there next month. The horror sequel will now open both in theaters and on Peacock Premium (with no extra fee) on October 15, 2021. The film was originally due out in October 2020, but COVID-19 got in the way. Now, with cases on the rise again, Blumhouse and Universal likely decided that rather than just push the movie yet again they might as well give in and release the title to streaming and theaters at the same time, giving audiences the option of where to watch. 
"Halloween" franchise creator John Carpenter previously hinted at a potential streaming release, saying: 
"Sure. Halloween may be shared that way [streaming] because theatres are dead. It's just the reality right now. And it's a tragedy, but it's true. We just have to face it. The studio did contact David and I, and they had us put off the new one by a year in the hope that things got better. So we're still hoping it will get better."
Here's the "Halloween Kills" synopsis: 
In 2018, David Gordon Green's Halloween, starring icon Jamie Lee Curtis, killed at the box office, earning more than $250 million worldwide, becoming the highest-grossing chapter in the four-decade franchise and setting a new record for the biggest opening weekend in history for a horror film starring a woman.And the Halloween night when Michael Myers returned isn't over yet. Minutes after Laurie Strode (Curtis), her daughter Karen (Judy Greer) and granddaughter Allyson (Andi Matichak) left masked monster Michael Myers caged and burning in Laurie's basement, Laurie is rushed to the hospital with life-threatening injuries, believing she finally killed her lifelong tormentor.But when Michael manages to free himself from Laurie's trap, his ritual bloodbath resumes. As Laurie fights her pain and prepares to defend herself against him, she inspires all of Haddonfield to rise up against their unstoppable monster.The Strode women join a group of other survivors of Michael's first rampage who decide to take matters into their own hands, forming a vigilante mob that sets out to hunt Michael down, once and for all. Evil dies tonight.
Reviewing "Halloween Kills" for /Film, Marshall Shaffer wrote: 
In "Halloween Kills," David Gordon Green seems to hold longer on the brutal murders of ordinary citizens than in previous installments. Where artful cutaways let the viewer's brain fill in the gaps of his killings, Green leaves little to the imagination here. Michael stabs his victims multiple more times than necessary. He jams his fingers into eye sockets and holds them there. The violence feels cruel, targeted, and quite methodical. He's beyond inescapable here. He's truly inhumane.