Clips Round-Up: Ghostbusters Suit Up, Mayday Lures Men, And Hall Haunts A Stairwell [Exclusive]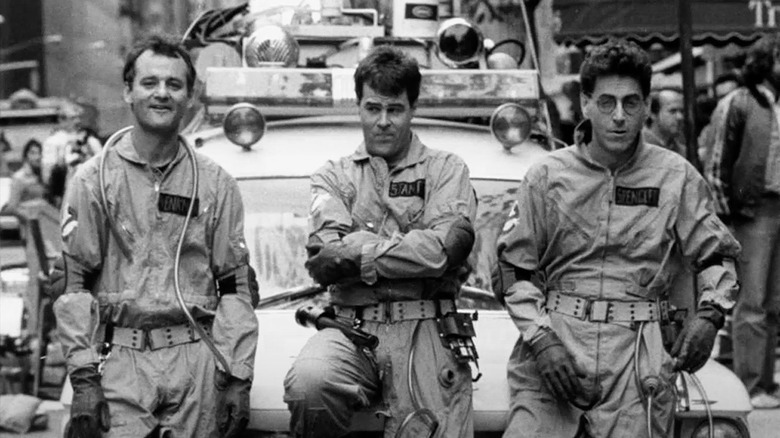 Screen Media
(Welcome to SlashClips, a series where we bring you exclusive clips from hot new Digital, Blu-ray and theatrical releases you won't see anywhere else!)
In this edition:
"Cleanin' Up the Town: Remembering Ghostbusters"
"Mayday"
"Hall"
Cleanin' Up the Town: Remembering Ghostbusters
Leading today's column is a clip from Screen Media's forthcoming documentary "Cleanin' Up the Town: Remembering Ghostbusters," featuring original "Ghostbusters" director Ivan Reitman and more talking about the first day on set seeing Bill Murray, Dan Aykroyd, and the late Harold Ramis suited up in their iconic jumpsuits. The clip also features associate producer and National Lampoon Magazine vet Michael C. Gross, who passed away in 2015, talking about how he had never worked on a live-action film until the 1984 comedy classic. Check out the full trailer here!
Here is the official synopsis of the film, which will debut with an extended version in theaters October 1, 2021 before it becomes available digitally on October 5:
'Remembering Ghostbusters 'is the definitive documentary charting the making of the iconic film that inadvertently changed the film industry forever. Featuring interviews with Dan Aykroyd, Harold Ramis, Bill Murray, and Ernie Hudson and including never-before seen footage. The documentary hallmarks the extraordinary achievements made for the era, and emphasizes just how ambitious an undertaking the making of Ghostbusters really was.
Mayday
This exclusive clip from Magnolia Pictures' action fantasy "Mayday" focuses on Mia Goth's Marsha as she leads Grace Van Patton's Ana on something of an a far-out astronomy lesson, before destroying an enemy vessel. Be sure to give "Mayday" a look when it releases on theaters and on demand tomorrow!
Also featuring Soko, Havana Rose Liu, and Théodore Pellerin, here is the official synopsis for "Mayday":
In director Karen Cinorre's bold new action fantasy film 'Mayday,' Ana (Grace Van Patten) finds herself transported to a dreamlike and dangerous coastline. Once there, she joins a female army engaged in a never-ending war where the women lure men to their deaths with radio signals, like 20th century sirens. Though Ana finds strength in this exhilarating world, she comes to realize she is not the killer they want her to be.
Hall
1091 Pictures has provided us with a clip from the creepy horror flick "Hall," featuring a little girl named Kelly (Bailey Thain, a dead-ringer for "Poltergeist" star Heather O'Rourke) being called out to by the ghostly voice of her father. The flick will be available on digital and on demand this October 12, 2021.
Here is the synopsis for "Hall":
When a hotel hallway is ravaged by a mysterious virus, pregnant tourist Naomi (Shaku) is tragically thrust into the fight of her life. Forced to crawl her way through other scattered victims, Naomi crosses paths with Val (Bartczak). Separated from her daughter Kelly (Thain), Val must navigate her way through the long and narrow stretch of isolated carnage, all while keeping out of sight of the remaining sufferers.