Which James Bond Ran Up The Biggest Bar Tab?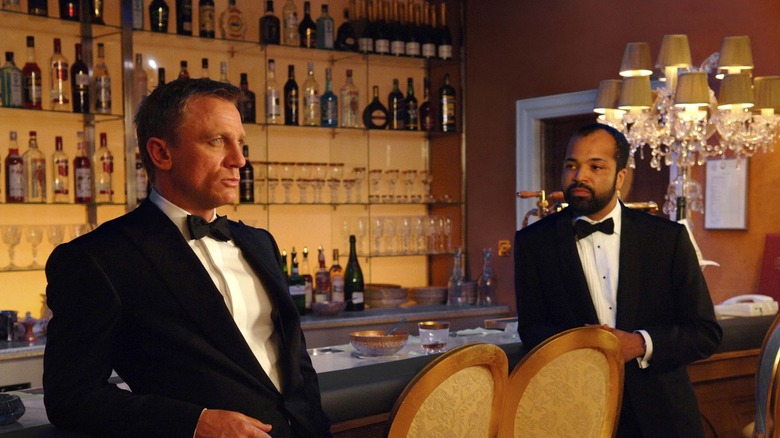 MGM
The James Bond franchise has been a staple of cinema for roughly six decades now. And even as Daniel Craig says goodbye to the role with "No Time to Die," the iconic MI6 spy is poised to be a part of cinema's future as well. More cool gadgets. More expensive cars. And, of course, more booze. Yes, for as much as Bond is known for his adventures, he's also known as quite the boozehound. That asks a question: which Bond rang up the biggest bar tab? Luckily, we have some answers.
The folks at Ocean Finance decided to break down the available data through all 24 official 007 movies to determine which Bond actor racked up the biggest tab. From Sean Connery to Daniel Craig, we're here to break down the results and determine whether or not that data tells the whole story.
The Booziest Bond of Them All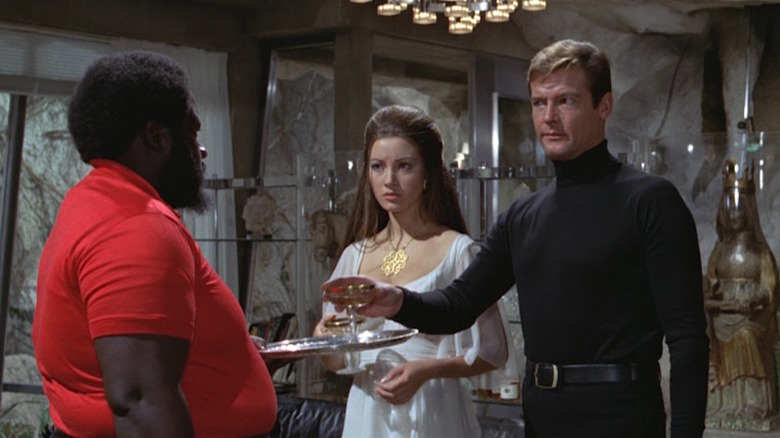 United Artists
Before diving deep into the data, let's look at what the raw numbers reveal. Per the research, here are the total bar tabs for each Bond actor:
Roger Moore – $3,266.90 ($467.09 per movie)
Sean Connery – $1,710.85 ($285.37 per movie)
Daniel Craig – $1,074.16 ($269.21 per movie)
Pierce Brosnan – $1,040.51 ($259.79 per movie)
Timothy Dalton – $102.30 ($51.15 per movie)
George Lazenby – $75.38 ($75.38 per movie)
Sir Roger Moore, who played Bond from 1973's "Live and Let Die" through 1985's "A View To a Kill" came out on top. He was followed, in a somewhat distant second, by Sean Connery, who was our first big-screen bond. Connery began his run in 1962's "Dr. No," with his last official appearance coming in 1971's "Diamonds are Forever." However, he would later reprise the role in the unofficial "Never Say Never Again," which was made by a rival studio thanks to a rights issue.
The data, in raw terms, isn't all that surprising, as the actors who played Bond the most came out on top. George Lazenby, who played the part just once in "On Her Majesty's Secret Service," wound up at the bottom. That said, there is a little more data to pour through, and more to be extracted from what that data actually means.
The Booziest Bond Mission To Date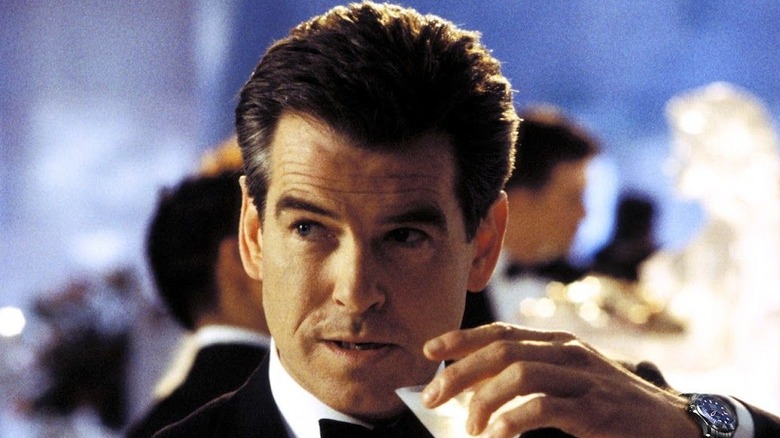 MGM
To offer further context, the report also broke down each Bond actor's most expensive individual mission. Again, Roger Moore came out on top, while Timothy Dalton had the least impressive bar tab for a single movie.
"Live and Let Die" – $982.63
"Thunderball" – $794.18
"Casino Royale" – $446.89
"The World is Not Enough" – $399.78
"On Her Majesty's Secret Service" – $75.38
"License to Kill" – $52.50
As we can see, Moore didn't waste any time in racking up his impressive bar tab, as his first outing as 007 was also his most extravagant, at least in terms of overall booze consumption. We can also see that Daniel Craig, similarly, kicked things off with a bang in that department. All of those Vesper martinis in "Casino Royale" added up, apparently. And poor George Lazenby simply didn't have time to flex his boozehound muscles, though he did manage to do a little better than Lazenby for at least one mission.
Does This Research Really Reveal the Booziest Bond?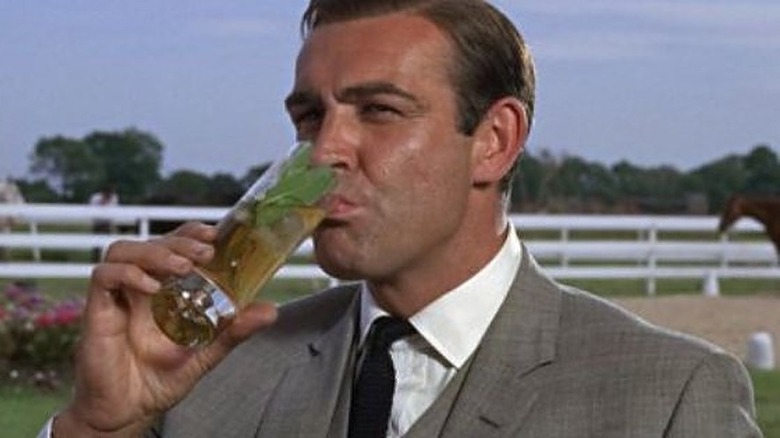 United Artists
As interesting as the raw numbers may be to look at, it's worth asking if this research tells the whole story. Yes, in terms of on-screen alcohol consumption, Roger Moore is miles ahead of the pack. His seven turns in the series cannot be matched. That is impressive, no doubt. And let's not forget, Daniel Craig still has "No Time to Die," which will need to be factored into these figures eventually. There's a chance, if it's a particularly booze-heavy adventure, that he could overtake Connery.
But the ever-important caveat to this research is that it only accounts for what we see on screen. It doesn't account for the personalities of the individual versions of Bond. Sure, Moore's take was loose, fun, and silly. It's easy to see why his bar tab got big in the movies themselves. Though he wasn't as much of a tortured soul, Moore's Bond seems like the kind of guy who had hobbies and a social life. A social drinker outside of his duties to Queen and country. So, would his bar tab be all that large when he's not on a mission? It's a reasonable question to ask.
To that end, if we look at Craig, he's not exactly the most stable man outside of work. His Bond has been through a lot. The death of his beloved Vesper. The tragic death of his parents leaving him to be tortured by his orphan past. As evidenced following his near-death experience in the cold open of "Skyfall" and his subsequent vacation from active service, these incidents lead to heavy drinking as a coping mechanism. It feels safe to assume that Craig's Bond would rack up one heck of an alcohol bill, regardless of whether he's on a mission or not.
In Conclusion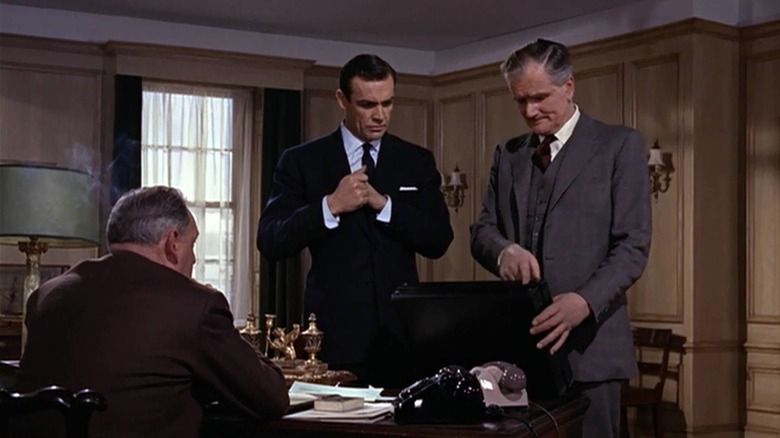 United Artists
Yes, the numbers are interesting. The raw data shows us a heavy pour in favor of Roger Moore, which is a testament to his run in the "James Bond" series. But there is a lot of subtext and nuance to be considered here that the numbers alone simply cannot tell us. Each of these Bonds has a story, and that story would surely lead to a bar tab far beyond what we see unfold in the movies themselves.