The Lost James Bond Movie That Eventually Became 'Skyfall'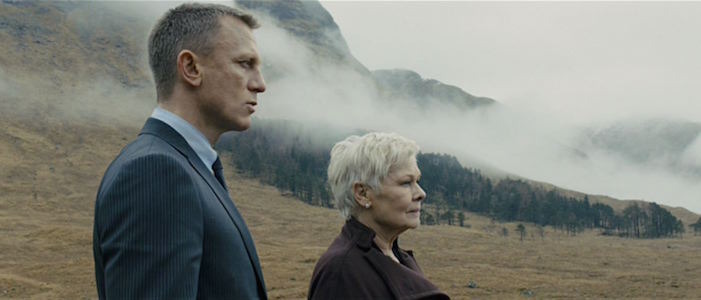 Any movie franchise with a 53-year history is going to have some stories of things that never happened and what could have been. Fans of the James Bond films always like to play the "What If?" game. What if George Lazenby had hung around for more movies after On Her Majesty's Secret Service? What if The Spy Who Loved Me could have actually seen the return of Blofeld and S.P.E.C.T.R.E., as originally intended? And now we have a new one to ponder: What if Peter Morgan's concept for the film that would eventually become Skyfall was filmed?
Morgan, a two-time Oscar nominee for penning The Queen and Frost/Nixon, contributed a treatment titled Once Upon a Spy, which was ultimately rejected by Bond producers Barbara Broccoli and Michael G Wilson. And we can see why – this lost James Bond movie would have taken 007 into territory that would've been a little too dark, even for Daniel Craig's morally gray run with the character.
A new book titled Some King of Hero: The Remarkable Story of the James Bond Films (via Digital Spy) has finally revealed the details of Morgan's vision for the movie. Once Upon a Spy would have opened with a young version of Judi Dench's M, operating as an MI6 agent in Berlin during the Cold War, having an affair with KGB agent. 30 years later, his (and possibly her) son emerges as a villain who sets out to destroy M.
While Bond does go on a mission to take down the bad guy and save the day, the pitch-black conclusion finds everyone's favorite secret agent executing M himself during the film's climax.
Of course, the skeleton of this was retained for Skyfall. The villainous "son" becomes an agent who feels M betrayed him (Javier Bardem's Silva), who even gets to say "Mommy has been very bad." M still dies during the film's climax, but it's under far different circumstances. Morgan's treatment even had a new boss named Mallender (which would later become Ralph Fiennes' Mallory) step in and become the new M.
Bond fans with long memories may remember Morgan teasing the movie's "shocking story" back in 2009, three years before Skyfall even hit theaters.
Longtime Bond series screenwriters Neal Purvis and Robert Wade (who have written or co-written the past six films in the series), collaborated on this story with Morgan. However, Wade now admits that Morgan's vision wasn't stemming from the right spy writer:
[Co-writer] Neal [Purvis] and I are pretty well steeped in Fleming. I think Peter was more interested in Le Carré. It just didn't work ... We always found [the script] really, really difficult to make credible or satisfying. It was very dark ... The only thing that remained was that M's past comes back to haunt her and she dies at the end.
After Morgan left the project, Purvis and Wade rewrote the story and it became Nothing Lasts Forever, which eventually became Skyfall.
So we can place Once Upon a Spy in the case of fascinating abandoned Bond concepts, right alongside the movie where Timothy Dalton was going to battle evil robots in Japan (seriously) and Quentin Tarantino's proposed Casino Royale, which would have seen Pierce Brosnan getting one last shot with 007.