Cool Stuff: The Avengers Infinity Saga Gets An Epic Collection Of Posters By John Guydo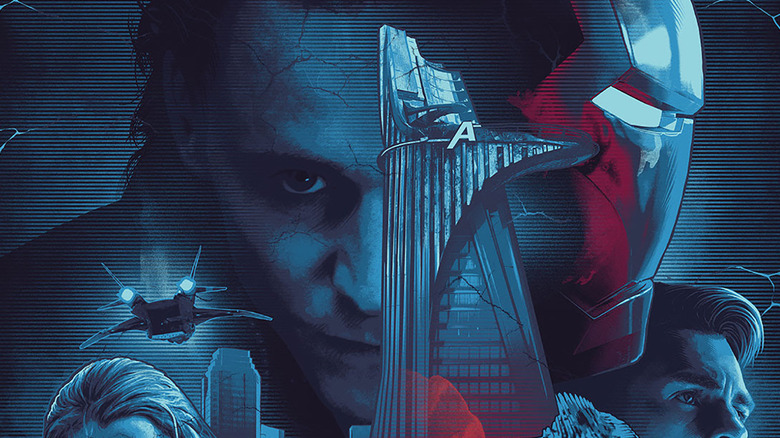 Bottleneck Gallery
As we venture into the next phase of Marvel Studios movies, we don't yet have an idea of what the next major threat to the Marvel Cinematic Universe will be. The first three phases of the MCU turned into what we now know as "The Infinity Saga," focusing on the assembly of not only The Avengers, but their greatest threat in the form of Thanos and the power wielded by the Infinity Stones. And now the entire series of "Avengers" movies from "The Infinity Saga" has been given a stunning set of posters courtesy of artist John Guydo (who previously gave us an incredible set of "Star Wars" trilogy posters) and Bottleneck Gallery. Check them out below.
John Guydo's Avengers Infinity Saga Poster Collection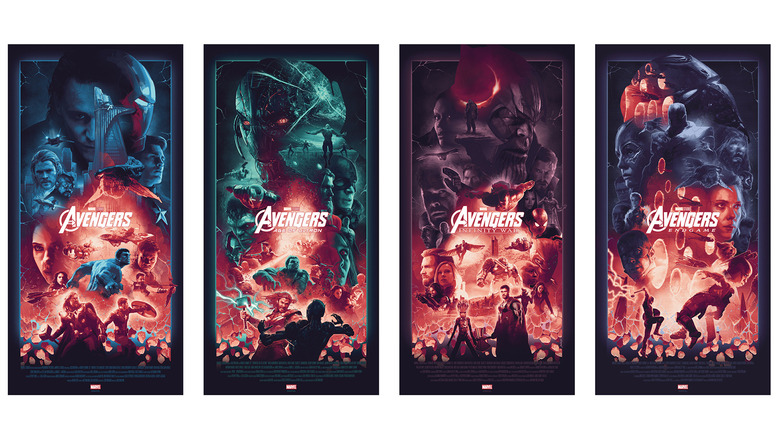 Bottleneck Gallery
In conjunction with the upcoming New York Comic-Con, Bottleneck Gallery is kicking things off with this collection of "Avengers" posters inspired by all four chapters in the "The Infinity Saga." Each of the "Avengers" movies gets their own poster with a mesmerizing composition of heroes and villains from their respective movies. 
Since it can be a little hard to see the details with all four of the posters lined up next to each other, let's take a closer look:
We've got prints for "The Avengers," the sequel "Avengers: Age of Ultron," and the two-part saga that is "Avengers: Infinity War" and "Avengers: Endgame." Each of the prints measures 18x36 inches and will cost $50 each at Bottleneck Gallery when they go on sale at 12:00 P.M. ET today. You can also get the entire set for the discounted price of $185.
The good news is that these regular versions of the posters are timed editions that you'll be able to purchase until 11:59 P.M. ET on Sunday, October 3. However many are ordered, that's how many will be printed, so you won't have to make a mad dash to ensure you get any of these prints. But after that, you won't be able to buy them again unless you go digging around the secondhand market. 
John Guydo's Avengers Infinity Saga Variants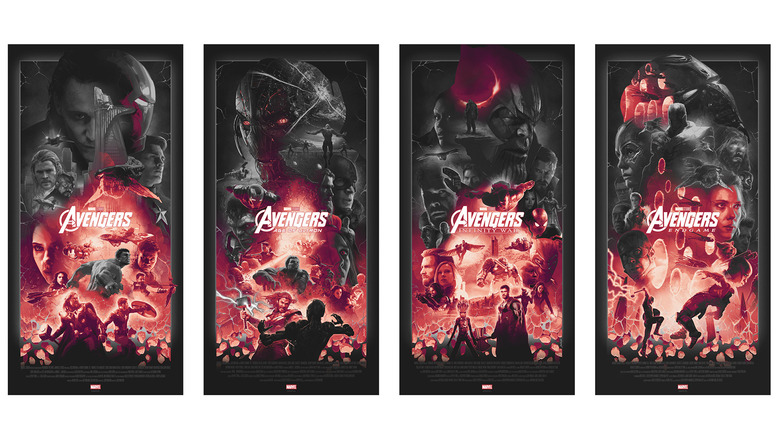 Bottleneck Gallery
On top of the regular versions of the "Avengers" prints seen above, you can also get each poster in two different variant styles as well. First up, there's a noir variant that removes most of the color and opts for a black and white variation on the images with just a glow of orange in certain parts of the print. Each of these have an edition of 220 prints, and they will cost $60 each or $225 for the entire set.
Then we have a foil variant that will be available for each of the "Avengers" prints as well:
These have the same color scheme as the regular versions, but they're printed on foil paper, so they have an Iridescent shimmer to them that makes them pop a little bit more. If you've never gotten a foil print before, they're rather sleek, and when you have the superheroes and villains of the Marvel Cinematic Universe involved, it makes them all look that much cooler. The foil variants are $75 each or $285 for the whole set, and they each have an edition size of 125 prints.
You can get all of these "Avengers" prints from "The Infinity Saga" starting at 12:00 P.M. ET today at Bottleneck Gallery, but the variants are going to disappear quickly, so act fast if you want to frame those on your wall. Good luck!