New Track From John Carpenter's Halloween Kills Soundtrack Reveals 'Michael's Legend'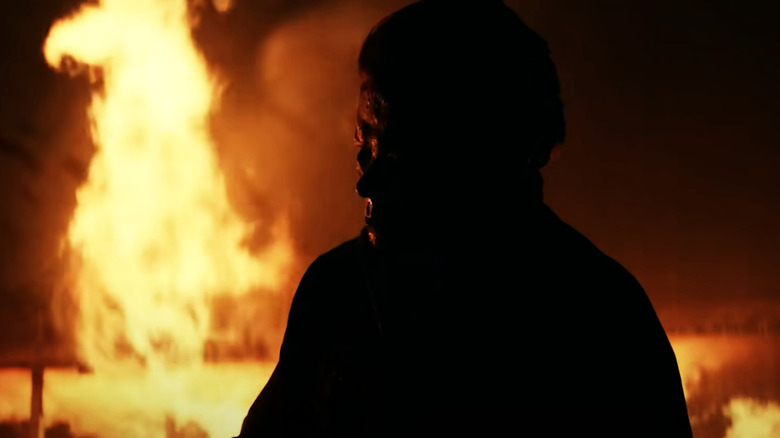 Universal Pictures
Ready for some of that old-timey foreboding tinkly piano music that John Carpenter does so well? Well, you're in luck, as Sacred Bones Records has released a new track from their forthcoming release of the "Halloween Kills" soundtrack. Universal and Blumhouse's anticipated slasher sequel is coming at us only a week after the final trailer dropped. And yes, they will have the soundtrack on vinyl too.
In a press release, the label describes the track (titled "Michael's Legend) as follows: 
"In contrast with the bombastic violence and unsettling ominosity of previously released cues 'Unkillable' and 'Rampage,' 'Michael's Legend' is a haunting piano requiem, highlighting the tumultuous emotional undercurrents at play in both the film and its accompanying soundtrack."
Michael's Legend (Official Audio)
This is classic Carpenter here, once again lending his specific sound to the franchise he gave birth to over 40 years ago. What director David Gordon Green really recaptured in his 2018 "Halloween" was that off-kilter feeling that was given such vivid life through Carpenter's stripped-down style in the first one. 
Sadly, since screening at Venice Film Festival "Halloween Kills" has been earning fairly sour reviews, but we remain hopeful that even if the final product isn't quite as worthy as Green's previous entry, it will still thrill and give us a great setup for the big finale, "Halloween Ends." Luckily our own Marshall Shaffer fell on the more positive side of reactions to the sequel, and you can read his full review here! 
Jamie Lee Curtis will return once again as Laurie Strode, along with Judy Greer as her daughter, Karen Nelson, and Andi Matichak as granddaughter Allyson Nelson. Other characters making returning from John Carpenter's 1978 original include Charles Cyphers as Leigh Brackett, Anthony Michael Hall as Tommy Doyle, Kyle Richards as Lindsey Wallace, and Nancy Stephens as Marion Chambers. The sequel also stars Will Patton and Robert Longstreet.
"Halloween Kills" hits theaters and the NBCUniversal's streaming service Peacock on October 15, 2021.
Minutes after Laurie Strode (Curtis), her daughter Karen (Judy Greer) and granddaughter Allyson (Andi Matichak) left masked monster Michael Myers caged and burning in Laurie's basement, Laurie is rushed to the hospital with life-threatening injuries, believing she finally killed her lifelong tormentor. But when Michael manages to free himself from Laurie's trap, his ritual bloodbath resumes.

As Laurie fights her pain and prepares to defend herself against him, she inspires all of Haddonfield to rise up against their unstoppable monster. The Strode women join a group of other survivors of Michael's first rampage who decide to take matters into their own hands, forming a vigilante mob that sets out to hunt Michael down, once and for all. Evil dies tonight.