Encanto Trailer Breakdown: Disney Magic (And Music) Collides With Colombia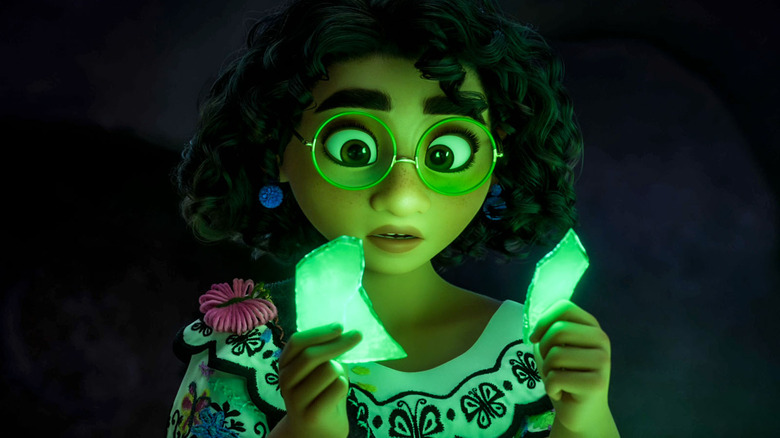 Disney
Disney has released a brand new trailer for its upcoming animated feature "Encanto." This is the 60th feature ever from Walt Disney Animation Studios, so it carries with it a big legacy. It's also a musical, which is arguably when the studio shines brightest. Not to mention that Lin-Manuel Miranda is the one behind the music in this case. 
As someone who has seen a decent chunk of footage from the movie, in addition to speaking to many of the filmmakers, I can say with confidence that this Colombia-set magical adventure has a lot going on — and some seriously rich worldbuilding. So let's break down the new trailer for "Encanto" with some (non-spoilery) details, shall we?
A Magical House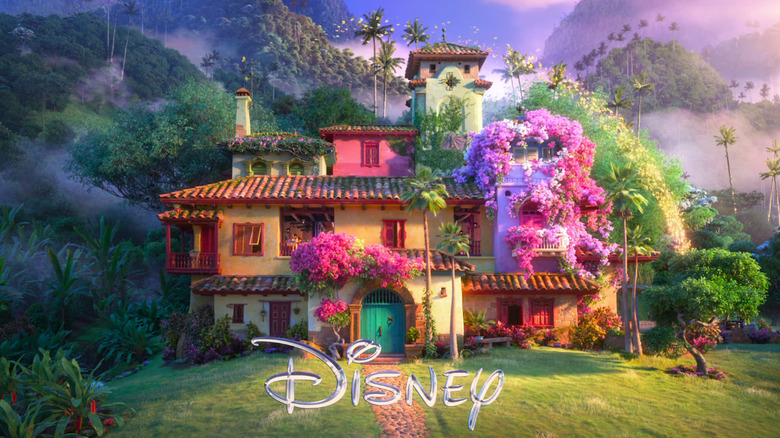 Disney
The first bit of voiceover in the trailer comes from Abuela Alma, the matriarch of the magical family at the center of this story. She explains that the house, seen behind the Disney logo instead of the studio's usual Cinderella castle, is magical. The house is essentially a major character in the movie, as it gifts this family with magical powers themselves. We can see in the shot below here that, years ago, a candle was what blessed the house and ultimately the family with these powers. 
The title "Encanto" itself actually speaks to the house, and is pulled right from Colombian culture. As co-director/writer Charise Castro Smith put it during a presentation recently, "the family's house didn't have to be just a house, because in an Encanto the house itself could have powers too." Co-director Jared Bush also offered some insight, explaining that the house isn't a perfect character either:
"Our house is a little bit more opinionated and flawed like a family. It's a house that plays favorites, a house that messes with people."
As evidence of that character, we can see in the shot above that the house is actually shrugging at one point in response to a question from Mirabel, the main character of the story. We'll find out more about Mirabel in just a moment.
A (Mostly) Magical Family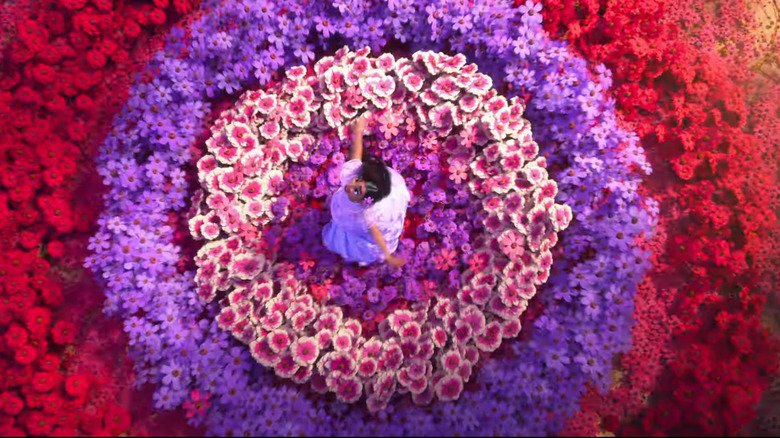 Disney
As explained by Alma in the trailer for "Encanto," not only is the house magical, it also gifts a special power to (almost) every member of the Madrigal family. In the shot above we see Isabela (Diane Guerrero), who has the power to make flowers grow. There is also Luisa (Jessica Darrow) who has super strength and is the "rock" of the family. We can see Luisa doing some super stuff in the shot below.
While we get glimpses of other magical family members — such as Julieta (Angie Cepeda), who has the power to heal through food, and Antonia (Ravi Cabot-Conyers), who communicates with animals — we also get a lot of Mirabel (Stephanie Beatriz), whom we can see in the below shot, looking cranky and jealous about Isabela's gifts. 
Unfortunately for Mirabel, she was not afforded a gift by their magical house. She is the only blood relative of the family who doesn't have any sort of magical power. One can see how that might lead to jealousy and confusion on her part. But, as we're about to find out, she's not the only one who will be contending with frustrating circumstances.
When the Magic is Gone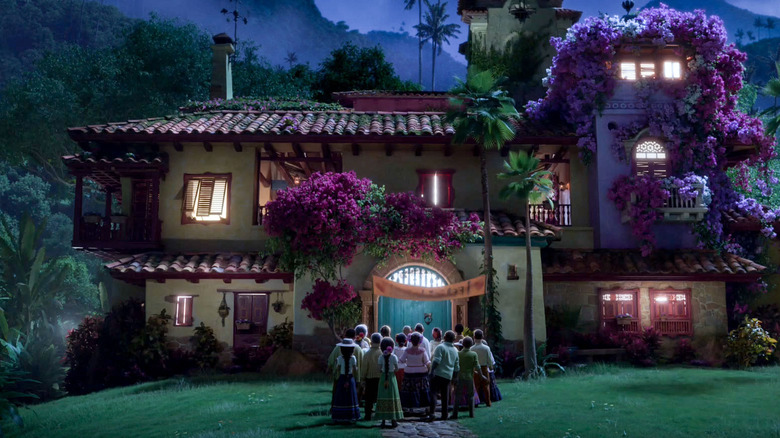 Disney
About halfway through the "Encanto" trailer, something bad happens. While that's left nebulous within the trailer itself, the result is that the magical house is losing its magic. As we can see in the shot above, all of the color and light has been sucked out of this once magical place. Sad panda.
It then falls to Mirabel to try and save the magic that has given her family so much. Everyone is losing their powers, which sends them into full-blown panic mode. Again, the trailer does a pretty good job of keeping things vague. There are reasons for that, which we will ever so lightly discuss in just a moment. But this is where we get into some of the action and spectacle of it all, as you can see a bit of in the still above.
We Don't Talk About Bruno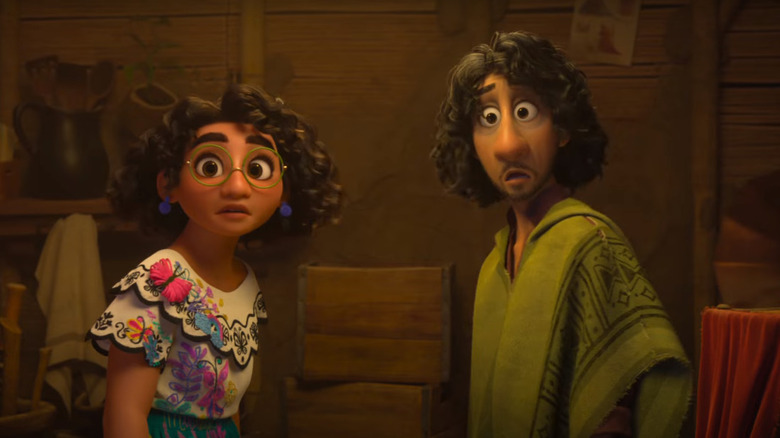 Disney
Before wrapping up, we need to mention (but not talk a lot about) Bruno. Though he isn't mentioned by name in the trailer, Bruno is the gentleman in the poncho, voiced by John Leguizamo. There is a song in the movie called "We Don't Talk About Bruno." I'll avoid spoilers here but just know he's an incredibly important character and worth taking note of here.
Lastly, just because I really enjoyed it in the extended sequence I had the chance to see, the shot just above here is taken from a sequence that has some serious "Aladdin" vibes. It remains one of my favorite Disney animated features, so the notion of having a bit of that magic rub off on this movie is exciting.
Disney's "Encanto" arrives in theaters on November 24.
Walt Disney Animation Studios' "Encanto" tells the tale of an extraordinary family, the Madrigals, who live hidden in the mountains of Colombia, in a magical house, in a vibrant town, in a wondrous, charmed place called an Encanto. The magic of the Encanto has blessed every child in the family with a unique gift from super strength to the power to heal—every child except one, Mirabel (voice of Stephanie Beatriz). But when she discovers that the magic surrounding the Encanto is in danger, Mirabel decides that she, the only ordinary Madrigal, might just be her exceptional family's last hope.