Stranger Things Spin-Offs Teased By Netflix Head Ted Sarandos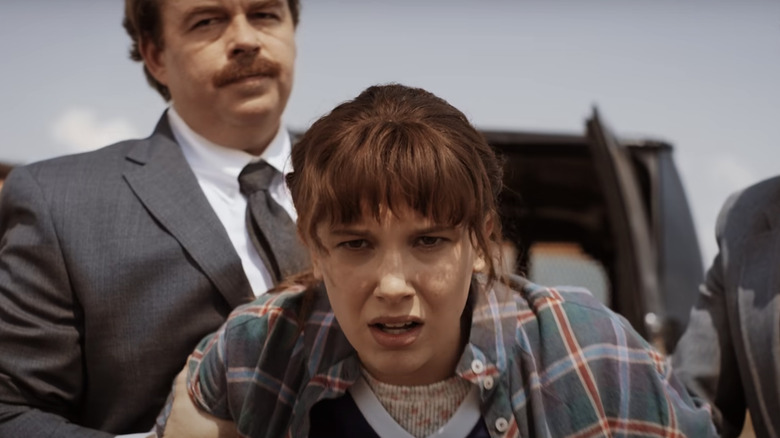 Netflix
How much stranger can things at Netflix get? Ted Sarandos, the streamer's co-CEO, certainly seems to think there's room for more strangeness in the form of one or more "Stranger Things" spin-offs.
Sarandos recently spoke at the Code Conference in Beverly Hills (via Deadline), where he revealed some interesting data about Netflix's most popular series and films. "Stranger Things" naturally ranked in the top five, with views from 67 million accounts over 582 million hours. The only thing consistently more popular than it across both charts (number of accounts and total view hours) was "Bridgerton."
We heard back in January that "Bridgerton" had become Netflix's biggest show, but if period costume dramas aren't your thing and you're more of a genre TV fan, you'll be happy to know that the "Stranger Things" universe may extend beyond the four or five seasons that the main show has planned. Sarandos talked about the importance of engagement and said, "Franchises are good, but what you want are hits." 
"Stranger Things" is still getting engagement and it fits the definition of a hit by any metric. Sarandos labeled it "a franchise being born" and alluded to "spin-offs." Deadline notes that there's "been talk that star Millie Bobby Brown could be taking lead in an extension of the Duffer Bros universe under the terms of her own big Netflix deal."
Even Stranger Things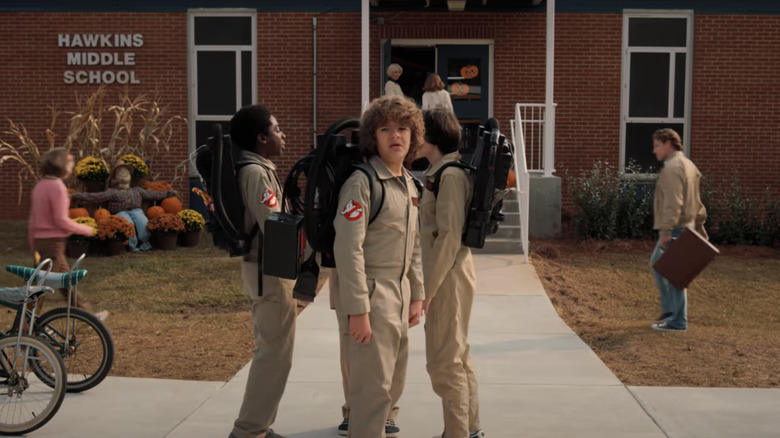 Netflix
It's not always easy to track what's truly popular on Netflix the way one might crunch box-office numbers for theatrical releases, but Sarandos unveiled these numbers at the Code Conference in a bid for more transparency. In addition to Netflix's TV offerings, they reveal that "Extraction" and "Bird Box" are its two most popular movies, so it's no wonder that "Extraction 2" was among the teasers revealed in Netflix's Tudum event.
We heard in August that "Stranger Things" spin-offs might be in the cards, and our own Ben Pearson tossed out some tongue-in-cheek suggestions for directions they could go with those, like "Murray Bauman: The Prequel," "The Steve, Robin, and Dustin Show," and "Barb's Adventures in the Upside Down."
Personally, I think they should just go the "Die Hard" route and keep the first spin-off on-brand as "Even Stranger Things." Why confuse your potential viewers when they're scrolling Netflix? "Even Stranger Things" accesses the same part of my brain that once felt satisfied looking down at a Denny's receipt and seeing the telegraphic words, "meat bowl," printed there. It tells you everything you need to know: this is a meat bowl, and those are even stranger things.
I feel confident that we'll have predicted the eventual title for the first "Stranger Things" spin-off here like we did with "The Matrix Resurrections" back in 2009. "Stranger Things" just released a sneak peek for its fourth season this week and is expected to air on Netflix sometime in 2022.