James McAvoy, Son Of Dune, Has Advice For His Father, Dune Star Timothée Chalamet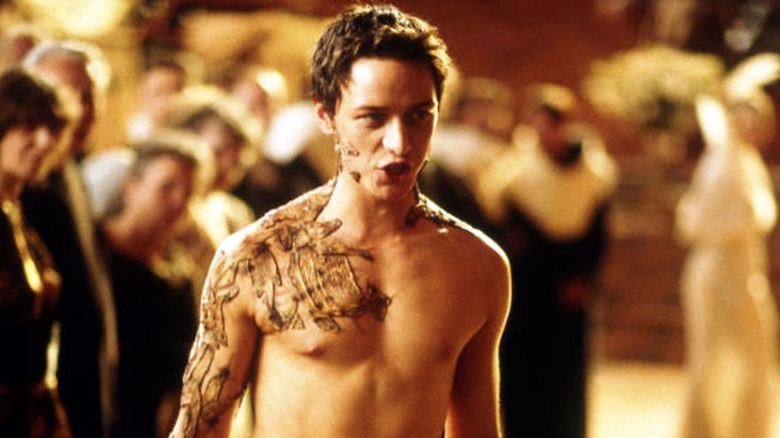 SyFy
Frank Herbert's "Dune" is a dense, monumental sci-fi tome with several feature film disasters to its name. David Lynch's 1984 "Dune" was such a critical and commercial bomb that the filmmaker disowned it. Alejandro Jodorowsky's failed attempt to adapt the sci-fi classic was so infamous that the entire thing was chronicled in an acclaimed 2013 documentary by Frank Pavich. For a while there, it seemed like "Dune" was destined to be given the label "unfilmable" and left to rot on the shelves of Hollywood's never-made productions. That is, of course, until Denis Villeneuve's upcoming "Dune," which has already racked up heaps of praise and hype through the film festival circuit.
However, unbeknownst to many of the American public, Syfy (back then known as the Sci Fi Channel) had already done it — they had made a successful adaptation of "Dune." Actually, they made two successful adaptations: the 2000 miniseries "Frank Herbert's Dune" and the 2003 sequel, "Frank Herbert's Children of Dune." Both three-part miniseries won several Emmy Awards and were some of the highest-rated programs to ever be broadcast on the network.
Notably, the latter miniseries, "Children of Dune," which adapted Herbert's two sequels "Dune Messiah" and "Children of Dune," starred a young, baby-faced James McAvoy before his Hollywood breakout in films like "The Chronicles of Narnia" or "Atonement." And he remembers it all, though "that was a long time ago," he told me in an interview to promote the audio drama "The Sandman Act II." And though he's far removed from the days of playing one of the titular "Children of Dune," McAvoy could not be more excited about Villeneuve's take on the film, or for Timothée Chalamet's performance as his character's father.
From Son of Dune to Fan of Dune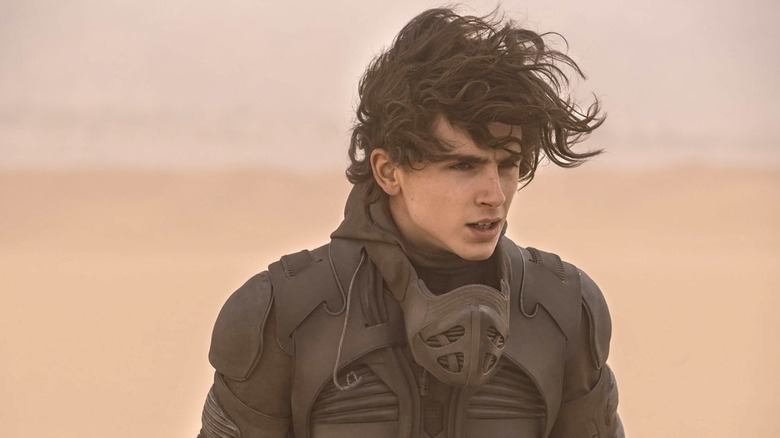 Warner Bros.
James McAvoy knows a thing or two about donning those piercing blue melange-laced eyes and doing some crazy fight choreography in the desert. He starred as Leto II Atreides in the three-part miniseries "Children of Dune," which aired on what was then called the Sci Fi Channel. The miniseries has some of the limitations of a sci-fi cable show (it doesn't look nearly as epic in scope as Villeneuve's film does), but the TV adaptation was mostly praised for turning what a dense, complex story into something a bit more palatable. Even so, as with any sci-fi or genre project that the actor has tackled, McAvoy said that, "this stuff is hard, because it's so bonkers, you know what I mean?"
But even while he doesn't have any specific advice for Chalamet as a former "Dune" star ("He's a cracking actor," McAvoy gushed) he does have advice for starring in a heady sci-fi project like "Dune." McAvoy explained:
"I was in an adaptation of the second and third books. He is in the first book. And he's playing a character who ultimately becomes my father, in terms of the character dialogue. So, no. I've got no advice for him. And he doesn't need any advice from me, he's a cracking actor.

But I'll tell you what's one really good piece of advice that was given to me once, was by the cast of ... what was the show called again? Farscape. And it was at the L.A. premiere of Children of Dune, and they said to me, that the thing with this sh*t, i.e. science fiction, is that you have to believe it more than you believe good writing. Good writing, you can just do. It's easier. But this stuff is hard, because it's so bonkers, you know what I mean? And I've really, I've always remembered that advice and taken it to heart. It's so kept me going really, through a lot of science fiction and fantasy work that I've done. Because it was Claudia Black that said it. And I think that's just good advice for any actor doing any kind of science fiction and/or fantasy, you know?"
"It's dead exciting."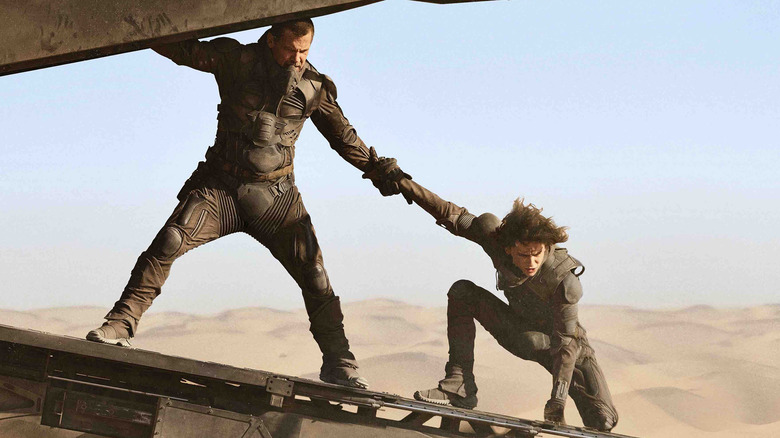 Warner Bros.
For the time being, McAvoy is content to move past his days as a son of "Dune" and become a fan of "Dune," particularly of Villeneuve's upcoming adaptation of Herbert's 1965 classic novel and, hopefully, their "bonkers" sequels.
"It's dead exciting," McAvoy said. "Those were a bunch of books, I mean, I've read them all cover to cover, and I love those books. They're crazy. As they get into their final two or three books, I mean, the level of bonkers is unparalleled. But I love them. And so I'm dead excited to see what he does. He's a brilliant filmmaker. A brilliant maker of science fiction. And I do love my science fiction, as well as fantasy. So yeah, I'm whetting my lips."