The 35 Best '90s Horror Movies Ranked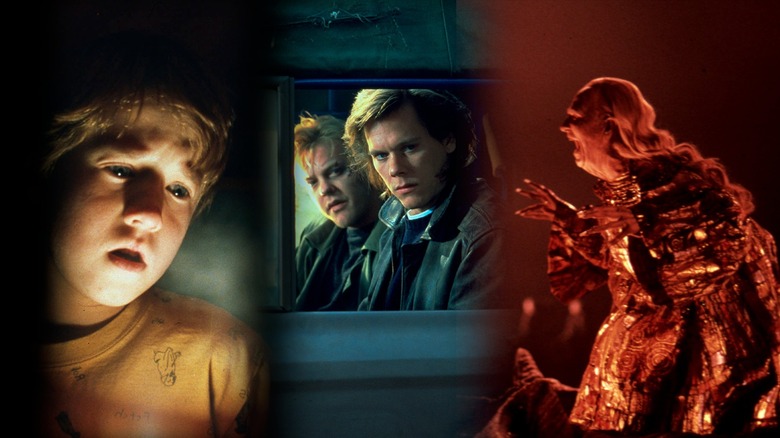 Static Media
The '90s was a fascinating decade in which Furbies, Beanie Babies, and Tamagotchi's ruled toy stores. "Friends" dominated TV, Nirvana took over the radio, and people were dancing willy-nilly to the Macarena. Technological advances were shaking up society, with the advancement of the World Wide Web culminating in the launch of a little site called Google in 1998. Bill Clinton's affair with Monica Lewinsky was one of the biggest scandals of the past half-century. 
Meanwhile, in the world of cinema, terrors lurked on the big screen. The '90s were filled with a host of new horror movies that were overflowing with ghosts, witches, monsters, serial killers, and more. But, as with any decade, some of the movies released in those 10 years were better, scarier, and more memorable than others. That's where this list comes in to set the record straight! Excluding sequels and making room for subgenres, we've done our best to hone in on the works of horror cinema that best define the '90s. Here, we rank the 35 best horror movies from the '90s.
35. The Faculty (1998)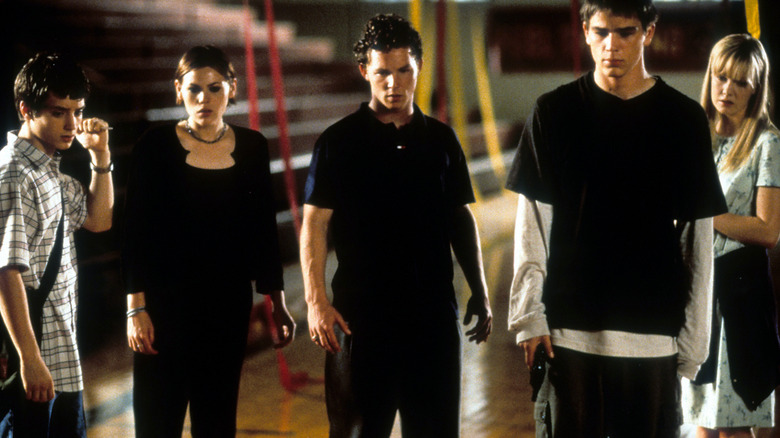 What would a horror list from the '90s be without multiple mentions of screenwriter Kevin Williamson? Having written "Scream," "Scream 2," and "I Know What You Did Last Summer" within a handful of years, he practically owned the decade's focus on teen-centric slashers. Switching gears and having a little fun with the sci-fi side of horror, "The Faculty" is another Williamson-penned work that cements its place as one of the era's most iconic teen horror films.
Filled with an ensemble cast of '90s beloved teen stars, and directed by Robert Rodriguez, "The Faculty" revolves around a fictional Ohio school, Harrington High. Unfortunately, the teachers become infected by parasitic aliens. Naturally, the students, including cheerleader Delilah (Jordana Brewster), drug dealer Zeke (Josh Hartnett), budding journalist Casey (Elijah Wood), and outcast Stokely (Clea Duvall), band together to fight off the alien invaders. As they risk succumbing to the alien's mind control, scary fun ensues!
34. Event Horizon (1997)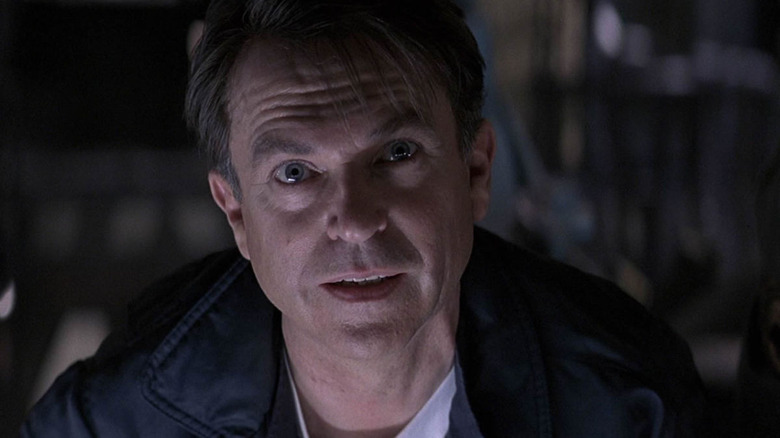 Paramount Pictures
Yes, Sam Neill is best known for his role as paleontologist Dr. Alan Grant in the Jurassic Park franchise. But his career is also peppered with memorable roles in cult classic horror films like Andrew Zulawski's "Possession," John Carpenter's "In the Mouth of Madness," and Paul W.S. Anderson's terrifying big-budget sci-fi horror, "Event Horizon."
In a plot reminiscent of 1979's "Alien," the crew of the Lewis and Clark spacecraft goes on a rescue mission to recover the Event Horizon, a ship that had gone missing in orbit. Led by Captain Miller (Laurence Fishburne) and ship designer Dr. William Weir (Neill), the Lewis and Clark crew soon learn that the missing spaceship has returned with a sinister and interdimensional force.
What makes "Event Horizon" scary is the unsettling nature of the mysterious evil that the crew must contend with and the way it plays with their sanity. Weir even becomes possessed by it, and believe me, it does not lead to anything pretty. Though it was a box office bomb upon release, "Event Horizon" has a strong cult following thanks to Neill's committedly creepy performance.
33. Tales from the Crypt Presents: Demon Knight (1995)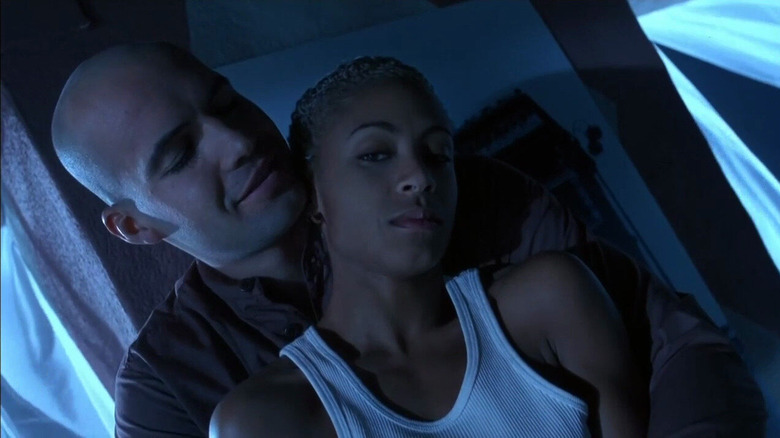 Universal Pictures
The '90s had so many cool things going for it, including when HBO aired the anthology series "Tales From the Crypt." Based on the 1950s-era EC comics of the same name, the fun yet terrifying series featured the ghoulish but lovable Crypt Keeper (voiced by John Kassir) as the host for a plethora of creepy tales featuring some of the biggest stars and working directors at that time. The show was popular enough to spawn three Crypt-branded feature films: The most successful of these is the Ernest Dickerson-directed "Tales from the Crypt Presents: Demon Knight."
"Demon Knight" stars Billy Zane as The Collector, a demon with a human form, who is in search of an ancient key held by ex-soldier Frank Brayker (William Sadler). The chase ends with both men at a boarding house in an old church. Convict Jerryline (Jada Pinkett) arrives soon and tries to stop The Collector and his demonic minions from stealing the key and destroying the world.
32. It (1990)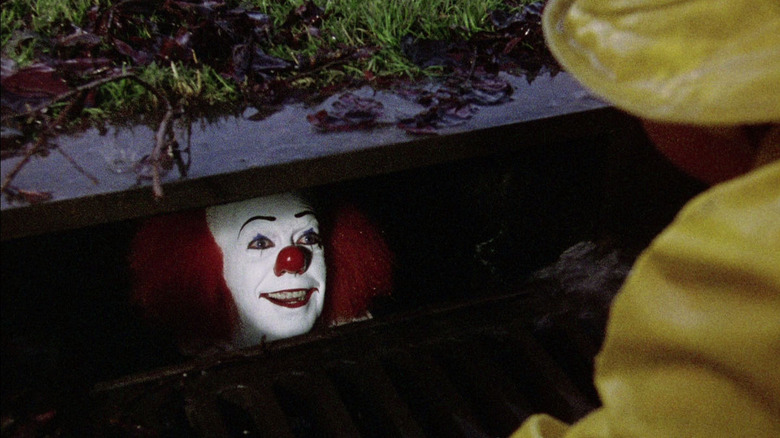 ABC
Combining two of the scariest things on earth — author Stephen King's horror stories and clowns — is bound to result in something pretty darn terrifying. While technically a two-part miniseries, we'd be remiss to exclude 1990's "It" from this list. Innumerable adults of today were scarred by this outing as children. Job well done, Mr. King!
Tim Curry stars as the demonic clown Pennywise, who lives in the sewer system of Derry, Maine. The demon occasionally lures children to him and kills them. Years after his younger brother falls victim to Pennywise's evil, Bill Denbrough (Jonathan Brandis) and a group of misfit kids known as the "Loser's Club" join forces to defeat the dark force for good.
Of course, "It" has been adapted into two recent blockbuster horror films, starring Bill Skarsgard as Pennywise. But for a generation of '90s kids, Tim Curry's Pennywise will forever haunt us.
31. Stir of Echoes (1999)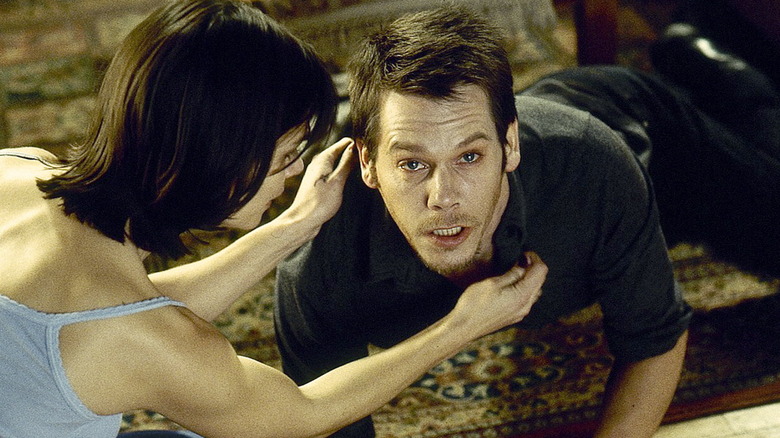 Artisan Entertainment
We love a genre king, and Kevin Bacon fits the bill. He starred in multiple horror films beginning with the original "Friday the 13th" and later a string of '90s horror classics, including three that have made this list. First up, we're hyping up the well-made supernatural chiller, "Stir of Echoes." The film is an adaptation of yet another creepy Richard Matheson tale.
Written and directed by one of Hollywood's most successful screenwriters, David Knoepp, the suspenseful "Stir of Echoes" revolves around blue-collar Chicago area resident Tom Witzky (Bacon). After being hypnotized by his sister-in-law (Ileana Douglas), he begins to see alarming visions of a missing teenage girl. Soon he learns he may have something in common with his son, Jake (Zachary David Cope), who has the ability to see and communicate with spirits. But Tom finds himself in danger as he gets closer to uncovering the truth behind the missing girl's disappearance.
30. Night of the Living Dead (1990)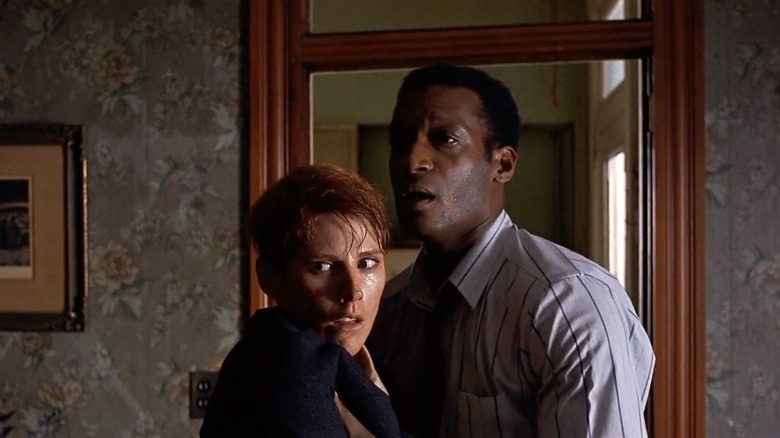 There's no doubt that George A. Romero's 1968 film "Night of the Living Dead" is an all-time horror classic. While legendary makeup and special effects artist Tom Savini's 1990 remake doesn't quite rise to the same level of greatness, it's still a solid '90s horror film.
For the 1990 remake, Romero adapted his original screenplay with co-writer and producer John A Russo. Still, the plot remains largely similar to the original film. Savini's film follows a group of stragglers gathered in a farmhouse during the zombie apocalypse where the dead are mysteriously rising from their graves. Led by Ben (the iconic Tony Todd of "Candyman" fame) and Barbara (Patricia Tallman), they must band together to survive the hordes — and the flares of infighting. Overall, it's a fun homage that has been a bit unfairly maligned. Yet it's developed its own cult following since its release.
29. The Frighteners (1996)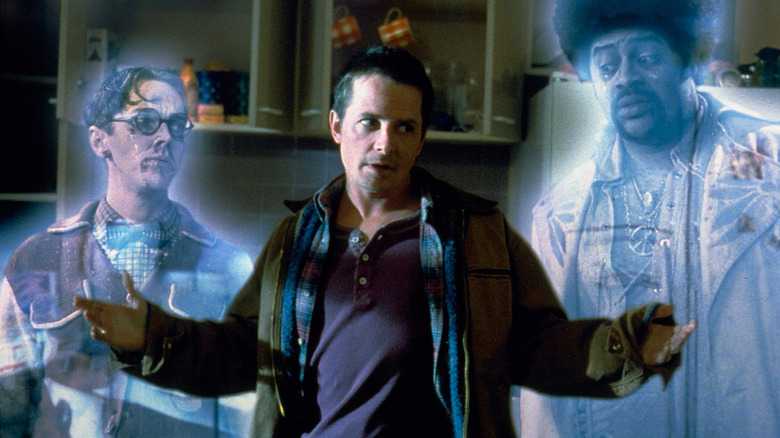 Universal Pictures
It might surprise you to learn that "Lord of the Rings" director Peter Jackson got his start making horror films. Furthermore, he has not one but two films on this list! First up is none other than "The Frighteners," an underseen spectral horror-comedy starring everybody's favorite, Michael J. Fox, alongside some wild-looking CGI ghosts.
Fox plays a widower, Frank Bannister, who after surviving the car crash that killed his wife, gains the ability to see and communicate with ghosts. He teams up with three ghosts to start conning people out of money. But when a mysterious entity known as the "Grim Reaper" arrives, and one of his con victims dies of a heart attack, Frank becomes suspected of murder. He'll have to get to the bottom of a spectral mystery if he wants to save his skin. 
"The Frighteners" is notable as being one of the first films to utilize the technology of Jackson's Weta Digital. Later, the technology would become famous for helping Jackson craft the fantastical characters and VFX seen throughout the "Lord of the Rings" film trilogy.
28. From Dusk Till Dawn (1996)
Miramax
Before "The Faculty" and "Spy Kids," director Robert Rodriguez teamed up with Quentin Tarantino on a pulpy vampire flick destined to become a cult classic, "From Dusk Til Dawn." By "team up," I mean Rodriguez directed the film from a screenplay penned by Tarantino. The screenwriter also starred as Richie Gecko alongside George Clooney's Seth: The pair portray bank-robbing brothers on the lam near the Mexican border. The Geckos take some hostages, including a pastor (Harvey Keitel) and his kids (Juliette Lewis and Ernest Liue). They cross over into Mexico to find themselves at an outpost strip club called "Titty Twisters." 
But they soon discover the place is occupied by a slew of vampires, including the sexy, snake-wearing Santanico Pandemonium (Salma Hayek). All hell breaks loose, literally! The rag-tag group must fight to stay alive, from — you guessed it — dusk till dawn. Fun practical effects and lots of violent vampiric kills amp up this '90s gem.
27. Arachnophobia (1990)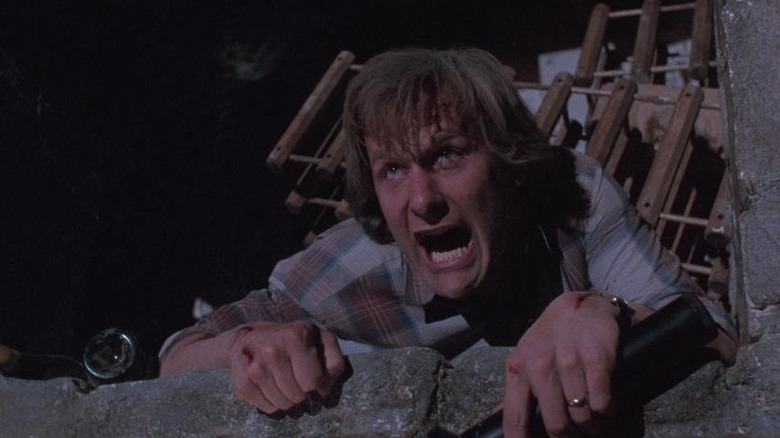 Amblin
If there's one thing that folks of all ages can agree on it's that spiders are creepy. Released in 1990, this is why the Amblin-produced, Frank Marshall-directed horror-comedy "Arachnophobia" remains a fun and relatable family-friendly.
In "Arachnophobia," Jeff Daniels stars as Dr. Ross Jennings, who moves to the small town of Canaima, California to take over as the new local family physician. Ross has arachnophobia — aka fear of spiders. Ironically, a deadly invasive species of spiders has found its way from the jungles of Venezuela into his new barn, and it's going to be up to him to save the town — and possibly the world — from being overrun by the ornery little eight-legged killers.
This fun premise is bolstered by lively performances by Daniels as well as supporting actors like John Goodman as local exterminator Delbert McClintock and Julian Sands as entomologist James Atherton. Overall, the stars of this film craft a creepy and crawly good time for all!
26. Cube (1997)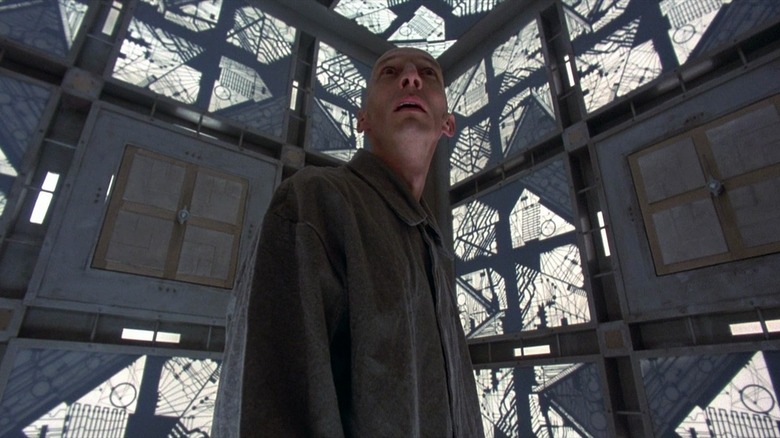 Trimark Pictures
These days, escape rooms are all the rage. Hollywood has even spawned a couple of horror films inspired by their popularity. But in 1997, "Cube" was a sci-fi horror film way ahead of its time with its simple yet effective premise. "Cube" follows a group of strangers who wake up as prisoners inside a mysterious series of cubes. As they work to escape, they discover that the cubes are rigged with a series of booby traps. The group, consisting of police officer Quentin (Maurice Dean Wint), doctor Holloway (Nicky Guadagni), architect Worth (David Hewlett), math student Leaven (Nicole de Boer), escape artist Rennes (Wayne Robson), and savant Kazan (Andrew Miller), must work together to escape the contraptions various death traps.
More recently films like "Saw" and the "Escape Room" film series have drawn upon a similar premise. However, "Cube" did it first and well. Pared down but cleverly done, "Cube" remains a cult favorite which eventually spawned a sequel, a prequel, and a Japanese remake.
25. Army of Darkness (1992)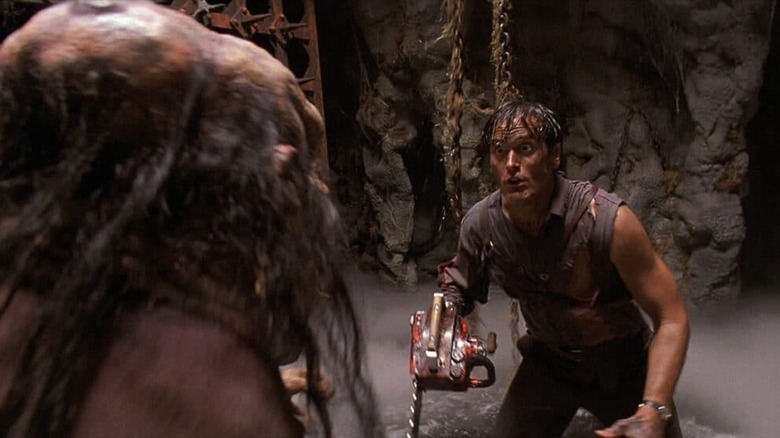 Universal Pictures
Sam Raimi kept busy in the 2000s with the wildly successful "Spiderman" franchise, but let's not forget he has a real knack for making entertaining horror films. His gonzo directorial style and endless imagination have gifted us with iconic horror classics like 1981's "The Evil Dead" and its sequels "Evil Dead II" and "Army of Darkness."
His third deadite-starring film entry follows Ash Williams (Bruce Campbell) living in the middle ages. He's soon captured by Lord Arthur's goons and thrown into a dungeon pit. From there, he has to reclaim the Necronomicon to find his way home. Oh, but there's one more catch! He has to also defeat an "Evil Ash" version of himself and an army of undead that he accidentally raises.
"Army of Darkness" has a lot of fun with its premise, making for an insanely fun horror-comedy fantasy adventure that has withstood the test of time. With Raimi producing the upcoming "Evil Dead Rise," it's clear that he and audiences haven't stopped craving more "Evil Dead" content and more is yet to come.
24. Twin Peaks: Fire Walk With Me (1992)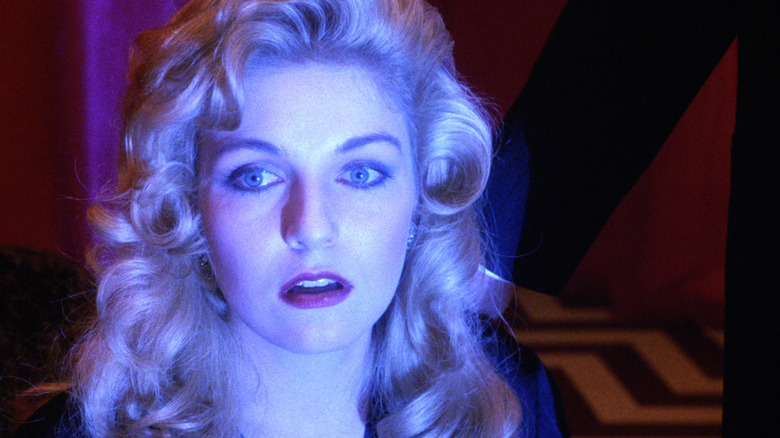 New Line Cinema
When you hear the name David Lynch, you know you're going to be in for something dark and weird. That's certainly the case for 1992's "Twin Peaks: Fire Walk With Me." A prequel to the cult television series "Twin Peaks," which aired from 1990-1991, "Fire Walk With Me" centers around the last days of tragic high-school student Laura Palmer (Sheryl Lee). She was famously found dead and "wrapped in plastic" at the beginning of the series. This movie offers her a richer backstory and the chance for audiences to see her as a living, breathing, and multi-dimensional character.
Featuring extremely bleak themes and bizarre scenarios, "Twin Peaks: Fire Walk With Me" was divisive upon release. Critics and audiences alike panned the film. However, it's been re-evaluated in recent years, with many now considering it a masterpiece. Notable cast from the series returned for the film, such as Ray Wise as Laura's dad, Leland, while Moira Kelly replaced Lara Flynn Boyle in the role of Laura's best friend, Donna. David Bowie makes an appearance as a detective and turns into a kettle-type object. Anyway, let's just say the film is an experience!
23. Funny Games (1997)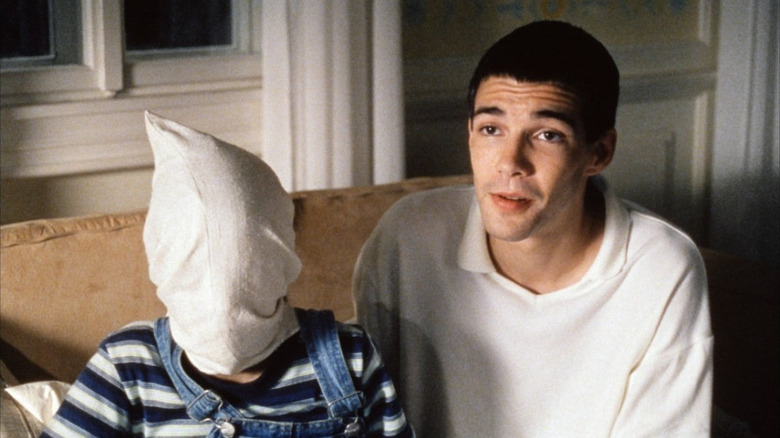 Austrian arthouse filmmaker Michael Haneke is known for making provocative psychological thrillers, and none is more discussed than his notorious 1997 Cannes entry, "Funny Games."
A home invasion story with a twist, "Funny Games" references the sadistic "games" played by two white-gloved young men (Arno Frisch and Frank Giering) who come into the holiday home of a family (Ulrich Mühe, Susanne Lothar, Stefan Clapczynski). The young men subject the family to a variety of torturous situations. The twist is that Haneke forces the viewer into complicity by having the young men occasionally break the fourth wall and address the audience directly, implicating them in the violence.
"Funny Games" is an unforgettably unsettling film. Haneke has stated that it was intended to make a statement on the viewing publics' complicity with violence portrayed in media. A decade later, Haneke directed a shot-for-shot English language remake starring Naomi Watts, Michael Pitt, Tim Roth, and Brady Corbet.
22. Sleepy Hollow (1999)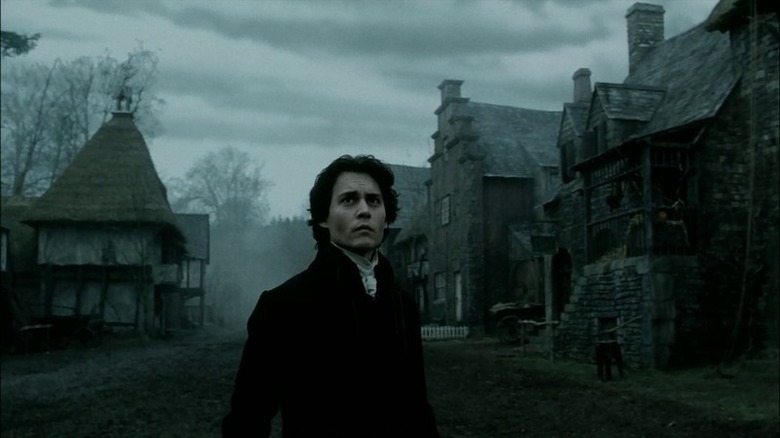 Paramount Pictures
There are multiple filmmakers prolific enough in the '90s to warrant inclusion on this list more than once. But one cannot claim to have a comprehensive list of horror movies from this decade without at least one nod to the master of the macabre, Tim Burton. The '90s saw him churning out a string of delightfully morose classics such as "Edward Scissorhands," "Batman Returns," and "Ed Wood." But Burton's adaptation of Washington Irving's "The Legend of Sleepy Hollow" is perhaps the one most closely aligned with the horror genre.
"Sleepy Hollow" sees Johnny Depp portray a police constable named Ichabod Crane. He travels to the spookily gothic Sleepy Hollow to investigate a string of decapitations plaguing the town. Teaming up with Katrina Van Tassell (Christina Ricci), the daughter of his host family, they seek out the mysterious "headless horseman" (Christopher Walken) whom the locals believe to be behind the murders. Receiving accolades for art direction, cinematography, and costume design, "Sleepy Hollow" is a lushly atmospheric affair and an all-around ghastly delight.
21. Interview With the Vampire (1994)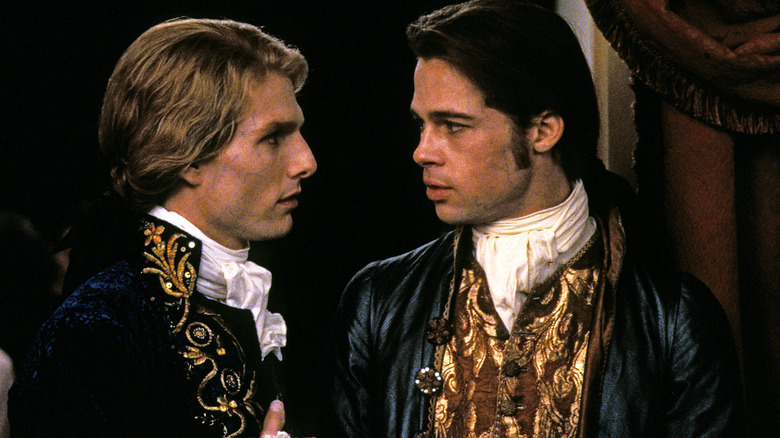 Warner Bros.
Fans of gothic horror, vampires, and sexiness feasted in 1994 with the release of the Brad Pitt, Tom Cruise, and Antonio Banderas-starring film, "Interview with the Vampire."
Adapted from the first novel in Anne Rice's popular book series "The Vampire Chronicles," the film focuses on a hundred-year-old vampire, Louis de Pointe du Lac (Pitt), recounting his tragic life to a reporter (Christian Slater). He describes how he was made into a vampire by the enigmatic and abusive Lestat (Cruise). As a means of keeping Louis within his control, Lestat turns a young girl, Claudia (Kirsten Dunst), into a vampire. Together, Louis and Lestat raise Claudia as their daughter, until eventually, things turn sour. Louis and Claudia then team up with another vampire, Armand (Banderas), before their situation takes an even darker turn. Directed by Neil Jordan, the thrilling and gorgeously moody "Interview with the Vampire" remains an atmospheric treat for the ages.
20. In the Mouth of Madness (1994)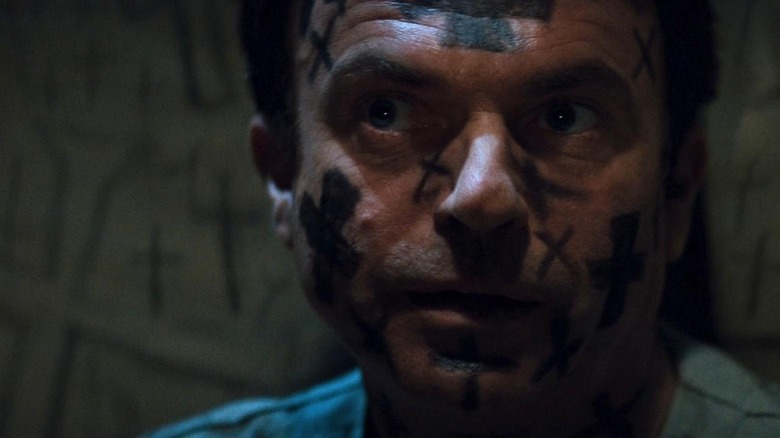 Horror master John Carpenter has an incredible stable of iconically terrifying films, including "Halloween" and "The Thing." But 1995's "In the Mouth of Madness" hones in on the sheer terror of losing one's mind and is notoriously overlooked in his filmography. 
Sam Neill stars as a now-institutionalized insurance agent, John Trent, who was asked to investigate a claim by the publishing company of missing horror novelist Sutter Cane (Jürgen Prochnow). A crazed fan of Cane's attacks Trent. The fan lost his grip on reality and killed his family after reading Cane's books. As his investigation deepens, Trent becomes increasingly disturbed yet strangely drawn to the contents of Cane's novels. He soon finds himself traveling to an eerie town in remote New Hampshire, where the fragile lines between nightmare, fiction, and reality blend. Though "In the Mouth of Madness" received mixed reviews upon its release, it's developed a cult following in recent years.
If you or someone you know needs help with mental health, please contact the Crisis Text Line by texting HOME to 741741, call the National Alliance on Mental Illness helpline at 1-800-950-NAMI (6264), or visit the National Institute of Mental Health website.
19. Cronos (1993)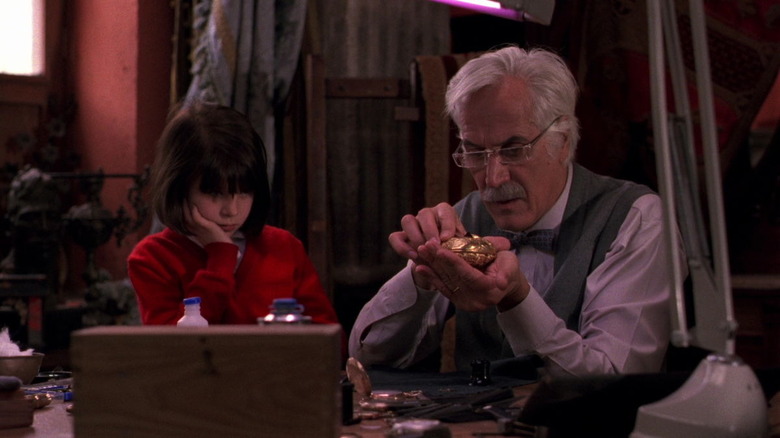 October Films
Master filmmaker Guillermo del Toro's name has become synonymous with stylishly crafted dark-genre films. His impressive filmography includes creepy films like "Crimson Peak" and Oscar winners "The Shape of Water" and "Pinnochio." But his mastery of horror extends back to his first feature, "Cronos," a unique spin on the well-trodden vampire genre.
Perhaps del Toro's most underseen work for casual fans, "Cronos" follows the tale of antique dealer Jesús Gris (Federico Luppi). He comes across an ancient scarab-like device. When pricked by the artifact, he finds newfound youth and vitality. However, he also develops insatiable bloodlust. He becomes hunted by the nephew (Ron Perlman) of a dying businessman, whose goal is to steal the coveted object for himself. But Jesús is willing to go to extreme lengths to hold onto the item. It may be up to his granddaughter, Aurora (Tamara Sanath), to help end the madness.
18. Dead Alive (1992)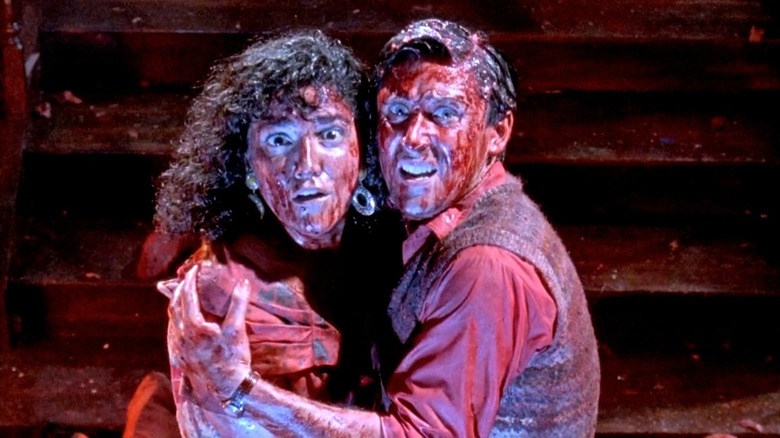 Oro Films
Before the New Zealand-born director Peter Jackson took on "The Lord of the Rings," he directed an outrageously gory and insanely fun zombie film called "Braindead," which was released in North America as "Dead Alive." Following the exploits of a nerdy and lonely young man named Lionel Cosgrove (Timothy Balme) and his domineering mother who gets bitten by a Sumatran rat-monkey and turns into a flesh-eating zombie, "Dead Alive" is gonzo horror that was clearly inspired by the full-tilt stylings of earlier films, including Sam Raimi's "The Evil Dead" flicks. 
But "Dead Aline" pushes the comedy and the gore even further. Using buckets of blood and tons of grisly practical effects, Jackson took "Dead Alive" to such a new level of outrageousness, including with the film's bonkers climax, that film reviewers have called it "one of the most disgusting horror films ever made." It is widely considered one of the bloodiest films of all time.
17. Flatliners (1990)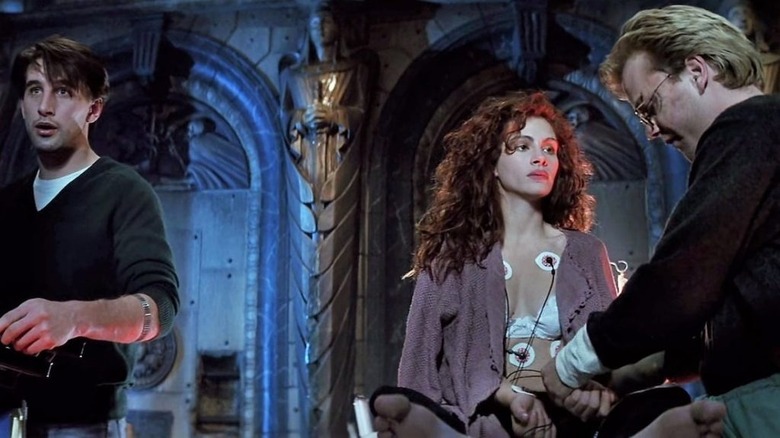 Columbia Pictures
"Today is a good day to die." Joel Schumacher was a director with a certain sense of flair, and if his 1987 vampire film "The Lost Boys" came to epitomize '80s horror chic, that same sense of style helped make his "Flatliners" a peak '90s horror film just three years later. 
Starring a very '90s cast including Kiefer Sutherland, Julia Roberts, Kevin Bacon, William Baldwin, and Oliver Platt, the film follows a group of third-year medical students who decide to explore the moments after you die by killing then quickly resuscitating themselves, aka "flatlining." True to form for Schumacher, "Flatliners" manages to deliver a brooding, unsettling, psychological mind trip while still making sure to look Gothically sexy and cool. Screenwriter Peter Filardi had a good decade, later helping write another film on this list, "The Craft," as did Kevin Bacon, who also appeared in "Tremors" this very same year.
16. Tales from the Hood (1995)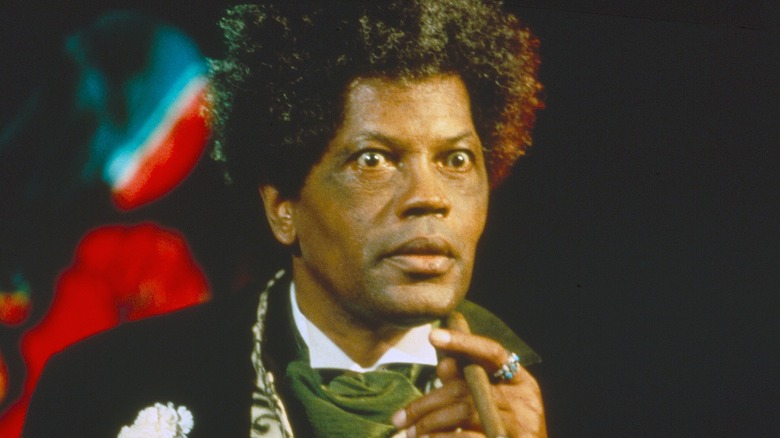 Savoy Pictures
So-called "hood films" were a big cinematic subgenre in the '90s, as films like "Boyz n the Hood" and "Menace II Society" ushered in a wave of new voices who told stories focused on the urban African American experience and important social issues impacting the black community. Director Rusty Cundieff's "Tales from the Hood" found a unique niche within this period as a sharp, fun, and spooky horror-comedy anthology with plenty of social commentary, featuring tales centered on police corruption, racism, gang violence and domestic abuse. 
Cundieff had a background in comedy and would later go on to write for "Chappelle's Show," and his comic sensibilities pair well with the grittier voice of co-writer and producer Darin Scott, who also produced "Menace II Society." Spike Lee served as an executive producer on the film, which features four tales told by an eccentric mortuary owner (Clarence Williams III) to a trio of drug dealers about the bodies in the mortuary. The result remains not only one of the best horror movies of the '90s, but also one of the best horror anthologies of any year.
15. I Know What You Did Last Summer (1997)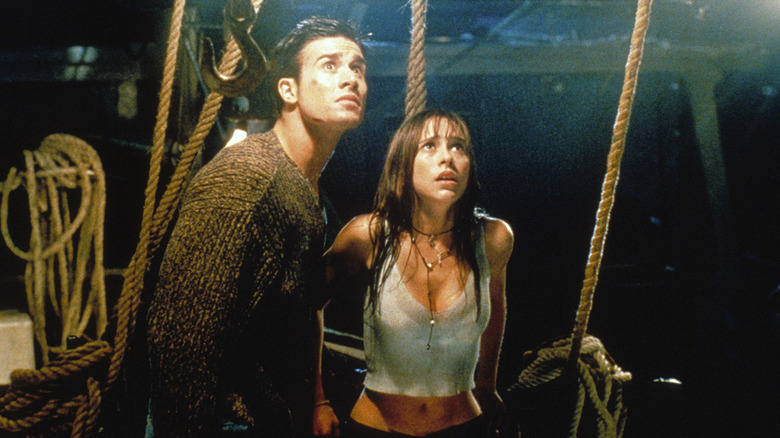 Sony Pictures Entertainment
Well, it's time to mention '90s horror staple Kevin Williamson ... again!
Directed by Jim Gillespie, "I Know What You Did Last Summer" revolves around Julie (Jennifer Love Hewitt), Helen (Sarah Michelle Gellar), Ray (Freddy Prinze Jr.), and Barry (Ryan Phillippe), who accidentally hit a pedestrian while driving on a seaside road one night. After making a pact to never speak of the incident, they leave the body and drive away. Later, they find themselves receiving notes from a mysterious stalker who claims that he knows what they did. Soon they also start being murdered by a rain-slicker-wearing, hook-handed assailant.
While the film failed to win over critics, it was popular enough with audiences to spawn a couple of cheekily titled sequels including "I Still Know What You Did Last Summer" and Prime Video's short-lived streaming series. Meanwhile, another potential sequel is in the works.
14. The Craft (1996)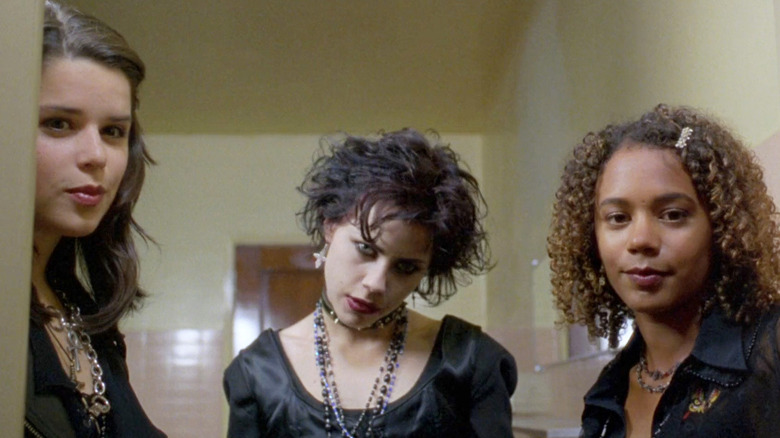 Columbia Pictures
"We are the weirdos, mister." 
When "The Craft" was unleashed in 1996, it received mixed reviews from critics, but it struck a major chord with young women thanks to its darkly subversive story of female empowerment. Its plot revolves around a group of high school misfits turned would-be witches, led by Fairuza Balk, who turns in a very memorable performance as Nancy Downs, an outcast from the wrong side of the tracks. 
Nancy guides her burgeoning coven as they draw upon the power of a deity called "Manon" to exact revenge upon their abusers and enemies. Balk is joined by an all-star cast that includes Robin Tunney, Neve Campbell, Rachel True, and Skeet Ulrich (Campbell and Ulrich also starred together in "Scream" the same year). Brooding, thoughtful, and progressive in its examinations of the bonds of sisterhood and of women owning their power, "The Craft" has since become a cult classic that holds up to this day.
13. Perfect Blue (1997)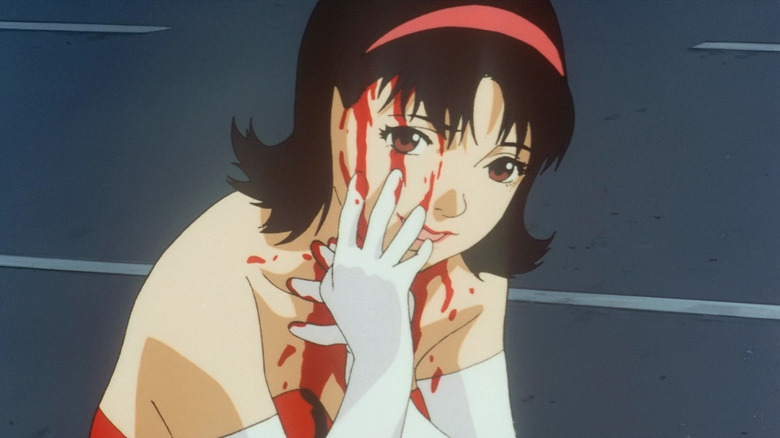 The late and great Satoshi Kon blessed us with just four movies in his too-short career. But every one of them could be considered a masterpiece. Still, his animated psychological thriller "Perfect Blue" stands out among the pack as being one of his most influential and highly regarded works.
The plot follows a pop-idol singer, Mima, who quits her J-Pop band, CHAM!, to pursue a career as an actress. She discovers a website called "Mima's Room" with strange blog posts seemingly written from her point of view. Feeling like she's being targeted by a crazed fan combined with the pressures of the acting world, her sense of reality starts to blur. When she is eventually pressured into filming a scene involving sexual assault, her world crumbles.
A superbly crafted and innovative work, the influence of "Perfect Blue" appears in later filmmakers' works — such as Darren Aronofsky's "Black Swan," and Alejandro J. Inarritu's "21 Grams."
If you or anyone you know has been a victim of sexual assault, help is available. Visit the Rape, Abuse & Incest National Network website or contact RAINN's National Helpline at 1-800-656-HOPE (4673).
12. Jacob's Ladder (1990)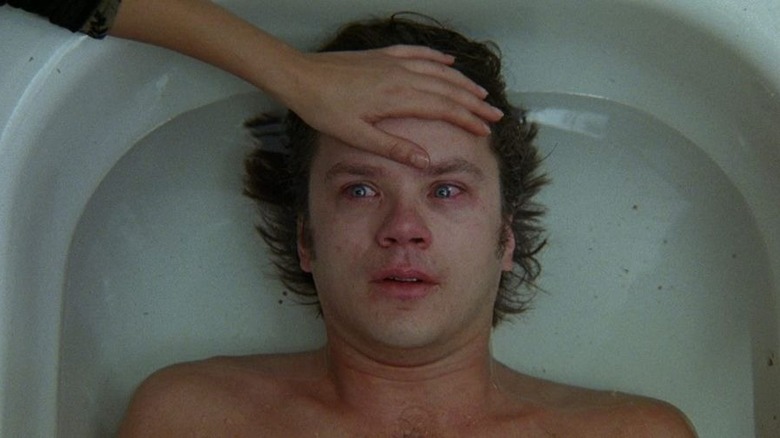 Tri-Star Pictures
When it comes to psychological horror, "Jacob's Ladder" is one of the more terrifyingly unsettling mind trips ever made. Directed by Adrian Lyne, the film focuses on a Vietnam war veteran, Jacob Singer (Tim Robbins), who is plagued by visions, nightmares, and hallucinations revolving around the war, as well as his son, who died in an accident before Singer shipped off. As his visions become more terrifying, all-consuming, and real, Jacob becomes more disconnected from the world and people he knows, including his girlfriend, Jezebel (Elizabeth Peña), who struggles help him as he descends into madness. 
"Jacob's Ladder" is considered a cult classic and has been an influence and inspiration for many subsequent works. You can see elements of "Jacob's Ladder" in "The Sixth Sense" and "Black Swan," and it was a notable inspiration on the "Silent Hill" franchise, as the film was a favorite of the game's programmer, Akihiro Imamura.
11. The Sixth Sense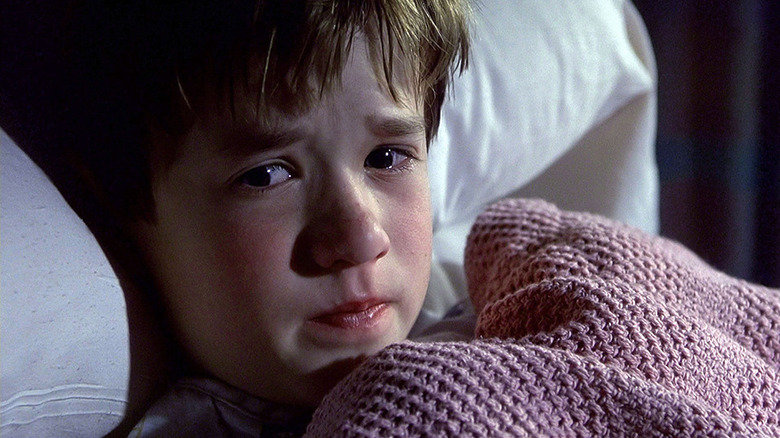 Buena Vista Pictures
If M. Night Shyamalan's name is synonymous with twist endings, it's thanks to "The Sixth Sense," the Bruce Willis-starrer that blessed us with the infamous line whispered by a young Haley Joel Osment, "I see dead people." "The Sixth Sense" put Shyamalan on the map, drawing in huge crowds and blockbuster box office returns with a story about a psychologist (Willis) who is hired to help a boy (Osment) who claims he can see ghosts. 
Back in 1999, moviegoers knew nothing of Shyamalan and initially had no idea that the spooky film had a shocking twist, but word quickly spread and audiences flocked to the theater to see for themselves what all the hubbub was about. As a result, "The Sixth Sense" became the second-highest grossing film of the year, surpassed only by "Star Wars: The Phantom Menace," and would go on to be nominated for six Oscars. In the years since its release, the film has attained the status of a modern classic, and Shyamalan has proven time and again that surprise endings really are his thing with other twisty films such as "The Village," and "Unbreakable."
10. Tremors (1990)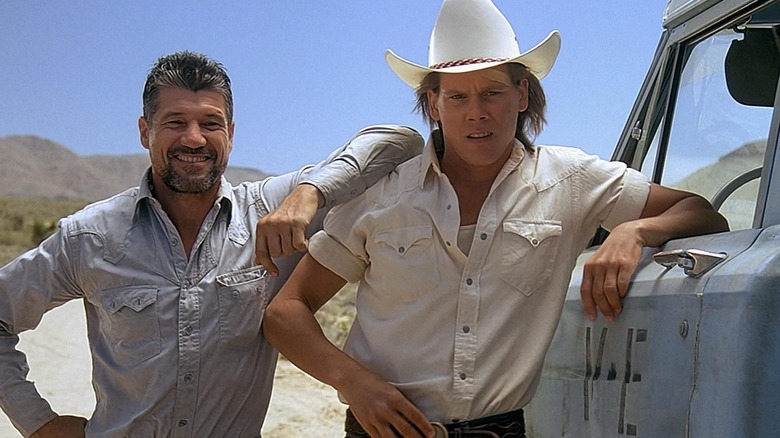 Universal Pictures
Inspired by the classic creature-features of the '50s and '60s, "Tremors" stands out as one of the better monster movies. Not only is it unabashedly fun, but it features two relatable, down-to-earth, blue-collar heroes in Val and Earl (Kevin Bacon and Fred Ward), who band together with the few residents of Perfection, Nevada to battle giant underground worm-like creatures known as Graboids. 
A horror-comedy that's both successfully funny and scary, "Tremors" also spills over into action-adventure territory, offering plenty of pulse-pounding excitement as the surrounded inhabitants of the isolated desert outpost fight for their lives. Directed by Ron Underwood, who would go on to direct "City Slickers," and written by S.S. Wilson and Brent Maddock, the endearing "Tremors" spawned a franchise that includes six sequels and a short-lived TV series — with the possibility for more left open. Still, the original "Tremors" remains the best entry, as well as a seminal work of American horror cinema.
9. Bram Stoker's Dracula (1992)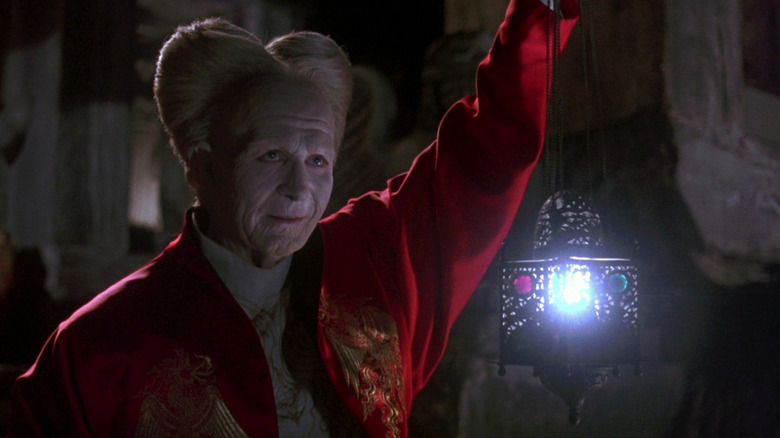 Columbia Pictures
"Bram Stoker's Dracula" is Francis Ford Coppola's high gothic horror romance, and it's so gorgeous that it would have earned a place on our list for its lush visuals alone. Not only are the costumes and makeup incredible (the film won Academy Awards for both) and the sets dripping with atmosphere, but Coppola insisted on creating the film's impressive visual effects by using old-fashioned on-set and in-camera techniques — no CGI here — resulting a unique and singular cinematic vision. 
If the rich style isn't enough, the film also features memorable performances from Anthony Hopkins as Van Helsing, Winona Ryder as Mina Harker, and Keanu Reeves as Jonathan Harker. And then, of course, there's an over-the-top Gary Oldman as Dracula himself, comfortably switching between horrifying monster and hopeless romantic while doling out memorable lines like, "I have crossed oceans of time to find you," in a highly convincing Vlad-the-Impaler accent. His twisted, ill-fated romance with Winona Ryder's Mina is one for the ages.
8. Candyman (1992)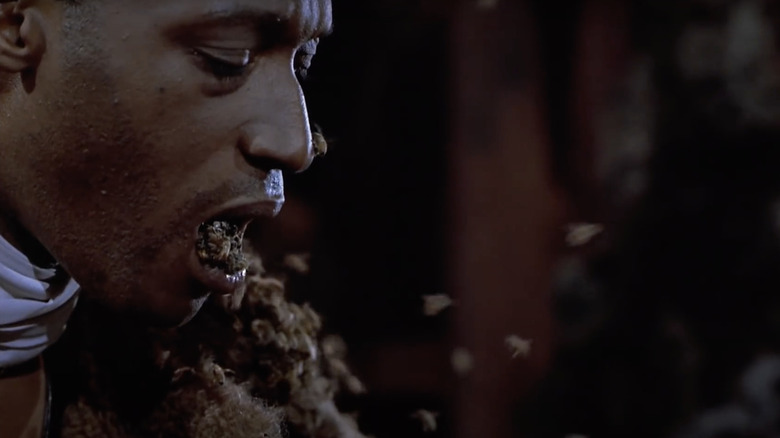 Tri-Star Pictures/YouTube
The great Tony Todd stars as the titular "Candyman," the hook-handed, bee-surrounded, mirror-dwelling figure of urban legend that haunts the Cabrini Green housing project in this modern horror classic. Written and directed by Bernard Rose and adapted from a story by Clive Barker, the film follows grad student Helen Lyle (Virginia Madsen), who happens to be researching urban legends, as she is tipped off to a series of murders that have occurred at Cabrini Green that were rumored to have been committed by Candyman. At first, Helen attributes these stories to mere legend, but it's not long before she meets the terrifying Candyman himself and learns the truth of his tragic origins. 
"Candyman" remains a popular and enduring horror film that not only scarily utilized its urban-legend premise, but also raised social and racial issues. As a testament to its legacy, Jordan Peele ("Get Out") and his MonkeyPaw Productions have executive-produced a sequel directed by Nia DeCosta, which came out in late August, 2021.
7. The Blair Witch Project (1999)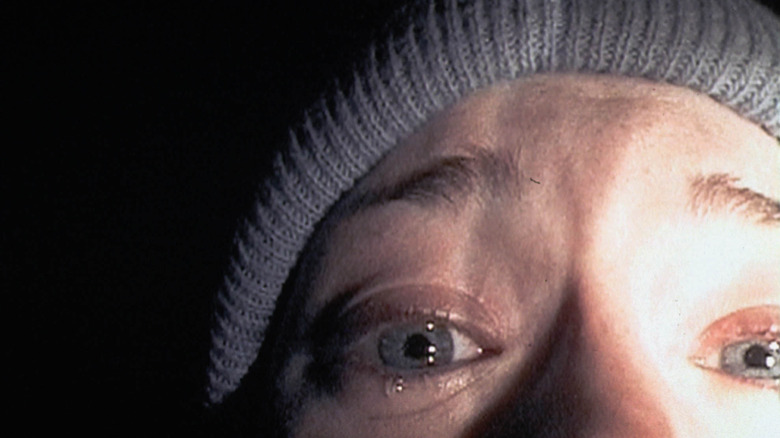 Artisan Entertainment
In January 1999, a little indie horror film made a splash at the Sundance Film Festival with an edgy promotional marketing campaign that played into its found footage premise, listing the actors as missing or deceased and featuring flyers asking viewers to come forward with information as to their whereabouts. That film, of course, was "The Blair Witch Project" and it went on to become a sleeper hit that would eventually earn over 4,000 times its original budget and disrupt the horror genre by kicking off a found-footage craze that continued with films such as "Paranormal Activity."
Marketed as a documentary depicting "real" events, "The Blair Witch Project" follows a group of film students who set out in the woods of Maryland to make a documentary about a local legend. The terrifying events that unfold are presented as footage that was found on their cameras after they all disappeared. The burgeoning internet helped provide an outlet for a viral marketing campaign that had web sleuths and movie fans alike wondering if the events of the film were in fact real. They were not, of course, and were instead the work of director-producers Daniel Myrick and Eduardo Sánchez, who left an indelible mark on the world of horror.
6. Audition (1999)
Director Takashi Miike's "Audition" is one of two Japanese horror movies on our list, and it's here for good reason. The influential film tells a deeply unsettling tale about a widowed film producer, Aoyama (Ryo Ishibashi), who becomes enamored of a young actress, Asami (Eihi Shiina), whom he meets via a sham audition set up to help Aoyama find a new wife. But we soon learn that Asami has something of a checkered past, and eventually Aoyama finds himself in, well, let's just call it an unenviable situation involving a piano wire. Yikes! 
With a subversively feminist message and an unforgettable ending, "Audition" is not only one of the best horror movies of the '90s, but is often been cited as one of the best horror movies in general, including by the Guardian, which calls "Audition" the 21st-best horror movie of all time.
5. Ring (1998)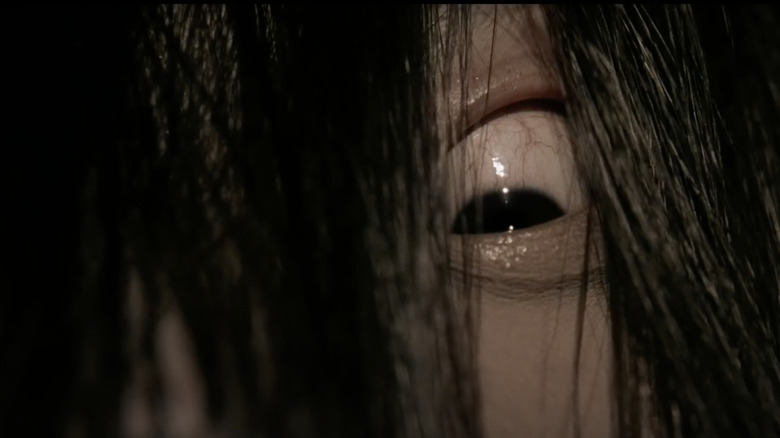 Arrow Films
The seminal and terrifying Hideo Nakata-directed Japanese horror film "Ring," aka "Ringu," aka "The Ring," centers around a reporter, Reiko (Nanako Matsushima), who sets out to investigate a cursed video tape that supposedly causes anyone who watches it to die seven days later. After watching the eerie video herself, she receives an ominous phone call that contains an ominous warning: "Seven days." 
In addition to its scary, urban legend-esque hook and generally creepy vibes, the film is also notable for its iconic long-haired, vengeful ghost, Sadako, who appears in the mysterious video and has a penchant for crawling out of both old wells and TV sets. 
Thanks to its worldwide popularity and box-office success, "Ring" helped launch not only a franchise, but a wave of other Japanese and Asian horror films, including "Ju-On" (aka "The Grudge"), and "Dark Water," whose American remakes also helped popularize the subgenre in the States and led to the coining of the phrase, "J-Horror." The American remake of "Ringu," directed by Gore Verbinski, also found critical and financial success, helping to cement the franchise's lasting horror legacy.
4. Cure (1997)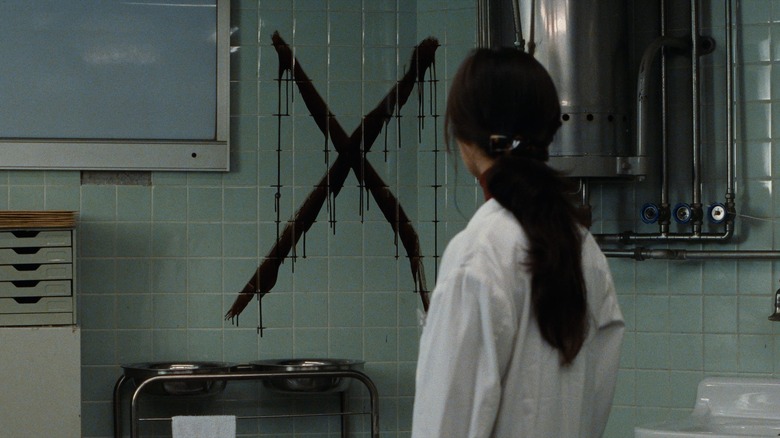 Criterion Pictures
While '90s classics like "Audition"(1999) and "Ring" (1998) are well-known films in J-Horror,  Kiyoshi Kurosawa's "Cure" remains an underseen but influential psychological horror masterpiece. Twenty-five years later, it has lost none of its mesmerizingly terrifying punch.
The film revolves around a detective, Kenichi Takabe (Kōji Yakusho), in the midst of marital strife with his mentally unstable wife, He soon becomes drawn into a mysterious string of grisly murders. Each act is seemingly committed by a different perpetrator but contains similar hallmarks. Most notably, a large X is drawn at the scene of each crime. Also, the suspects don't remember killing anyone. He and psychologist Sakuma (Tsuyoshi Ujiki) track down a mysterious amnesiac man, Mamiya (Masato Hagiwara) who seems to be at the center of the mystery. But Mamiya's evasive and hypnotic manner only adds to their frustrations, which makes the truth more elusive.
"Cure" is a haunting and atmospheric work of terror. In 2021, the Criterion Collection released a 4K restoration of the film and called it "a tour de force of psychological tension and a hallucinatory journey into the darkest recesses of the human mind." Oscar-winning director Bong Joon Ho listed "Cure" as one of the films that inspired his work, too.
3. Misery (1990)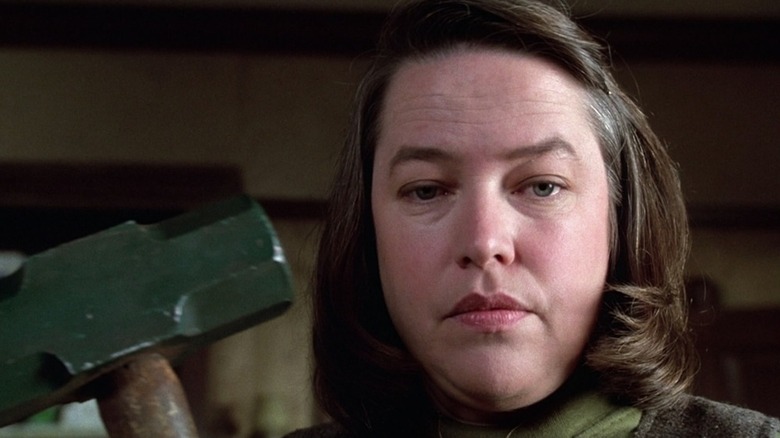 Columbia Pictures/Castle Rock Entertainment
"I'm your number one fan." One of the best Stephen King adaptations to date, "Misery" perfectly highlights the perils of fan culture with its story about an obsessive fan, Annie Wilkes (Kathy Bates), who holds her favorite author, Paul Sheldon (James Caan), hostage, forcing him to burn his latest manuscript and write a new novel about her favorite character, Misery Chastain. 
Kathy Bates won an Academy Award for her chillingly believable performance as a deranged fan who will stop at nothing to make sure her beloved character is treated properly, and the image of her calmly but assuredly holding a sledgehammer over Caan before breaking his ankles remains imprinted in our pop culture iconography. Director Rob Reiner previously directed an adaptation of King's "Stand by Me," and though "Misery" remains his only horror movie to date, he infuses the film with a sense of empathy not only for Caan's Sheldon but also for Annie Wilkes herself. 
In hindsight, "Misery" was progressive in its themes, foreshadowing the way that modern technology has made creators more accessible to fans, and how pervasive and toxic fan culture is today. "Misery" is perhaps more relevant now than ever.
2. Scream (1996)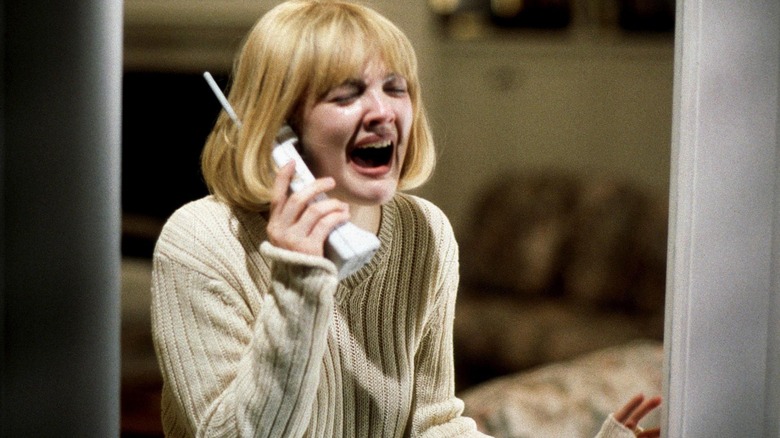 Dimension Films
There is perhaps no more defining work of '90s horror than Wes Craven's meta-slasher "Scream." From its killer opening scene, which featured Drew Barrymore and the killer's instantly recognizable Ghostface mask, "Scream" reinvigorated horror with its sharp satirization of the genre's clichés. It kicked off a peak era for smart, edgy, teen-centric horror led by screenwriter Kevin Williamson, who went on to pen other '90s horror classics like "The Faculty" and "I Know What You Did Last Summer," as well as the Wes Craven-directed sequel to "Scream" itself, "Scream 2." 
The main plot of "Scream" revolves around Sydney Prescott (Neve Campbell), a teen girl who is terrorized along with her friends by a mysterious killer one year after her mother's murder. With the help of Craven's deft hand in genre-mashing fun and a talented cast of hot young stars, the film became an instant hit. The critical and commercial success of "Scream" led to four total films directed by the late Craven; a fifth installment in the franchise is due in 2022.
1. The Silence of the Lambs (1991)
The '90s is the only decade thus far to give an Academy Award for best picture to a horror movie. That movie is, of course, Jonathan Demme's "The Silence of the Lambs." There is some debate among horror fans as to whether or not the film should be classified as horror or a thriller, but we are of the belief that it's one of the best horror movies of all time. 
Containing not one but two memorable serial killers as antagonists — the lotion-and-skin-loving Jame Gumb, aka Buffalo Bill (Ted Levine), and the cannibalistic liver-and-fava-bean-loving Hannibal Lecter (Anthony Hopkins) — "Silence of the Lambs" follows FBI trainee Clarice Starling (Jodi Foster) as she is sent to interview Lecter in the hopes of obtaining clues that could help the Bureau apprehend Gumb. But the brilliant Lecter gets inside Clarice's head, and catching one killer might just lead to the escape of another. Hopkins, Foster, and Demme all won Oscars for their respective contributions to the film, and screenwriter Ted Tally took home the trophy for best adapted screenplay.