Netflix's Full Tudum Schedule Includes Stranger Things, Umbrella Academy & The Sandman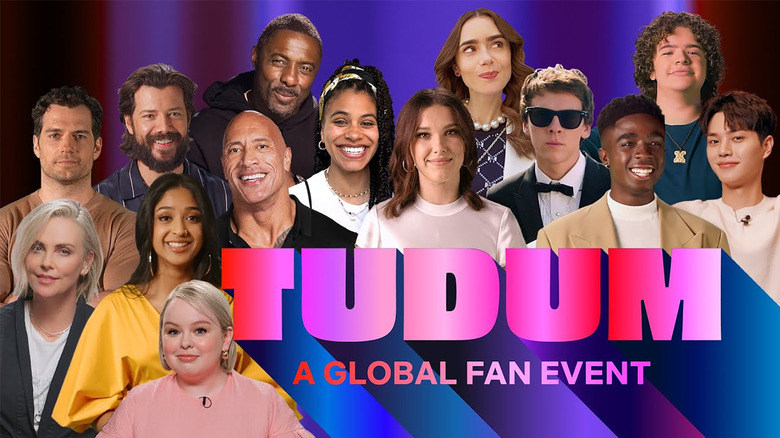 Netflix
This weekend, Netflix will be hosting their own global virtual hype event called Tudum, where the streamer will tease a slew of their upcoming projects throughout the rest of the year and into 2022 (and maybe beyond). Starting at 12:00 P.M. ET on September 25, there will be three hours of news and updates for Netflix original movies and shows, and it will all be streaming through YouTube. 
Some of the biggest shows on the Tudum line-up include the fourth season of "Stranger Things," the fourth season of "Cobra Kai," the third season of "The Umbrella Academy," the fifth season of "The Crown," the second season of "Bridgerton," the second season of "The Witcher," and the final season of "Ozark." There are also plenty of new shows, such as the adaptation of Neil Gaiman's "Sandman" and the live-action take on the popular anime "Cowboy Bebop."
As for original movies, we'll get sneak peeks for "Red Notice" with Dwayne Johnson, Ryan Reynolds and Gal Gadot; Adam McKay's star-studded satire "Don't Look Up" with Leonardo DiCaprio and Jennifer Lawrence; "The Harder They Fall" western with Idris Elba and Regina King; the follow-up to "Extraction" with Chris Hemsworth, and more.
Get a look at the full line-up for Tudum below.
Netflix's Tudum Schedule
As you can see, since this event is meant to tease the full swath of entertainment offerings that Netflix has on the way, there's something in Tudum for everybody. It will include projects from the worlds of anime, reality television, documentaries, foreign films, adult animated comedies, and more. 
Tudum will span three hours, and as you can see, each hour will be packed with a variety of offerings. Considering each hour is chock full of so many titles, we're betting not every show will be getting an extensive sneak peek. While we might see teaser trailers for some projects, others will likely only make brief announcements about the cast, release date, or other details that we've yet to hear. There might even be some surprise announcements that we're not anticipating. 
For our purposes, we're hoping we'll at least get some kind of new trailer for "Stranger Things" and "The Umbrella Academy." A trailer for "Cowboy Bebop" would be nice too. As for me, I'm personally looking forward to hearing more about "Big Mouth" and the "Human Resources" spin-off, but I have a predilection towards raunchy adult comedy. 
We're also hoping for some kind of last minute change to the name for the event. Naming it after Netflix's introductory sound just isn't cutting it for us, and it's just too close to being "too dumb." Anyway, we'll be keeping our ears to the ground for whatever important updates come out of Tudum, so stay tuned.