Why 1994's Unreleased Fantastic Four Movie Was Such A Disaster — By Design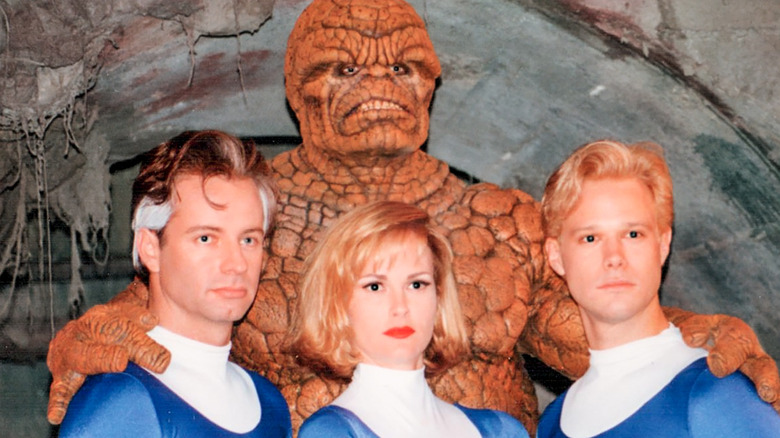 New Horizons
Long before Marvel Studios conquered the world with its unique blend of big-budget spectacle and comic book fidelity ... before 2000's "X-Men" and 2002's "Spider-Man" proved beyond a shadow of a doubt that the Marvel universe was a viable form of movie IP ... heck, even before Wesley Snipes ice-skated uphill with the "Blade" movies, there was Roger Corman's infamous 1994 film "The Fantastic Four." Didn't see it? There's a reason for that.
Hollywood is a sharky town. Always has been. On almost any movie set, large or small, you can always track some kind of shady business dealings or creative book-keeping. But rarely is a movie made to deliberately not be seen, as was the case with "Fantastic Four." 
With much of our info taken from the great 2015 documentary "Doomed: The Untold Story of Roger Corman's The Fantastic Four," let's take a look back at one of the sleaziest "major" comic book movie adaptations ever mounted and why it's such a fascinating story — at least, more so than the film that wound up not playing on screens. 
The Not-So-Mighty Marvel Movie Era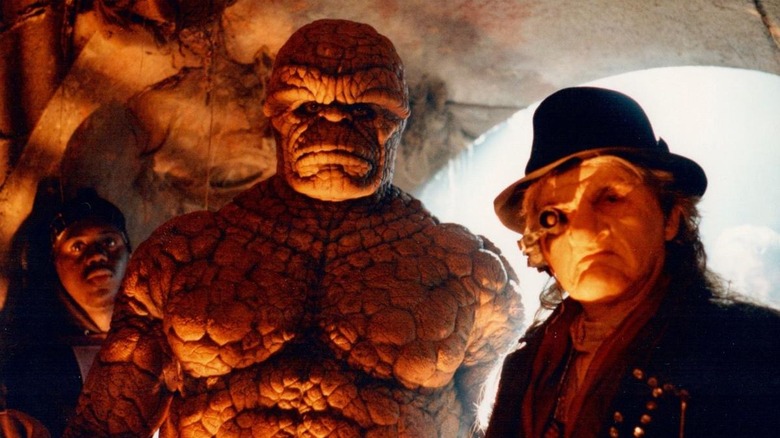 New Horizons
Despite the best efforts of Stan Lee, by the early '90s Marvel was still having difficulty making in-roads into the larger entertainment world. George Lucas' big-budget "Howard the Duck" movie had laid a big fat egg at the box office, becoming one of the most notorious flops of the '80s. A "Spider-Man" movie from schlockmeisters Cannon Films was blessedly aborted, while James Cameron was taking his sweet time making his own big budget version of the webslinger.
 Despite a great script from "Back to the Future" writer Bob Gale, a "Doctor Strange" movie continued to languish. The 1989 Dolph Lundgren-led "The Punisher" couldn't even bring itself to put the dang skull logo on the guy's shirt, while the less said about Albert Pyun's 1990 "Captain America" movie the better. Those latter two films had budgets of $9 million and $3 million, respectively, and both went direct-to-video in the US. 
But some producers still had faith that the Marvel Universe had enough cultural cache and cinematic possibilities to be viable movie IP. One such producer was German filmmaker Bernd Eichinger, whose Constantin Films had put out such prestigious fare as "The Neverending Story," "The Name of the Rose" and "Last Exit to Brooklyn." 
In 1983 Eichinger met with Stan Lee to purchase an option on the film rights to both the Fantastic Four and Silver Surfer characters, but even when big studios like Warner Bros. and Columbia expressed interest, nobody bit due to the large price tag the project would necessitate. By 1992 the option was running out and Eichinger had to get a film into production or risk losing the rights. His big tactic to make the movie he wanted to make would be to make the exact movie he didn't want to make.
The Deal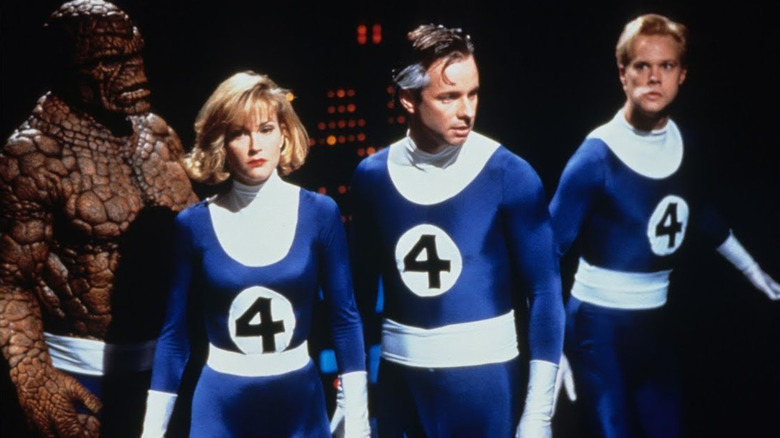 New Horizons
After initially approaching Troma impresario Lloyd Kaufman of "The Toxic Avenger" fame — who declined out of a long friendship and loyalty to Stan Lee — Eichinger met with B-movie king Roger Corman, who had made his name on making movies quick and cheap but with an eye for up-and-coming talent. He approached Corman with a deal: Make a "Fantastic Four" movie for $1 million dollars, far more than a typical production from Corman's New Horizons production outfit ... but far, far less than the material actually necessitated. 
Corman took the deal, and set out to make the picture very, very quickly. Three weeks before production was scheduled to begin in late December 1992, a casting call went out to agents and talent, from which New Horizons got thousands of responses. Some of the actors that auditioned for roles included Nick Cassavetes, Melora Walters, Patrick Warburton, noted comic book fan Titus Welliver, and even a very pre-Hulk Mark Ruffalo. 
The final cast consisted of Alex Hyde-White ("Pretty Woman") as Mr. Fantastic, Rebecca Staab ("Beverly Hills 90210") as Invisible Woman, Jay Underwood ("Uncle Buck") as Human Torch, Michael Bailey Smith ("A Nightmare on Elm Street 5: The Dream Child") as Ben Grimm (with Carl Ciarfalio in the Thing costume), and Joseph Culp ("Iguana") as Dr. Doom. They would be led by music video helmer turned feature director Oley Sassone ("Bloodfist III: Forced to Fight") and would all bring a sense of enthusiasm that this could be their big break ... despite the many red flags. 
A Doomed Production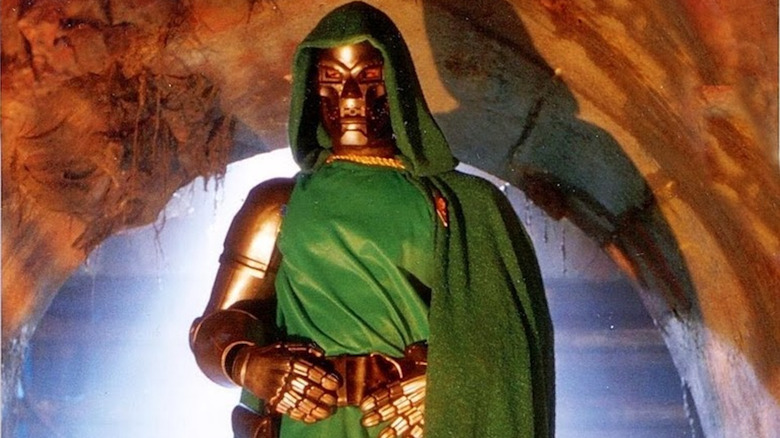 New Horizons
Right off the bat the cast became acutely aware that this "Fantastic Four" would not be as big a production as they were imagining, made extra suspicious by the fact that they were filming through Christmas. The Venice, California soundstages at New Horizons were more akin to a condemned warehouse, complete with a rat-catching cat named Lucy. 
Although the rubber Thing costume by Optic Nerve was fairly comics-accurate, the spandex suits with a sewn-on "4" worn by the rest of the stars were more akin to homemade Halloween costumes. The Mr. Fantastic stretch effects were laughable, and the few seconds where Johnny Storm goes full "flame on" in a flying body burn were rendered in the most primitive CGI imaginable. Even the secondary villain Mole Man had to be changed to a generic sewer-dwelling baddie called the Jeweler, played by English thesp Ian Trigger (his final screen performance) in gross troll makeup.
When the ultra-rushed 22-day filming schedule was completed by the end of January 1993, post-production efforts suddenly ground to a halt — much to the puzzlement of the director, Oley Sassone. Pretty soon, with Corman's company going radio silent and withholding funds, visual effects and other post-production efforts were being handled in a clandestine way. 
Sassone and his editors were given elements under different movie titles so they could finish the film under-the-radar. Even the film's composers, brothers David and Eric Wurst ("Bloodfist IV: Die Trying"), put in $6000 on their own dime to hire a 48-piece orchestra for the soundtrack. A few new bridging scenes were shot by Sassone on-the-fly, including some shots of the Thing on the city streets that were filmed without permits or even lighting.
By August 1993 Stan Lee, who had frequently visited the set during filming (even bringing the donuts one day), was already publicly distancing himself from the film at a comic book convention:
"It is not only in the works, it's just about finished. It'll be released sometime, I think, at the end of this year. I'm not expecting too much of it. It's the last movie to be made that we at Marvel had no control over. Our lawyers just gave the rights to Roger Corman to do the movie. There will be no other projects like that. Everything after that we're doing ourselves."
Wanting to get the word out, some cast members used thousands of dollars of their own money to hire a publicist and began making appearances at San Diego Comic-Con and elsewhere to meet fans and get the word out. Film Threat's Chris Gore had been embedded on set as a reporter, and wrote a cover story for the magazine. But all these publicity efforts would be in vain.
The Deception Revealed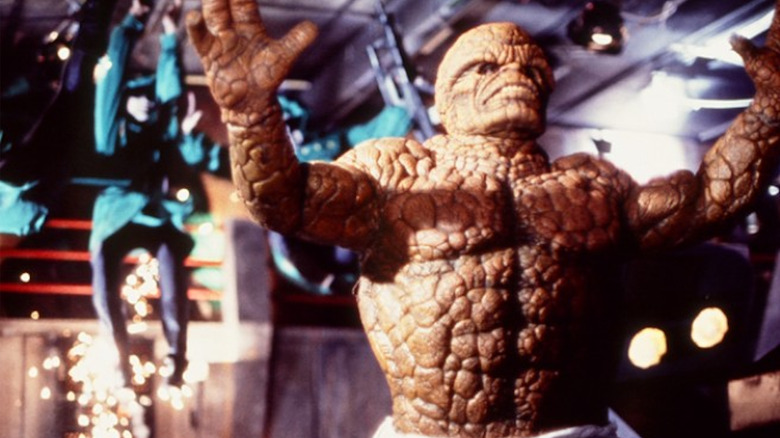 New Horizons
Despite a much-touted world premiere for charity announced for the Mall of America in Minnesota in January 1994, the release of "The Fantastic Four" was suddenly and unceremoniously halted. Marvel Entertainment chief Avi Arad (who later founded Marvel Studios) had just sold the "X-Men" film rights to 20th Century Fox after the success of his Fox animated series. Not wanting the release of Corman's movie to interfere with his long-term goal of doing a proper "Fantastic Four" studio feature (which now had the interest of "Home Alone" director Chris Columbus at Fox), Arad called Eichinger and wrote a check to essentially kill the low-budget film. 
Besides the money Eichinger was given in cash, Roger Corman received a check for $1 million to hand over all materials, including the negative, which was reportedly destroyed. It is the only film to date that Corman made and did not release. Corman and others at New Horizons have said that they had every intention of releasing the film before their big payout, and attest that they were not in on the scheme to intentionally never release the movie. Sassone met with Eichinger personally, and although he was given no extra compensation for his efforts, he was eventually recommended by Eichinger to direct the Czech TV movie "Heimliche Zeugen (Secret Witness)." 
Fortunately for fans, Sassone had made some VHS copies of the film at a dubbing house and this somehow manifested in the film getting widely distributed in bootleg fashion at various conventions and eventually through eBay and YouTube. A similar business tactic to Eichinger's has been used to retain rights since, including Red Eagle Entertainment's bizarre, slap-dash pilot for Robert Jordan's "The Wheel of Time" — titled "Winter Dragon" and starring Billy Zane — which aired on FXX at 3am in 2015 before an eventual deal for a legit series was struck with Amazon in 2018.
Eichinger's Constantin Films eventually made two successful features: 2005's "Fantastic Four" and 2008's "Fantastic Four: Rise of the Silver Surfer," both directed by Tim Story. A reboot was released by Fox in 2015, also titled "Fantastic Four," and was received so disastrously that it was compared unfavorably to the Roger Corman version in many circles. A new reboot set within Kevin Feige's Marvel Cinematic Universe, to be helmed by Jon Watts of the MCU's "Spider-Man" trilogy, is currently in active development.