Intrusion Director Explains How The Pandemic Made Him Reinvent The Film [Interview]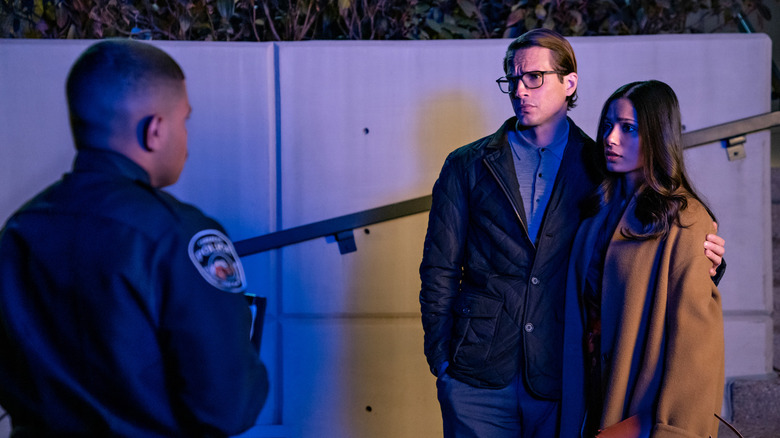 Netrflix
Netflix's "Intrusion" is a thriller that hits close to home. Meera (Freida Pinto) is caught up in dangerous intrigue after an unexpected incident — someone breaking into her and her husband's (Logan Marshall-Green) home — causes her to uncover things she never expected. As the film's trailer suggests, Meera unearths horrific secrets when she digs into why people broke into her beautiful, modern house in the New Mexico mountains. As events unfold, you're right there with her for every twist and turn. 
/Film talked with director Adam Salky about those twists and turns, including how shooting during the pandemic created major changes that ended up being a benefit to the movie.
A Thriller With A Personal Touch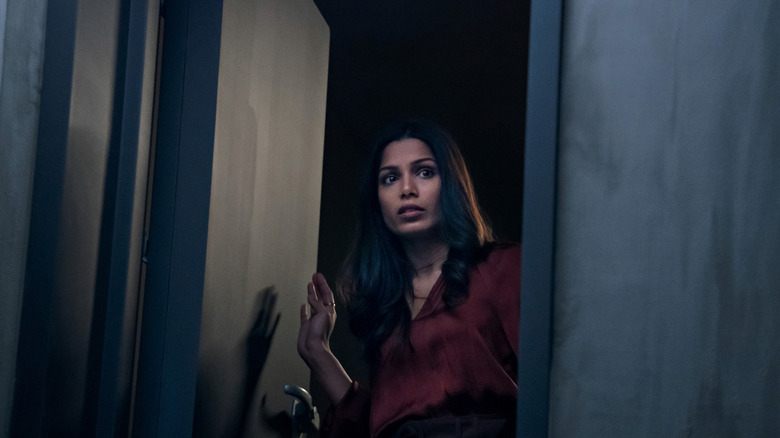 Netflix
Salky took on directing "Intrusion" for several reasons, some of them more personal than others.
"Every film that I make, I make because I have a personal connection to it," Salky told /Film. "'Intrusion' was no different. It aspires to be an entertaining, suspenseful, sometimes scary and surprising thriller. And in fact, when I read it, that was my experience ... it had me on the edge of my seat and I really didn't know where it was going to go. But I also had a deep, personal connection to the Meera character, played by Freida Pinto, who is a breast cancer survivor."
Salky's best friend growing up had been diagnosed with breast cancer, and the journey he saw his friend take was echoed by Meera in the film. "I saw her come out the other end so much stronger than when she first found out the diagnosis," he shares. "And I thought that journey was very authentically portrayed in Chris Sparling's script for 'Intrusion.'"
Filming During the Pandemic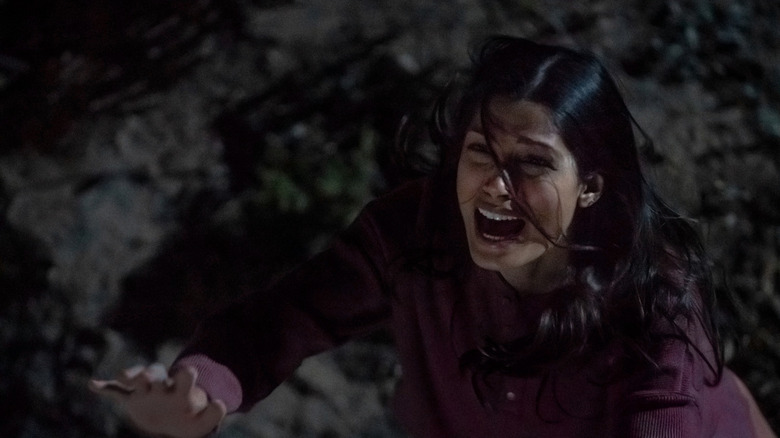 Netflix
That personal draw was the spark that drew Salky to the feature. When it came time to shoot, however, the pandemic required certain aspects of the script to change. "'Intrusion,' when I first read it, took place in Maine and it was a house in the woods," Salky says. "But driven by some of the realities of shooting a movie during the pandemic, we decided to move to New Mexico because there was more support there to make the film and to make it safely."
That move ended up being a boon for the film, as the desert landscape of New Mexico brought a strikingly stark look to the movie. "You find yourself in a new place and then you start using your imagination to come up with how that new place can affect the movie," Salky says about the location shift. "I actually thought that was a great change because we've seen a lot of house in the woods scary movies, but we haven't seen a lot of house in the desert suspense thrillers. So to me, that actually ended up being one of those happy accidents where the events of making the movie actually make it better."
A New House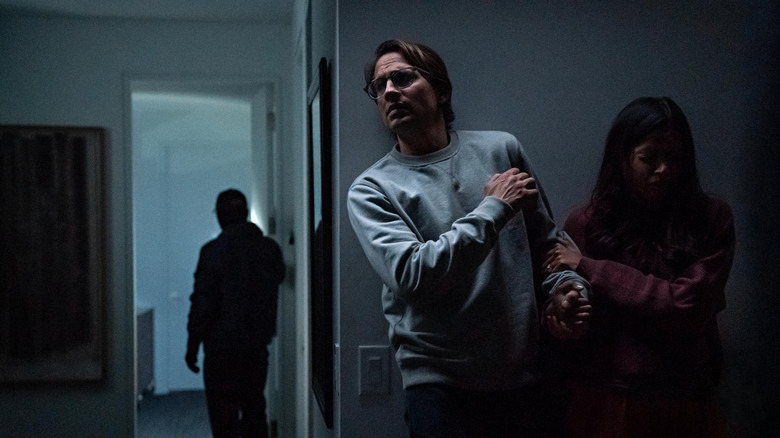 Netflix
Moving to New Mexico to shoot also led Salky to film in a house with a more modern design. Without getting into spoiler territory, it's safe to say that Meera's home plays a major role in the movie. "The house in 'Intrusion' is a character in the film," Salky explains. "I love movies that have locations that are really specific to the movie and become characters. I knew that I wanted the house to be unique, architectural and modern. Because the Henry character, Meera's husband, is this kind of stylish architect, and this is a house that he's built for them for the purpose of them starting this new chapter in life, where she's in remission."
Salky was initially concerned about finding a modern house in Albuquerque but luckily found one that fit the bill. "I could tell that this was the place," he recalls when he first visited the home. "It had all of these special kind of stark, unique, modern qualities. And it also had hallways that went to surprising places and closets that you would open and there would just be a wall there. I mean, there were all these sort of strange, secretive, unknowable quirks to it. And it just immediately was clear that this was the house. Of course, we had to remake it into the home of the characters. But it had, as they say in real estate, great bones."
You can check out the "Intrusion" house and watch as Meera uncovers multiple mysteries when the movie premieres on Netflix September 22, 2021.