Star Wars Editor Marcia Lucas Was Furious With Sequel Series, Cried Over The Prequels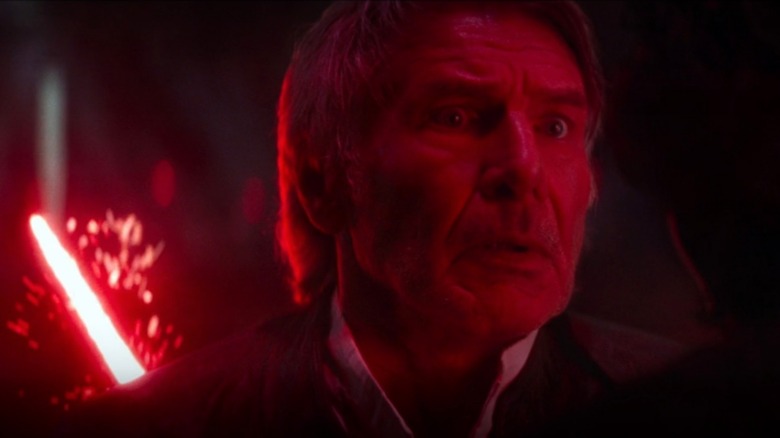 Lucasfilm
When you watch enough movies, the dirty little secret that nobody ever really wants to acknowledge starts to emerge. The vast majority of films aren't terrible or masterpieces — they're merely okay. Some good stuff, some bad, all combining to make an unspectacular 2.5 out of 5 star film. That's just the way it is! But when it comes to some diehard fans of blockbuster franchises like, say, "Star Wars," suddenly all of that conventional wisdom goes out the window and becomes replaced with charged responses that end up on either extreme of the spectrum.
But when we're talking about those with genuinely personal and invested stakes in the movies? That's a whole different story and one worth treating with nuance, as the internet has found out the hard way with both the Prequels and with Disney/Lucasfilm's recent Sequel Trilogy. Everyone from Mark Hamill to John Boyega has voiced strong opinions on the latest series of movies and, well, it should hardly be surprising that original "Star Wars" editor Marcia Lucas is no exception.
Struggling with the Sequels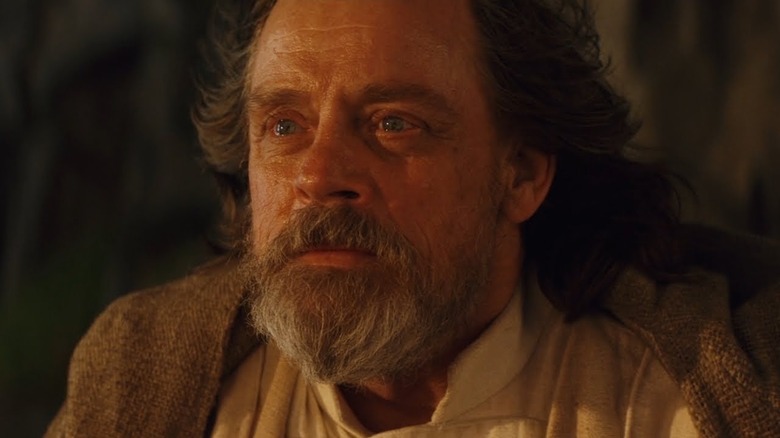 Lucasfilm
Let's be clear right from the start: without Marcia Lucas, it's likely that there's no "Star Wars" franchise to speak of in the first place. Creator George Lucas' then-wife played an integral role as editor of the original film (not to mention "The Return of the Jedi" as well, along with her uncredited work on "The Empire Strikes Back"), stitching together seemingly discordant and jumbled bits of footage to assemble something special that far exceeded what existed on paper. Her Oscar-winning editing work went hand-in-hand with George Lucas' notoriously difficult-to-translate vision to bring this silly story of laser swords and soap opera drama (in space, no less!) to life, earning her a lifetime's worth of credibility in being allowed to say whatever the hell she wants to say about the direction the franchise has since taken under Disney's guidance.
That brings us to the present, where some choice quotes are being brought to light as a result of the publishing of the late J.W. Rinzler's book on "The Empire Strikes Back" and "Return of the Jedi" producer Howard Kazanjian, titled "Howard Kazanjian: A Producer's Life." According to IndieWire, Marcia Lucas didn't hold back whatsoever when asked about her thoughts on how Lucasfilm President Kathleen Kennedy and director J.J. Abrams approached "The Force Awakens" in 2015. After earnestly praising Kennedy as "really smart and really bright," Lucas went up and in on her storytelling choices:
"Now that she's running Lucasfilm and making movies, it seems to me that Kathy Kennedy and J.J. Abrams don't have a clue about 'Star Wars.' They don't get it. And JJ Abrams is writing these stories — when I saw that movie where they kill Han Solo, I was furious. I was furious when they killed Han Solo. Absolutely, positively there was no rhyme or reason to it. I thought, 'You don't get the Jedi story. You don't get the magic of Star Wars. You're getting rid of Han Solo?'"
Although it's worth noting that Harrison Ford himself had been campaigning for Han Solo's death for decades by that point, it's not hard to read between the lines somewhat and find the true drawbacks in how Han Solo was treated throughout the film: brought back into the story through eye-rollingly convenient means, reverted back to his pre-"A New Hope" ways, and then promptly killed off with little time or space given to truly mourn the loss of an icon. As these interviews took place after "The Last Jedi" but before the release of "The Rise of Skywalker," Lucas has lots to say about the death of another icon in Rian Johnson's 2017 film as well:
"They have Luke disintegrate. They killed Han Solo. They killed Luke Skywalker. And they don't have Princess Leia anymore. And they're spitting out movies every year. And they think it's important to appeal to a woman's audience, so now their main character is this female, who's supposed to have Jedi powers, but we don't know how she got Jedi powers, or who she is. It sucks. The storylines are terrible. Just terrible. Awful. You can quote me...JJ Abrams, Kathy Kennedy — talk to me."
While I still maintain that "The Last Jedi" is by far the biggest bright spot amid post-Disney "Star Wars," it certainly sounds like Luke's death and Carrie Fisher's tragic passing were the last straw for Lucas. Considering her perspective on the shaky ground that the new movies started with — many of the popular complaints about "The Last Jedi" should more accurately be laid at the feet of "The Force Awakens" — it stands to reason that her grievances would chiefly be with Abrams and Kennedy. I, for one, hope they actually take her up on her offer to get in touch with her!
Those Pesky Prequels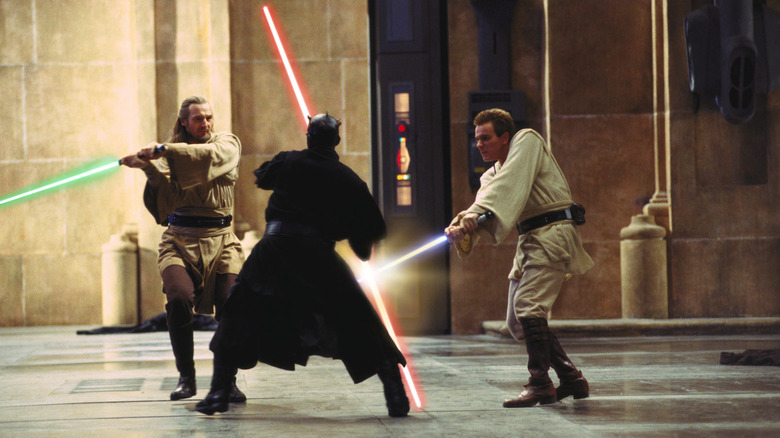 Lucasfilm
Meanwhile, The Direct brings the news on Marcia Lucas' opinions about the Prequels elsewhere in Rinzler's book. Her first reaction to watching an early screening of "The Phantom Menace" — bear in mind that she had no involvement whatsoever with the Prequel Trilogy and her absence certainly shows — is as honest and brutal as it gets:
"George is, in his heart and soul, a good guy and a talented filmmaker. I wish he would've kept directing [other kinds of] movies. But when I went to see Episode I—I had a friend who worked at ILM, who took me as a guest to a preview—I remember going out to the parking lot, sitting in my car and crying. I cried."
"I cried because I didn't think it was very good. And I thought he had such a rich vein to mine, a rich palette to tell stories with. He had all those characters."
While the tide has somewhat turned regarding the general consensus of the Prequels (let's just say I'd take the ambition of the Prequels over many, many blockbuster movies being produced today), Lucas taps into just how disappointing it remains that so much potential was left on the table. While it may seem shocking these days to see a creative talent so deeply involved in the franchise criticize it so harshly, it's not exactly a far cry from previous comments Marcia Lucas has made in the past about the impact and influence of the original "Star Wars."
While George Lucas has largely maintained his silence since selling the property to Disney (with some notable exceptions), both he and Marcia will have to continue to grapple with the legacy of their shared creation. As fans, we're in for plenty of exciting "Star Wars" projects — some debuting very soon. But it doesn't hurt to sit back and carefully consider the points raised by the franchise's creators, as well.