Mondo Reveals The Queen's Gambit Vinyl Soundtrack, No Green Pills Required [Exclusive]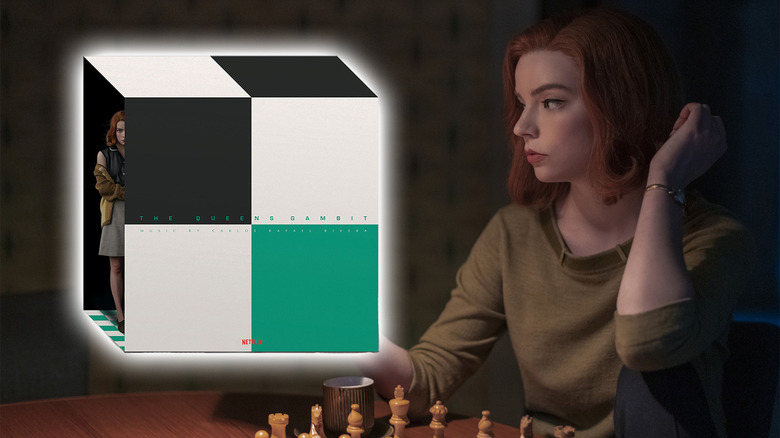 Mondo / Netflix
Last night, "The Queen's Gambit" walked away with an Emmy for Outstanding Limited or Anthology Series at the 73rd Primetime Emmy Awards. Director Scott Frank also won himself an award, and he made headlines for squaring off with the Emmys orchestra who tried to play him off during his speech a few times. In a case of perfect timing with those big Emmy wins, Mondo is giving the "Queen's Gambit" score from composer Carlos Rafael Rivera an exclusive vinyl release, and we're proud to debut it right here.
The Queen's Gambit Mondo Vinyl Soundtrack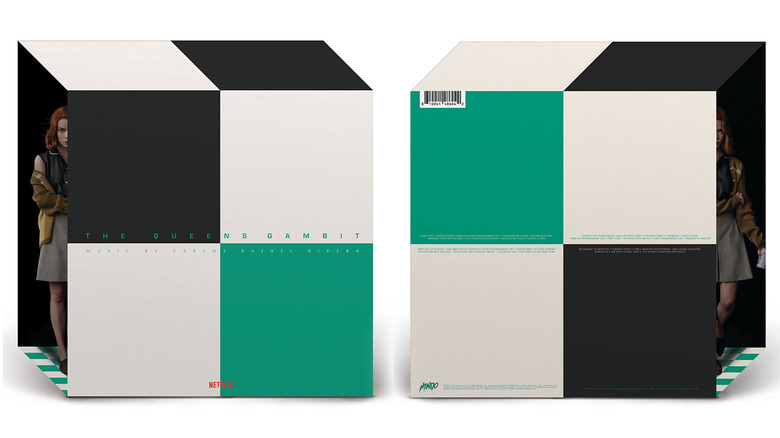 Mondo
As you can see, the "Queen's Gambit" vinyl soundtrack from Mondo is housed inside a 3D optical illusion die-cut jacket with two bespoke die-cut inner sleeves to hold the 2xLP discs. With artwork by Alan Hynes, this is a perfectly trippy presentation. The good news is that even though this is a Mondo release, it's not an extremely limited edition, so you shouldn't have any problem picking it up when it goes on sale for $35 on Wednesday, September 22 at the Mondo online shop.
In a statement, composer Carlos Rafael Rivera said:
"Working on 'The Queen's Gambit' with director Scott Frank was a wonderful creative experience, and it's both mind-blowing and humbling to see the huge impact the series has made on audiences around the globe. With the vinyl release I hope to bring the music of 'The Queen's Gambit' to listeners and collectors everywhere to be enjoyed again and again."
Mondo Music Creative Director Spencer Hickman added:
"From the moment you set eyes (and ears) on 'The Queen's Gambit,' it's obvious it is extraordinary ... lightning-in-a-bottle special. I have been obsessed with the show since it aired in 2020, and I am thrilled that Mondo is releasing this incredible EMMY award-winning score on vinyl. The whole process has been an absolute joy, and we couldn't ask for better partners in Carlos Rafael Rivera and Netflix. Alan Hynes' packaging is the final cherry on top here. It's as intricate and mind-boggling as the show itself and undoubtedly one of the most incredible packages of the year. I hope you have as much fun listening to this incredible score, as we did putting it together."
The Queen's Gambit Vinyl Soundtrack Tracklist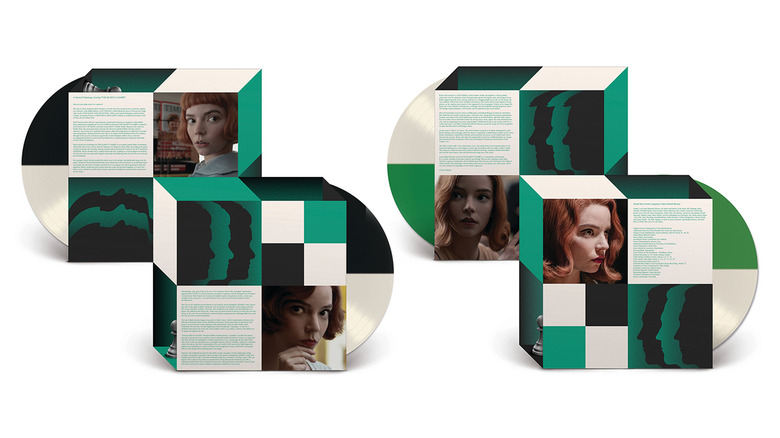 Mondo
"The Queen's Gambit" soundtrack features liner notes by Charlie Bridgen and was mastered for vinyl by Darren Page. Here's the full tracklist for the vinyl release:
Disc 1 – Side A
Main Title
Beth's Story
Methuen Home For Children
The Scholars Mate
You're Gloating
Training With Mr. Schaibel
Am I Good Enough Now
Playing Mr. Ganz
Ceiling Games
First Day At School
The Green Pills
Kentucky State Championship 1963
Top Boards
Playing Townes
Disc 1 – Side B
Playing Beltik
The Lake – Cincinnati 1963
Playing Benny – Las Vegas 1966
Two Sides Of The Same Coin
Mexico City Invitational 1966
Playing Girev I
Playing Girev II
Borgov I
Beth Alone
Disc 2 – Side C
Ohio US Championship 1967
New York
Training With Benny
Paris Tournament 1967
Borgov II
Jolene
Returning To Methuen
Turning Point
USSR
Moscow Invitational 1968
Disc 2 – Side D
Close Your Eyes
Borgov III
The Final Game
Take It, It's Yours
Sygrayem (Let's Play)
Anna Hauss and Robert Wienroder – I Can't Remember Love