The Haunted Museum Trailer: Discovery+ Gets Spooky With New 'True' Ghost Story Series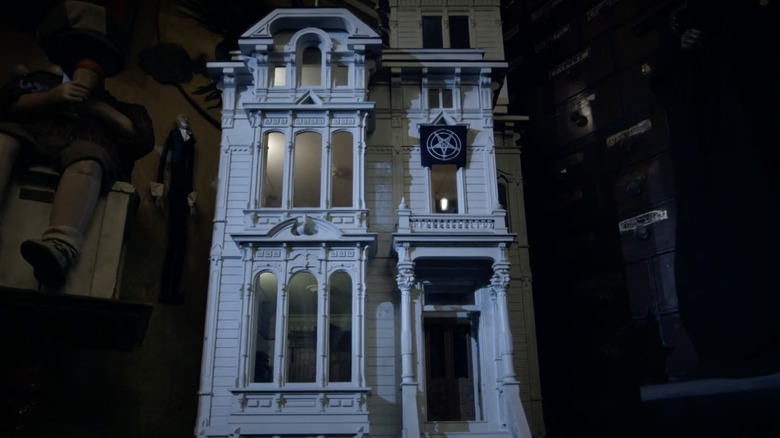 Cream Productions
Do you like museums? No? What if there were a museum that was somehow, I don't know, haunted?
"The Haunted Museum," coming to Discovery+ in October, will answer that very question. It's a new series co-produced by Eli Roth, the Splat Pack member responsible for the films "Cabin Fever," "Hostel," "The Green Inferno," and "Knock Knock," among others. He knows his way around the set of a horror movie, but "The Haunted Museum" takes its title from a real tourist attraction in downtown Las Vegas, which is owned by Zak Bagans and which offers flashlight ghost tours.
Bagans was one of the paranormal investigators in "Ghost Adventures" on the Travel Channel (also now streaming on Discovery+), and he's returning here to host scripted reenactments or dramatizations of "true" stories based on items from his museum.
First and foremost, who knew there was a Discovery+? I sure didn't, but it stands to reason now that every TV network, including The Discovery Channel, is going to have its own streaming counterpart. "The Haunted Museum" will indeed be streaming and it hopes to have you screaming (and starting a Discovery+ subscription, if you don't have one already, which I clearly don't.)
The Travel Channel has released a 30-second YouTube spot for "The Haunted Museum," which you can see below.
The Haunted Museum Trailer
"Each of my prized Haunted Museum items has a story," Bagans says dramatically. "Tales of terror so frightening, so real, they demand to be told."
His museum, as glimpsed in the above trailer, is somewhat redolent of the collection of artifacts housed by Ed and Lorraine (Patrick Wilson and Vera Farmiga) from "The Conjuring" franchise. There's even a creepy doll like Annabelle. The first episode of "The Haunted Museum" bears the title, "Dollhouse of the Damned," so that and this trailer should give you a good idea of the kind of content this series has in store for you.
It looks like "The Haunted Museum" will be similar to "Unsolved Mysteries," "Beyond Belief: Fact or Fiction," or other shows of their kind. But the difference here is that these episodes are marketed as "mini-horror movies."
Here's the official synopsis for "The Haunted Museum:"
The creepy collection of haunted artifacts housed inside Zak Bagans' Haunted Museum are getting the spotlight in "The Haunted Museum," a new horror film anthology series produced in collaboration with filmmaker Eli Roth. The series presents frightening and hellish tales inspired by the spooky relics on display in Zak Bagans' Las Vegas museum. Bagans, a devoted collector of the macabre, is opening his museum vaults and sharing the secrets and stories behind a curated selection of his most prized haunted items through scripted shorts produced by Roth and his accredited team and with featured commentary from Bagans.
"The Haunted Museum" premieres on Discovery+ on Saturday, October 2, 2021.