New Hawkeye Image Shows Off Clint And Kate And Bows And Arrows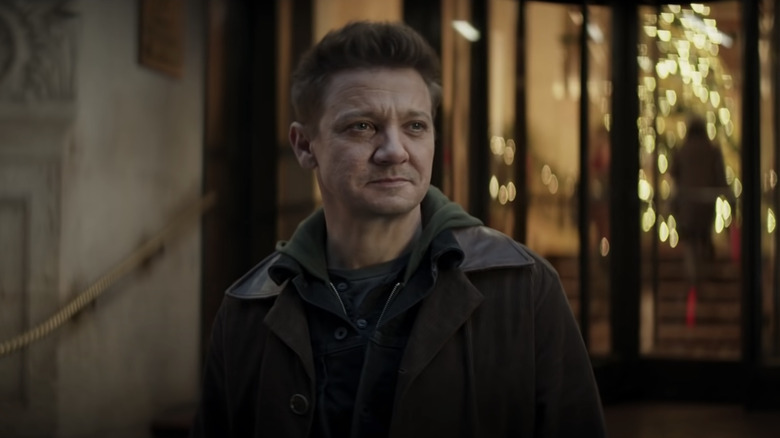 Marvel Studios
"Hawkeye," the next live-action streaming series from Marvel Studios, is coming your way on November 24. It's one of those Disney+ shows you should keep on your radar. Jeremy Renner's archer extraordinaire, Clint Barton, AKA Hawkeye, is the only founding Avenger who hasn't had a shot at his own solo adventure yet. Even here, he's not exactly alone, since he has fan-favorite character, Kate Bishop (Hailee Steinfeld), accompanying him.
She's making her official debut now in the Marvel Cinematic Universe, which brings us one step closer, maybe, to a Young Avengers movie. Either way, "Hawkeye" is one of the 47 titles featured in Entertainment Weekly's look at new and returning shows this fall. The magazine showcases it with a new promo image, where you can see Clint and Kate suited up and ready for action:
If you're wondering what you can expect from "Hawkeye," executive producer Trinh Tran had this to say about the hero:
"There's the family man that we've portrayed, a more serious character who is no-nonsense and gets through what he needs to do to accomplish the mission. But here he's pit against Kate, who is super energetic — and at times annoying. It's putting the two of them together and seeing what comes out of that."
State of the MCU
"Hawkeye" will be the fourth live-action Disney+ show (and fifth overall) from Marvel Studios. Right now, we're two-thirds of the way through another series, "What If...?." While it has still fostered some water cooler discussion, "What If...?" hasn't quite dominated the way "Loki" did, maybe just because it's animated instead of live-action and the stories take place in alternate realities with no direct bearing (as of yet) on the mainstream MCU.
"WandaVision" is up for multiple Emmy Awards this weekend, and both it and "Loki" carved out their own unique identity as shows. "The Falcon and the Winter Soldier" felt more like a continuation of the standard MCU aesthetic that we've seen in the movies leading up to these Disney+ shows.
Based on the trailer for "Hawkeye," which you can see above (or read about in our breakdown), it looks like this show will be going the route of a Christmasy, buddy-cop type story in the vein of a Shane Black flick. Black himself brought that flavor to "Iron Man 3," which he directed and co-wrote, so in a way you could say "Hawkeye" is a continuation of a familiar old MCU aesthetic, as well.
"Hawkeye" is on target for a premiere on Wednesday, November 24, 2021.