Seinfeld Cable Home Will Be Comedy Central, Which Wins Exclusive Syndication Rights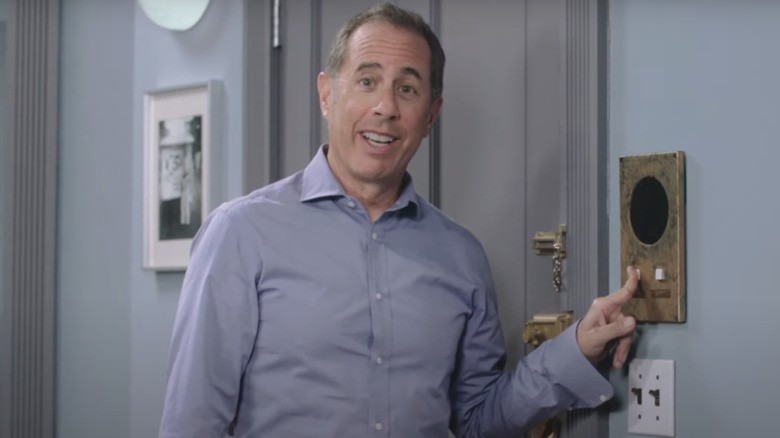 Comedy Central
The show about nothing will not be nowhere. Let's not get hung up on double negatives, though that does sound like something the characters on "Seinfeld" might do in the booth at their favorite coffee shop. For years, TBS was the home for "Seinfeld" reruns on television, but all of that is about to change as the show moves to Comedy Central in October.
Deadline reports that Comedy Central will be the new exclusive TV outlet for "Seinfeld," starting October 9, "with a countdown of the top favorite episodes as voted on by fans." We already knew that the show would begin streaming on Netflix on October 1, but if you haven't cut the cord and you want to watch it on the regular old boob tube, all 180 episodes will start airing on Comedy Central on October 11, after the favorites countdown wraps up.
Previously, "Seinfeld" streamed on Hulu. The move to Netflix and Comedy Central next month marks a new era of syndication for the Emmy-winning sitcom, which topped the Nielsen ratings back in the 1990s when those were more of a factor in determining a show's success.
"Seinfeld" was originally broadcast on NBC, but ViacomCBS now holds the syndication rights. The news of it coming to Comedy Central is accompanied by a short teaser, where you can see the network come calling on Jerry Seinfeld himself via the intercom of his old show apartment. Check it out below.
Comedians in Booths Drinking Coffee
"Seinfeld" is an indelible piece of '90s pop culture, and since its finale aired in 1998, some of the creatives involved with the show have gone on to find success in other 21st-century arenas. Co-creator Larry David, who inspired the character of Jerry's best friend, George Costanza (Jason Alexander), went on to develop and star in "Curb Your Enthusiasm" for HBO. That show is set to return in October as well, so you could conceivably be watching new episodes of "Curb Your Enthusiam" and old episodes of "Seinfeld" at the same time.
Julia Louis-Dreyfus starred on "Veep," and this year, she entered the Marvel Cinematic Universe as Valentina Allegra de Fontaine. As for Seinfeld himself, he brought his brand of observational humor to the web in "Comedians in Cars Getting Coffee," which is also now streaming on Netflix. It felt like the logical continuation of some of those coffee-shop conversations on "Seinfeld," which took place in a booth at the fictional Monk's Cafe and were filmed at the real-life Tom's Restaurant in New York City.
Earlier this year, I worked my way through every episode of "Comedians in Cars Getting Coffee." The episodes are short so they're easy to fit into a meal break. One of the few times the show departed from its mode of light humor was when actor Michael Richards, who played Cosmo Kramer on "Seinfeld," appeared and addressed the controversy of his on-stage tirade at the Laugh Factory in 2006.
If you're a "Seinfeld" fan, it might be worth checking out while you wait for the show to hit Netflix on October 1, 2021, and Comedy Central on October 9, 2021.