Gruesome Twosome Snoop Dogg And Martha Stewart Are Cooking Up Something Special This Halloween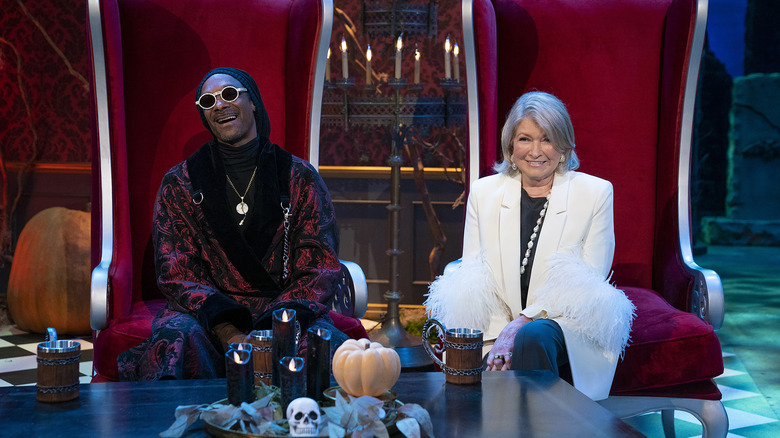 Buzzfeed Studios
There are certain Samhain-centric programs that cover the entertainment industry like a warm knit blanket on a fall afternoon. The annual Punkin Chunkin competition celebrates "Why not?" ingenuity and winter squash destruction with DIY catapults, cannons, and trebuchets with names like Universal Soldier and Hormone Blaster, hurling pumpkins hundreds of feet across fields. The oft-anticipated "Treehouse of Horror" episodes in "The Simpsons" always entertain horror heads, while Shudder's "Ghoul Log" is a moody must in the background while we plan our costumes and watchlists. Because networks are slowly realizing that our traumatized populace considers baking shows to be self-care, more lighthearted cooking competitions are popping up and sticking around, like Food Network's "Halloween Baking Championship" and "Halloween Wars," offering cash prizes to pro pumpkin carvers and bakers. 
The latest offering is an hour-long baking competition special, hosted by two national treasures. Rapper, producer, and TV personality Snoop Dogg joins business woman and TV personality Martha Stewart to co-host Buzzfeed Studios' "Snoop and Martha's Very Tasty Halloween," streaming October 14 on Peacock.
Snoop and Martha's Very Tasty Halloween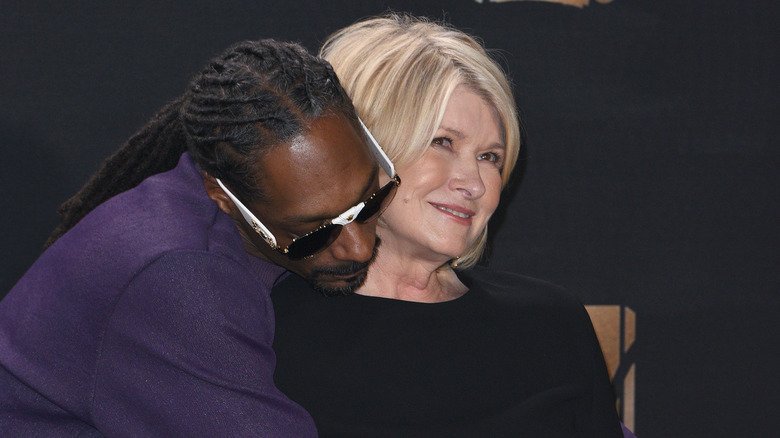 C Flanigan/Getty Images
The show, a first-time collaboration between Peacock and Buzzfeed, is produced by the latter's studios, Magical Elves, and Snoopadelic Films (which also produced "Martha & Snoop's Potluck Dinner Party" series in 2016). Casey Kriley, Jo Sharon, Hillary Olsen, Patrick J. Doody and Gaylen Gawlowski serve as executive producers for Magical Elves, while Richard Alan Reid and Charlotte Simms serve as executive producers for BuzzFeed. Snoop and Martha are also executive producers.
This is how it will go down: teams of three bakers, called "Scare Squads," will bake and build a full-sensory 12x12 Halloween world that people can physically engage with. These worlds must be inspired by the concept of fear, above all else. Tasty food content creator Alvin Zhou will judge each entry alongside the co-hosts.
Here is the synopsis for "Snoop and Martha's Very Tasty Halloween":
Trios of the country's most talented and award-winning bakers compete to build an immersive, edible spectacle that celebrates the colorful creativity of Halloween. After the clock runs out, the judges crown the team that builds the tastiest confectionary world, and the competition ends in a fantastical Halloween party.
Here's to more of that wonderful chemistry between an unlikely but entertaining pair, and to the Halloween goodness they will bring.
"Snoop and Martha's Very Tasty Halloween" drops it like it's hot on Peacock October 21, 2021.