Dan Trachtenberg's New Predator Movie Has Wrapped Filming
Reports indicate that a film crew in Canada is getting to the choppa as filming on the secretive new Predator sequel has officially wrapped production in Alberta, Calgary. Word on the hush-hush fifth film in the long-running franchise (filming under the code name "Skulls") comes from cinematographer Jeff Cutter, who re-teams with his "10 Cloverfield Lane" director. He also confirms that Native American actress Amber Midthunder ("Hell or High Water," "The Marksman") has been cast as the lead alongside Dane Diliergo ("American Horror Stories") and newcomer Dakota Beavers. Interestingly, Midthunder was one of the series regulars on FX's series "Legion," for which "Predator 5" screenwriter Patrick Aison ("Tom Clancy's Jack Ryan") served as a consultant. 
"And that's a wrap on Skulls!" Cutter writes on Instagram. "Can't thank Dan Trachtenberg enough for inviting me along on this epic journey and entrusting me to help achieve his vision for this film! Thanks to a great cast led by Amber Midthunder, Dakota Beavers and Dane Diliergo and much love to a brave Calgary crew for diving headfirst in with us!"
Mystery Box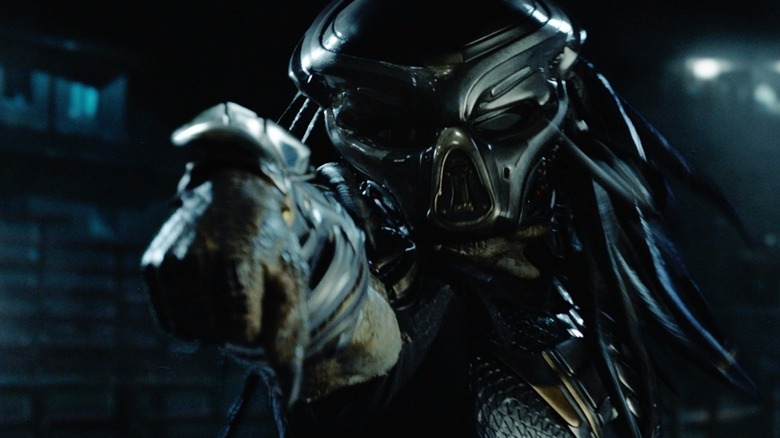 20th Century Fox
Making another Predator installment was anything but a certainty after the disappointing performance of Shane Black's 2018 "The Predator," which was hobbled by extensive third act reshoots and bad pre-release buzz. Although entertaining in a pulpy trash B-movie sort of way, it seemed we would never get to see Boyd Holbrook suiting up in his new "Predator Killer" armor.
We still may never see that, as "Predator 5" is swerving away into prequel territory, being probably set around the era of America's Civil War and likely following a Comanche Woman who battles the titular beast ... or beasts. Series producers John Davis and John Fox confirmed to Collider in July that the new movie would explore the title alien warriors' first sojourn to Earth. 
"It actually has more akin to 'The Revenant' than it does any film in the Predator canon," said Fox. "You'll know what I mean once you see it. You can use your imagination. It is... early."
The producers declined to commit to the intensity of the film, which was conceived as R-rated but given that it's the first "Predator" movie made under the auspices of Disney don't be surprised to see a hard PG-13 upon release. Initially Dan Trachtenberg hoped to keep the film a secret, toiling on it for four years until word dropped in the trades this past November.