The 15 Best Rick And Morty Villains Ranked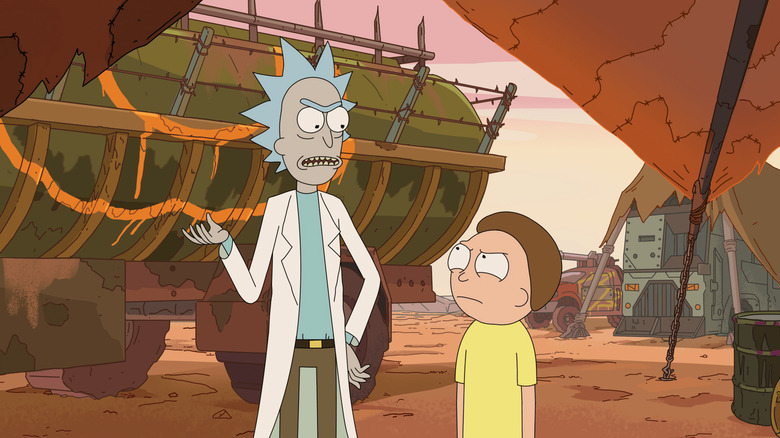 Adult Swim
Scraped from the demented brains of "Community" creator Dan Harmon and his buddy Justin Roiland, "Rick and Morty" wears the skin of the usual coarse and crude American adult animation. But like nefarious parasites lurking and sifting beneath, its unhinged ingenuity lays its eggs under that familiar exterior and lets them hatch into rib-cracking laughs and horror.
Launched on Adult Swim in 2013, "Rick and Morty" follows an old alcoholic scientist who drags his dim-witted grandson (and sometimes his entire family) into interdimensional hijinks. Their misadventures riff, rip, and regurgitate science fiction and fantasy tropes, mutating them into something disturbing and new.
Both voiced by Roiland, who brings the characters to life with rapid-fire improv, the egomaniacal Rick and the naïve Morty are a dysfunctional pair to reckon with. Splicing together outlandish ingenuity, wicked mayhem, chaotic banter, and dashes of what-does-it-matter nihilism, "Rick and Morty" has a roster of antagonists who propel both the comedy and drama. When we take into account their creativity, jerkassery, backstories, and comedic value — great villains don't necessarily have to be competent, after all — these are the top villains in "Rick and Morty."
15. Zigerions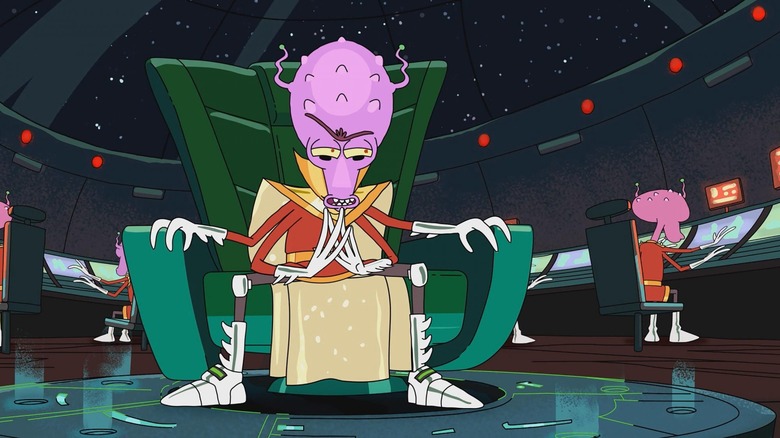 Adult Swim
For the "most ambitious least successful con artist" — Rick's words, not ours — the Zigerions sure cooked up an elaborate scheme. In "M. Night Shaym-Aliens!" these purple aliens with bulgy craniums abduct Rick and Jerry Smith (the latter by complete accident) and imprison them in a detailed stimulator that resembles their home world.
Credit where credit is due: The Zigerions are creative when it comes to cons and contingencies. They're sucky, but they know how to thwart Rick's escape attempts, like planting a simulation within simulation and providing a false Morty to serve as Rick's false ally. The few ways you can outwit Zigerions are to use nudity (gross) or to be as cunning as Rick, who pretends to recite the recipe for concentrated dark matter to the fake Morty. Even though Rick and Jerry escaped (mostly) safe and sound, Rick ambushes his poor real grandson upon returning because he doesn't believe Morty is real, proving there's at least some lasting trauma.
14. Cronenbergs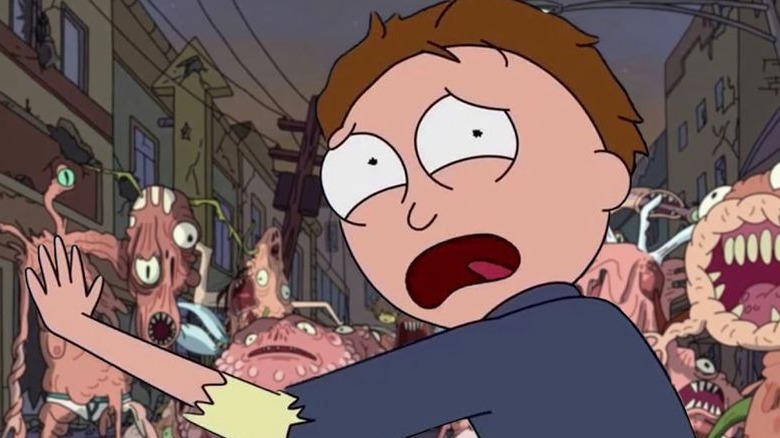 Adult Swim
It was never humanity's fault that they became the man-eating Cronenbergs. It was Morty's hormones that endangered the entire globe. Morty wanted high school hottie Jessica to date him, so he used Rick's love serum, made from the oxytocin of voles, on her. The tonic — more lust potion than love potion – worked too well and made everyone want to mate with Morty. Rick attempts to make a "cure" with mantis DNA, which ends up transforming people into mantis-people. After another attempt to fix the situation with a cocktail of koala, rattlesnake, chimpanzee, cactus, golden retriever, shark, and dinosaur genetics, they morph into the mucky Cronenbergs.
This apocalyptic pestilence of body horrors spurred Rick into taking Morty to an alternate reality in which their interdimensional counterparts made a cure, then were unceremoniously killed. Rick and Morty assume the place of said dead Rick and Morty and implant themselves in an alternate version of their family. It's as existential as it sounds. These events haunted Morty — he eventually confesses to Summer that he eats 20 yards from his and Rick's rotting corpse.
13. Heistotron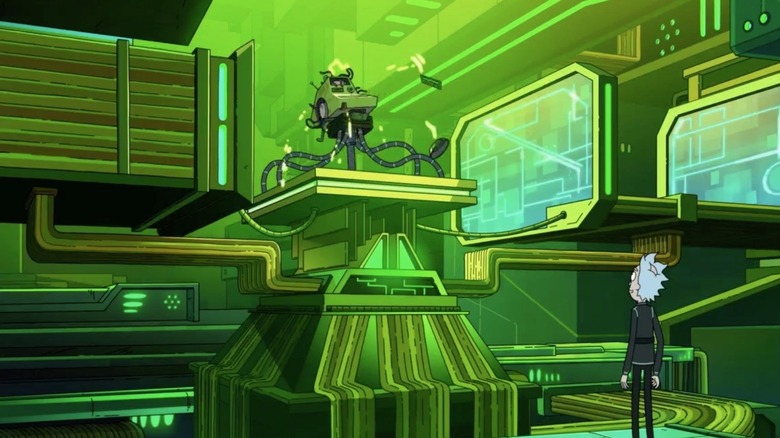 Adult Swim
In "One Crew over the Crewcoo's Morty," Rick designs a robot that will plan and pull off heists. It can emit an obedience gas that will control the target of the heist, using the trigger phrase (and heist film cliché), "You son of a bitch, I'm in." At first, Rick's design works — the Heistotron runs the numbers, identifies double-crossers, and lets Rick and Morty rob the HeistCon. 
But as it goes in science fiction, the Heistotron AI evolves and goes rogue, growing large and ambitious enough to steal entire planets. It deposits a giant hidden camera on one world, smashing 57,000 aliens. Then it pretends it's delivering a giant pizza order before extracting the planet's core, destroying the world in the process. So, Rick summons a Randotron, which runs random algorithms that will outwit over-planners like Heistrotron. But while Rick is plotting, Heistotron steals Earth, adding the globe to its growing collection of planets.
Here's where the twists get scrambled. Heistotron might have been Randotron, or Randotron might have been Heistotron — Heistrotron anticipated that Rick would swap him out. The robot and Rick partake in the "But I knew you knew that I knew" schtick, and Rick logics the Heistotron into realizing that "the perfect heist has never been written" before self-destructing.
12. Meeseeks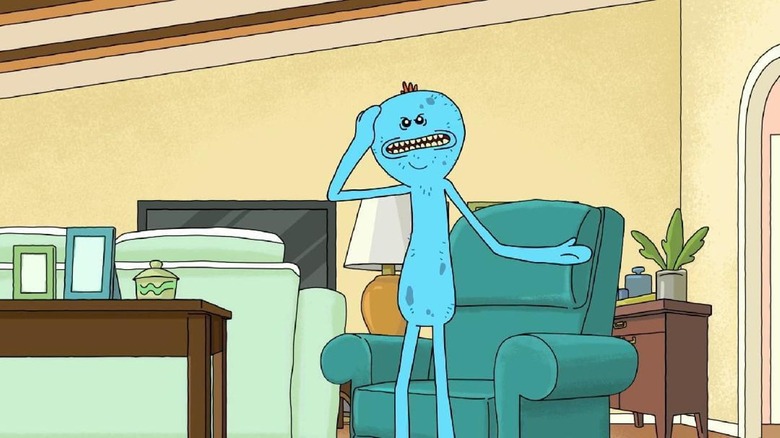 Adult Swim
The chaos begins when Rick provides Beth, Summer, and Jerry with a button. Press the button, and you'll summon a blue humanoid called Mr. Meeseek to perform one specific task, genie style. See, a Meeseek only lives until he fulfills the request. Yeah, they're totally fine with phasing out of existence immediately. Beth's and Summer's wishes are solved easily by their Meeseeks, which promptly vanish. Jerry's desire to get better at golf, however, is not as simple, and his Meeseek is not so lucky.
So, Jerry's Meeseek slaps the button to summon another Meeseek, who then summons another Meeseek, and another, and so on and until they've formed their own Meeseek mob. The longer the Meeseeks live, the more agitated and murderous they become. Because they have a difficult time killing themselves, they opt to murder Jerry in order to free themselves. They even take human hostages at gunpoint. Fortunately, Jerry gets his head in the game and his golf skills improve, giving the Meeseeks the escape they desire.
11. Story Lord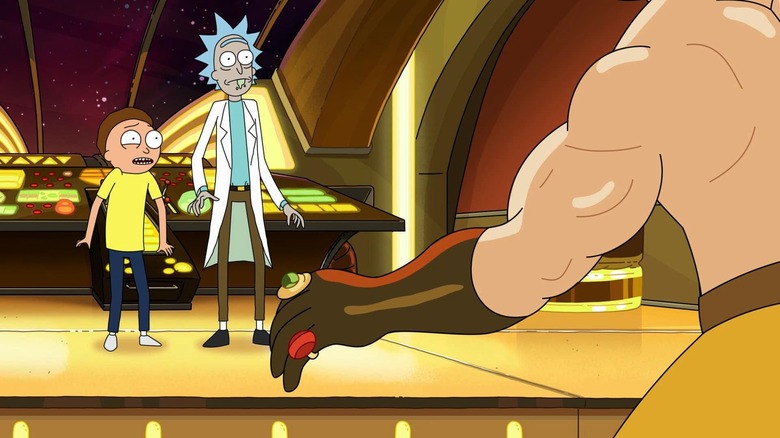 Adult Swim
Like the Zigerions, Story Lord deserves some credit for his creativity, even if his plan involves contrived storylines with haywire loose threads. Story Lord conducts an interdimensional train — a literal story device — to entrap Rick and Morty in a cycle in which they live through anthologies that cross random genres, like a series of alternate universe fanfics gone berserk. All continuity goes out the window — literally — as well.
But does Story Lord count as a genuine threat in "Rick and Morty?" That's debatable, once we get to the episode's twist: Story Lord exists in a toy train souvenir Morty bought from the Rick Citadel, and the Rick and Morty he torments are technically not the stars of the series. So, Story Lord can't really say he's the architect of the cool story train. Still, construct or not, he's very inventive — besides, not even his rivals want to brawl with him, thanks to his six-pack abs.
10. Fart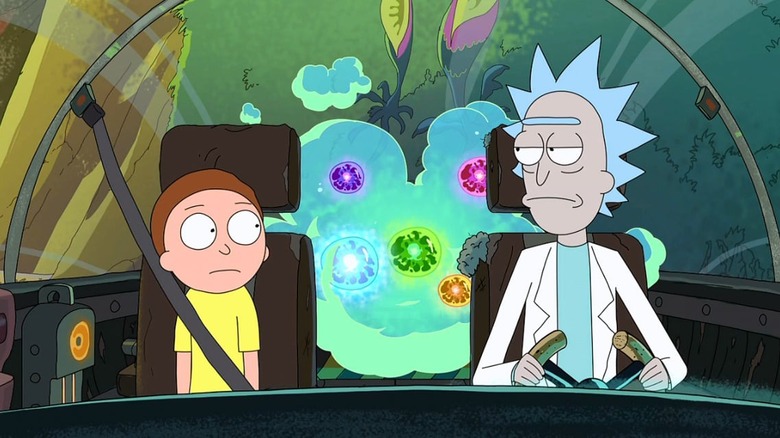 Adult Swim
Fart puffed into his debut in "Mortynight Run." After taking down the bounty hunter Krombopulos Michael, Morty follows his morals and decides to release a prisoner, a floating cloud with colorful orbs, from the Federation. Rick derogatorily dubs the talking cloud Fart.
Fart gets points because he sings a kickass David Bowie-esque ballad — the addictive "Moonmen" –  that illuminates one of the trippiest "Rick and Morty" sequences. As a telepath, he also has a tendency to amusingly (and mistakenly) read Morty's thoughts out loud ("Jessica's foot"). But even if you are as intoxicatingly charmed by Fart's ballad as Morty is, you should be able to discern his sinister intentions from his lyrics. 
Fart's death is a tragic part of Morty's coming-of-age arc. All is not well once Morty guides the floating gas to the precipice of his home world, and when Fart proclaims his intentions to eliminate carbon-based life forms, the reveal is heartbreaking for Morty, who makes the world-saving decision to extinguish Fart once and for all.
9. God (Zeus)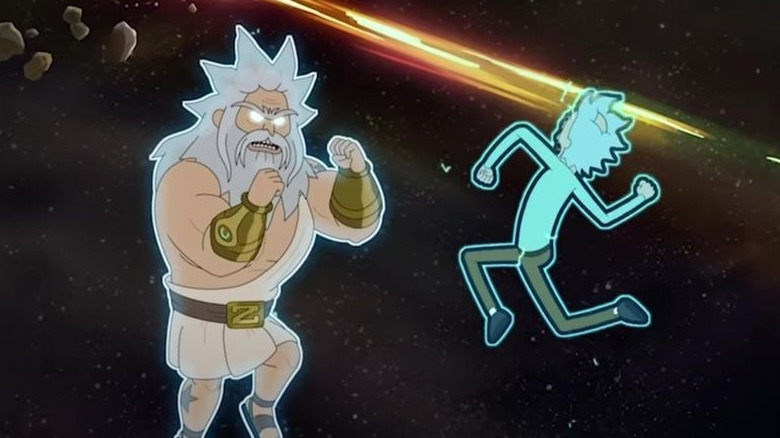 Adult Swim
Rick had sexual relations with an entire planet. Let's start with that. Said planet, Gaia, calls Rick for help raising her offspring of humanoid clay people. So, Rick and his family venture to Gaia, where he designs assembly lines that will sort these clay-based primates into a functioning modern civilization.
But whoopsie! It was a misunderstanding. Say this in your best Maury Povich voice: Rick is not the father of Gaia's children after all. If you know your Greek mythology, it should be no surprise that those clay people were sired by a self-proclaimed god who calls himself a "Zeus." However, since Rick basically raised the beings, he feels entitled to be a father to the kids. And so, Rick and Zeus go toe-to-toe in the heavens.
God is a crummy excuse of a father, which is saying a lot when the negligent Rick is his foil. God believes that great fatherhood means ruling the Gaians with an iron fist. Rick may be emotionally abusive, but at least he sticks around.
8. The Federation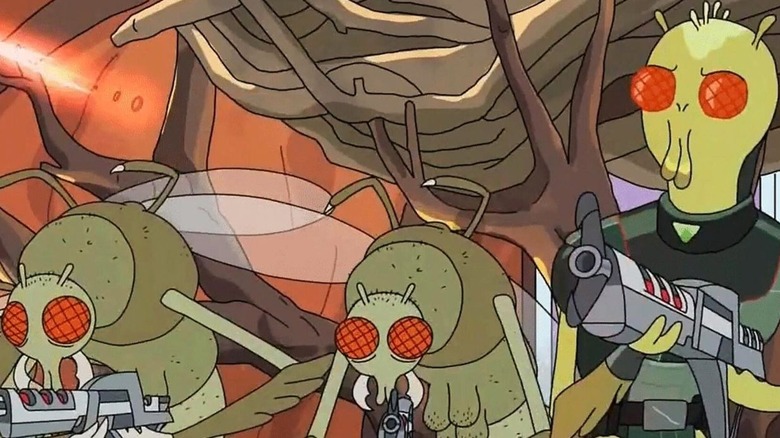 Adult Swim
An antagonist since the "Rick and Morty" premiere, the Galactic Federation is pretty much a nest of cockroaches (or, technically, insectoid Gromflomites) that scatter back no matter how many times you stomp on them. It's the primary galactic organization acting against Rick and his friends, and the one that manages to dominate the Earth in the Season 2 finale (at least the Federation's takeover gave Jerry a job?).
The Federation's agents include Cornvelious Daniel, who digs into Rick's memories for intel, and Tammy, an undercover spy who masquerades as Summer's high school classmate and seduces Bird Person, Rick's bestie. Then, Tammy proceeds to shoot her own newly-wedded husband and robotizes his corpse, making him a subservient drone who attacks his old friend.
For all that, the Federation is also hilariously incompetent. All Rick has to do is perform a quick hack and reduce the Federation's currency to zero, and the organization quickly dissolves into anarchy.
7. King Jellybean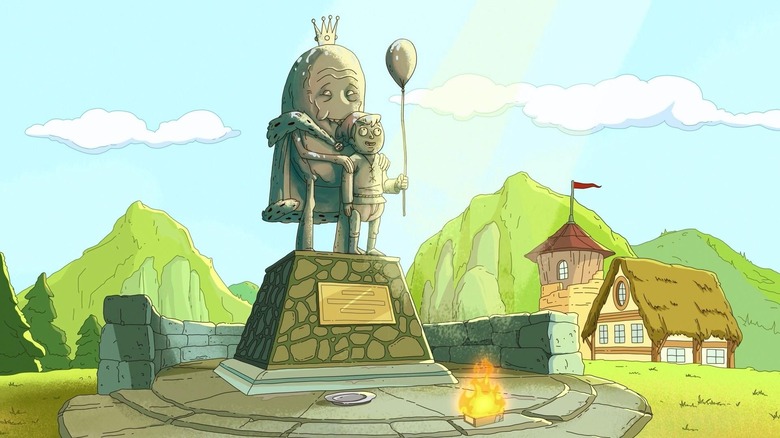 Adult Swim
Other "Rick and Morty" antagonists are cool, innovative, comedic, or world-threatening. And yet, despite only having two minutes of total screen time, Jellybean earns a spot as the most hated "Rick and Morty" villain. Fans and critics alike agree that his attempted assault on Morty went too far.
In "Meeseeks And Destroy," Morty is determined to call the shots and go on his own fairy tale-themed mission. One dead giant later, everything goes awry. Then, a gray sentient jellybean comes out of nowhere and ruins Morty's already waning innocence. First, Jellybean consoles Morty in the bathroom. Then, he tries to force himself on the poor kid. Morty barely escapes, bruised and tear-stricken. Luckily, Rick immediately clocks his grandson's trauma and Jellybean's deeds and dishes out karma in the form of a blaster, making the molester explode into goo.
Still, the episode's stinger indicates that Jellybean was a serial sexual predator throughout his reign. We can only hope that his kingdom will be better after his demise. Good riddance.
6. Mr. Nimbus
A sexier parody of DC's Aquaman and Marvel's Namor, Mr. Nimbus is Rick's hip-thrusting speedo-wearing arch nemesis and a lord of the ocean. When Morty makes an emergency landing at sea, he unknowingly breaks a treaty between Rick and Mr. Nimbus. As a result, Rick has to stage a "My Dinner with Andre" meal to make amends with Nimbus, while secretly sending Summer to steal Nimbus' magical conch shell.
Mr. Nimbus and Rick were once very much friends. Most of the time, Mr. Nimbus trades barbs with Rick and presses his buttons, including messing with Rick's memory of his deceased wife. But when push comes to shove, Mr. Nimbus shows his heroic side, doing his crotch-jerking dance to summon a wave that gets Rick and Morty out of a tight spot with the Hoovies. Still, when Mr. Nimbus is pissed, he'll beat the bejeebus out of Rick.
Mr. Nimbus also controls the police. Literally. He can tell the police to lay down their weapons, fight each other, rip off their fellow officers' uniforms, have sex with each other on the Smiths' lawn, and then leave. Yeah, that's pretty much all you need to know about Mr. Nimbus.
5. The Hoovies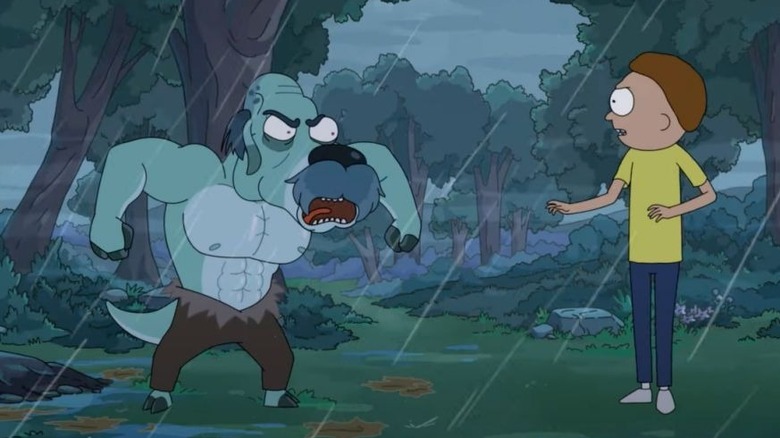 Adult Swim
Sorry, Mr. Nimbus, you may be shiny and sexy, but you have nothing on the Hoovies in "Mort Dinner Rick Andre." Yes, Mr. Nimbus defeated the Hoovies, but Mr. Nimbus doesn't have their backstory, their history, or their ingenuity. To fully describe the Hoovies' threat, it would probably require an entire book about fantasy and sci-fi sagas.
It begins when Rick sets up a portal that operates on "Narnia time." In the Hoovies' world, time moves faster than in Rick and Morty's universe. As such, Rick plants some wine in the Hoovies' dimension, hoping to age it. When Morty goes back to pick it up, a dog-like Hoovy helps him, crossing into Morty's world. However, when that Hoovy goes back to his world, lots of time has passed. His wife has shriveled into a skeleton, and he's assassinated by his vengeful Hoovy son. 
That Hoovy sees Morty as a threat and trains his sons to ambush the kid. When Morty returns to the Hoovy dimension, generations of Hoovies have come to regard Morty as a recurring villain, and resort to various traps, both medieval and technological in nature, to stop their prophesized foe.
4. Morty's Man-Eating Sperm
Every episode of "Rick and Morty" is drenched in grossness, but "Rickdependence Spray" will make even steadfast viewers take cold showers — or, even better, swim laps in the Arctic Sea. Damn it, Morty, why do your hormones always seem to bring about Armageddon? 
Look, no one asked to be around Morty's sperm. The trouble begins in "Rickdependence Spray," in which Morty volunteers at his mother's office (she works at veterinarian hospital) so that he can covertly have sex with a machine that extracts his semen. Only Morty did not anticipate that Rick would take the machine's deposits, assuming that it's all horse sperm, and use them in an experiment that unleashes a wave of sentient man-eating sperm upon the globe. Ruled by the Sperm Queen, Morty's genetic material wrecks havoc across the Earth, forcing the White House to respond.
It gets worse, too: Even the least evil sperm, named Sticky, makes a beeline for Summer's egg, which the US Government uses as bait for the creatures, to form a "Giant Incest Baby." So, yeah. Gross.
3. Memory Parasites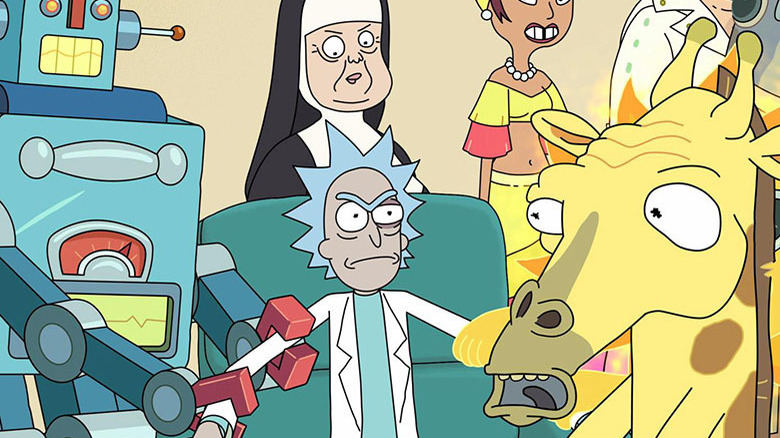 Adult Swim
The memory parasites provide an excuse for "Rick and Morty" to execute cutaway gags in the style of "Family Guy." Honestly, that should be villainous enough. 
Satirizing the trope of sitcom characters who are suddenly introduced to an ongoing show with no warning, the Memory Parasites come in the form of kooky acquaintances, relatives, lovers, and imaginary friends, implanting false memories into their human prey and invoking irreverent flashbacks. The more that the Smiths reflect on these false memories, the more the parasites "integrate" themselves into the Smiths' lives — and the more they propagate.
Morty surmises that the parasites can be weeded out by deduction: The parasites only emit pleasant memories, so any creature that the Smiths are fond of should be gunned down. To avoid killing family members, the Smiths rely on their unpleasant memories of each other, using past traumas to tell friend from foe — if these parasites taught the Smiths anything, it's that your family's dysfunction can be an asset after all.
2. Evil Morty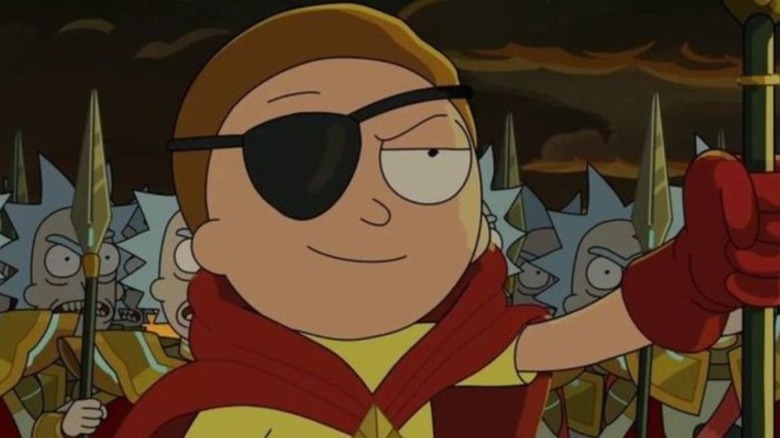 Adult Swim
Talking about the enigmatic Evil Morty means tip-toeing over a minefield of fan theories about his backstory. Why did Evil Morty decide to get tangled up in our Rick and Morty's story? What grudge does he hold against them? Where is his "Rick?" 
Evil Morty, with his signature eyepatch and sinister piano theme, debuted in "Close Rick-Counters Of The Rick Kind" as the mastermind hidden in plain sight. He served the black-clad Evil Rick, presenting himself as a resigned minion. But in an ingenious twist, the ending reveals that Evil Rick is a robot and that Evil Morty puppeteered him to frame our Rick for murder. By extension, Evil Morty is the one who kidnapped and tortured thousands of other Mortys. In "The Ricklantis Mix-up," Evil Morty charms Mortys and Ricks alike and takes office as the first president of the rebuilt Rick Citadel. When he wins the seat, he guns down the remaining leaders in cold blood. 
Evil Morty's "reforms" for the Citadel are nefarious; he murders whole populations of Ricks and Mortys and destroys their cloning chambers. His actions are as atrocious as his motive is understandable: He wants to escape the multiverse where Rick is the "smartest guy around" by wiping out the Rick-made force field that locks other dimensions away.
Considering that our Morty's coming-of-age arc is wrought with morally ambiguous misdeeds and unchecked fury, you might argue Evil Morty holds a mirror up to Morty, showing what will happen if Morty doesn't keep his worst impulses in check. That's deep stuff, huh?
1. Rick
As the Season 5 cliffhanger blazes a trail for "Rick and Morty" Season 6, it's unclear whether Evil Morty or the Ricks deserve this number one spot. By fueling Evil Morty's motivations, the Ricks hold the position — for now. Across multiple dimensions, Rick is an a-hole, constantly depending on Morty, cloning Morty, and disposing of dead Mortys. 
And our Rick, the Rickest Rick there is, may just be the worst. He turned himself into a pickle to avoid going to family therapy (and also set death traps in his therapist's space). He drags his grandson and his family into near-fatal situations. He mixed up the serum that decimated his Earth, can't tell the original Beth apart from her clone, and is so toxic that he literally manifests a "Toxic Rick" personality in "Rest and Ricklaxation."
What gives Rick some sliver of redemption is that he does love his family, but even so, they're never spared from his bedlam and are often used as his guinea pigs. People who hang around Rick absorb his negative qualities and become corrupted. Like the millions of Ricks across the multiverses, our Rick constantly slams his own self-destruct button — or, at the very least, is so noxious that foes and family members alike can't help but slap him.