Yes, Yahya Abdul-Mateen II Appears To Be Playing Morpheus In The Matrix Resurrections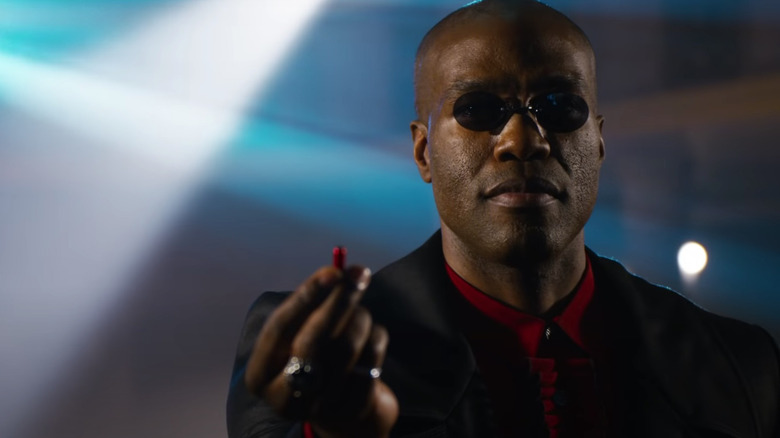 Warner Bros. Pictures
The first trailer for "The Matrix Resurrections" arrived with a bang this morning, giving us a peek at the sequel to the sci-fi action franchise that seemingly came to an end nearly 20 years ago. Even though Keanu Reeves is back, he's no longer the unplugged master of martial arts known as The One. Instead, Neo is back in The Matrix, and it appears that he doesn't even have any memory of his life with Trinity (Carrie-Anne Moss). So who better to remind him of the man he used to be than another familiar character?
Fans of "The Matrix" franchise have been wondering why Laurence Fishburne wasn't brought back to reprise his role as Morpheus in "The Matrix Resurrections." Based on the first trailer for the movie, it would seem that's because Yahya Abdul-Mateen II has taken over the role. So why were Keanu Reeves and Carrie-Anne Moss asked to return as Neo and Trinity, but Laurence Fishburne was left out in the wind? Perhaps the answer can be found in the narrative.
Stop Trying to Hit Me and Hit Me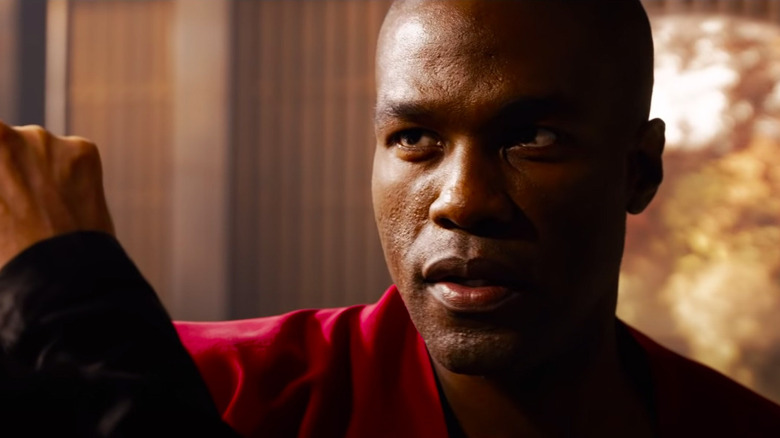 Warner Bros. Pictures
When you see what Yahya Abdul-Mateen II is doing in the "Matrix Resurrections" trailer, it's pretty clear that he's playing Morpheus. Not only does he offer Neo the red pill that gets him out of the Matrix and into the real world, but he's seen wearing those trademark sunglasses that fit perfectly on his face without the use of the usual arms that fit over your ears. There's also another badass shot where Abdul-Mateen II is seen dual-wielding guns in a very Morpheus-like fashion.
But perhaps the biggest indication that we're getting a new version of Morpheus is the fact that he's the one who starts training Neo when he's pulled out of the Matrix all over again. However, when Neo starts his training this time, it appears he's much more easily able to tap into his abilities as The One. During the kung fu scene that echoes the training sequence in "The Matrix," Neo stops one of Morpheus' punches and says, "You don't know me," and then he blasts him with such Ryu-style Shoryuken force that it creates a burst of energy and crumbles the dojo around them. What's that about?
Then there's Abdul-Matten II posting an image of himself from the trailer with the caption "MORPHEUS." All in all, that's pretty clear confirmation.
Is That the Real Morpheus?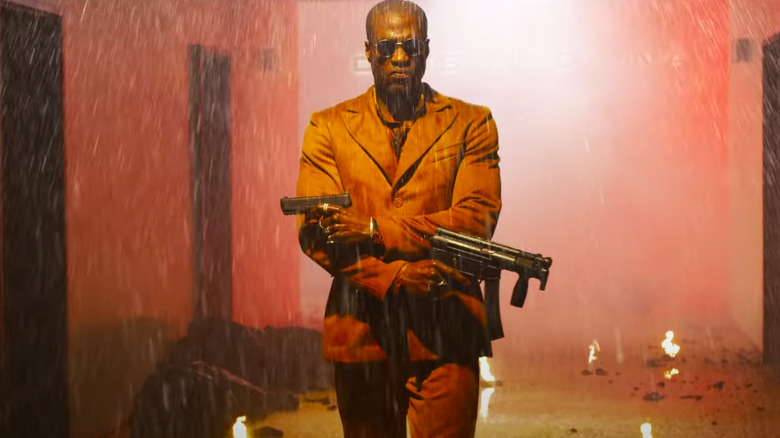 Warner Bros. Pictures
Though Abdul-Mateen II walks and talks and looks just like Morpheus, we can't help but think that something fishy is going on here. If this is indeed a new version of the Matrix, you'd have to expect the machines to be up to something different this time. Wouldn't creating a digital copy of Morpheus to lure Neo out of the Matrix be a smart plan? Perhaps they intended to use this version of Morpheus as a way of controlling what happens with The One in this version of the Matrix. This is speculation based purely on how Neo reacts to his training with the would-be Morpheus in that dojo. Because if Neo was aware of who he was, wouldn't he come to embrace Morpheus instead of blasting him away like that?
However, it appears that even in scenes that we're assuming come after the training sequence, Neo and Morpheus are still working together. They can both be seen in the train sequence before a rocket blasts part of it away, and they appear to be occupying the same hall that says "Deus Machina" in the background (there doesn't appear to be an "Ex" between those two words either). Even so, there's something about having a younger Morpheus that feels like a trick to me, especially since there has to be a good reason for not bringing back Laurence Fishburne to reprise one of his career-defining roles. 
Even though the trailer for "The Matrix Resurrections" is packed with footage, there are still a lot of unanswered questions. Going hand-in-hand with my suspicion over the new Morpheus, I can't help but notice that there are plenty of shots in this trailer that appear to be variations on sequences from "The Matrix." Could that be because this is a literal reboot of the Matrix and the machines have recreated a world very similar to the previous version? Or could that also be part of the machines attempt to trick Neo? It would be a hell of a twist to act as if "The Matrix Resurrections" is treading familiar territory, just like all the other blockbuster reboots we've seen in recent years, only to pull the rug out from under us and change the game completely. We'll have to wait and see.