Star Trek: Strange New Worlds Teaser Reveals New Cast, Discovery And Prodigy Set New Dates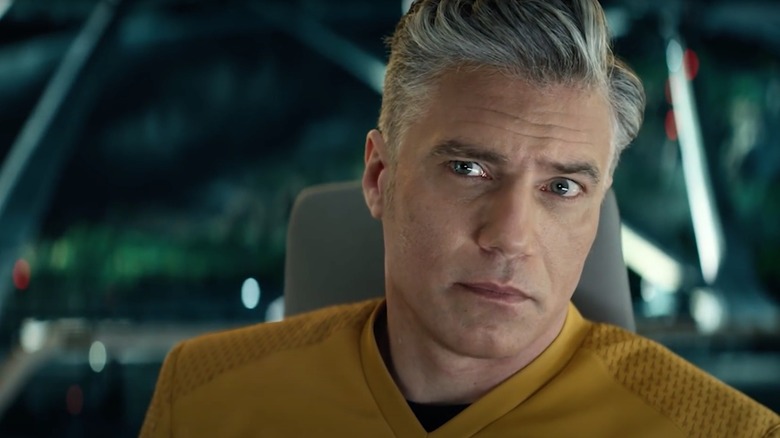 Paramount+
Paramount+ celebrated Star Trek Day 2021 and the 55th anniversary of the "Star Trek" franchise in style, unveiling some major new announcements and promo materials during a live-streamed, three-hour YouTube presentation. "Star Trek: The Original Series" premiered on the CBS network in 1966, and by now, the franchise has grown to the point where there are no less than five "Trek" series orbiting the Paramount+ streaming service (in addition to another new theatrical film, coming from "WandaVision director Matt Shakman).
We recently learned that "Star Trek: Picard" would be bringing back the Borg Queen in addition to John De Lancie's Q, who appeared in the season 2 trailer back in June. The first part of Paramount's Star Trek Day presentation was focused more on the other four shows: "Strange New Worlds," "Discovery," "Prodigy," and "Lower Decks." The biggest news is the cast announcement for "Strange New Worlds" via a teaser/featurette, which you can see below.
Star Trek: Strange New Worlds
"Star Trek: Strange New Worlds" is a spin-off of "Discovery," set before "The Original Series" on the same starship. As noted by Variety, it's the first "Trek" series housed aboard the USS Enterprise since the eponymous "Enterprise" went off the air in 2005.
Anson Mount, Ethan Peck, and Rebecca Romijn will reprise their roles from "Discovery" as Captain Pike, Mr. Spock, and Number One, respectively. These characters all appeared in the '60s pilot for "The Original Series," with the Pike character subsequently being jettisoned in favor of Captain Kirk, and with Leonard Nimoy and creator Gene Roddenberry's wife, Majel Barrett, playing Spock and Number One, respectively.
After 55 years, Number One finally has a name: it's Una Chin-Riley, according to Variety. The other big news is the announcement of several more returning characters from "The Original Series." In addition to Pike, Spock, and Number One, there's also Uhura (Celia Rose Gooding), Dr. Christine Chapel (Jess Bush), and the medical officer, Dr. M'Benga (Babs Olusanmokun). There's a new character, too, named La'an Noonien-Singh (Christina Chong). Her last name should be familiar to "The Wrath of Khan" fans; it obviously boasts major implications. We'll have another post up soon digging into these characters and their histories, so be on the lookout for that.
Star Trek: Discovery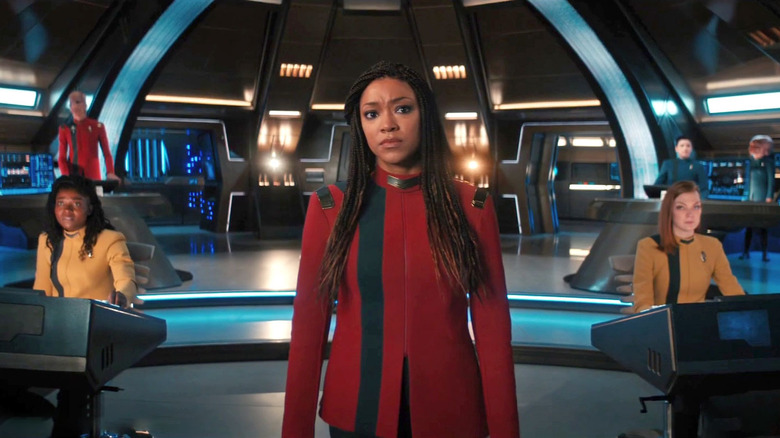 CBS Studios
Season 4 of "Discovery" now has a release date: it's Thursday, November 18, 2021, on the Paramount+ service. The show time-jumped a millennium into the future in season 3, and season 4 will see Michael Burnham (Sonequa Martin-Green) assuming the captain's chair aboard the Discovery ship.
This season, she and her crew will be dealing with "an immense gravitational anomaly — five light-years in size — that threatens all life across the galaxy." Series regulars Doug Jones, Anthony Rapp, Mary Wiseman, Wilson Cruz, and David Ajala, along with recurring season 3 actors Blu del Barrio and Ian Alexander, are set to return as well.
Star Trek: Prodigy
"Star Trek: Prodigy" is an animated series geared toward younger audiences. The trailer for this series debuted over the summer, but now we have a release date for it. This series will also hit Paramount+ on a Thursday: October 28, 2021, to be exact.
Captain Janeway herself, Kate Mulgrew, was on hand to reveal the animated, holographic version of her character from "Star Trek: Voyager." As we reported before, the series will follow a crew of teenage aliens who "discover a Starfleet ship and commandeer it for their own use," despite having no prior knowledge of Starfleet. Janeway's hologram will school them in the ways of spacefaring.
Star Trek: Lower Decks
The other animated "Trek" show, "Lower Decks," also debuted a mid-season trailer to showcase what it has in store for the rest of its second season. Check it out above. This series is a comedy; just last month, our own Ben Pearson talked to the cast about their picks for the show's best jokes.
We'll have plenty more Star Trek Day coverage to come, including a look at what news the presentation brought for "Star Trek: Picard." Stay tuned for that, and live long and prosper.