Will There Be A Sequel To Hobbs & Shaw? Here's What We Know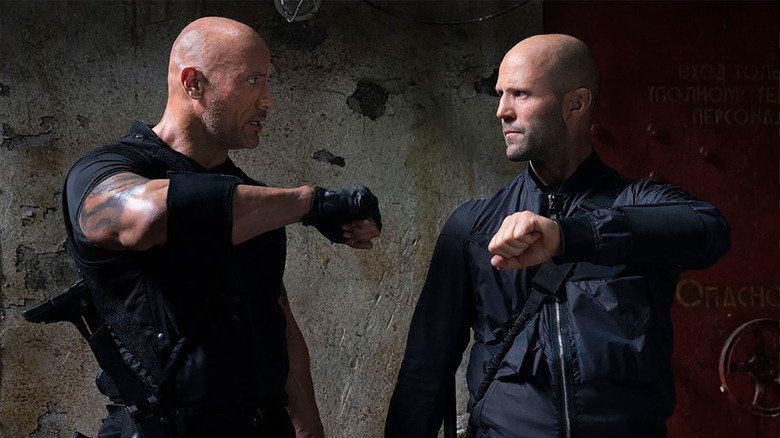 Universal Pictures
(Welcome to Will There Be a Sequel?, a series where we answer that question and explore what comes next.)
The "Fast and Furious" franchise has become one of the biggest box office draws of the 21st century. Reinvigorated by the arrival of Dwayne Johnson in "Fast Five" back in 2011, the "Fast and Furious" sequels that followed were box office behemoths, pulling in hundreds of millions of dollars with each new entry. Universal Pictures wanted to capitalize on both the popularity of the film series and the entertaining on-screen rivalry between Dwayne Johnson and Jason Statham by putting their characters in their own spin-off, "The Fast and Furious Presents: Hobbs & Shaw." Though the movie wasn't quite as successful at the box office as a traditional "Fast and Furious" sequel, the over-the-top action comedy bonanza raked in over $759 million worldwide. Surely that means the spin-off will have a sequel of its own, right? The answer is yes, but it might take awhile for it to come together. 
Fast and Furious is the Priority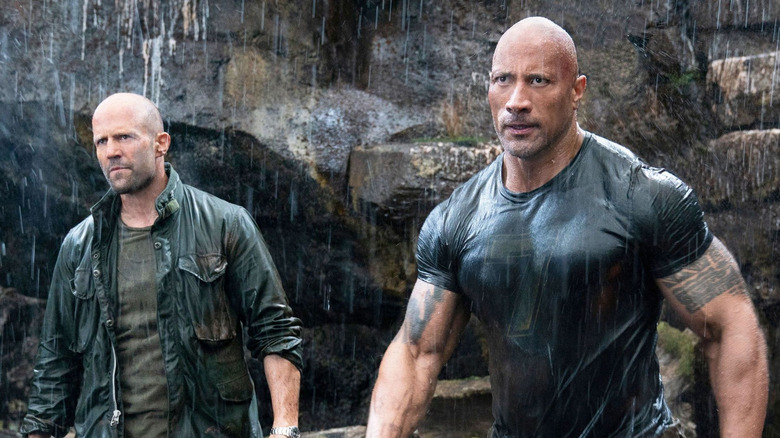 Universal Pictures
Back in February this year, Collider spoke with Hobbs and Shaw producer Kelly McCormick, and she said the focus was on the primary "Fast and Furious" franchise, which is supposed to be coming to an end with a two-part finale. Plus, Dwayne Johnson's schedule is packed to the brim. McCormick said:
"Everybody's really busy on [the main Fast and Furious] franchise. I mean, who's busier than Dwayne Johnson? And, he's critical to the project. We're just waiting to hear, to be honest. I think it's something that would be awesome to continue, but I think everybody's just been so busy working on projects in the COVID of it all, that we're still waiting to hear... There's a lot of excitement to try to make something."
More recently, Collider also spoke with Dwayne Johnson's Seven Bucks Productions producing partner Hiram Garcia, and though he's optimistic about the sequel coming together, it sounds like there are still a lot of details to be worked out, such as the story. Garcia said:
"At the moment we're trying to figure out what that sequel is going to be, but we have some very big ideas."
It's possible that the story for "Hobbs and Shaw 2" will be dependent on the events of "Fast and Furious 10" (set for release in April 2023) and "Fast and Furious 11," which is intended to be a two-part finale for the franchise as we know it. Vin Diesel has been teasing the end of the film series for awhile now, and director Justin Lin has been confirmed back at the helm of both films. After all, it appears the ongoing feud between Vin Diesel and Dwayne Johnson has resulted in Hobbs sitting out the end of the "Fast and Furious" franchise, so the only way for his story to continue is with a Hobbs and Shaw sequel.
While speaking about the future of "Hobbs and Shaw," Hiram Garcia also added this:
"After filming [The Fate of the Furious], DJ made the clear decision to close the "Fast & Furious" chapter for all the evident reasons. So while he will not be in "F10" or "F11," that won't in any way interfere with our Hobbs plans. Obviously all these characters exist in the "Fast" universe and we love to see all aspects of that universe thrive and succeed. We just have specific plans for what we want to do with the Hobbs character and I think the fans are going to love it."
It doesn't take an intuitive mind to understand what "all the evident reasons" have to do with the beef between Dwayne Johnson and Vin Diesel. Though some of the "Fast and Furious" cast members haven't been very supportive of the "Hobbs and Shaw" break from the main franchise, it's clear Universal Pictures doesn't care, and they're going to keep milking the cash cow until the udders are bone dry.
Where Will Hobbs and Shaw 2 Take the Franchise?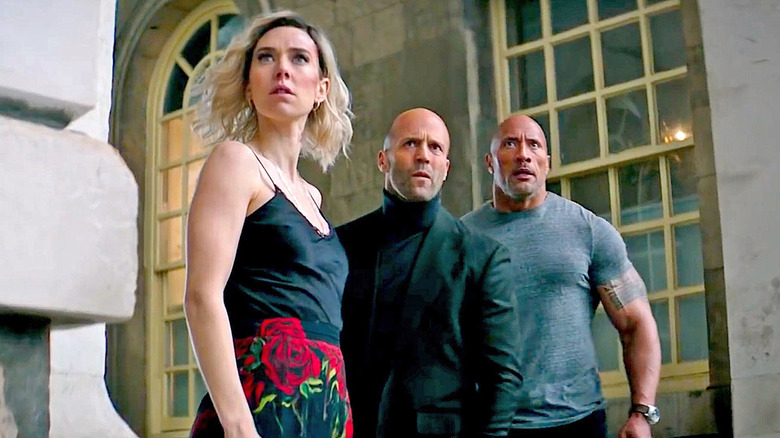 Universal Pictures
In "Hobbs and Shaw," the two titular characters had to deal with Brixton Lore (Idris Elba), an operative with cybernetic implants that allow him to perform superhuman feats. Brixton was trying to steal a programmable supervirus dubbed "Snowflake," but Shaw's sister Hattie (Vanessa Kirby) injected herself with it in order to keep it out of Brixton's hands. There was also a shadowy techno-terrorist organization called Eteon that was pulling Brixton's strings, complete with a manipulated mystery voice in charge whose identity has yet to be revealed. 
While the villainous plot is foiled and Hobbs and Shaw are victorious when the credits roll, Eteon is still at-large. The mysterious voice ominously mentions that he knows Hobbs, and the secretive leader of Eteon is far from finished with the duo. This was further teased with a credits scene that finds Hobbs learning from his partner Locke (Ryan Reynolds) that there's another virus out there worse than "Snowflake," leaving the door open for another dangerous mission. 
Meanwhile, the Shaw siblings were last seen paying a visit to their mother, Magdalene "Queenie" Shaw (Helen Mirren), seemingly helping her to make yet another escape out of prison. However, that thread has already paid off in the "Fast and Furious" franchise with Queenie making an appearance in "F9" and offering her assistance to Dom in a surprisingly sexually charged encounter. The sequel leaves her free and available for "Hobbs and Shaw 2."
Though we know Dwayne Johnson won't be back as Hobbs in the forthcoming "Fast and Furious" sequels, "F9" did tease what's in store for the future of Deckard Shaw by way of a credits scene that brought Jason Statham back into the primary "Fast and Furious" franchise. While Shaw is busy beating the hell out of a punching bag that contains some unlucky fool who crossed him, there's a knock at the door. When Shaw answers, the man waiting for him is none other than the recently resurrected Han (Sung Kang). This is surely a surprise for Hobbs, who thought that he killed Han as revenge for Dom and his crew foiling his brother Owen Shaw's plans in "Fast and Furious 6." 
We're not sure what the "Fast and Furious" franchise has planned for Shaw now that Han is alive and possibly wanting some kind of revenge of his own for trying to kill him, even if it ended up being used to Han's advantage by allowing him to fake his death with the help of Mr. Nobody (Kurt Russell). Then again, if Dom and his makeshift family were able to put aside their anger for Han's death by working with Shaw, maybe Han is looking to make amends and work with Shaw on whatever the next mission might be. All of this will likely influence where we find Deckard Shaw whenever "Hobbs and Shaw 2" rolls around, so for now, we'll just have to be patient and see what happens next.