Vin Diesel Confirms One Final 'Fast And Furious' Trilogy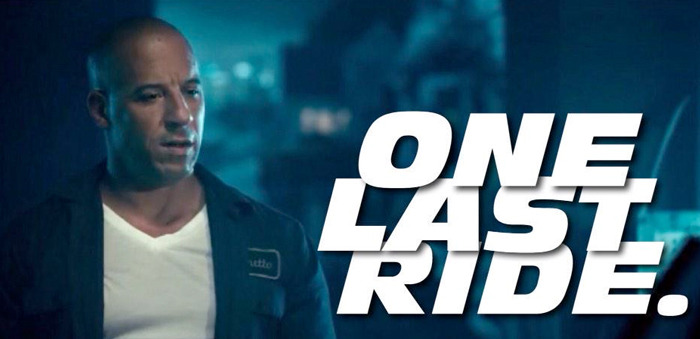 Just last week, a report detailing some trouble behind the scenes of Furious 8 revealed that Universal Pictures was having trouble locking down a director, and there was even some chatter about producer and franchise star Vin Diesel being difficult to work with on set in the recent sequels, being heavily involved in the writing process, almost to a frustrating level.
However, Diesel himself has taken to Facebook, seemingly in an attempt to clear up some of the gossip about the production of the next sequel in the franchise, to explain what the hold up is in development. In addition, he's confirmed that Universal is planning Furious 9 and Furious 10 for one final Fast and Furious trilogy that will begin with Furious 8.
Here's what Diesel posted on Facebook:
The fans of the Fast & Furious SAGA are the best fans in the world... Since I became the Producer in 2008, you have been with me every step of the way... literally giving me feedback that proved invaluable. Thank you.
My producing partner Neal would love for me to just sign off on a director, but this is too special a franchise, so these matters have to be very carefully handled. To be clear, NO ONE has been offered to helm Fast 8 yet... let alone seen a script.
Universal has been so good to me and so trusting of the vision... they have been like family... I promised the studio I would deliver one last Trilogy to end the saga. 
I will announce the directors on my next post...
Does that mean that reports of James Wan and Justin Lin being offered Furious 8 and turning it down weren't accurate? That's a possibility, but this could just as easily be Diesel doing damage control to appease the studio while they figure out who will direct. Diesel's words certainly seem to indicate that the process is taking a little longer than the studio may like. Though in the end, Diesel doesn't necessarily have to approve the director, it would be best for everyone if he did.
But the more important news is confirmation that Universal is making three more films in the Fast and Furious franchise, and Diesel seems to think that this final round of movies will be where the franchise finally ends. Though for anyone who has watched the franchise, it seems like every sequel has been "one last ride," so we'll see if that actually sticks.
This isn't the first time we've heard of the possibility of more sequels. In fact, all the way back in 2013, it was reported that The Fast and The Furious: Tokyo Drift star Lucas Black was coming back for Furious 7. But in addition to his appearance in that movie Black was reportedly contracted for three total films. So maybe Black is now being brought in to help fill he gap left behind by the passing of Paul Walker.
What's cool is that the groundwork for his return was laid back in the credits scene for Tokyo Drift, which actually takes place between Fast and Furious 6 and Furious 7 in the narrative chronology. Back in 2013, Germain explained:
In the credits scene for Fast and Furious 6, we see Han driving in a scene straight out of Tokyo Drift. It's the scene where he gets into a car accident and dies. The footage is almost straight out of the third movie, except when it's revealed the man who killed Han is the brother of the deceased bad guy Vin Diesel's Dom killed at the end of Fast and Furious 6, played by Jason Statham. It all came together.
Then, at the end of Tokyo Drift, Dom shows up in Tokyo and meets up with Sean, who has been the lead character of his movie and a friend of Han. They meet briefly. Dom's past friendship with Han acts as the ice breaker, and the film ends. This scene, obviously, takes places in the Fast and Furious 7 timeline.
Surely Sean (Lucas Black) isn't going to be happy that his friend Han has been killed, so having him join the team in an effort to get revenge just makes sense. But that's likely just what will happen in Furious 8. Who knows what will happen in the other two sequels or when they'll get released. Stay tuned.