Superhero Bits: The Suicide Squad Deleted Scene Teased, Ms. Marvel Star Proclaims Love For Iron Man In Fan Film & More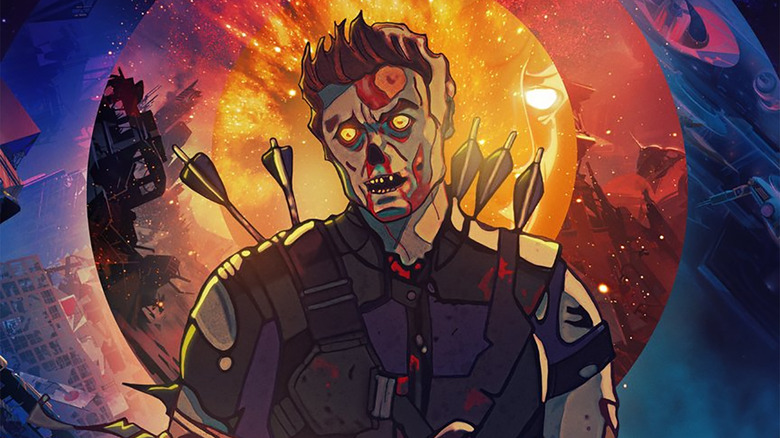 Marvel Studios
(Superhero Bits is a collection of stories, updates, and videos about anything and everything inspired by the comics of Marvel, DC, and more. For comic book movies, TV shows, merchandise, events, and whatever catches our eye, this is the place to find anything that falls through the cracks.)
In this edition of Superhero Bits:
See how "Ms. Marvel" star Iman Vellani showed her love for Iron Man
Get ready to play as Shang-Chi in "Fortnite"
Watch a clip from tomorrow's episode of Marvel's "What If...?"
Learn about a deleted scene from "The Suicide Squad"
All that and more
Shang-Chi and the Crossover into Fortnite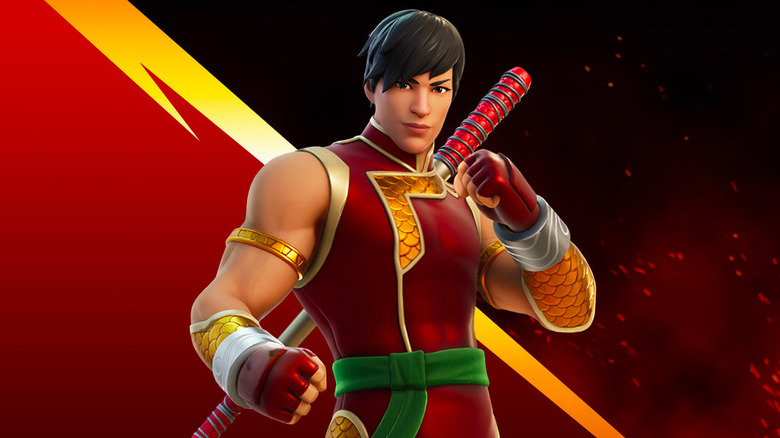 Epic Games
Along with the debut of "Shang-Chi and the Legend of the Ten Rings" in theaters, the Marvel Comics character is also coming to "Fortnite." Fans will be able to play as Shang-Chi in the game, and a bundle will also include items such as the Great Protector's Shield back bling, the Blades of the Brother hand pickaxes, and the Dragon's Scale wrap. You can snag the Shang-Chi skin and these items in the Fortnite DLC shop right now.
DC FanDome Fridays
Last week, DC's Jim Lee revealed that every Friday will see some kind of new announcement about what's in store for fans when DC FanDome returns in October. Every Friday will also see new products, content, and more tied to the DC Multiverse. Last week's announcement came with a dive into the legacy of DC Comics, and there will be something new this Friday, so stay tuned to see what they  have in store.
Blade Fans Demand Pop Culture Recognition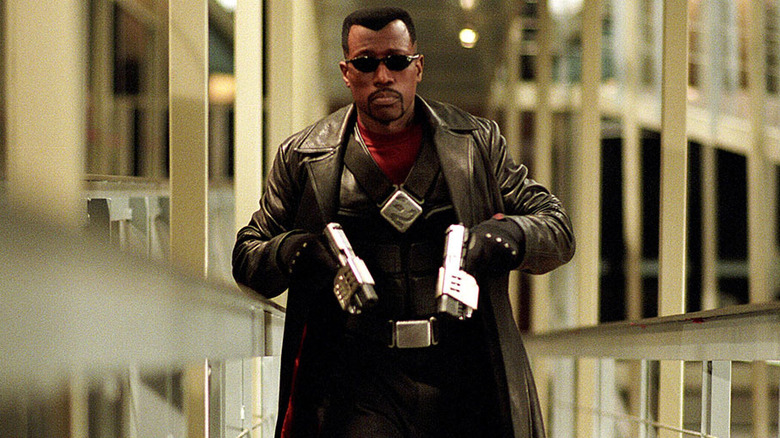 New Line Cinema
"Blade" fans were in a bit of a tizzy over the weekend when Fox's "X-Men" movies and Sony's "Spider-Man" movies were given credit for paving the way for the modern era of superhero blockbusters. Arguably, "Blade" was there before both of those franchises, even if the R-rating and niche appeal of vampires wasn't exactly quite as appealing to general audiences. Plus, if we want to get picky about this topic, you can't ignore "Spawn," which was quite the box office hit in 1997. Leave it to comic book movie fans to always find something to argue about.
Iman Vellani Declares Her Iron Man Fandom
Even though Iman Vellani has been extremely busy becoming "Ms. Marvel" for the upcoming Marvel Studios series on Disney+, she found some time to make this adorable fan video (via CBR) that is full of love for the superheroes of Marvel Comics. But more specifically, the actress has an affinity for Iron Man, and she proves it with a little stop-motion animated sequence where Iron Man and Kamala Khan action figures have a dance with each other.
"Ms. Marvel" is coming to Disney+ either late this year or early in 2022.
Shang-Chi and the Most Popular MCU Movie on Rotten Tomatoes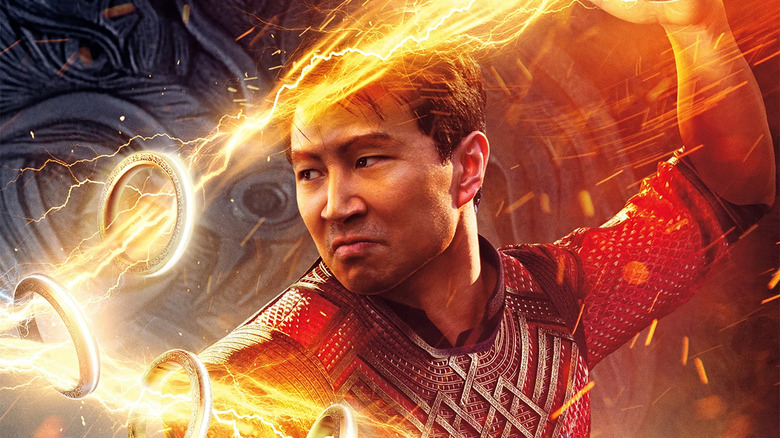 Marvel Studios
"Shang-Chi and the Legend of the Ten Rings" has a fantastic critical score at Rotten Tomatoes with a 92% on the Tomatometer, and the audience score is even better. With a 98% score from audience ratings on the review aggregator, "Shang-Chi" is now the most popular movie in the Marvel Cinematic Universe. The next most beloved MCU movie for audiences is "Spider-Man: Far From Home" at 95%. 
It's important to note that it's still early days for "Shang-Chi," and the score is bound to drop as the movie lingers in theaters. Then again, maybe more people seeing the movie will merely affirm how much audiences are loving it. Only time will tell.
Marvel's What If...? Zombies Clip
Along with a tease for the "Shang-Chi and the Legend of the Ten Rings" credits scenes, Mark Ruffalo also posted a clip from the next episode of Marvel's "What If...?" animated series, which will turn many superheroes into zombies. The clip in question finds the zombie apocalypse unfolding at the same time the events of "Avengers: Infinity War" begin, and it doesn't turn out so well when Ebony Maw and Cull Obsidian confront Bruce Banner at the Sanctum Sanctorum in New York City. But it's not Hulk that they have to worry about. 
The new episode of Marvel's "What If...?" arrives on Disney+ tomorrow.
Marvel's What If...? Debuts Zombie Posters
Before the new episode airs tomorrow, Marvel has released two posters for "What If...? featuring Captain America and Hawkeye as zombies. Surely they'll be much harder to deal with than the usual walking dead, and we'll find out exactly how this happens tomorrow on Disney+. Following the episode's debut, make sure you come back for one of our extensive breakdowns full of details you might have missed and speculation about what's to come.
The Suicide Squad Deleted Scene Explains Thinker Injury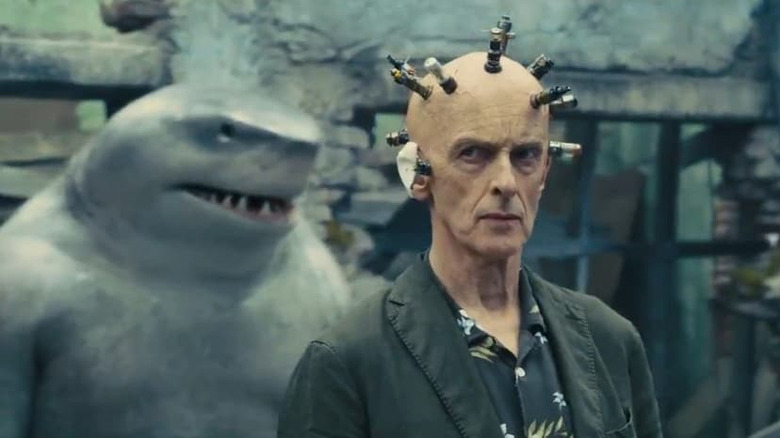 Warner Bros. Pictures
If you watched "The Suicide Squad," you might have wondered how Thinker sustained an injury on his ear when we didn't see such an incident occur in the movie. Director James Gunn explained (via Twitter) that this is revealed in a deleted scene. The scene in question finds Thinker (Peter Capaldi) trying to manipulate Polka Dot Man (David Dastmalchian) into helping him, but instead, the tragic character shoots polka dots at him hurting his ear. Gunn confirmed that we'll get to see this scene on the home video release of "The Suicide Squad."
Shang-Chi and the Untitled Josh Horowitz Show
In the latest edition of "The Untitled Josh Horowitz Show" at Comedy Central, Simu Liu and Awkwafina appeared in conjunction with the release of "Shang-Chi and the Legend of the Ten Rings." Listen as Marvel's latest heroes talk about superhero abs and play a Shang-Chi-themed game of "Would You Rather?" with the host. It's definitely more fun than your traditional superhero movie publicity blitz.