Halo TV Series Set To Premiere On Paramount Plus In 2022
Xbox Games Studios
"Halo" may bear the name of a ring of light around an angel's head, but as a would-be screen property, it's been stuck in development hell for years. Now, fans of the Xbox video game series who have been hoping to see "Halo" adapted are drawing closer to the proverbial light at the end of the tunnel. ViacomCBS Streaming has again verified that a TV series based on the game will premiere on Paramount+ in 2022. We also have a better idea now of why "Halo" made the move from Showtime to Paramount+.
Via Decider, Jana Winograde and Gary Levine, the co-presidents of Showtime Entertainment, recently spoke about "Halo" at the TCA (Television Critics Association) summer press tour. There, they addressed the Paramount+ move. (ViacomCBS owns both the Showtime TV network and the Paramount+ streaming service.) Winograde said:
"We love Halo. We have great affection for it. And that's a good fit, because we continue on at the studio. So, we're going to be intimately involved with the creative and the production of it. But the truth is that it was always a bit of an outlier for us in terms of its fit in the Showtime universe. We did an amazing job of imbuing into the series the character drama that we're so well known for. But at the end of the day, it is a big, broad, big-tent show, so when Paramount+ came into being, it really was a natural fit there."
The Long Road to Halo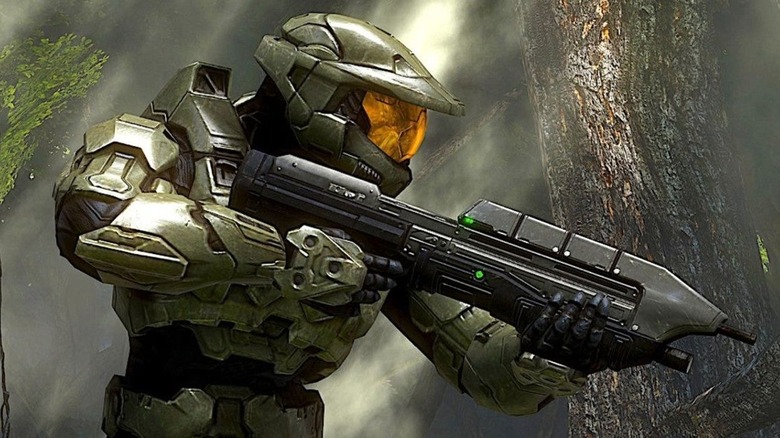 Xbox Games Studios
At one point, in the 2000s, Peter Jackson and Neill Blomkamp were involved in a "Halo" adaptation, but it never came together and they went on to make "District 9" instead. We first reported on Steven Spielberg producing a live-action "Halo" series for television all the way back in 2013. It wasn't until 2018, however, that Showtime picked up the series and gave it a 10-episode order. "Rise of the Planet of the Apes" helmer Rupert Wyatt, who is currently involved with "The Mosquito Coast" on Apple TV+, was originally attached as a director and executive producer, but by the end of the year, he had backed out due to scheduling conflicts.
This summer, showrunners Kyle Killen and Steven Kane also announced that they will be moving on from the show after the completion of its first season. Pablo Schreiber is still on board to play the protagonist, Master Chief, but at this point, it feels like Hollywood is — in true "Halo" fashion — playing a game of Capture the Flag with this property, handing it off from one creative person to another.
Hopefully, when "Halo" finally hits Paramount+ in 2022, it will be worth the wait. Maybe this will be the show to break the video game adaptation curse.