George R. R. Martin Producing Short Film With Vincent D'Onofrio Before Finishing His Half-Completed Game Of Thrones Novel
The night is dark and full of cooters. 
That's right: because you asked for it, George R.R. Martin is producing an animated short film called "Night of the Cooters." Vincent D'Onofrio will direct and star as the voice of a sheriff in the town of Pachuco, Texas, which becomes the site of a Martian invasion.
It seems Martin, the white-bearded earthling, can't help but overextend himself, taking on new movie and TV projects left and right. "Night of the Cooters" continues the trend of him adapting the work of other authors. It's an adaptation of a 1987 science fiction novel by Howard Waldrop.
Via Deadline, here's what Martin had to say about the cooters he and D'Onofrio are wrangling up:
"Night of the Cooters is a short story, and our version is going to be a short film. I'd guess it will come in somewhere between 20 and 30 minutes, shot with a combination of live action and state-of-the-art animation. If you loved the story, we think you will love our movie."
Fresh cooters, right here! Perfect for a ballgame!
Get Your Hot Cooters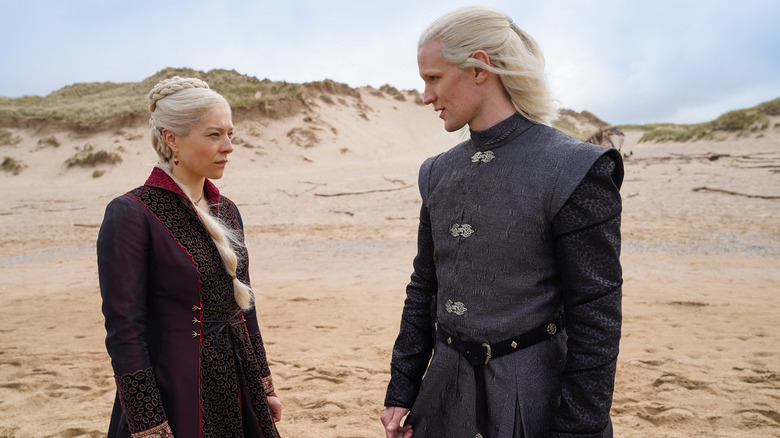 HBO
Joe Lansdale, whose own crime novel, "Cold in July," furnished an unpredictable and enjoyable 2014 movie, will write the "Night of the Cooters" short film. It's too early for a release date, but Martin has said that he wants to hold the premiere "somewhere down the line at the Jean Cocteau Cinema in Santa Fe," New Mexico, where he lives and occasionally writes.
When Martin completed his "Game of Thrones" book series in 2011 ... wait a minute.
Checks notes.
You mean there are still two books left to go? Didn't "Game of Thrones" end with universally mixed reviews on HBO in 2019? Or is my intel there bad?
Alas, "The Winds of Winter," the planned sixth installment in Martin's "Game of Thrones" book series, is still withering on the vine. This year alone, we've heard that he was developing projects like "Roadmaps" for HBO, "Wild Cards" for Peacock, and "Dark Winds" for AMC. His Syfy series, "Nightflyers," was canceled, but he's also involved in "Game of Thrones" spin-offs like "House of the Dragon" (pictured above). 
Periodically, we'll hear updates about "The Winds of Winter" and Martin's progress on it — or lack thereof. It must be exhausting for him to have people online constantly guilt-tripping him for not finishing what he started with "Game of Thrones." Yet maybe he also brings some of it on himself with all these announcements about cooters and other zany projects that aren't "The Winds of Winter."