Superhero Bits: Marvel Cooks Up Gingerbread Funko POPs, John Leguizamo Is Becoming PhenomX & More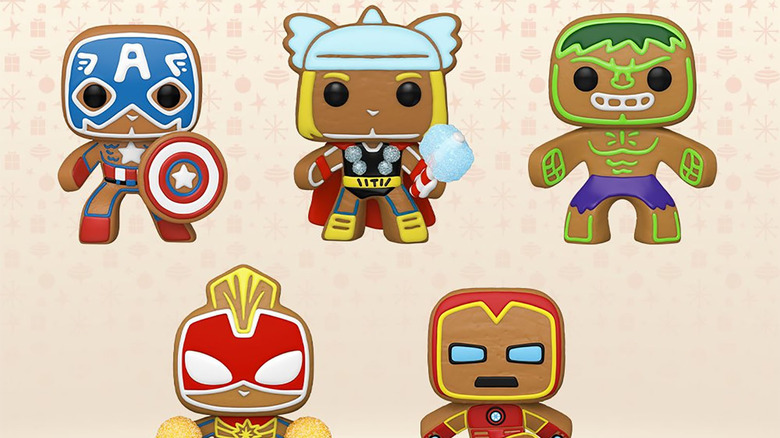 Funko
(Superhero Bits is a collection of stories, updates, and videos about anything and everything inspired by the comics of Marvel, DC, and more. For comic book movies, TV shows, merchandise, events, and whatever catches our eye, this is the place to find anything that falls through the cracks.)
In this edition of Superhero Bits:
Want to add new gingerbread Marvel Funko POPs to your holiday decorations?
John Leguizamo is becoming the new comic book character PhenomX
April O'Neil will be a playable fighter in a new "Teenage Mutant Ninja Turtles" video game
Simu Liu want Shang-Chi to meet the Guardians of the Galaxy
All that and more
Meet the Grand Unifier Raker from Guardians of the Galaxy
We've still got a couple of months until the new "Guardians of the Galaxy" video game arrives, so Marvel Entertainment has released a new sneak peek by revealing the Grand Unifier Raker, the leader of the Universal Church of Truth, a mysterious organization intent on bringing their so-called "Promise" to the whole galaxy. See what the crew thinks of this guy in the cinematic video above.
"Guardians of the Galaxy" arrives on PS4/PS5, Xbox One/Xbox Series X|S, and PC on October 26, 2021.
John Leguizamo and Todd McFarlane Team Up for PhenomX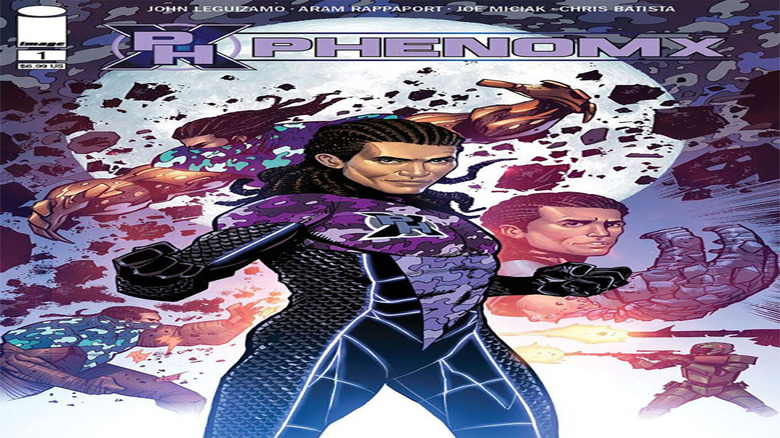 Image Comics
John Leguizamo already has a history with Todd McFarlane, having co-starred in the "Spawn" comic book movie as the horrifying Clown. But now, the two are teaming up to create a new comic book for Image Comics.
"PhenomX" will feature the likeness of John Leguizamo as Max Gomez, a man who was wrongfully imprisoned and is desperate to regain his freedom. When Max agrees to become a subject in an underground government experiment in exchange for his freedom, he suddenly gains phenomenal shape-shifting abilities. What he doesn't know is that his newfound freedom actually means he'll have to survive a superpowered war being fought on the streets of New York City.
Leguizamo said, "In today's world, it's incredibly important to support Latin artists. There is a lack of Latin representation in Hollywood, and it's important to showcase Latin superheroes." McFarlane echoed those sentiments by saying, "John is well regarded in the Latino entertainment world and we are both hoping that his character not only makes an impact here but across the globe, regardless of your background. Cool comic books should have a place everywhere."
The comic will also feature the talents of artist Edgardo Miranda-Rodriguez ("La Boriqueña") and cover artists Jim Muñiz, José Marzán, Jr., and Juan Fernández.
"PhenomX #1" will go on sale on November 3, 2021.
Stargirl and Supergirl Are Back on The CW
"Supergirl" is back to finish its sixth and final season while "Stargirl" is embarking on its second season. So The CW decided to throw around all the power that you'll find airing every Tuesday for the next few months. There are 12 episodes left before "Supergirl" is finished, and "Stargirl" is just getting started, so there's plenty of superhero action to go around this fall.
April O'Neil Joins New Teenage Mutant Ninja Turtles Game
"Teenage Mutant Ninja Turtles: Shredder's Revenge" is a new video game coming to PC and Nintendo Switch in 2022. Obviously, all four of the heroes in a half-shell will be there to take on their arch-nemesis, but the video game creators at Dotemu have announced that reporter April O'Neil will also be a playable character ready to kick around the Foot Clan, mousers, and other bad guys. Get a look at her move set and co-op attacks in the video above.
Will Thor Lead a New Team of Space Avengers?
ScreenCrush put together a video theorizing that the future of the Marvel Cinematic Universe could feature several different teams of Avengers in different arenas. In this case, they're focusing on the idea that Thor could lead a team of Space Avengers that could include Captain Marvel, some Guardians of the Galaxy, and the Silver Surfer. It's purely speculation, but what else do we have to do while we're waiting for more Marvel movies to arrive?
What If...? Episode 3 Has an Intriguing Winter Soldier Reference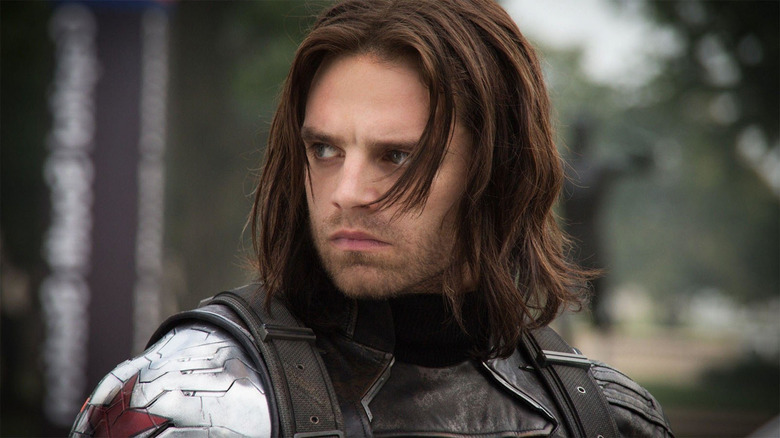 Marvel Studios
In the latest episode of Marvel's "What If...?" animated series, a murder mystery finds almost every single original member of the Avengers killed at the hands of an unseen killer. When the mystery is unraveled, we learn that Hank Pym has been behind all of their deaths, seeking revenge against Nick Fury for letting his daughter, Hope Van Dyne, die while on a mission for SHIELD. Though the circumstances of the mission remain unknown, there's a hint as to how this might tie into a larger alternate universe involving the Winter Soldier.
During Nick Fury's confrontation with Hank Pym, it's revealed that Hope was killed outside Odesa, Ukraine, and head writer A.C. Bradley teased the location as a reference to the Winter Soldier's past in the Marvel Cinematic Universe. Bradley told Discussing Film:
"I think it's still in the final cut of the episode, is there a line that she was killed outside Odessa? Like so many months ago? Yeah, go watch The Winter Soldier. No one's figured out that Easter egg. I don't think anyone at Marvel figured out that Easter egg."
Odesa, Ukraine, happens to be where Natasha Romanoff was on a mission when she encountered Bucky Barnes as the Winter Soldier. The Hydra assassin killed the individual that Romanoff was escorting, and she has a bullet wound to show how their confrontation went. Clearly, things didn't go so well for Hope Van Dyne, but we're wondering if we'll ever find out more about the importance of that mission as "What If...?" continues. Perhaps Hank Pym will have some unfinished business with the Winter Soldier.
Shang Chi and the Acclaim of Movie Critics
A new TV spot for "Shang-Chi and the Legend of the Ten Rings" teases the upcoming Marvel Studios movie with some quotes from movie critics praising the movie after early press screenings. Tickets are on sale now for the new Marvel movie, which will arrive exclusively in theaters on September 3, 2021.
Simu Liu Wants Shang-Chi to Meet the Guardians of the Galaxy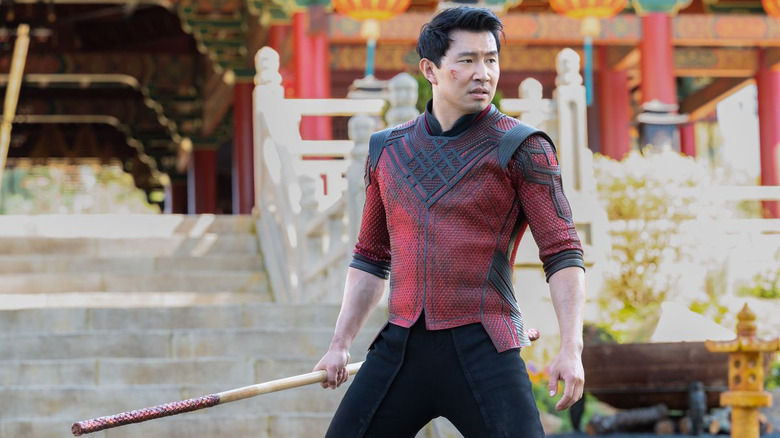 Marvel Studios
We already know that "Shang-Chi and the Legend of the Ten Rings" star wants his superhero character to team up with Spider-Man, but that's not the only Marvel hero he'd like to join forces with. Speaking with The Associated Press, Liu expressed his interest in meeting up with the Guardians of the Galaxy. The actor said:
"I gotta go with Guardians. I think they would all just get along, you know? I think Shang and Katy love music; I think they love hanging out; I think they're goofballs in their own right; and I just think that they would vibe really well with Star-Lord and they'd all meet each other and be like, 'Yeah, let's all go to space together, why not?'"
At this point, I think every Marvel fan is open to any possible crossover, especially with the multiverse making pretty much anything possible. So yes, let's send Shang-Chi to space, and maybe he can solve mysteries with Rocket Raccoon, Baby Groot, and Mantis.
Marvel Cooks Up Some Gingerbread Funko POPs
This holiday season, Funko is releasing some holiday variants of Marvel characters to beef up your Christmas decorations. A new wave of Funko POPs are being released that look like 3D gingerbread cookies. The first wave includes Captain America, Thor, The Incredible Hulk, Iron Man, Captain Marvel, Black Panther, Spider-Man, Scarlet Witch, and Thanos. There's also a Diamond Collection Thor that has a sparkly paint job.