The 10 Best Comedies Of The Last 10 Years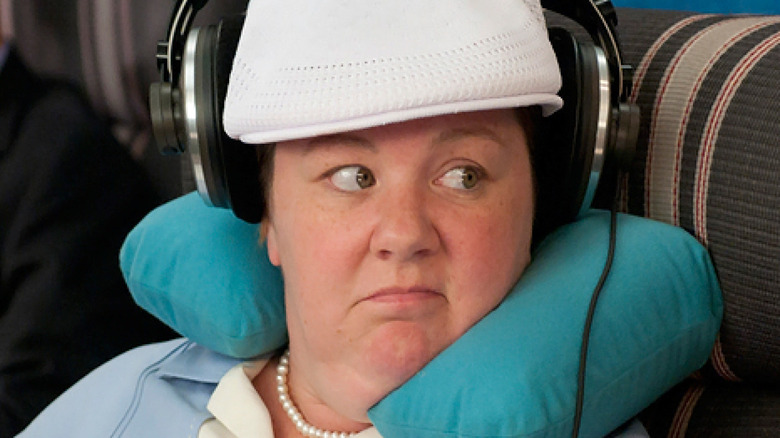 Universal Pictures
If the past year has taught audiences anything, it's that there are two emotions that bring everyone together: amusement and fear. Comedy and horror are perhaps the two most primal genres, tapping into our basest emotions and uniting audiences with shared, relatable experiences. Even beyond the last year, though, the past decade has been a sensational one for comedy movies in particular, with a considerably more diverse slate of creators and on-camera talent expanding the genre with their own unique perspectives and senses of humor.
More women, persons of color, and queer creators are making comedies than ever before, leading to some of the funniest movies ever released. As such, it's time to revisit the best comedy movies of the last 10 years. These movies are listed in no particular order, and some of your favorites might be missing; our one rule is that, fundamentally, a movie has to be trying to make you laugh more than anything else. As funny as movies like "Young Adult" and "JoJo Rabbit" are, they're not comedies first and foremost. These are.
Paddington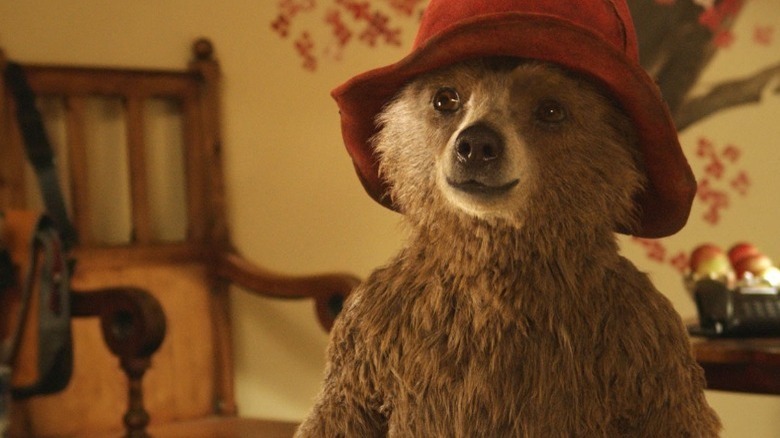 Studio Canal
"Paddington" is not just the most joyous film released over the past decade, but one of the most joyous films released ever. That's even more remarkable given that everything seemed stacked against it. Early stills inspired a "Creepy Paddington" meme. The first trailers, while cute, made it look like a run-of-the-mill kids' film. However, "Paddington" and its sequel, the aptly titled "Paddington 2," are two of the best-reviewed movies ever. Watch them, and you'll see why.
Ben Whishaw voices the titular bear as he arrives in London following a tragedy in Darkest Peru, where he grew up. He's taken in by the Brown family, including matriarch Judy, played with effortless heart by double Oscar-nominee Sally Hawkins, and patriarch Henry, played by Hugh Bonneville. The plot is almost inconsequential. Instead, "Paddington" is firmly a film about family and acceptance, as well as a poignant reflection on immigration and diversity. 
As Germain Lussier wrote in our review, "This is a movie, it's over, and it's so damn good you'll want to share it with everyone you love." He's right. "Paddington" is one of the funniest, most heartfelt movies released in the past 10 years, and once you've watched it, it's guaranteed to become a permanent staple in your rotation for years to come.
Bridesmaids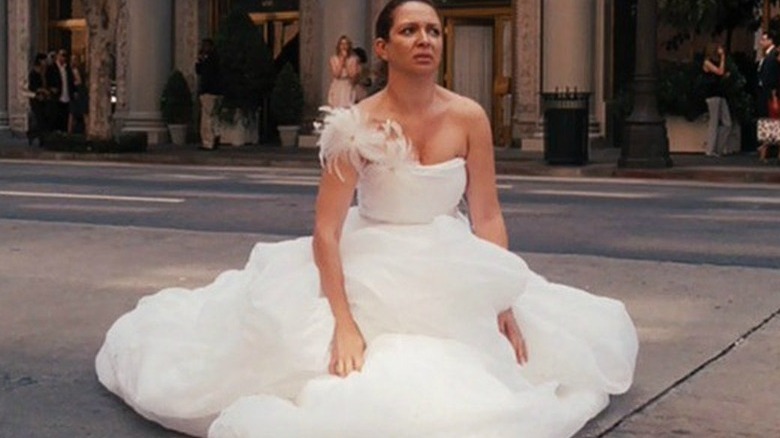 Universal Pictures
As far as comedy is concerned, "Bridesmaids" set the tone for the entire decade. Though some of its laughs have dampened with age, director Paul Feig's crude comedy, which stars women and features an Oscar-nominated script from Kristen Wiig and Annie Mumolo, remains a groundbreaking comedic achievement. Beyond the critical acclaim and a remunerative box office haul — $288 million against a $32 million budget — "Bridesmaids" demonstrated that women can do whatever men can — and often do it better.
With a distinctly feminist approach that honors ensemble comedies of the past, the "Bridesmaids" cast — including Melissa McCarthy, who was nominated for an Oscar for her role, a rare feat for a supporting player in an ensemble comedy — absolutely nails it. Rose Byrne demonstrates yet again just how skilled a comedian she really is, while peripheral players like Ellie Kemper and Wendi McLendon-Covey bring plenty of extra laughs. The story of a wedding gone awry, the script cleverly touches on aging, job loss, and friendship while consistently delivering non-stop jokes. Very few films of the past decade can match the pure chaos of five women developing food poisoning while trying on bridesmaids gowns.
Inside Out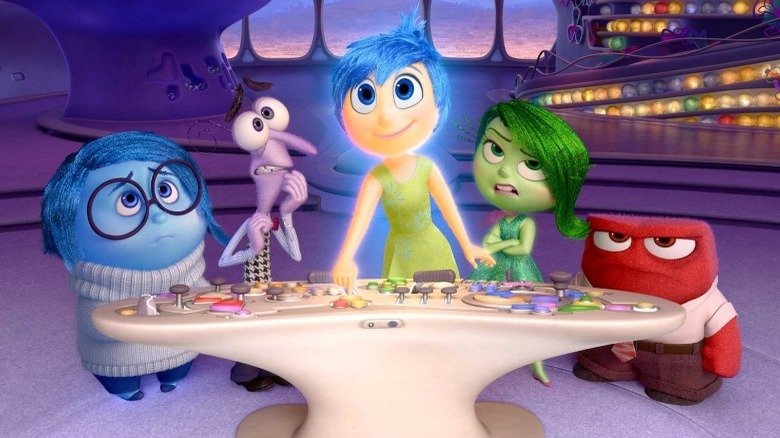 Disney/Pixar
"Inside Out" is Pixar's last true classic. "Coco" and "Soul" are good, but "Inside Out" exceeds good, even by Pixar's own lofty standards. "Inside Out" is the single best representation of emotions ever committed to film; it's even used as a tool in adolescent therapy. It's that well done.
Amy Poehler voices Joy, one of five central emotions belonging to a kid named Riley (played by Kaitlyn Dias). Joy is the de facto leader of the group, but contentiously has little use for Sadness (Phyllis Smith). When Riley flees home after a disastrous first day of school in her new town, Joy and Sadness embark on a journey through Riley's mind to bring her home. They travel across dreams and memory, and even encounter Riley's old imaginary friend, Bing Bong (Richard Kind). 
"Inside Out" is a movie that demands repeat viewings. On the first, take in the scope of the world director Pete Doctor has conceived. On the second, appreciate the stellar animation. On the third, take stock of just how profound the movie's central message is. On its own, joy is never enough. Without anger, disgust, fear, and sadness, joy has no room to grow. It's a heartrending message for young audiences, but a necessary one — luckily, Pixar delivers it with gusto.
Hunt for the Wilderpeople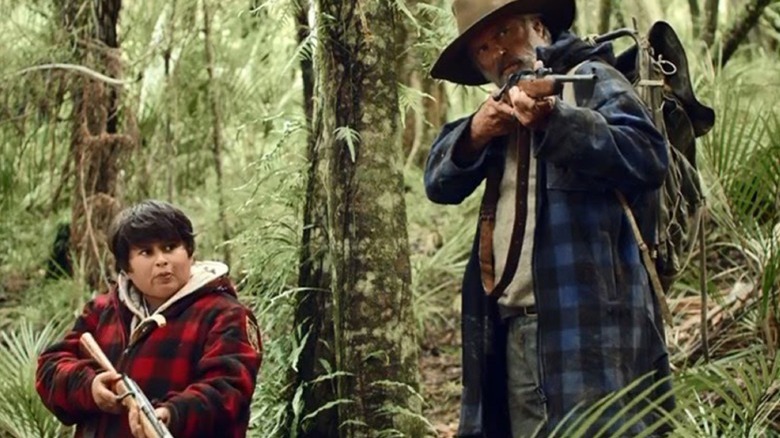 Madman Entertainment
When reviewing Taika Waititi's diverse filmography, it was difficult to decide which film of his to include. "JoJo Rabbit," his Oscar-winning triumph, seemed like the most obvious choice, but it's second half is really more drama than comedy. "What We Do in the Shadows" is hilarious, but "Hunt for the Wilderpeople" has the better balance of emotion and humor. And so, "Wilderpeople" wins out.
Simultaneously hilarious and tragic, "Hunt for the Wilderpeople" is emblematic of Waititi's sense of humor — it's a mélange of eccentricities, mischief, and meta-awareness — and his penchant for genuine heart. "Hunt for the Wilderpeople" will make you double over with laughter, even as you're wiping tears from your eyes. Stars Sam Neill and newcomer Julian Dennison are perfectly paired as two New Zealanders who get lost in the bush following the death of Rima Te Wiata's Bella, Neill's wife and Dennison's foster mother. It's well-shot, poignant, and deftly funny. Exceptionally well-reviewed, "Hunt for the Wilderpeople" is criminally underseen. Seek this one out ASAP.
Knives Out
Lionsgate
There's a reason why Netflix spent $400 million to secure the rights to "Knives Out 2" and "Knives Out 3," despite the original entering theaters with a paltry $40 million budget. "Knives Out" is one of the most creatively manic movies to release in the last decade, and it's a genuinely beguiling murder mystery to boot (not unlike another entry on this list).
Director Rian Johnson's post-"Star Wars" opus stars Ana De Armas as Marta Cabera, a Cuban nurse assigned to care for Christopher Plummer's Harlan Thrombey, an aging mystery writer. Following Harlan's death, Daniel Craig's Benoit Blanc, a private detective in the Hercule Poirot mold, is assigned to investigate the circumstances surrounding Thrombey's unexpected demise. See, Harlan leaves a massive fortune behind, one that his extended family — played by A-listers like Chris Evans, Jamie Lee Curtis, Toni Collette, and Michael Shannon among others — are eager to get their hands on. 
I won't spoil the movie's many twists, but "Knives Out" is a comedy-mystery in the vein of "Clue" that manages to be both consistently funny and also continually engaging. The mystery elements are top notch, supported by a hilarious script and an absolutely stacked cast.
Happy Death Day
Universal Pictures
Christopher Landon's "Happy Death Day" is a horror-comedy starring the effervescent Jessica Rothe as an undergrad trapped in a time loop a la "Groundhog Day." Despite writing "Paranormal Activity 2" and a few of its sequels and directing "Paranormal Activity: The Marked Ones," Christopher Landon had a tough go of it, per The Advocate, on account being gay. It's all the more remarkable, then, that audiences got a chance to see "Happy Death Day," which was directed by Landon and written by Scott Lobdell.
Rothe plays Theresa "Tree" Gelbman, an college student who, after being murdered by a maniac dressed as her school mascot, wakes up in her dorm room on the same day, repeating the hours before her murder. With the help of friends and a new love interest (Israel Broussard), Tree must survive the day and identify the person responsible for her murders to break the loop. 
Horror comedies are among the most difficult films to get right — too many scares make the humor uncomfortable, and too many jokes can rob a movie of all of its tension. But "Happy Death Day" finds the balance, and is wildly successful as a result. As of this writing, it remains one of the last decade's most influential comedies.
Game Night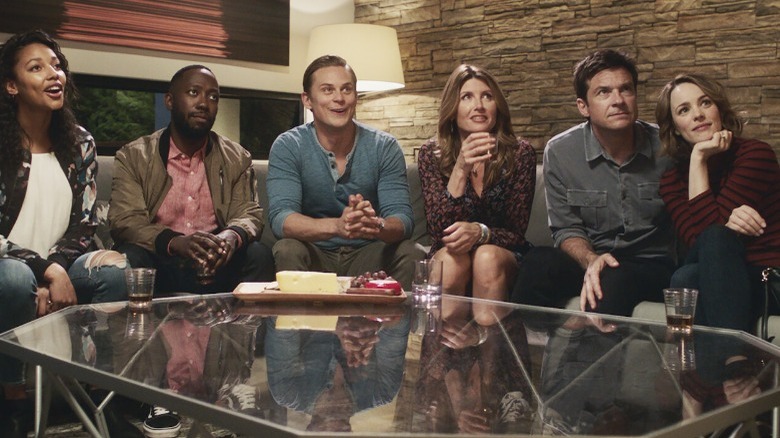 Warner Bros.
"Game Night" had no reason to be as funny and thrilling as it was. An ensemble comedy with a high-concept hook — a group of friends, led by Rachel McAdams and Jason Bateman, discover that their murder mystery game might be a real crime — its marketing materials made it look like it was destined for bargain bins and cheap VOD rentals. 
Luckily, "Game Night" is much better than you expect. Rachel McAdams is the MVP of the entire enterprise, tapping into a more mature, yet no less hilarious, comedic persona than her role in "Mean Girls." She's cute, biting, hilarious, and absolutely stellar when it comes to physical comedy. Bateman, Lamorne Morris, Kyle Chandler, Billy Magnussen, Sharon Horgan, and Kylie Bunbury round out the cast, and they're all at the top of their game. Every character feels distinct, a difficult feat for an ensemble comedy. 
Finally, like "Knives Out," "Game Night" has a genuinely compelling mystery in addition to all the laughs. For comedy fans looking for something a little more dangerous, "Game Night" is among the best.
Lady Bird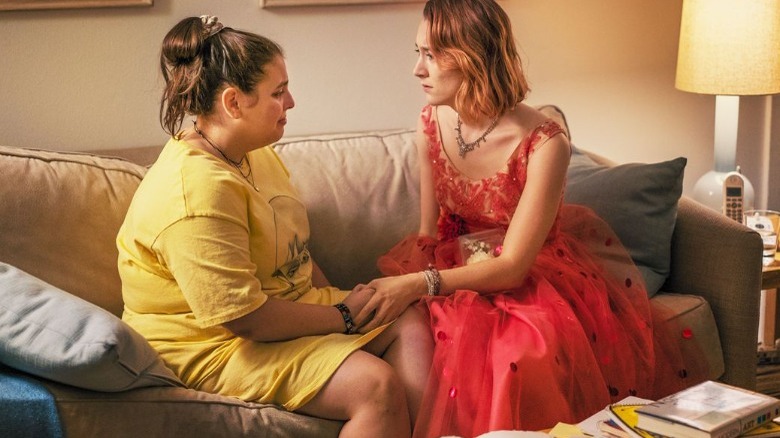 A24
"Lady Bird" is hilarious. Although it's less broad than some other of the other movies on this list, Greta Gerwig's solo directorial debut is a remarkable achievement. The verisimilitude of the early-'00s Sacramento setting and its teenage protagonist, the self-named Christine "Lady Bird" McPherson (a sensational Saoirse Ronan), is singularly realized. The low-key comedy comes straight from the character, and never feels anything less than real. That authenticity is key, because not only is "Lady Bird" deeply-felt, it also earned five Academy Award nominations, including one for Best Picture.
With its nebulous narrative — though there are ongoing threads, "Lady Bird" is chiefly a slice-of-life film — and fantastic set of characters, including an Oscar-nominated turn from Laurie Metcalf as Lady Bird's mother, "Lady Bird" is unlike any coming-of-age story you've seen before. It's so true, so fully realized, and so confident in its form and structure that feels like a gift. "Lady Bird" also marked Grewig as a talent to be reckoned with; in 2018, Time Magazine listed her as one of the 100 most influential people in the world.
We're the Millers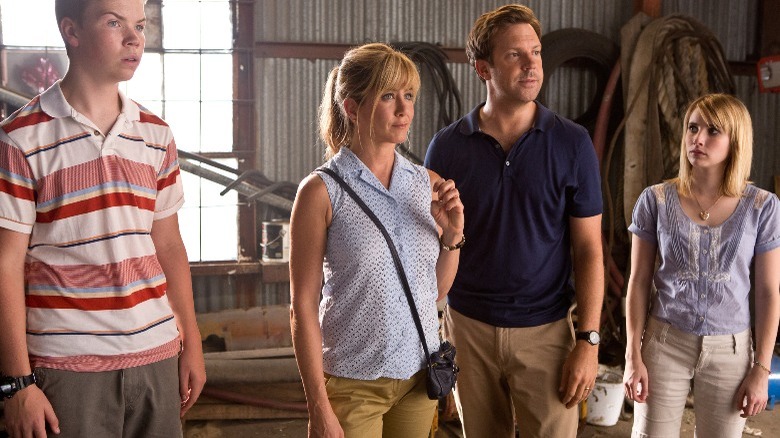 Warner Bros. Pictures
Like "Game Night," "We're the Millers" seemed poised to be, at best, a disposable bit of late summer entertainment. Jason Sudeikis stars as David Clark, a low-level drug dealer in Denver who agrees to smuggle marijuana from Mexico to clear an outstanding debt. Rather than embark on the trip solo, David reasons that posing as a member of a happy family will ease the border guards' suspicions. So, he recruits Emma Roberts' Casey, a petty street thief, Jennifer Aniston's Rose, a stripper, and Will Poulter's Kenny, a socially awkward neighbor, to help. The unlikely "family" travels to Mexico to bring the stash home.
Unlike the other entries on this list, "We're the Millers" was critically maligned, scoring only 48% on Rotten Tomatoes. And yet, "We're the Millers" was also a runaway hit, grossing $270 million against a $37 million budget. See, in spite of the critical reaction, "We're the Millers" is genuinely hilarious. The cast is fantastic, especially Sudeikis and Aniston, who seem to have effortless chemistry, and although it has an edgy premise, there's a genuine heart beating beneath its surface, one that celebrates family both real and found.
The Nice Guys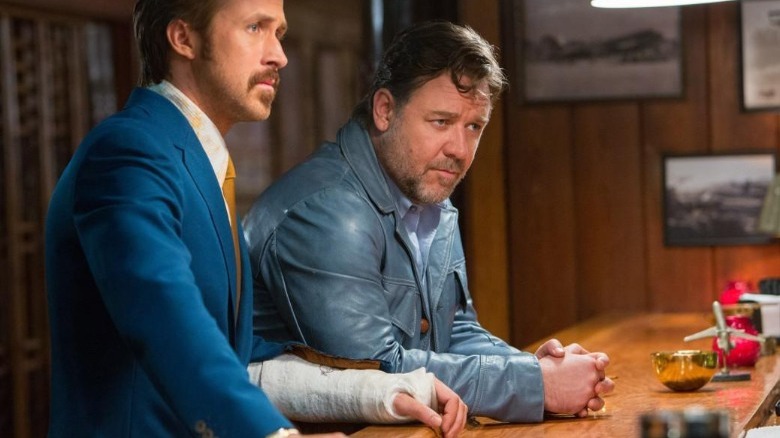 Warner Bros.
There's a theme running through this list. Rather than straight comedies, most entries are genre hybrids. "The Nice Guys," for example, is a comedy with a film noir rhythm, in which Ryan Gosling stars as Holland March, a private eye in 1977 Los Angeles. March is a bumbling, neurotic investigator, prone to yelling at children and going on day-long benders. His investigation into a missing porn star leads him to Jackson Healy (Russell Crowe), an enforcer hired to scare Holland away who ends up joining the investigation.
"The Nice Guys" is an expertly calibrated noir — all of the classic tropes are here — while also being a fantastic showcase for the comedic stylings of Gosling and Crowe. Their dynamic is organic and hilarious, and both play off the other exceptionally well. Their banter keeps "The Nice Guys" from ever getting too dark, even as the movie shifts into territory of genuine threats and menaces. It's director Shane Black's best movie, and a clever subversion of masculinity, noir, and comedy. It's that good.