LOL: 'Paddington' Image Inspires Horror Movie Mash-Ups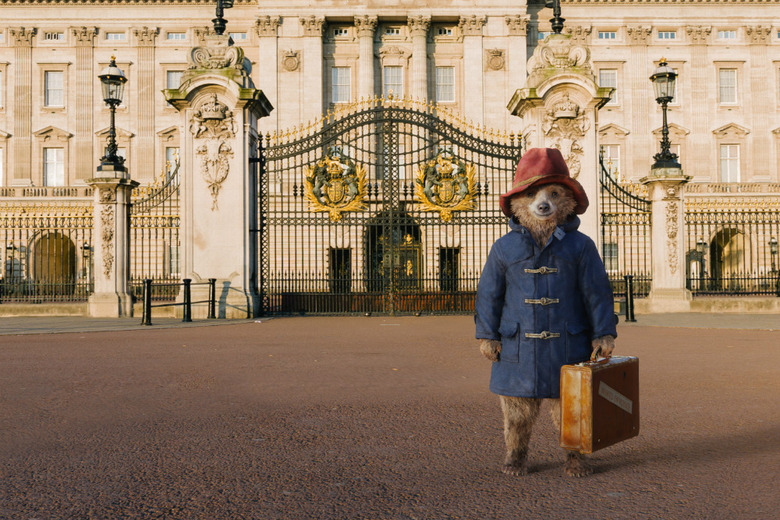 A live-action adaptation of the popular book series Paddington is one of this year's big Christmas films. The Weinstein Company released a teaser trailer a few months back but it offered only a glimpse at the talking bear. Now, the first images from the film – which features Nicole Kidman, Hugh Bonneville, Sally Hawkins, Julie Walters and Jim Broadbent – have been released. That, in itself, isn't particularly exciting. What the photos spawned is.
In the photo (seen above) Paddington looks rather ominous, which inspired an online meme called "#CreepyPaddington." There, people have been photoshopping the bear into various horror movies and the results are pretty hilarious. Check out a bunch of Creepy Paddington images below.
Paddington will open Christmas Day and Colin Firth provides the voice of the bear. Here are the two official images via Flicks and Bits.
And here are some #creepypaddington images courtesy of creepypaddington.tumblr.com.
You can follow the hashtag on Twitter for more.
Paddington, produced by David Heyman and directed by Paul King, opens December 25, 2014. It stars Colin Firth, Nicole Kidman, Hugh Bonneville, Sally Hawkins, Julie Walters and Jim Broadbent. Here's a plot description:
Adapted from Michael Bond's beloved books, Paddington follows the comic misadventures of a polite young bear with an endearing talent for comic chaos.
Paddington has grown up deep in the Peruvian jungle with his Aunt Lucy who, inspired by a chance encounter with an English explorer, has raised her nephew to dream of an exciting life in London. When an earthquake destroys their home, Aunt Lucy decides to smuggle her young nephew on board a boat bound for England, in search of a better life. Arriving alone at Paddington Station, Paddington soon finds that city life is not all he had imagined – until he meets the kindly Brown family, who find him with a label tied around his neck which reads 'Please look after this bear. Thank you.' They offer him a temporary home whilst he searches for the explorer who impressed Aunt Lucy all those years before.
But when Paddington catches the eye of a sinister, seductive taxidermist, it isn't long before his home – and very existence – is under threat ...