'Just Mercy' With Michael B. Jordan And Jamie Foxx Hits Digital Purchase And VOD Rental Earlier Than Planned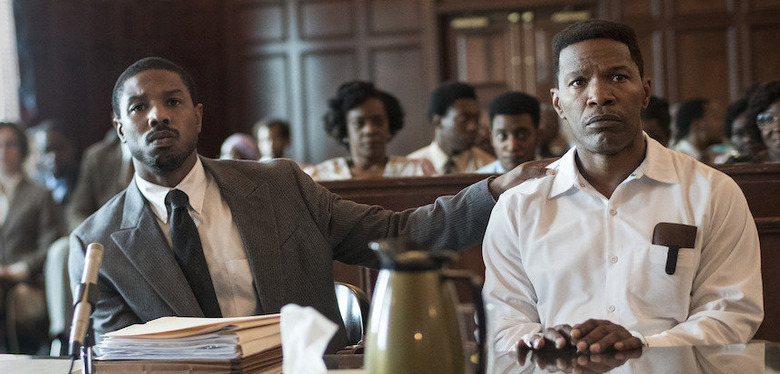 We may receive a commission on purchases made from links.
Star Wars: The Rise of Skywalker was made available for digital purchase earlier than planned last weekend, and Birds of Prey and The Gentlemen recently followed suit with an early digital purchase available for each movie starting next week. Now Warner Bros. Pictures is adding the dramatic true story Just Mercy, starring Michael B. Jordan and Jamie Foxx, to the growing roster of early home video releases.
Warner Bros. Pictures announced the Just Mercy digital release yesterday, so it's available to buy right now. However, if you're waiting to rent the movie digital on VOD, it will be available starting on March 24.
Just Mercy was an awards hopeful released in theaters towards the end of 2019 after premiering at the Toronto International Film Festival earlier in the fall, though it didn't get many nominations when all was said and done. However, with a critical score of 83% on Rotten Tomatoes, it is officially Certified Fresh, and it has an impressive audience score of 99%.
Directed by Destin Daniel Cretton, who just started shooting Shang-Chi and the Legend of the Ten Rings for Marvel Studios before voluntarily shutting down the production to be tested for coronavirus, the film is based on Bryan Stevenson's best-selling memoir of the same name.
Here's the official synopsis and trailer for Just Mercy:
"Just Mercy" follows young lawyer Bryan Stevenson (Michael B. Jordan) and his history-making battle for justice. After graduating from Harvard, Bryan had his pick of lucrative jobs. Instead, he heads to Alabama to defend those wrongly condemned or who were not afforded proper representation, with the support of local advocate Eva Ansley (Brie Larson). One of his first, and most incendiary, cases is that of Walter McMillian (Jamie Foxx), who, in 1987, was sentenced to die for the notorious murder of an 18-year-old girl, despite a preponderance of evidence proving his innocence and the fact that the only testimony against him came from a criminal with a motive to lie. In the years that follow, Bryan becomes embroiled in a labyrinth of legal and political maneuverings and overt and unabashed racism as he fights for Walter, and others like him, with the odds—and the system—stacked against them.