Star Wars: Galaxy's Edge Opening In Disney World Begins With Longer Lines Than Disneyland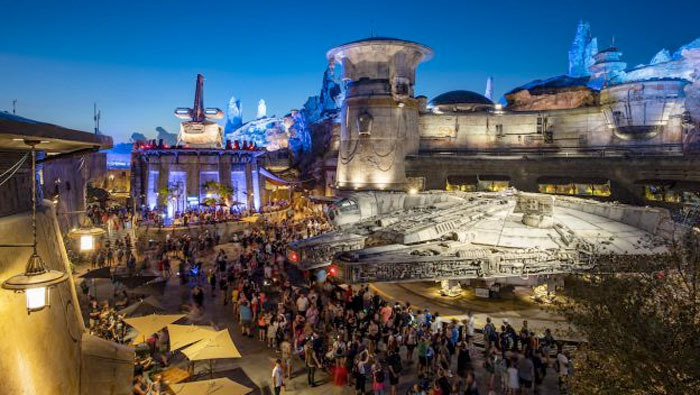 When Star Wars: Galaxy's Edge opened at Disneyland earlier this summer, we covered it quite extensively. But how did the grand opening of the Star Wars expansion at Disney World fare this week? Well, it should come as no surprise that the crowds waiting to get into Galaxy's Edge arrived in the wee hours of the morning, resulting in the new land hitting capacity within minutes of the park opening. But will the attraction slow down quickly as it did in Disneyland?
Disney's Hollywood Studios was completely packed thanks to the opening of Galaxy's Edge, and the park even opened significantly earlier to deal with the big crowds waiting for their first trip to Batuu.
When Star Wars: Galaxy's Edge opened in Disney World, reservations for building lightsabers and droids filled quickly, just as they did in Disneyland. That's exactly what happened during each reservation window for the land's soft opening in June as well. They're two of the most coveted experiences in the land despite the fact that being able to do them requires a hefty chunk of cash.
Meanwhile, the line for the Millennium Falcon: Smuggler's Run ride hit 300 minutes (via Cinema Blend) when Galaxy's Edge first opened. That's a five-hour wait for the opportunity to hop in the cockpit of the Millennium Falcon and fly the fastest hunk of junk in the galaxy yourself.
The Line for the Millennium Falcon Smuggler's Run Ride is the LONGEST You've Ever Seen!! #GalaxysEdge pic.twitter.com/QY248JiUAk

— Ziggy Knows Disney (@disneyziggy) August 29, 2019
But as the day went on, it dropped to 195 minutes, but it was curiously significantly lower in the evening. Inside the Magic noted that around 6pm local time, the wait for Smuggler's Run was only 80 minutes, or just under an hour and a half. Meanwhile, the Avatar attraction Flight of Passage had an 85 minute wait. On opening day, the older yet popular attraction inspired by James Cameron's movie had a longer wait than the brand new Star Wars attraction. Could this be a sign of more attendance issues?
After the excitement surrounding Galaxy's Edge died down a bit at Disneyland, it was clear that the crowds were not nearly as big as they were expecting. However, much of that can likely be attributed to the blackout dates that were enforced for annual pass holders, not to mention the caution that families likely had to attend at a time when an extremely popular new attraction was opening. But it seems like Disney World won't end up having those problems.
Disney World is still allowing almost all passes to be used for entrance into the park, and many annual pass holders got a chance to check out the land before it officially opened thanks to some special preview days. In fact, the park doesn't sell passes that have blackout dates anymore either. That might explain why the lines ended up being longer at Disney World than at the land's opening in Disneyland.
So Disney World's version of Galaxy's Edge could prove to be more popular over a longer period of time, even if the wait times at certain points in the day don't seem to indicate larger crowds swarming the land at all hours of the day. After all, the 2019 Epcot International Food & Wine Festival also opened, so guests may have just been managing their time in a good way, reducing the crowds. If anything, Galaxy's Edge in Disney World is bound to be more popular for a longer time simply because it will have some alcoholic beverages available outside of the signature Oga's Cantina, and that includes an alcoholic version of the famous blue and green milk concoctions.
At the end of the day, there's a chance that the lackluster crowds following the huge opening of Galaxy's Edge in Disneyland could just be a result of them being managed very well. Let's not forget there are several entire theme parks outside of Galaxy's Edge to entice families. And with just one attraction open in Batuu, perhaps some are waiting for a later trip in order to make it worth their time and money.