Paul Rudd Answers The Call For 'Ghostbusters' 2020 Sequel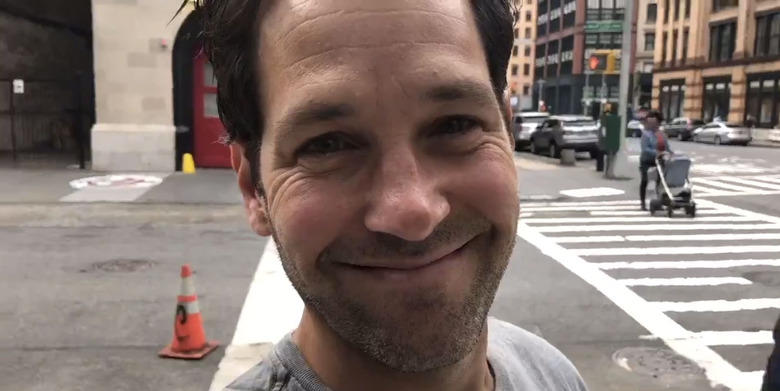 Following confirmation earlier this month that most of the original cast of Ghostbusters has been lined up to reprise their roles for the sequel coming in 2020, the new movie has brought in a newcomer.
The all-around delightful Paul Rudd, known for everything from Clueless to Anchorman: The Legend of Ron Burgundy, has landed a role in Ghostbusters 2020, which seems to be the working title for the movie for the time being. Find out who he's playing below.
Variety has word on Paul Rudd joining the Ghostbusters 2020 cast. Funnily enough, Paul Rudd had been rumored to be part of Ghostbusters 3 from time to time when rumors of the sequel popped up over the years. However, if you were hoping to see him put on a Ghostbusters jumpsuit, you might be disappointed. In Ghostbusters 2020, Rudd will be playing a teacher. The actor confirmed his involvement with a fun video in front of a familiar location in New York City:
Look who accepted the call. #GB20 pic.twitter.com/QwYSiw5pBq

— Ghostbusters (@Ghostbusters) June 27, 2019
That's all we know about Paul Rudd's role in Ghostbusters 2020 right now. But we can safely assume that he'll be interacting with Finn Wolfhard and/or Mckenna Grace, the young new co-stars who will probably ending up picking up a proton pack and busting some ghosts. Joining them is also Carrie Coon, playing Wolfhard's mother in the movie.
As for how the new characters tie into the original Ghostbusters franchise, that's something we're still waiting to find out. Director Jason Reitman, who is taking over the Ghostbusters series from his father Ivan Reitman, has been playing things very close to the vest. At Ghostbusters Fan Fest earlier this month, he hinted that not even the new characters know of their connection to some of the legacy characters from the first two films.
But Reitman is very much eager to work with Rudd on Ghostbusters 2020. The director said, "I've been wanting to work with Paul Rudd since my short film opened for Wet Hot American Summer at Sundance. I'm thrilled he'll be joining this new chapter in the original Ghostbusters universe." How's that for some indie history?
As for the original cast, Dan Aykroyd, Bill Murray, Ernie Hudson, Sigourney Weaver and even Annie Potts are all supposed to come back in some capacity. There's been no word on Rick Moranis reprising his role, but if anyone could convince him, all these folks probably could.
Production in Ghostbusters 2020 is meant to start in a few weeks, and hopefully well hear more soon.