Emma Thompson Rocks The Mother's Day Episode Of 'Saturday Night Live'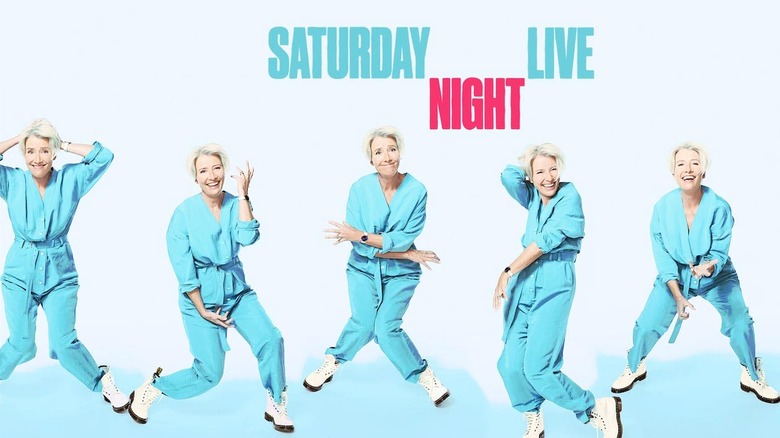 It's truly a shame that it has taken so long for Emma Thompson to host Saturday Night Live for the first time. The British actress brought some serious comedic chops to the show, fueled by her longtime acting careers, and the result was a hilarious episode that stayed true to the tradition of the Mother's Day episode by having some great special guests pop up.
Let's take a look at the best and worst sketches from the Emma Thompson hosted Saturday Night Live.
The Best
The Perfect Mother – This is a retread of a similar Mother's Day sketch from last year when Amy Schumer hosted, but this one adds another layer of the trials and tribulations of motherhood by having a new mother (Heidi Gardner) and her own mother (Emma Thompson) talk about the joys of being a mother with flashes back to the all too common trying times. It all rings so true to everyone's mother, and it will always be funny.
Etiquette Lesson – It can be hard for Leslie Jones to make a sketch great. She's funny in small doses, but often times she's not the best at being a character. But here, she's perfect as Meghan Markle's third cousin, who wants to attend the royal christening but needs some etiquette lessons. She starts to get them in sing-song My Fair Lady style from Emma Thompson, but whenever she messes up, the consequences are perhaps a little harsher than she intended, and the results are hilarious. The only downside is they clearly didn't know how to end it, otherwise it would have been the best of the night.
Chopped -This absurdist approach to Chopped is just silly enough to be hilarious. From the awful secret ingredients to the ridiculous recipes, this is exactly the kind of nonsensical sketch that I like. It recreated the style of Chopped while also making a complete mockery out of it, and that's exactly what you need from a good spoof.
Beauty and the Beast – Emma Thompson reprises her role as Mrs. Potts in the live-action remake of Beauty and the Beast. But this one takes a much different turn as the Beast's gym equipment makes it upstairs from the basement and reveals some weird secrets about the behavior he's been partaking in during the majority of his time under the curse. Plus, he's been using Mrs. Potts in an unfortunate way. It all makes for a hilarious sketch.
The Average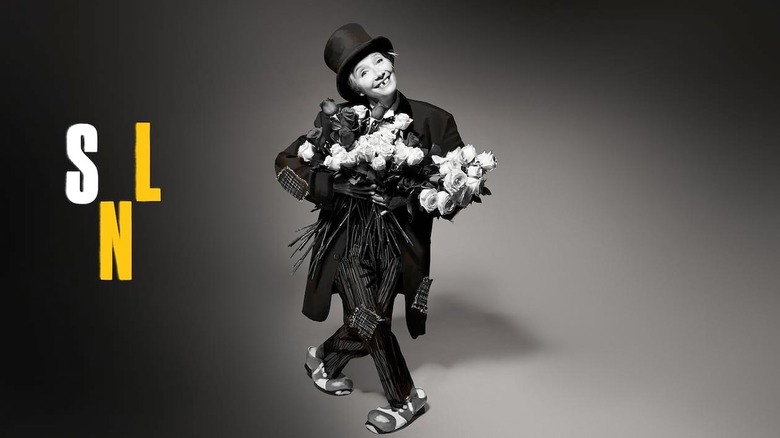 Actress Scene – I could watch Emma Thompson and Kate McKinnon pretend to be classic, over-the-top actresses forever. Each of them trying to get the last word is a simple premise, and part of it felt so off the cuff that it might have been improvised. Plus, it even has a solid ending thanks to Kenan Thompson's always lively host. Because of the simplicity, it wasn't one of the best, but it was still very good.
Meet the Press – It continues to be difficult to laugh at the fresh hell that is today's government, but this edition of Meet the Press with buffoonery from Lindsey Graham, Mitch McConnell and Susan Collins was fairly enjoyable thanks to the fantastic impersonations by Kate McKinnon, Beck Bennett and Cecily Strong. But it's still hard to get laughs out of the despicable behavior of these hypocritical fools.
The Worst
Continuity Errors – Well, the Game of Thrones coffee cup gaffe was enough for SNL to attempt a sketch that made even more goofy mistakes in movies and TV shows from the past. Honestly, this premise feels way below SNL. Someone could have made this on YouTube in a couple hours with some Photoshop skills. It gets a little more outlandish than you'd expect, but this reeks of desperation to be relevant this week.
Judge Court – Despite the dedication to nonsensical judge shows from Emma Thompson, Kate McKinnon, and Aidy Bryant, this sketch just didn't work for me. There were a couple good laughs here and there, but the sketch as a whole felt lackluster, even in spite of The Jonas Brothers making a cameo. It may have been hurt by the fact that the preceding Chopped sketch already played the absurdist card, making this one not land as well.
Bad Girl Talk Show – Is it just me, or did this feel like Ego Nwodim's attempt at creating a recurring character? If true, this wasn't the best debut. I know these kind of talk shows still happen, but this felt like a sketch that got lost in the late 90s or early 2000s. I'm not sure where the concept of the wise audience members came from, but it didn't really add much to the sketch.
Weekend Update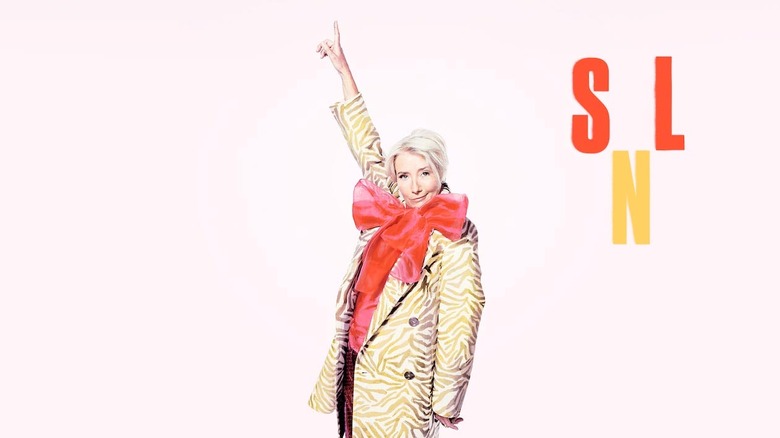 After having a couple boring editions of Weekend Update, Colin Jost and Michael Che were back in solid form with some outstanding jabs at Donald Trump (because of course), and also a quick but hilarious swipe at Georgia's outlandish new abortion laws. There's also another great one-liner about a porn star shooting a scene in a self-driving car. And you gotta love when they have a joke about eating ass right before a Mother's Day bit with Pete Davidson.
Bailey Gismert on Summer 2019 Movies – Not only is this a fantastic skewering of today's teenage culture, but also YouTube movie critics who are nothing but total randos saying whether they like something or not with no further insight whatsoever. The high school drama is made to be such a big deal, which if you've been around teens, is so true to life.
Pete Davidson on Living with His Mom – Pete Davidson previously mentioned buying a house with his Mom, and he dug even deeper into it in this bit where his real mother came on the show. It's pretty much the only thing Pete Davidson had to do this evening, but this was a pretty great bit, even if it could have been a little longer and still funny. Oh, and you won't see this unless you watch until the very end of the whole episode, but Jon Hamm ending up popping up during the goodbyes to meet Pete Davidson's mother, and that's wonderful.
The Host
Emma Thompson can officially come back to Saturday Night Live anytime she'd like. This was such a fantastic episode, and the actress couldn't have been more comfortable or great. She had no problem digging into each and every character she played, and her monologue came across so smoothly that you'd think she hosted SNL at least a few times before. Amy Poehler and Tina Fey helped in that arena, but Thompson was calm, cool, collected and downright hilarious.
The MVP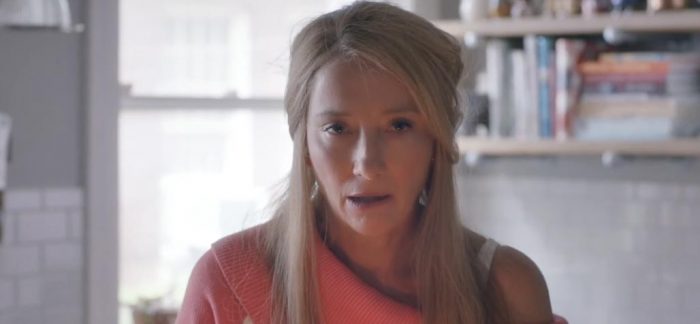 Emma Thompson – Part of me feels bad when giving the host this title, but Emma Thompson shined in her hosting debut, and it's hard to resist how great she was in every single sketch she was in, even the bad ones. She's a truly professional actress, and even though she mostly partakes in the dramatic side of things, she was incredible in a live comedy setting.
The Final Word
The Mother's Day episode has become a highlight of any given SNL season, and this was a great one. Now the question is whether the writers and cast can keep this momentum going into the season finale with Paul Rudd next weekend. Will we get some Avengers surprises or any other special guests?